Last Updated on September 27, 2020 by Chef Mireille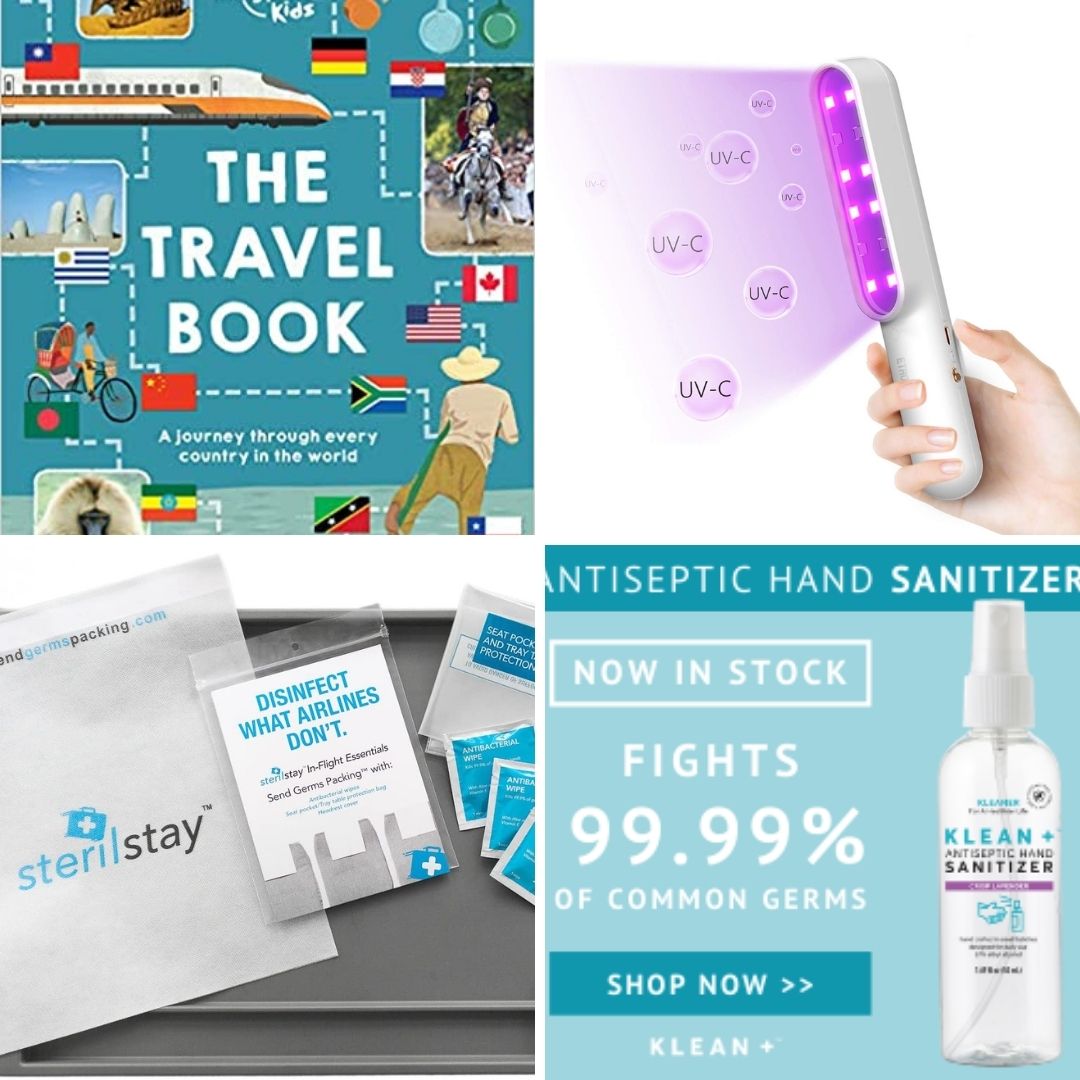 This post may include affiliate links.
2020 has been one hell of a year – from forest fires to a global pandemic. Are you travelling again yet?
There is no one answer for this. There are a lot of contributing factors from infection rate, positivity rate and adherence to scientific guidelines in your area and the area to where you will be travelling to. All of these must be considered before you hop on a plane.
Even then, there are some more safety procedures to keep in mind that we didn't have to think of before.
Whether you are thinking of travel soon or just planning ahead for next year, here is a comprehensive list of gifts for yourself 😊 or for others in your life who like to travel. We can still enjoy the cultures around the world – just with a little more caution!
In most countries, Christmas has become more a cultural holiday than a religious one. No matter what faith you are, Christmas is celebrated with gift giving. Maybe it's a Secret Santa at your office (although it might be a virtual office this year) or if you come from a large family, you might also employ the Secret Santa concept. Hopefully, no one is expecting you to buy a gift for your 20+ cousins.
I know many Jewish people as well as people of other faiths, who also have a small Christmas tree in their homes.
Some people just buy gifts to say they fulfilled their obligation, without any thought behind the gifts.
I know none of my readers do that!
It is always lovely to receive a gift that is in line with your interests and your personality. Both the recipient enjoys it as well as the person giving the gift. Nothing gives me greater pleasure than seeing all smiles when someone opens a gift I gave them. It's even better when a few weeks or months later they told me they utilized it and how handy it came in or how much they are enjoying it.
Do you have some people on your guest list who are travel addicts? Or how about yourself? There is absolutely nothing wrong with buying a holiday gift for yourself. At least you know what to get yourself right! What better gift than to feed the travel addict inside of you.
Here is a list of gifts for the travel addict in your life – whether it is for yourself or for someone on your gift list.
Pandemic Safety Gear
Let's first get some safety gear for traveling in the time of COVID. I have included a list of a variety of types of face masks, according to your preference from disposable ones to reusable ones.
This is a great sanitizing travel set to help you feel safe in planes and beyond…
This UV sanitizer wand is great to sanitize hotel rooms, air b&b and even right here at home!
Of course, we don't want to go anywhere without our hand sanitizer. Safety first!!!
Books for Travelers
Here are some great books for the readers. Even if you are not ready to travel anytime soon, books are a great escape. Not only do they inspire travel. More than ever, it's important to have an escape from the isolation you may be feeling.
Around India in 80 Trains
Around the World in 80 Trains
Road Food
The Bucket List
Of these books, the only one I have personally read is Around India in 80 Trains. I LOVED this book. Not only is it a travel memoir, but it also gives you great details about train travel in India.
RELATED: JUHU BEACH – MUMBAI'S STREET FOOD CENTER
Around the World in 80 Trains is written by the same author and I am sure would be just as engaging!
Road Food explores the best local food throughout the United States. As a food blogger also, you know I had to include something that combines both my passions of food and travel.
The Bucket List is full of exciting adventures to feed your wanderlust spirit!
Just for Kids
Whether or not you are ready to travel right now, these travel books and supplies for kids are a great way to not only inspire travel and learning about other cultures in them, but are educational.
On every page of this guide are some fun facts about a different country of the world.
A globe is a great accompaniment to the book above. The kids can see exactly where in the world the country is and then read all about it in the book!
Yes most of the kids have their own ipads now, but with so many people in quarantine, it's a great way to re-engage with your family. There has been renewed interest for some in board games. It's fun activity the whole family can enjoy.
How about one that also will reinforce geography skills and perhaps inspire your kids to want to travel to some of these countries some day?
I also love the story behind this game. It was created by a child during a long hospital stay. Isn't that cool?
Airplane Gifts for Travelers
Now you have something to read on that long flight. Here are some great gift ideas to make those long flights a little more bearable.
Ear Plugs – helpful for air pressure and crying babies
Sleep Mask
Neck Pillow
Water Bottle – much better than having the flight attendant give you a small cup of water every time you get thirsty
Made Good – snacks as many airlines are not as generous with their food. This is an allergen friendly brand that is nut free. One of the few healthy snacks on the market without nuts.
Air Compression Socks
Bags for Travelers
The more you travel, you will discover it is good to have a variety of bags in a variety of sizes for different kinds of travel from day trips to extended vacations.
Some countries now make you pay for plastic bags when shopping, like Iceland. Make sure to bring some reusable tote bags with you.
Electronics for Travelers
In the modern world, traveling requires a variety of electronics from phone chargers to camera equipment. Here are some useful electronics that are great for travelers.
Universal Camera Battery Charger – Nothing is worse than your battery dying when taking gorgeous travel photos. An extra battery charger will always be useful!
Phone Bank Charger
Ear Phones – Most airlines now charge for airphones and they are usually of extremely poor quality. You definitely want to have your own!
International Wi Fi – Very handy to keep you connected no matter where in the world you are!
Safety Aids for Travelers
The last thing you want to ruin your fabulous trip is to get your stuff stolen. Here are a few gifts that are great to avoid theft.
Secret Pocket Scarf
Passport/Document Organizer – Keeping your document organized will prevent you losing them!
Neck Pouch – Hidden underneath your shirt, your money and valuables can be kept out of thieves' reach
Waist Pouch
Outdoor Gear for Travelers
Both extreme heat and sun as well as extreme cold and rain can definitely put a damper on your travels if you are not equipped properly.
Here is some great equipment so that weather will never be a hindrance to enjoying your trip!
Sunblock
Sunglasses
Waterproof Hiking Boots – These boots kept my feet warm and dry when I was in Iceland
Quick Dry Towel – Useful for the beach and visiting countries with hot springs
Water Shoes
Lip Balm – Important to avoid cracked lips in extreme cold
Raincoat
Waterproof Gloves – If your hands, feet and head are warm, you will avoid illness in cold weather temperatures.
Waterproof Phone Case
This comprehensive Gifts for People who Love to Travel list has something for everyone , whether you are a travel addict or a travel newbie!
PIN IT FOR LATER
This post may include affiliate links.