Last Updated on May 20, 2020 by Chef Mireille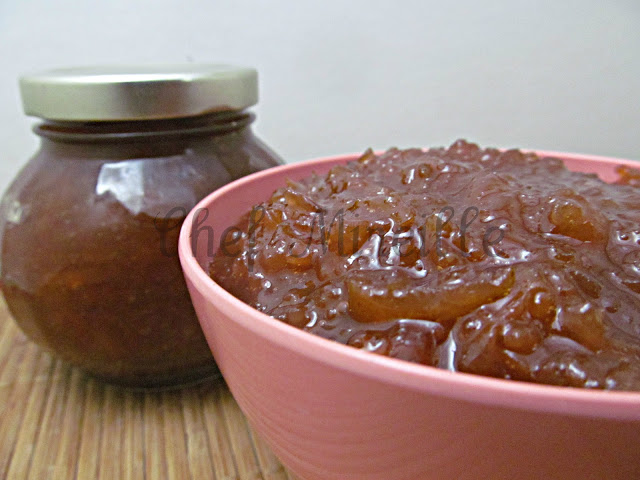 Quince are only available a few weeks out of the year in New York, so whenever I see them I pick a few up to take advantage of their availability.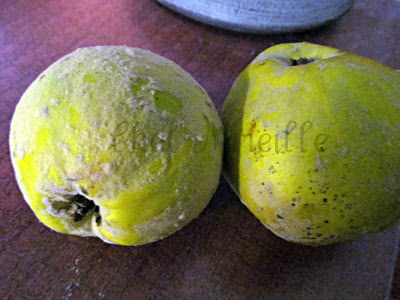 Raw Quince
Quince are native to Iran and Turkey. A relative of the pear, quince is very high in natural fruit pectin. For this reason and its tart flavor, it is most often used to make jam. Its tartness makes it unpleasant to eat raw, however it does have spicy floral notes reminiscent of vanilla and cinnamon so it is very flavorful. One thing to note it does start to change color the instant it is exposed to air, which leads to its rosy red color once cooked.
Membrillo, or quince paste, is now considered a gourmet product and often paired with Manchego on bruschetta in gourmet restaurants or catered events. In the northeastern United States, it is only available for a few weeks before Thanksgiving as it is often used to make stuffing and included in apple pies – typical Thanksgiving foods. In other parts of the US, it is more readily available at other times of the year. It has also become common throughout South America.
Now, getting to the BM theme of Cooking from TV shows…
On the TV show Friends, the character of Monica was a chef and there is this one episode during the early run of the series when she was dating Richard, she goes on a jam obsession to help her get over her breakup with Richard. She makes jam, jam…and more jam. So here's yet another jam recipe by me, inspired by Friends.
Quince Jam

Ingredients:
3 cups quince, shredded with skin on, firmly packed
1 tablespoon lime juice
2 1/4 cups water
2 cups sugar
Scrub the quince well to get rid of the fuzz that is usually on the outside. Grate the quince.
Place in a large pot with the lime juice and the water. Bring to a boil. Reduce to a simmer and cook for 10 minutes.
Add sugar and bring to a boil again. Simmer for 35 minutes, stirring occasionally. Let cool.
Once it cools, if you find it is too thick, you can thin it out with water.

Add caption
Enjoy a breakfast of Banana Knots, Quince Jam and Fried Halloumi with your morning coffee!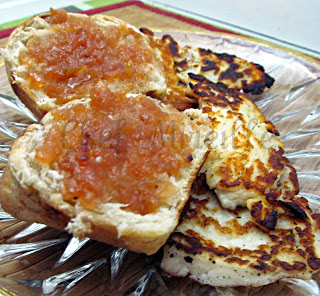 Do check out my other jam recipes: