Last Updated on May 20, 2015 by Chef Mireille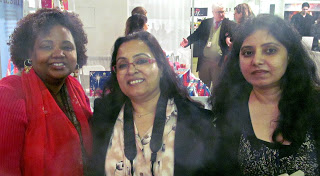 3 bloggers at the NYC Chocolate Show
One of the many positive things that come from being part of the blogging community is being able to connect with others from around the world who share you same interests. While it's wonderful to having email and IM conversations, nothing beats meeting them in person. I recently had the opportunity to meet one of my fellow Blogging Marathon co-participants all the way from Gujarat, India – Vaishali of Ribbons to Pastas.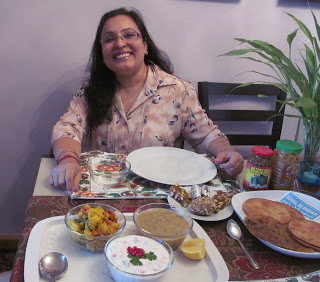 Vaishali & the delicious food she prepared
Although it was our first time meeting, we felt like we already knew each other. From the beginning, conversation flowed steadily throughout the day, without one pregnant pause. Vaishali's visit also prompted me to meet another food blogger who also lives in NY, Usha of My Spicy Kitchen.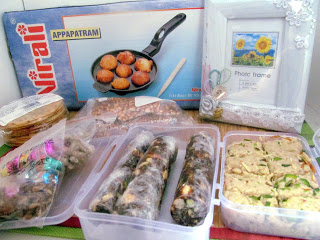 gifts from Vaishali
Vaishali was staying at some family of hers, so I went to pick her up. Since it was her first time in NY, I did not leave her alone to manage our subway system by herself. She greeted me with a bag of goodies from India – both store bought and home made – I especially loved her halvah, which I could not stop eating. Her fig rolls were also a big hit with my mom. As many of you familiar with her blog know, she is also a craftsy person and brought me this beautifully decorated photo frame. In addition to these goodies, she had made a simple late breakfast for us, that was as delicious as I thought it would be.
We then traveled into Manhattan to meet Usha. On the way, we stopped in at Trader Joe's and she marvelled at the variety of winter squash we have – she had never seen acorn squash, butternut squash and others as well! We then went on to meet Usha. The NYC Chocolate Show was very low key this year. Because we were still experiencing the after effects of our recent hurricane, many vendors' stalls were empty as they were unable to make the trip. With this low key event, it actually was a more pleasant experience than in the past. There were no long lines and we were able to sit down comfortably for the food demonstrations, without having to stand in the back or there being no room at all, which has happened when I attended the show in the past. We tasted lots of chocolate and fudge and attended 2 food demonstrations – one that demonstrated how to pair chocolate with wine and another one that paired chocolate with savory foods. Additionally, my favorite stall is always Spice & Tease, with teas and spices from all over the world, of which Vaishali bought a few.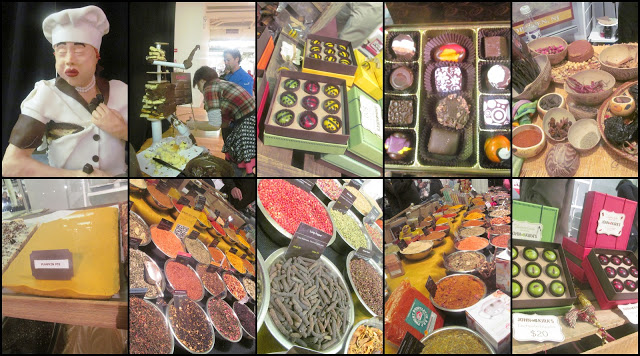 middle photo on bottom row is actually Indonesian Long Pepper – isn't that an unusual shaped peppercorn?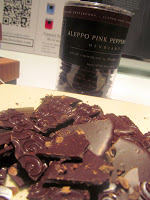 Aleppo & Pink Peppercorn Chocolate
I picked up some of this amazing spicy chocolate made with Aleppo Pepper and Pink Peppercorns. Stay tuned – I will be posting a muffin recipe in a few weeks using this amazing chocolate!

NY Bake Shop
Then it was off to NY Bake Shop, the largest baking supply store in NY and there Vaishalli was in awe at the variety of food colors we have. We had a nice time perusing the aisles. Then it was off to a late lunch at Pongal (one of our most popular Indian vegetarian restaurants), where Usha & Vaishali enjoyed dosas and I had a yummy plate of chilli panner.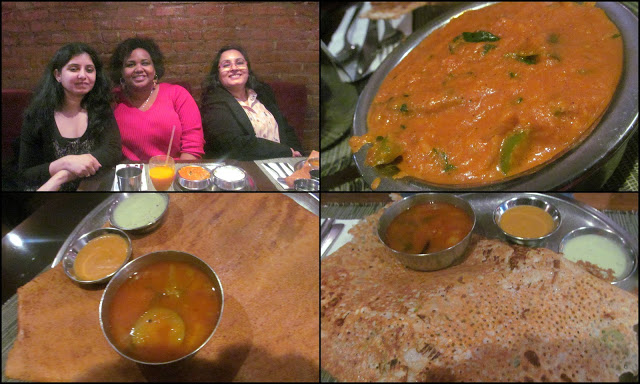 What a fun day it was!
Then right before she left, Vaishalli gave me a call because a few things she came for she wasn't able to find and she knew I would know where to get them, so I got her the egg replacer and purple corn flour. Since I had to go to the Latin market to get her the corn flour, I picked up some other Latin American goodies for her of which she was pleased, but said I now created a lot of work for her as she will have to utilize the dried blue corn and masa harina, amongst other things…so Vaishali, I'm going to be looking for arepas, chicha morada and more from your blog 🙂 I have to now try making those paniyarams now that I have the pan she brought me!
Anyway, any other bloggers coming to NYC – just drop me a line and I am sure you will have a fun foodie trip! It was such a rewarding experience connecting with someone I only knew before through her blog, comments and emails! Thanks Srivalli for connecting us all through the Blogging Marathon!
LIKE THIS RECIPE? LEAVE A COMMENT..I LIVE FOR THEM!
Chef Mireille
Like me on FACEBOOK!
Follow me on TWITTER!