Last Updated on November 30, 2019 by Chef Mireille
Champurrado – Mexican Chocolate Cornmeal Drink – This thick and warm drink is perfect to enjoy on cold winter nights or for a comforting winter breakfast.
and if you want to try some more delicious traditional recipes, check out these Mexican Recipes.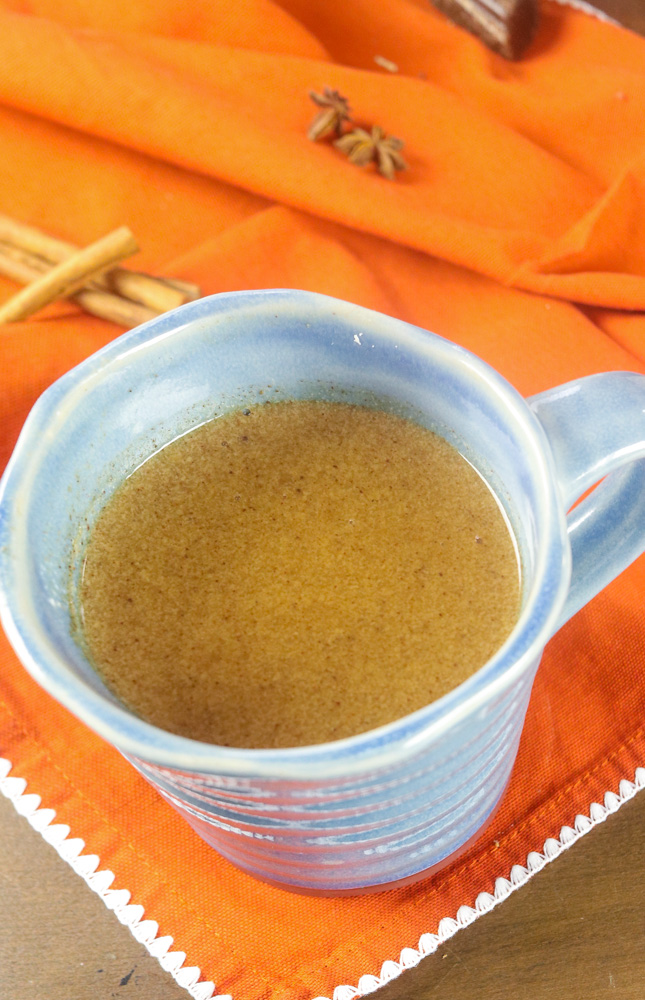 This post may include affiliate links.
Chocolate Cultivation
Chocolate is native to the Amazon and was first cultivated by the Mayans and the Aztecs. When Spain invaded South America, Colombus brought the cocoa back to Spain. In Spain and France, pure melted heated chocolate is often drank instead of mixing it with milk and sugar as in most other Western countries. This became a beverage of the aristocracy as only they could afford the prized cocoa beans.
There is a café here in NYC called Mariebelle which serves chocolate the way they do in France, with no added milk and sugar, although they do offer it al American. If you come to NYC, you should definitely experience Mariebelle. One cup will leave you in a chocolate coma! When I had some cousins visiting last winter and I was playing tour guide, we went into Mariebelle for a snack. The warm chocolate was great on a cold winter night but OMG did that intense chocolate go right to our heads!
Spain eventually brought the cocoa beans to cultivate in other parts of the world under their control in the Caribbean like Cuba and Puerto Rico and in the Philippines. You will find chocolate most used in the Philippines than any other country in that region. In fact, there is a chocolate rice pudding in the Philippines called Champorado. I can't help but think this was an adulteration of this Champorado, but since rice is more easily available than cornmeal in there, the recipe was changed somewhat.
With the chocolate flavor mild, this reminds me so much of Akasan, a cornmeal beverage we drink in Haiti. Thick and creamy, it is more of a dessert than a beverage. It is so interesting how different versions of the same base foods are interpreted in different countries.
This is another treat often enjoyed during Epiphany celebrations in Mexico.

Specialty Ingredients & Substitutions
Masa Harina – is a pre cooked cornmeal treated with lime and charcoal used throughout South America to make tortillas, tamales and other corn based foods. If you cannot source masa harina, regular cornmeal can be used – either white or yellow.
Piloncillo/Panella is a natural sugar cane product that is sold in 4 oz. or 8 oz. discs. Sometimes labeled as panela, the discs should be microwaved for 30 seconds so that it can be chopped to weigh out desired quantity needed for the recipe. Indian jaggery can also be substituted. If neither of these can be sourced, you can substitute firmly packed brown sugar.
Chocolate – Try to use Mexican chocolate sold in round bars. The two most popular brands available in the US are Ibarra or Nestle Abuelita. If these are unavailable, use any dark chocolate.
Thick and creamy, Champurrado – Mexican Chocolate Cornmeal Drink is perfect comfort food!
Before we get to today's recipe for Champurrado – Mexican Chocolate Cornmeal Drink, let's take a look at some other Cornmeal based foods you can enjoy for breakfast!
Akasan – Haitian Cornmeal Drink
Spice, chocolate and cornmeal is just YUM!
Champurrado – Mexican Chocolate Cornmeal Drink
Champurrado – Mexican Chocolate Cornmeal Drink – This thick and warm drink is perfect to enjoy on cold winter nights or for a comforting winter breakfast.
Ingredients
3

cups

water

2

cinnamons tick

1

star anise

2

cups

milk

3

oz.

chopped piloncillo

¼

cup

masa harina

1 ½

oz.

grated Mexican chocolate

1/2 disc
Instructions
In a pot, bring 3 cups of water to a boil with the cinnamon sticks and star anise. Turn off the heat and leave for at least 1 hour for the spices to infuse the water.

Remove the spices and add milk, piloncillo/panella and masa harina.

Bring to a boil.

Reduce to a simmer, add chocolate and simmer for 10 minutes.

Serve warm.
Nutrition
Calories:
237.01
kcal
|
Carbohydrates:
40.26
g
|
Protein:
5.06
g
|
Fat:
7.51
g
|
Saturated Fat:
4.21
g
|
Sodium:
67.26
mg
|
Fiber:
1.85
g
|
Sugar:
32.61
g
Did you try this recipe? Leave a comment below.
Please follow me on Instagram @chefmireille or tag me #chefmireille with your pics! I'd love to share them!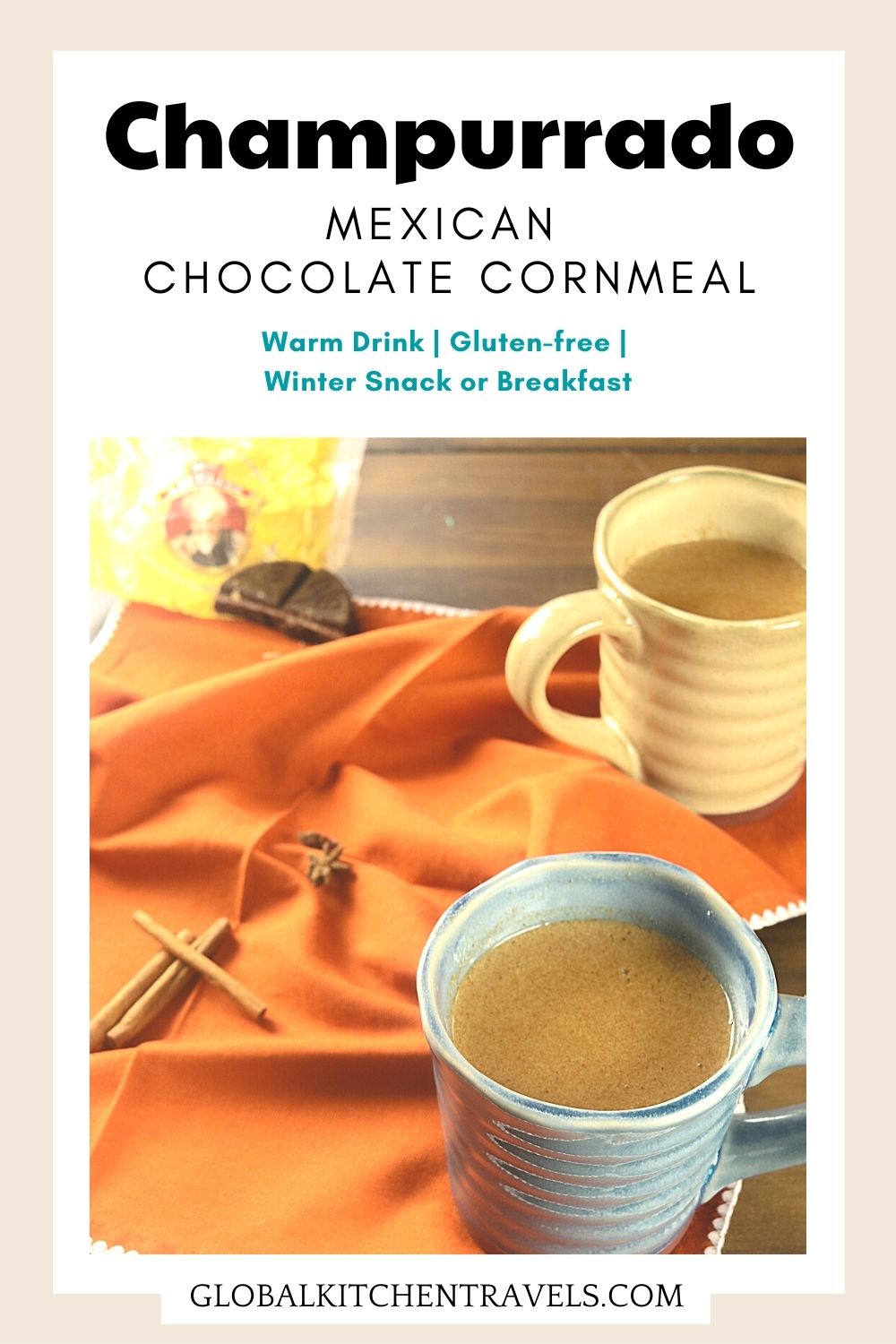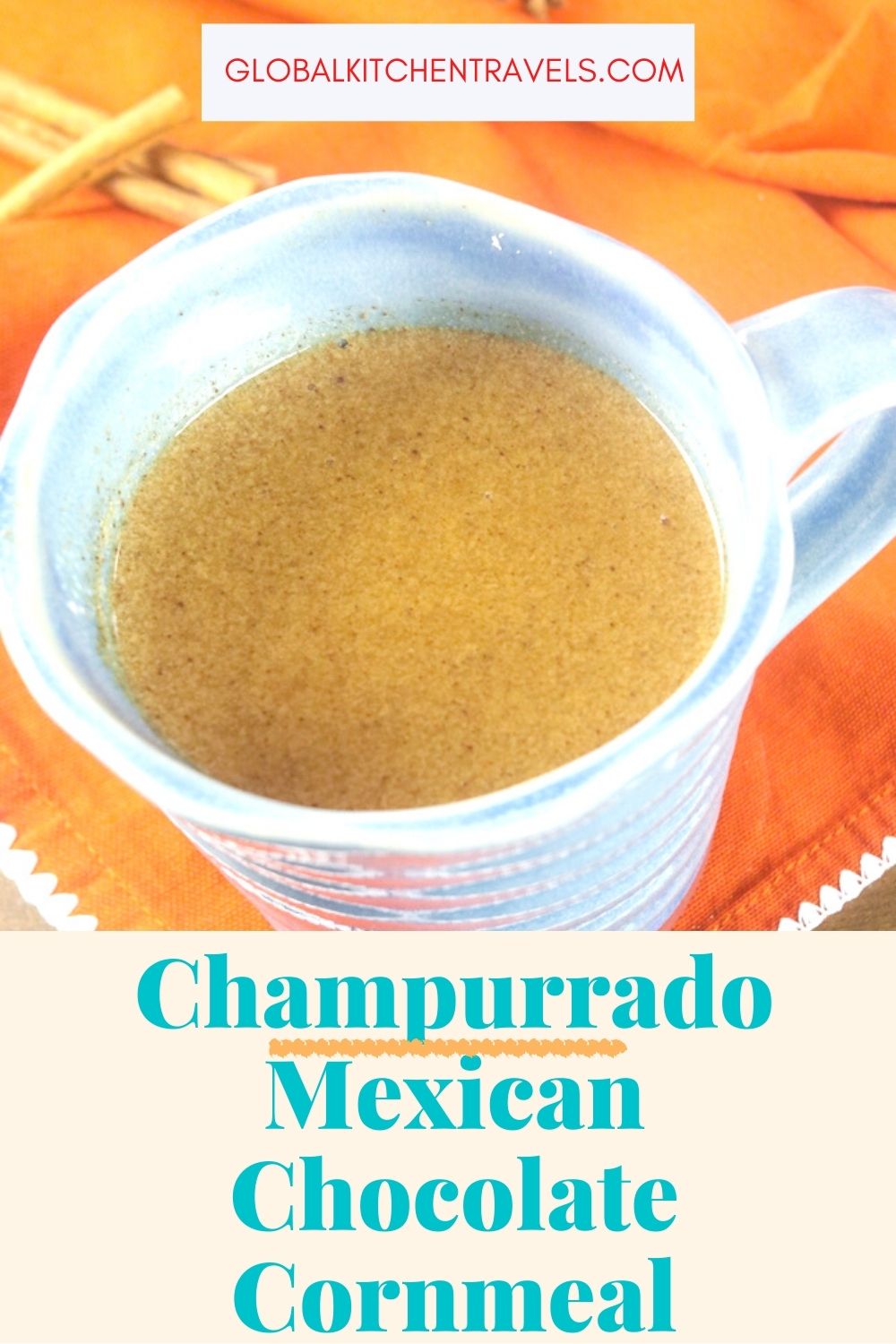 DO YOU YUM? SAVE IT BELOW!
Yum
Don't forget to visit the RECIPE INDEX with over 1000 recipes from around the world including lots of Vegetarian Recipes and Gluten Free Recipes!