Last Updated on March 26, 2020 by Chef Mireille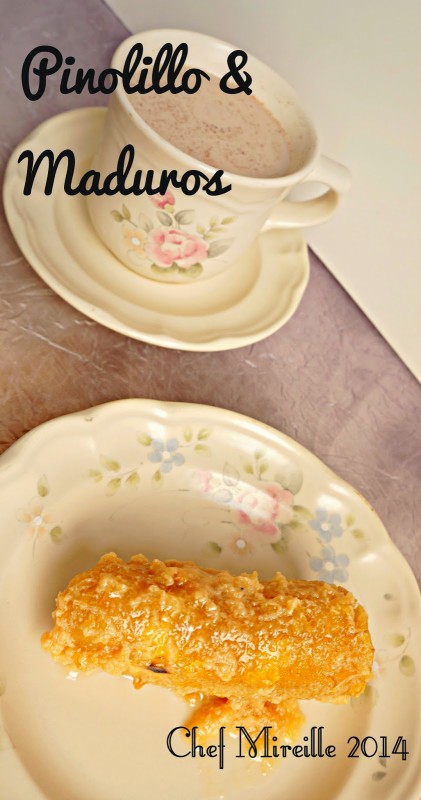 N is for Nicaragua…
Many people who are old enough to remember probably remember Nicaragua due to the Iran Contra Affair when for weeks on end all we saw on television were senate hearings on the issue of America covertly selling arms to Iran for them to be channeled to the rebels in Nicaragua fighting against the Sandinista government. Since it's independence, Nicaragua was plagued with political unrest, corruption and violence. This started to change when the first female president was elected in 1990.
Nicaragua is the largest country in the Central American isthmus, the thin strip of land that connects North America to South America. Nicaragua is a multi ethnic country consisting of indigenous tribes, Europeans, Africans, Asians and people of Middle Eastern decent. Although the official language is Spanish, the tribes on the Eastern coast speak their own tribal languages. Due to its multi ethnic culture, Nicaragua is rich in the areas of art, dance and literature. Several music forms popular in other Latin countries like cumbia, bachata, merengue and salsa are just as popular here. Additionally, native tribes have their own traditional dances.
Although rich in culture, Nicaragua is one of the poorest countries in Latin America with the majority of the population living on less than $2 a day. Agriculture is the primary occupation of most people, however, in recent years tourism has increased which has led to some growth in the Nicaraguan economy. Tourism is now the second largest industry in the country, experiencing a 300% growth in the last 10 years. Due to their diverse climate, it is especially appealing for surfers and ecotourism. Many American expats also now live in Nicaragua as they can enjoy a relaxed life with a low cost of living.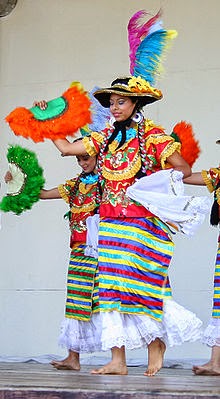 Mestizaje dance in traditional tribal Nicaraguan wear
Photo Source: wikipedia
Nicaraguan cuisine is very similar to other central American countries with beans and tamales forming the backbone of their meals.
Pinolillo is one of the most favorite beverages of Nicaraguans. You can buy the instant mix in markets like Mi Tierra, but how about trying this version yourself at home? I was really lucky in that a family friend had just come back from a visit home to the Caribbean and had brought some fresh cacao for my Mom, which she shared with me. I was able to use it and really make a traditional version of this drink.
Also known as pinol, pinolillo is traditionally served in the gourd like shell of the fruits of the native jicara tree. Cups are carved out of the fruit shells and are hand carved with native flowers and beautiful scenes of the Nicaraguan countryside.
To accompany pinolillo, I made maduros – baked sweet plantains – yes my plantain obsession is never ending…Nicaraguan Maduro Plantain Dessert
Pinolillo
Ingredients:
1/4 cup white cornmeal
4 cups milk
1/4 cup fresh cacao, grated (or unsweetened cocoa powder)
3 tablespoons sugar
1/2 teaspoon ground cinnamon
1/4 teaspoon ground cloves
Using the medium fine side of a box grater, grate the cacao
In a dry skillet, toast the cornmeal until golden and fragrant.

Transfer to a blender with all of the other ingredients and mix well.
Chill or serve over ice.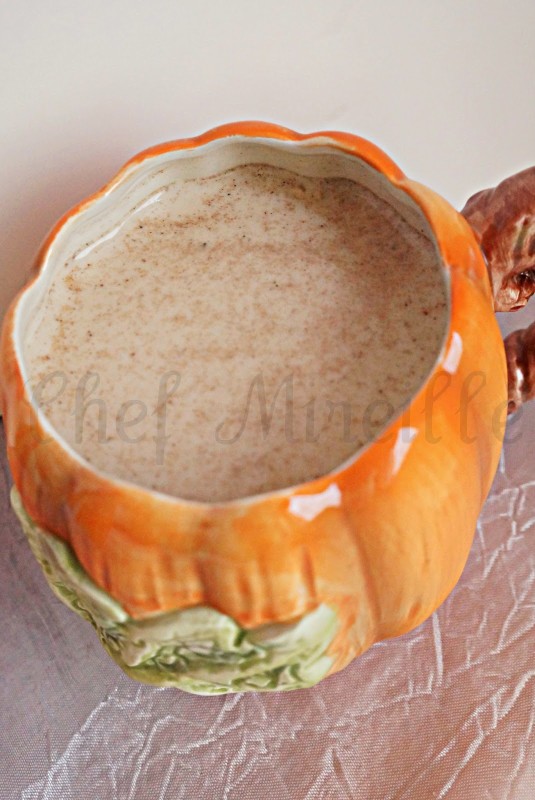 Notes:
a little piquin chile is sometimes added for an extra kick
it can be made with either milk or water and I even came across a version with coconut milk
it is always served chilled
the sediment left in the bottom of the cup is eaten with a spoon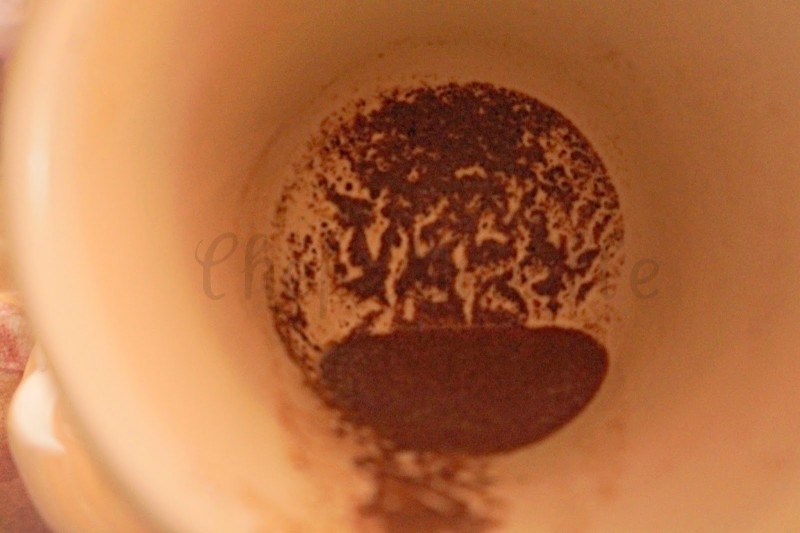 Pinolillo Sediment


Nicaragua isn't the only country to have a cornmeal based beverage – take a look at my recipe for Haitian Acasan here for a different version.
Although I don't have gourd shell mugs, I thought these were a close replica which I picked up at my neighborhood's annual yard sale day, when everyone cleans out their closets and basements to sell for a few dollars things that are just collecting dust.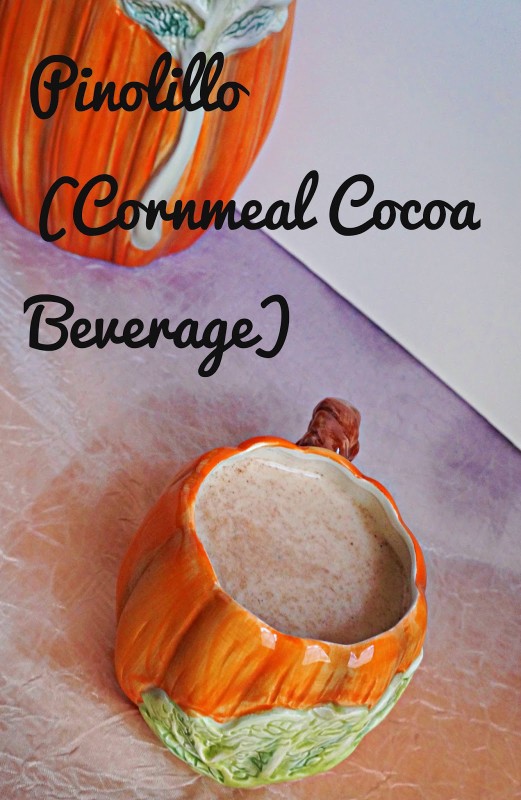 For a unique tea time treat, try this combination. See here for Maduros recipe.

Check out the Blogging Marathon page for the other Blogging Marathoners doing BM# 44
LIKE THIS RECIPE? LEAVE A COMMENT..I LIVE FOR THEM!
Chef Mireille