Last Updated on June 3, 2015 by Chef Mireille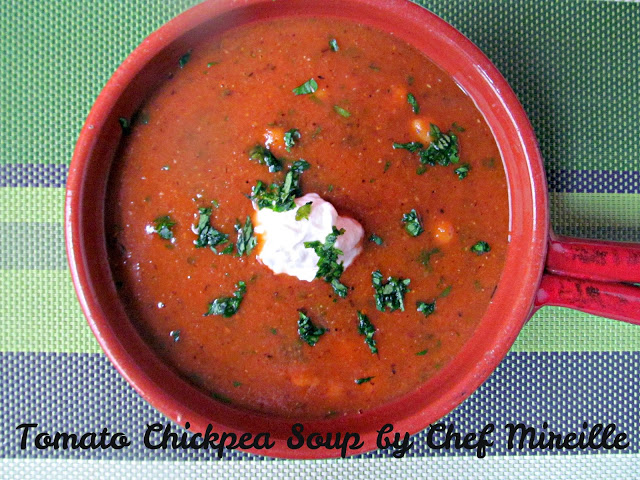 Blogging Marathon #35
Theme: Bookmarked Recipes
Merry Christmas to you and your families!!!
Recently, I have been having a lot of dental work done for issues I have neglected for quite a while. Root canals, crowns, etc. have become part of my life on a weekly basis. In fact, I have to go back tomorrow yet again to complete a route canal after I had two infected roots and four canals in one tooth. What a fun way to spend the day after Christmas (read the sarcasm:)
After the novocaine wears off, it still leaves me feeling quite lethargic with a tender mouth. However, hunger pangs still start a few hours later, so nothing hits the spot like a bowl of soup. I have been making every combination of soup imaginable. This is from BBC Good Food's recipe portal. This is a fabulous recipe portal full of many health conscious recipes. Here is my adapted version of their recipe here.
Tomato Chickpea Soup
Serves 4
Ingredients:
1 tablespoon olive oil
1 red onion, chopped
2 teaspoon cumin seed
1/2 teaspoon crushed red pepper
1/2 cup red lentils
3 1/2 cups vegetable stock
15.5 oz. canned chickpeas (or 1 1/2 cups cooked chickpeas)
14.5 oz. canned diced tomatoes
4 tablespoons Greek yogurt
2 tablespoons cilantro, finely chopped
salt, to taste
Heat a large pot. Dry roast the cumin and the red pepper until they start to splutter.
Add oil and onion. Saute for a few minutes, until the onions turn golden.
Add lentils, tomatoes and stock. Cook for about 15 minutes, until the lentils are tender.
Using an immersion blender, puree.
Add chickpeas and salt. Cook for another 3 minutes. Add cilantro. Cook for 1 more minute.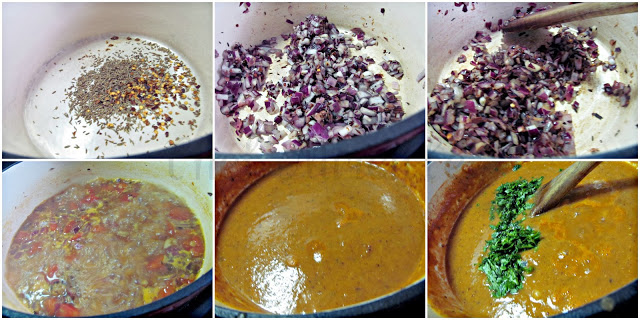 To serve, add a tablespoon of Greek yogurt on top of each serving and garnish with more cilantro, if desired.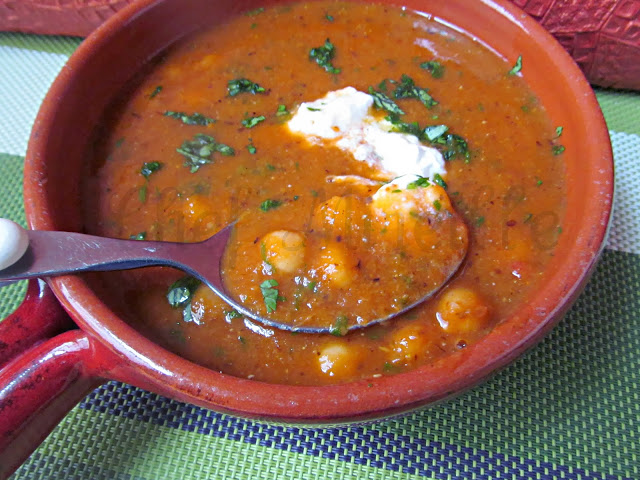 The yogurt adds a nice tang, for a well balanced, flavorful soup.
Check out the Blogging Marathon page for the other Blogging Marathoners doing BM#34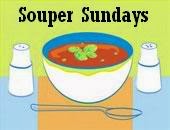 …linking to Souper Sunday
LIKE THIS RECIPE? LEAVE A COMMENT..I LIVE FOR THEM!
Chef Mireille