Last Updated on December 16, 2020 by Chef Mireille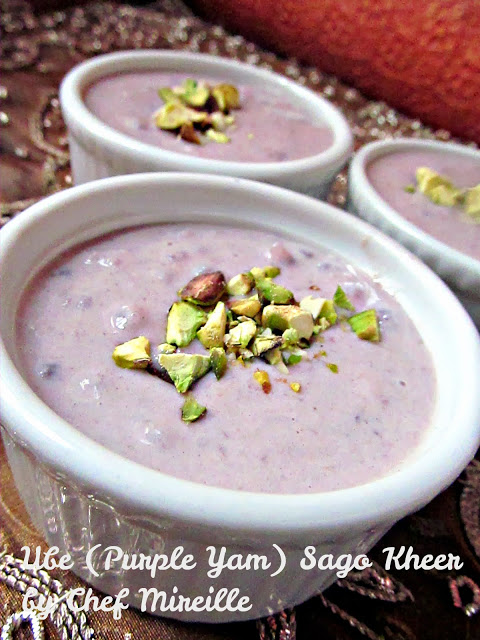 Blogging Marathon #35
Theme: Bookmarked Recipes
I was all set to try another recipe for today and then Manju presented this kheer during last month's Blogging Marathon and I knew immediately I wanted to try this at the earliest. By now, you should all know my love of ube – the Filipino purple yam – so when she utilized this wonderful veggie in an Indian kheer (milk pudding), I knew I had to try it. I already had some frozen ube in my freezer, so all it required was me defrosting it and this was made the very next day after reading her post as all the other ingredients I already had in the house.
Ube Sago Kheer
Ingredients:
1 cup frozen grated ube (purple yam), defrosted
2 1/4 cups milk
1/2 14 oz. can sweetened condensed milk
1/4 teaspoon ground cardamom
1/4 teaspoon Kewra water (this is made from the leaves of the screwpine tree, known as pandanus in Southeast Asian countries. Since pandanus extract/paste is a popular flavoring for sweets in Filipino and other Southeast Asian countries, I thought the use of Kewra water which is popular in India and Pakistan would complement this kheer well)
1/4 cup sago
2 tablespoons pistacchios, chopped (garnish)
In a food processor, combine ube with 1/4 cup of the milk and puree.
Soak sago in 1 1/2 cups of warm water for 20 minutes. Drain.

In a saucepan, heat the remaining milk on medium heat. Add sago and cook for 5 minutes, stirring frequently. Add ube puree and cook for another 5 minutes, stirring frequently.
Add condensed milk, cardamom and Kewra. Cook for 1 minute, stirring constantly.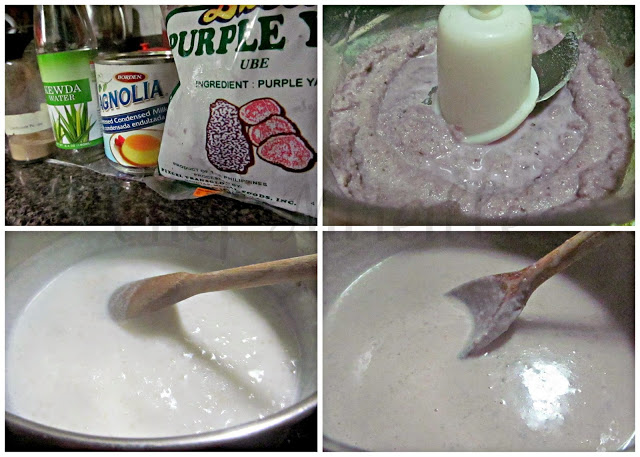 Serve warm, at room temperature or chilled, per your preference. Garnish with chopped pistacchios.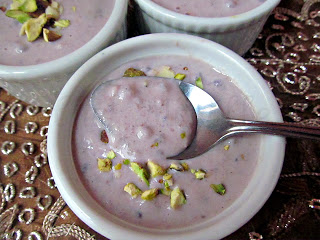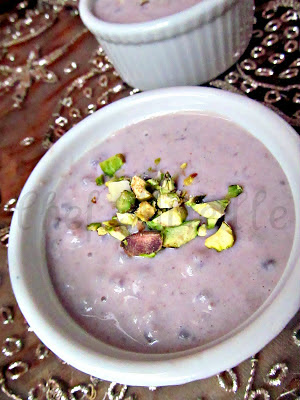 Much thicker than traditional kheer's, I really liked the consistency and of course, the flavor was fantastic. I would definitely give this one repeated performances in my kitchen.
…don't forget to check out my other ube recipes:
Helayang Ube
Ube Quinoa Muffins
Ube Donuts
Ube Puto
Check out the Blogging Marathon page for the other Blogging Marathoners doing BM#34
LIKE THIS RECIPE? LEAVE A COMMENT..I LIVE FOR THEM!
Chef Mireille