Last Updated on December 14, 2020 by Chef Mireille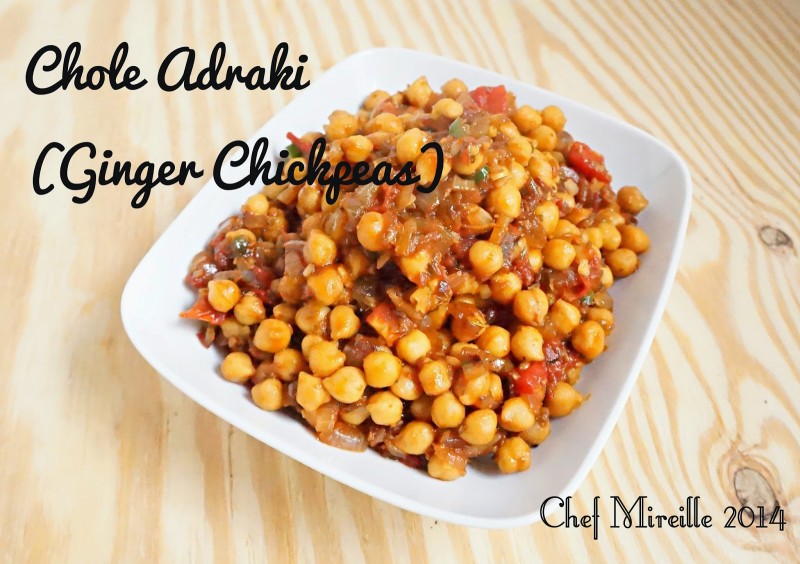 This week my BM theme is North Indian side dishes. Many people don't realize how regionalized Indian cuisine is and often throw it all into one genre. However, there is great variety between the states of India and even a larger divide between the cuisines of North and South Indian states. This week you will get a North Indian side dish from 3 different states perfect to accompany rice or roti (Indian flat bread).
Every state has their own version of chole, basically a stewed chickpea dish with spices. This first side dish of the week is from the state most often represented in Indian restaurants in the West – Punjab.

A few weeks ago I met up with a few of my other blogger BM friends – Pavani, Usha, Nisha and Rajani. Although I've met the other three before, the main purpose of this meeting was to welcome Rajani to America, who has moved here from India just 2 months ago. We went on an excursion to one of the local New Jersey farms that allows you to pick your own produce, Alstede Farms. I came home with pumpkin, apples, peaches, green and yellow beans, sugar sweet grape tomatoes, plum tomatoes and fat and juicy heirloom tomatoes, which I used in the recipe below. The others also got some raspberries and eggplant. We've decided to make it an annual excursion and Rajani and Nisha were happy to learn they lived only 1/2 hour away from this farm so they can visit it on a regular basis to eat farm fresh produce at least from April-November, which is picking season.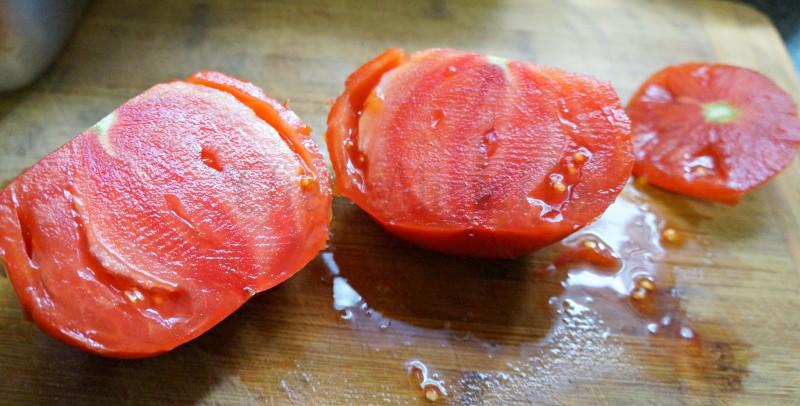 Farm Fresh Tomatoes
The farm fresh tomato pulled off the vine just the day before gave such a delicious flavor to this chole…better than any supermarket tomato.
Chole Adraki
(adapted from The Spice Trail by Sandeep Chatterjee)
Serves 4- 6
Ingredients:
1 cup dried chickpeas, soaked overnight
2 tablespoons ghee
2 onions, chopped
1 tablespoon garlic, chopped
3 tablespoons ginger, chopped
1/2 tablespoon cumin seeds
1 tablespoon coriander seeds, coarsely crushed with a knife or a mortar and pestle
3 tomatoes, chopped ( I used one super large heirloom tomato)
salt, to taste
4 green chiles, chopped
1/2 teaspoon red chile powder (cayenne pepper)
juice of 1 lemon
1/2 tablespoon Kasuri Methi (dried fenugreek leaves)
Bring a large pot of water to the boil with the chickpeas and a pinch of turmeric. Simmer for 1 – 1 1/2 hours, until tender. Alternately, you can pressure cook the chickpeas until tender. Drain.
Heat the ghee in a deep skillet. Add onion and saute until softened.
Add garlic and 1/2 tablespoon of the ginger. Saute for 1 minute. Add kasuri methi, cumin seed, coriander seeds and tomatoes. Cook for 10 minutes, until the sauce is thickened.
Add chickpeas, salt, green chiles and red pepper. Simmer for 10 minutes, until the chickpeas are coated with the sauce.
Remove from heat and toss with the lemon juice and remaining ginger.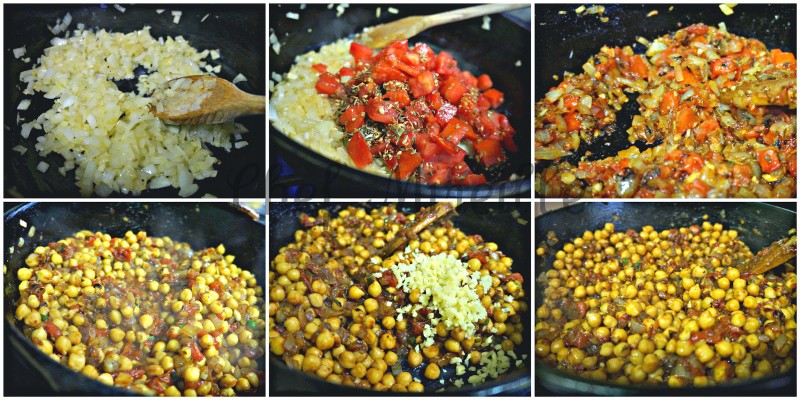 This dish is definitely for the ginger lovers in the crowd!!!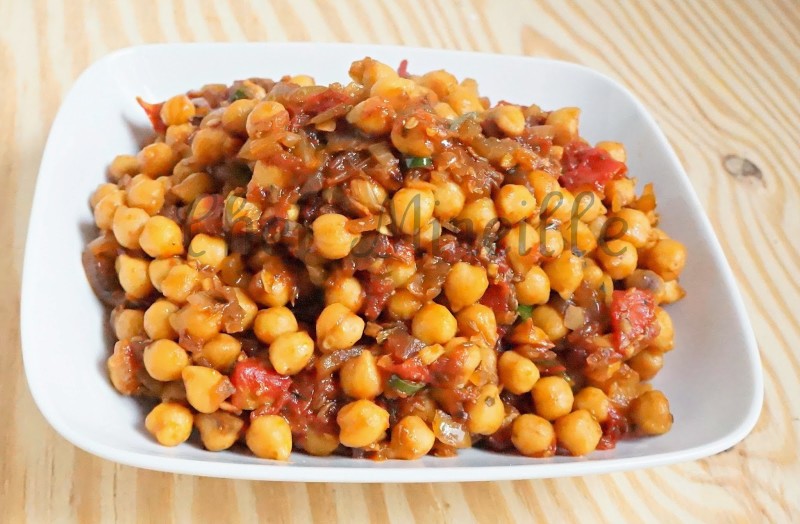 Although I served it with rice, it would also go perfect with Naan bread. Hop on over to my post here for a perfect Naan bread recipe plus some other Punjabi treats to make your Punjabi meal complete.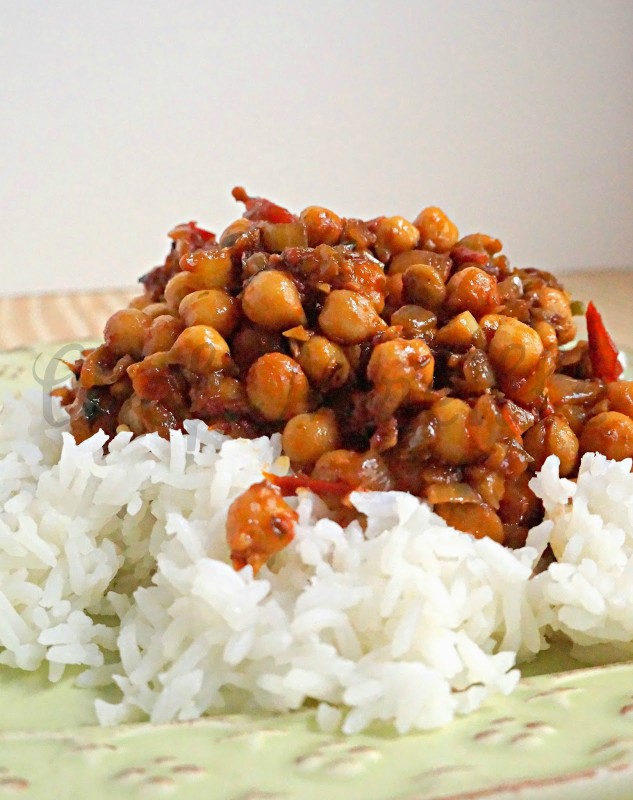 This is also a special post to me because it marks my 1000th published post. Just slightly over 7 years, I have learned so much from other bloggers and this blog has been my creative outlet and to celebrate I will be hosting an online party. So get your cake recipes ready and I will be announcing the event later today.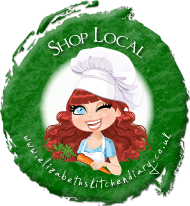 …linking to Nupur's My Legume Love Affair # 76, an event started by Susan and is currently being organized by Lisa & Shop Local
Check out the Blogging Marathon page for the other Blogging Marathoners doing BM# 45
LIKE THIS RECIPE? LEAVE A COMMENT..I LIVE FOR THEM!
Chef Mireille