Last Updated on April 3, 2021 by Chef Mireille
These Fish Tacos with Pan Roasted Corn Salsa are loaded with fresh and bold flavors you'll love. Plus we share our easy Pickled Jicama recipe to add a wonderfully tangy and bright crunch to your homemade fish tacos.
…and for more inspiration for Mexican food night, check out these delicious recipes!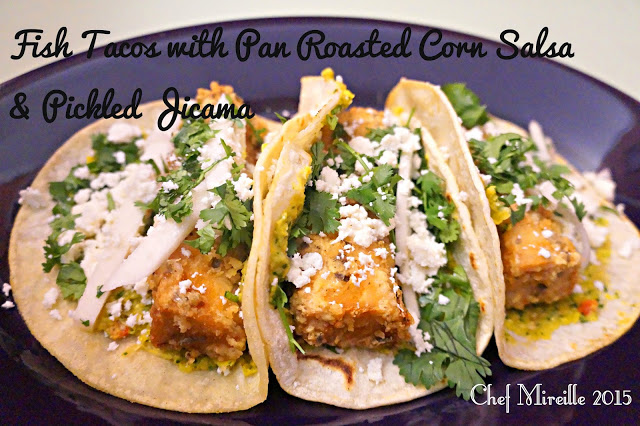 This post may include affiliate links.
I went to Mexico for some inspiration to create these Fish Tacos with Pan Roasted Corn Salsa & Pickled Jicama. This salsa is a little departure from traditional salsas in that I pureed it instead of leaving the vegetables whole and chunky.
The fish is fried for an extra crispy and incredibly delicious taste. Pieces of fried fish are layered with sweet and spicy roasted corn salsa and pieces of crunchy, zesty homemade pickled jicama so that every bite is bursting with bold flavors and great textures.
These tacos are excellent to enjoy as a relaxing meal on a spring or summer weekend, or anytime you're craving a dinner that's fun and flavorful.

Before we get to putting together the tacos, we have to prepare all the stuff that's going to go inside. Continue reading for tips to make the best roasted corn salsa and our favorite pickled jicama recipe.
How to Make Pan Roasted Corn Salsa
Yield: approximately 3/4 cup
Prep Time: 8 minutes
Cook Time (Finishing Time): 5 minutes
Ingredients:
1 tablespoon olive oil
1 ear of corn
2 scallions
1/2 red jalapeno
1/4 cup cilantro
1/4 cup papaya puree
1/4 cup water
1/4 teaspoon salt
Using a sharp knife, remove the corn kernels from the cob.
In a skillet, heat oil. Add corn and saute for 5 minutes on medium heat.
Chop cilantro, scallions and jalapeno.
Combine all ingredients in a blender of food processor and puree.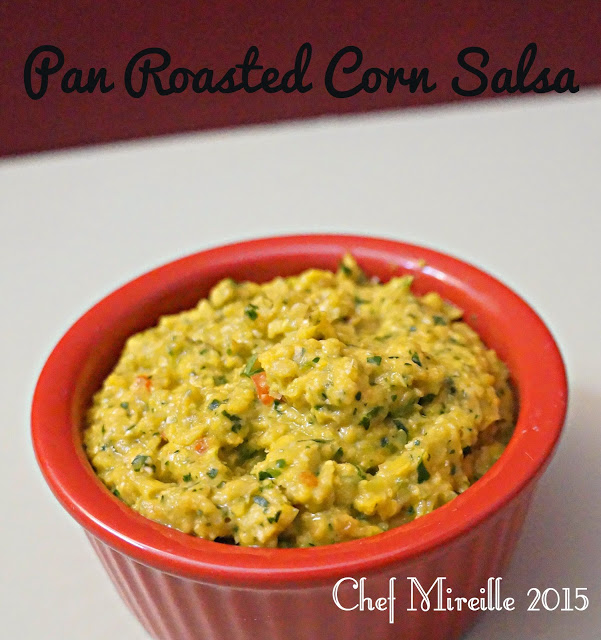 Easy Pickled Jicama Recipe
Prep Time: 5-8 minutes
Cook Time (Finishing Time): 2 hours
Yield: Serves 8
Ingredients:
1/2 jicama
1/2 red jalapeno
1 1/2 cups white vinegar
4 tablespoons sugar
2 teaspoons salt
Thinly slice the jicama and jalapeno.
In a bowl, stir the sugar and the salt into the vinegar.
Add jicama and jalapeno.
Cover and leave in the refrigerator for at least 2 hours.
Tips for How to Fry Fish
Be sure to shake off excess flour so you don't end up having fried fish with a clumpy batter.
Season both the flour and fish itself with the salt to ensure well seasoned fish.
Be sure to use enough oil to deep fry the fish. The fish should be completely submerged in the oil.

Tips for How to Assemble Fish Tacos with Corn Salsa & Pickled Jicama
You will need 2 tortillas for each taco. Otherwise, the tacos will fall apart.
Don't overstuff the tacos otherwise they will be very messy to eat.
Here are some other garnishes you might also like to add to your Fish Tacos or enjoy along side them.
Taco Garnish Recipes
You might also want to make Birria Tacos – Check out my Birria Recipe here!
Serve homemade fish tacos right away while warm.
The fried fish will keep well for a day or so in the fridge and reheated in the oven, but it won't have quite the same great crispy texture and fresh flavor.
Frequently Asked Questions
More Delicious Mexican Recipes to Try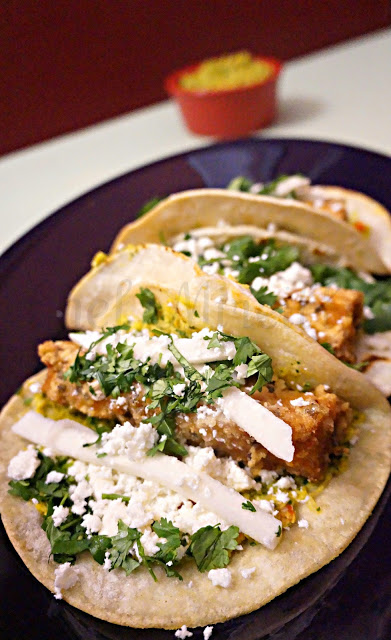 Fish Tacos
Fish Tacos with Pickled Jicama and Roasted Corn Salsa make a great summer meal!
Ingredients
2 8

oz.

Mahi Mahi fish fillets

2

teaspoons

dried oregano

1

teaspoon

cumin

1/2

teaspoon

salt

1/4

cup

all purpose flour

oil

for deep frying

12

corn tortillas

pickled jicama

corn salsa

queso fresco

garnish

chopped cilantro

garnish
Instructions
Cut fish into 2″ pieces.

Combine the cumin, oregano and salt in a small bowl.

Sprinkle fish pieces with half the cumin, oregano and salt. Toss well.

Add the remaining spice mix to the flour and toss the fish well in the flour to coat the fish pieces.

Heat enough oil in a deep skillet for deep frying.

Add fish pieces and fry for 5 minutes, until crispy.

Remove and place on a paper towel lined plate to absorb excess oil.

In a dry skillet, heat the corn tortillas 1-2 minutes on each side until warmed through and slightly browned.

Use 2 tortillas for each taco.

Spread a little salsa on top.

Garnish with the queso fresco and cilantro.
Did you try this recipe? Leave a comment below.
Please follow me on Instagram @chefmireille or tag me #chefmireille with your pics! I'd love to share them!
Don't forget to visit the RECIPE INDEX with over 1000 recipes from around the world including lots of Vegetarian Recipes and Gluten Free Recipes!