Last Updated on January 12, 2020 by Chef Mireille

The Most Popular Sights of Ooty- South India – Discover all the reasons you must visit Ooty!
It's been two weeks since the last #TravelTuesday issue but I have the best issue yet so I am sure you will overlook the skipped weeks. This is a guest post from my friend PJ. She is from a town called Ooty in South India. Here is her personal tour through her home town. She will have you ready to book your ticket tomorrow!
Here is a small tit bit on the history of this place….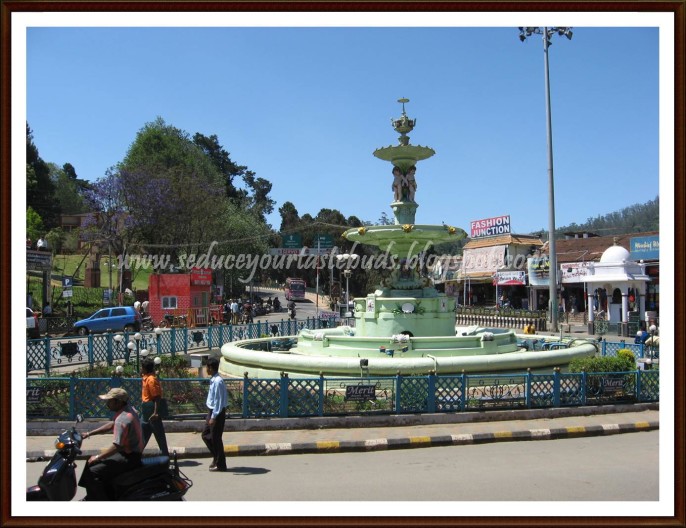 Charing Cross
Last but not the least, a trip on the NMR
/ Nilgiri Mountain Railway is a must! The NMR track is 1,000 mm
(3 ft 3 3⁄8 in)metre gauge.
A section of the tracks between Coonoor and Mettupalayam has the rack and
pinion tracks.
This type of track is laid to climb the steep terrain. A trip on this train
is a very memorable one for it passes
through 16 tunnels, 250 bridges,108 curves covering a distance of around 42 kms!
The train moves rather slowly so that it gives us an opportunity to behold the
breath taking beauty of the hills!
What's even more interesting is the engine pushes the train from behind on
the trip going up to Ooty and it is in front while going downhill! This ensures
that the train does not run amuck.
The other places worth visiting around Ooty are – Dolphin's nose, Catherine
Falls,Lamb's rock,Sim's park, ,Lady Canning's seat,Tea estates and factories, Honey
and Bee museum, etc…
What to shop!?
Ooty is not only famous for its tourists attractions but also for the
various products sold there.
Do you know anyone else who likes learning about international food, culture, history and travel? Bring them over here to join the party! Don't forget to use those share buttons!
Start Here to find out how the Schizo Chef can help you with your cooking, travel and other needs!
If you like this recipe, PLEASE LEAVE A COMMENT & SUBSCRIBE!