Last Updated on September 9, 2021 by Chef Mireille
Indian Pepper Chicken is one of the easiest Indian Chicken Recipes ever that does not require a laundry list of spices and ingredients that many of us associate with Indian Recipes. So quick and easy, you can easily make this a weeknight dinner.  
While many Indian recipes require elaborate cooking techniques, much of homestyle Indian cooking is quick and simple.
Chicken, caramelized onions and a few basic ingredients are simmered together for a quick and easy Chicken Dinner.
You may have tried Chinese Black Pepper Chicken before…now it's time for you to try this lip smacking Indian Pepper Chicken Recipe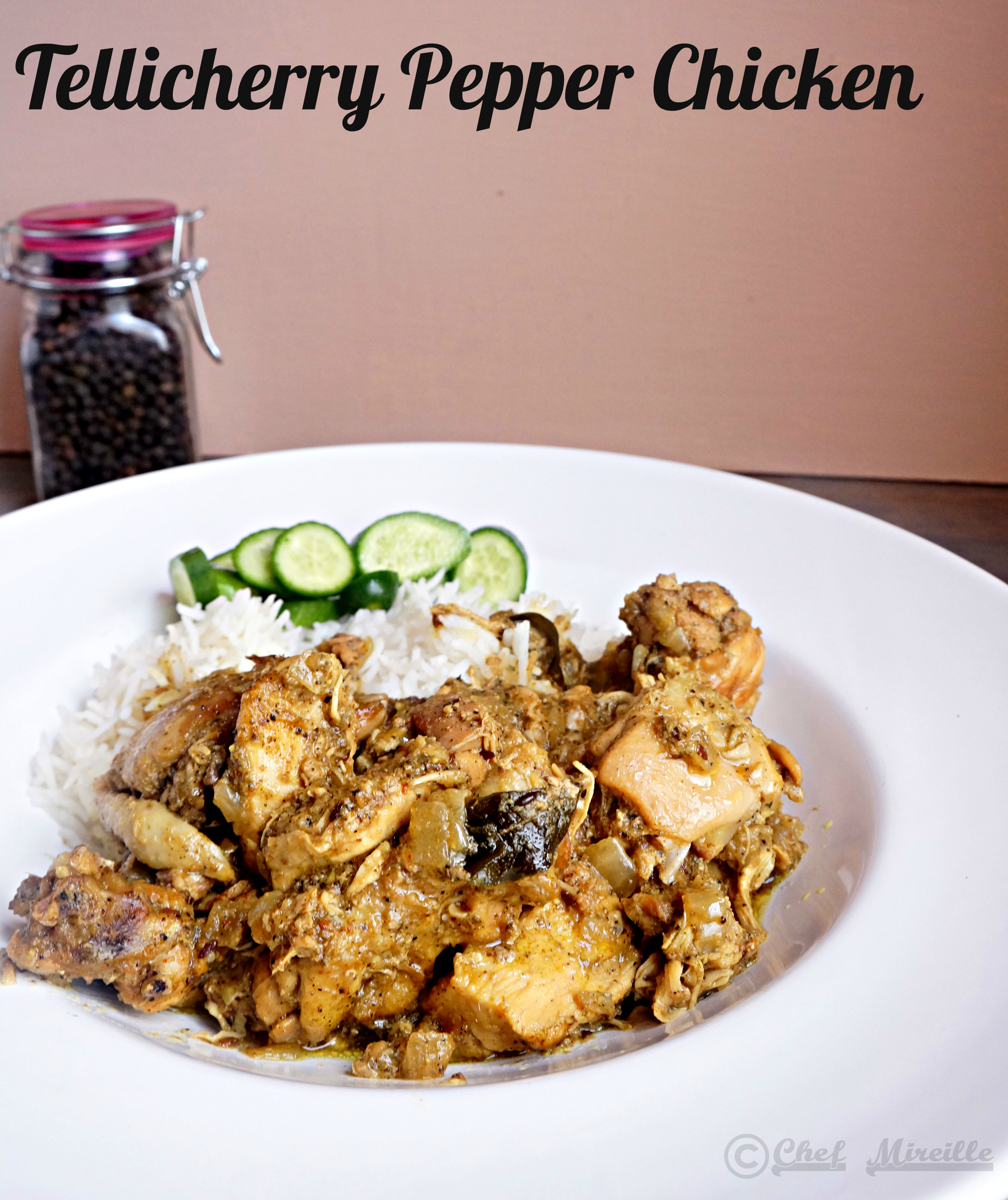 This post may include affiliate links.
Tellicherry Peppercorns
Traditionally known as Tellicherry Pepper Chicken as many people believe Tellicherry Peppercorns are only grown in this town of Kerala In Incida. Formerly known as Tellicherry, the town of Thalassery is not the only place of the famous Tellicherry Peppercorns. They are actually grown throughout the Malabar Coast of India's southwestern coastline.
Although many people believe that Tellicherry peppercorns are only grown in the town of Thalassery (formerly known as Tellicherry) in the Indian state of Kerala, this is a misnomer. Tellicherry peppercorns are grown throughout the Malabar coast.
Tellicherry peppercorns starts the way any pepper plant does. The difference comes in the harvest. When they are harvested, the largest peppercorns only are reserved for the status of Tellicherry peppercorns. A Tellicherry peppercorn must be 4.25 mm or larger. There is a larger size also that comes at a premium price that is sold as Tellicherry Extra Bold, which is 4.75 mm or larger.
This delicious Indian Pepper Chicken does not have to be made with Tellicherry Peppercorns, if you cannot source them. They are generally only available at Indian markets or gourmet supermarkets, as well as online sources. 
Prepping the Chicken
Why it is Important to Clean Chicken
I am of Caribbean decent, which means we are obsessive about cleaning chicken. My Mom's biggest pet peeve is when she is watching a cooking show and she sees the host take meat directly from the package to the pot. She thinks it is the most unsanitary thing ever. Having attended culinary school here in America where I would be reprimanded for cleaning the chicken, I am not as judgmental as her.
However, I do disagree with the professors who would tell me I am altering the taste of an entire dish by cleaning the chicken with a little lemon juice. Since when is a little lemon flavor in a chicken dish a bad thing! Really???
Chicken is loaded with bacteria, especially here in America unless you purchase pasture raised or organic chicken. For many people, the elevated cost of these healthier chicken buying options isn't possible.
Most generic and mainstream chicken brands use pen raised chicken. I am not going to go into detail on why this is unsanitary. That's a discussion for another day! However, chicken is loaded with bacteria and cleaning it with a little acid, is something I ALWAYS do, even when purchasing organic chicken.
You don't always have to do the complete Chicken Cleaning Process I described here, but I always will squeeze some fresh lemon juice over the chicken and leave it for 5 minutes. Then give it a quick rinse. 
This is definitely one of the most delicious recipes of Indian Cuisine and sure to become a family favorite as it is such an easy recipe to put together. 
For a more complete Indian meal, you can pair this Tellicherry Pepper Chicken with Sesame Coconut Rice and Kalonji Dal. I also often keep frozen Tandoori Roti in the freezer so I can have roti within minutes with all of my Indian meals at a moment's notice! 
Now let's get to today's delicious recipe!
Which is the best chicken to use?
You should use skinless chicken pieces on the bone – any combination of drumsticks and/or chicken thighs is best.
While many people prefer the more refined result of using boneless chicken in curry, you will get much more flavor out of your Pepper Chicken by using chicken on the bone.
Chopping the Chicken
Using a good meat cleaver will make it easy to cut through the bone of the chicken to chop it into smaller pieces.
Simply knock the chicken in the same place with the cleaver a few times and then the cleaver will easily cut through the bone.
Always use a stone cutting bard when cutting raw chicken. You don't want to use wood or any other material that absorbs. Stone is best as it will be easiest to clean and be bacteria free than with wood, bamboo or silicone.
The Ingredients
chicken 
garlic 
ginger 
black peppercorns  
turmeric powder  
red chilli powder  
salt 
onion 
curry leaves  
HOW TO MAKE INDIAN PEPPER CHICKEN
Make the masala with the peppercorns, ginger, garlic and spices. 
Simmer the chicken with the masala until cooked through. 
Make the tadka with caramelized onions, the cumin seed and curry leaves. 
Add the tadka to the pot. 
Serve with Basmati rice.
If you like this Indian Pepper Chicken Curry, you will love exploring with these other Indian Chicken Dishes. 
Indian Chicken Curry Recipes 
Indian Pepper Chicken
Ingredients
3

lbs.

chicken pieces

cut into large pieces

8

cloves

garlic

1

inch

piece of ginger

2

tablespoons

peppercorns

1/2

teaspoon

ground turmeric

1/2

teaspoon

red chile powder

1 1/2

teaspoon

salt

8

tablespoons

water

1/4

cup

oil

1

strand curry leaves

1

teaspoon

cumin seeds

2

chopped onions
Instructions
Grind peppercorns in a spice/ coffee grinder or mini chopper. It's alright if they are a little coarse. It's not necessary to grind it into a fine powder. 

Add ginger and garlic and process into a coarse powder. 

Add turmeric, chile powder, salt and 2/3 cups water and process until smooth in a food processor or mini chopper. 

In a pot, combine chicken with contents of chopper. Add 1/3 cup water. Bring to a boil. Reduce to a simmer and let the chicken cook on medium-low heat for 30 minutes.

In a deep skillet or pot, heat oil. Add curry leaves. Fry for 1 minute. Add cumin seed and fry for another minute.

Add onions and cook on low heat for 10 minutes, until golden brown.

Add chicken with its sauce into this pot and cook on medium high heat for 15 minutes.

Serve with Basmati rice.
Nutrition
Calories:
451.01
kcal
|
Carbohydrates:
5.73
g
|
Protein:
32.48
g
|
Fat:
32.64
g
|
Saturated Fat:
7.89
g
|
Sodium:
535.42
mg
|
Fiber:
1.22
g
|
Sugar:
1.42
g
Did you try this recipe? Leave a comment below.
Please follow me on Instagram @chefmireille or tag me #chefmireille with your pics! I'd love to share them!
Don't forget to visit the RECIPE INDEX with over 1000 recipes from around the world including lots of Vegetarian Recipes and Gluten Free Recipes!