Last Updated on July 20, 2023 by Chef Mireille
This post may include affiliate links.
This Indian Sesame Rice with Coconut and spices is so flavorful with the nutty tones of toasted sesame. Even on its own, it is very addictive and you can easily eat an entire bowl by itself.
Not only is it part of my heritage, but as I have explored different Indian regional cuisine, the variety and diversity of the cuisine is amazing. It is a treasure trove of recipes and flavors, especially if you are Vegetarian.
I love setting a table filled with classic Indian recipes and having friends and family over. Even something as simple as adding a few simple flavor elements to rice can be something your guests will ooh and aah over.
One bite and you will be hooked!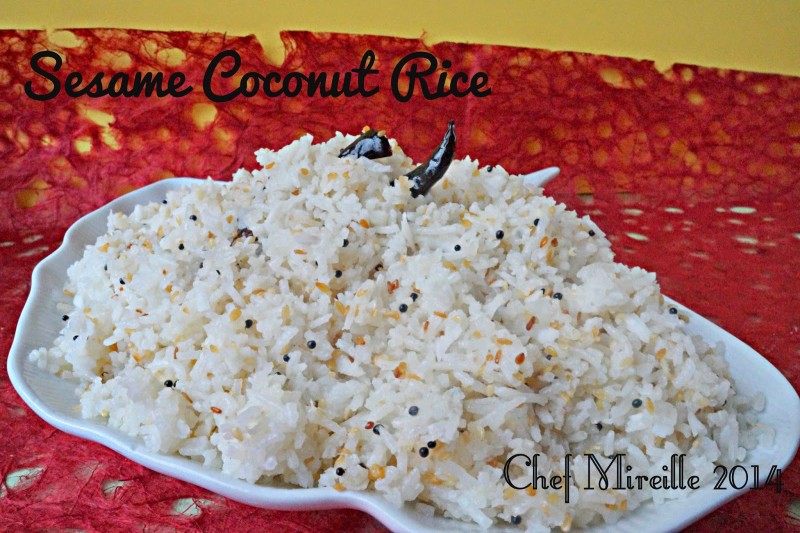 Table of Contents
This South Indian style rice is known in Southern India as Til Narial Bhat.
"Til" (Hindi) means "sesame," while "narial" means "coconut." And as you might have guessed, "bhat" means "rice."
So essentially, the phrase literally means "sesame coconut rice."
There are many variations of this recipe, but the version we're having today will really highlight those sesame and coconut flavors.
You may be surprised at how these two simple flavors are not only delicious, but good for you too!
Health Benefits of Sesame and Coconut
The Superfood Coconut
Coconut is considered a superfood because of its rich nutritional profile. It's a great source of fiber, amino acids, vitamins, and minerals.
Coconut may also aid in improving digestion.
The Nutrient-Dense Sesame
Sesame isn't too far behind and won't hand the crown too easily onto coconut. For one, sesame seeds are packed with fiber and protein.
When hulled and roasted, sesame seeds give you a significant portion of your protein needs. The hulling and roasting process also makes the protein more digestible.
Moreover, sesame seeds are rich in minerals like calcium, manganese, zinc, and magnesium.
Meanwhile, sesame oil is full of antioxidants and is rich in omega fatty acids.
Variations
If you can't find basmati rice, you can replace it with any long-grain white rice. One of your best options is jasmine rice. Another option is still basmati rice, but the brown one, which is richer in fiber.
Add some more flavor and fragrance to your rice by using spices such as cardamom pods, cloves, and bay leaf while you're cooking the rice.
Now before we get to the ingredients you need, I need to tell you about the sesame oil used here.
Specialty Sesame Oil
Here in America, when we say sesame oil we all think of the East Asian sesame oil which is dark in color and quite robust in flavor. But this sesame oil is different…
East Asian sesame oil is made from toasted sesame seeds, while this South Asian sesame oil is made from raw sesame seeds.
You will need to visit an Indian supermarket or order this oil from online sources. Indian supermarkets is the only place I have ever seen this golden colored sesame oil…unless you have a really extensive gourmet supermarket with a large international section that may carry it.
Much lighter in flavor, this sesame oil will not overpower the gentle flavor of toasted sesame seeds and coconut.
Before we get to today's delicious recipe, here are some other rice recipes you may like to try!
Rice Recipes
Ingredients for Indian Rice with Sesame & Coconut
basmati rice
coconut milk
grated ginger
light sesame oil
brown mustard seeds
dried red chillies
sesame seeds
salt
grated coconut
How to make Sesame Coconut Rice
Cook the rice.
Roast the mustard seeds, chiles, and sesame seeds.
Mix in the cooked rice and coconut.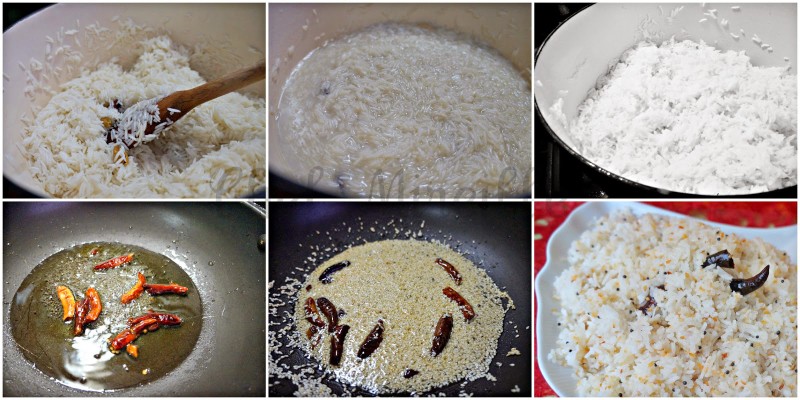 Make sure to toss until rice is well-coated so that every bite is filled with goodness.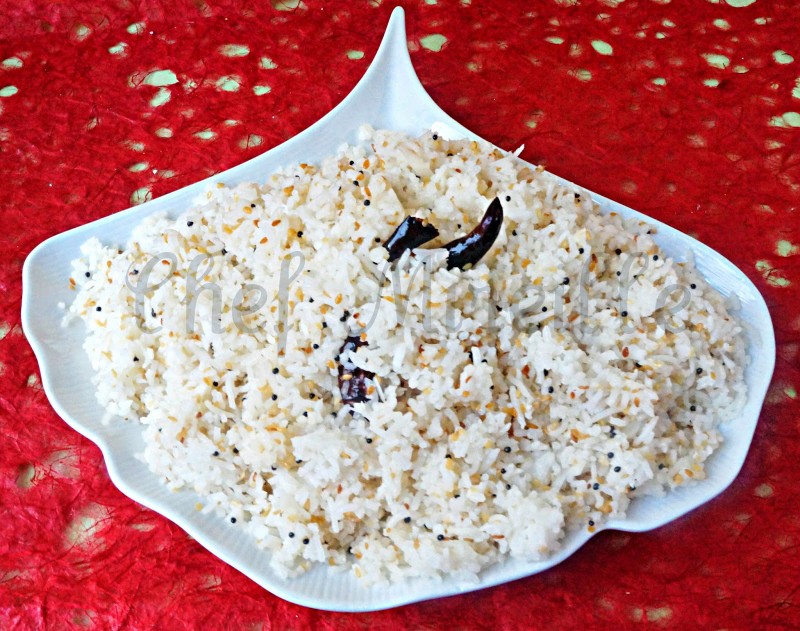 Once you smell this coconut sesame rice, you can't wait but dig in! You might even finish the whole plate.
Indian Rice with Sesame and Coconut – Til Narial Bhat
This Sesame Coconut Rice is a classic South Indian dish that you can easily add to your lunches. You'll love the added nuttiness from the toasted sesame! It is super flavorful and vegan too.
Ingredients
2

cups

Basmati Rice

2

cups

coconut milk

1

teaspoon

ginger

grated

4

tablespoons

light Sesame oil

this is a golden-colored sesame oil available at Indian supermarkets

1 1/2

teaspoons

brown mustard seeds

1/3

cup

sesame seeds

1 1/2

teaspoons

salt

1

cup

frozen grated coconut

defrosted (or freshly grated coconut)
Instructions
Soak rice for 1/2 hour.

Bring 1 1/2 cups water, coconut milk, and ginger to a boil.

Add rice and bring to a boil again.

Reduce to a simmer, cover, and cook on medium-low heat for 20 minutes, until rice is tender and the liquid has been absorbed.

Heat oil in a wok or large pot.

Add mustard seeds. When they start to pop, add chiles. After 1 minute, add sesame seeds.

When the sesame seeds turn golden brown, add coconut, salt, and rice.
Did you try this recipe? Leave a comment below.
Please follow me on Instagram @chefmireille or tag me #chefmireille with your pics! I'd love to share them!
Don't forget to visit the RECIPE INDEX with over 1000 recipes from around the world including lots of Vegetarian Recipes and Gluten Free Recipes!