Last Updated on December 14, 2020 by Chef Mireille
Dogri Chicken Masala
Kashmiri Chicken Curry is a homestyle chicken curry from the North Indian state of Kashmir I learned on my trip to India.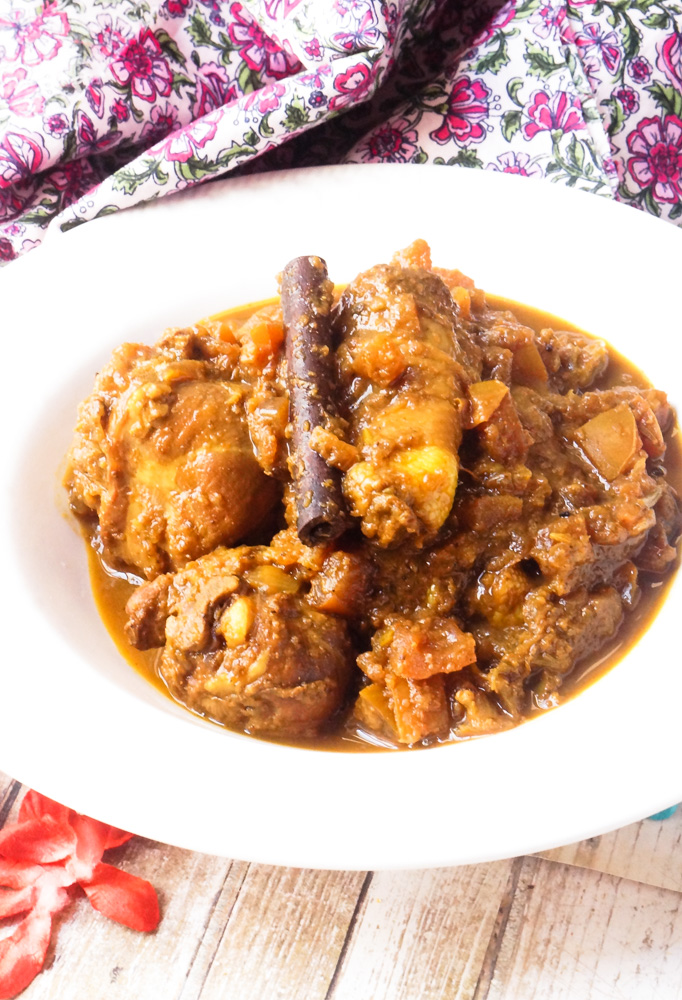 Several months ago when I was visiting my blogger friend Pradnya in Mumbai, she was invited to a blogger event at Renaissance Hotel, Mumbai. As a fellow blogger and her house guest, she managed to include me in the invite as well. You can read more about my experience and the event here, but we participated in a contest where we had to guess what primary spices were used. I failed miserably, but I was glad my host Pradnya won.
Today, especially as Diwali is being celebrated the world over, I am reminded of the wonderful days I spent in Mumbai. To vicariously bring me back to those days, I am presenting one of the recipes by the specially selected home chefs that were at the event to highlight regional Indian cuisine – Dogri Chicken Masala. Kashmiri cuisine is one of my faves and I have already presented several Kashmiri dishes. If you would like to add to this chicken to build a complete meal, try Wadi Curry, Zarda Pulao & Saffron Tea
This is my adaptation of a Kashmiri recipe by Sayantani Mazumdar. With all the warm smoky spices, this hearty chicken curry is perfect for the season as the temps are starting to cool, although it is unseasonably warm today 🙂
Before we get to how to make Dogri Chicken Masala – Kashmiri Chicken Curry, make sure to check out all of my culinary experiences when I was in Mumbai!
RELATED – 24 HOUR MUMBAI FOODIE GUIDE & JUHU BEACH – MUMBAI'S STREET FOOD CENTER & MUMBAI STREET FOOD
IN THE MAKING – HOW TO MAKE DOGRI CHICKEN MASALA
This is such a delicious Chicken Curry. I am sure you won't be disappointed.
Dogri Chicken Masala
Dogri Chicken Masala is a homestyle chicken curry from the North Indian state of Kashmir. I learned this recipe when I was in India.
Instructions
In a dry skillet, roast cilantro stems.

In a food processor, combine cilantro stems, 1 of the onions, ginger, garlic, cumin, coriander and fennel.

In a deep skillet, heat mustard oil. Add cinnamon, green cardamom, black cardamom, cloves and peppercorns. Fry until it becomes fragrant.

Add onion and saute until it becomes golden brown.

Add chicken and masala paste from the food processor. Add turmeric, chile powder and tomatoes. Simmer for 15 minutes.

Add sugar and salt. Simmer, covered, for 15 minutes.

Add lemon juice. Stir to combine.
Nutrition
Calories:
305.88
kcal
|
Carbohydrates:
10.89
g
|
Protein:
22.75
g
|
Fat:
19.18
g
|
Saturated Fat:
5.16
g
|
Sodium:
537.13
mg
|
Fiber:
2.77
g
|
Sugar:
4.28
g
Did you try this recipe? Leave a comment below.
Please follow me on Instagram @chefmireille or tag me #chefmireille with your pics! I'd love to share them!
Don't forget to visit the RECIPE INDEX with over 1000 recipes from around the world including lots of Vegetarian Recipes and Gluten Free Recipes!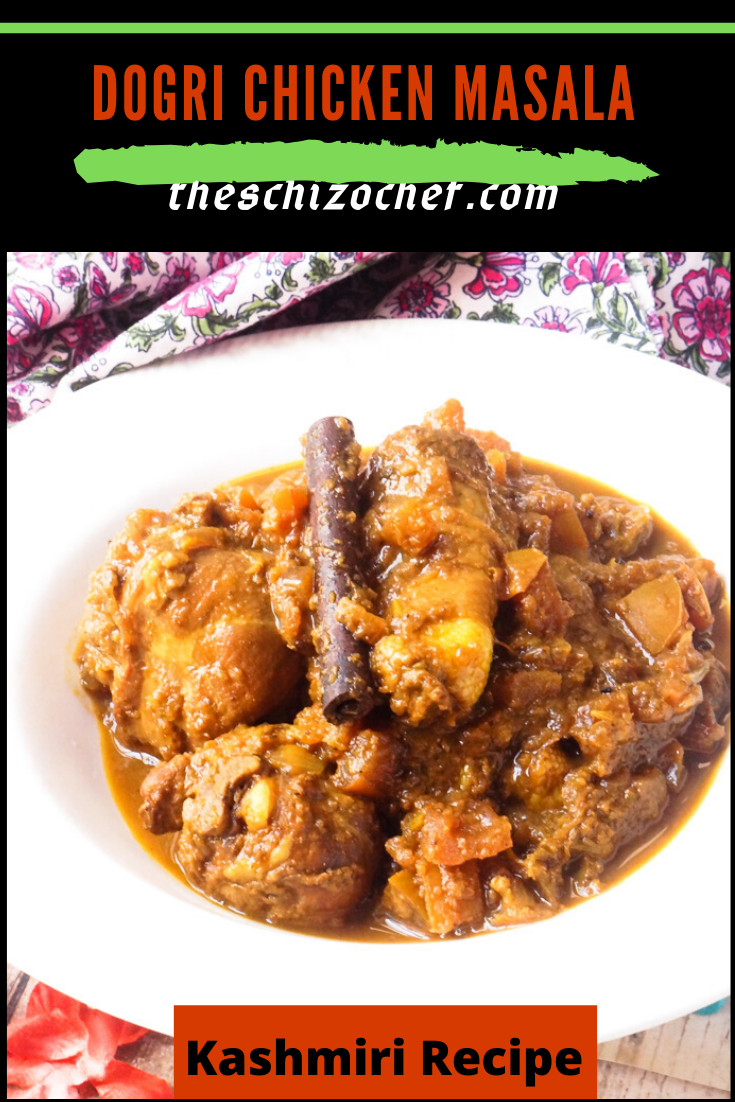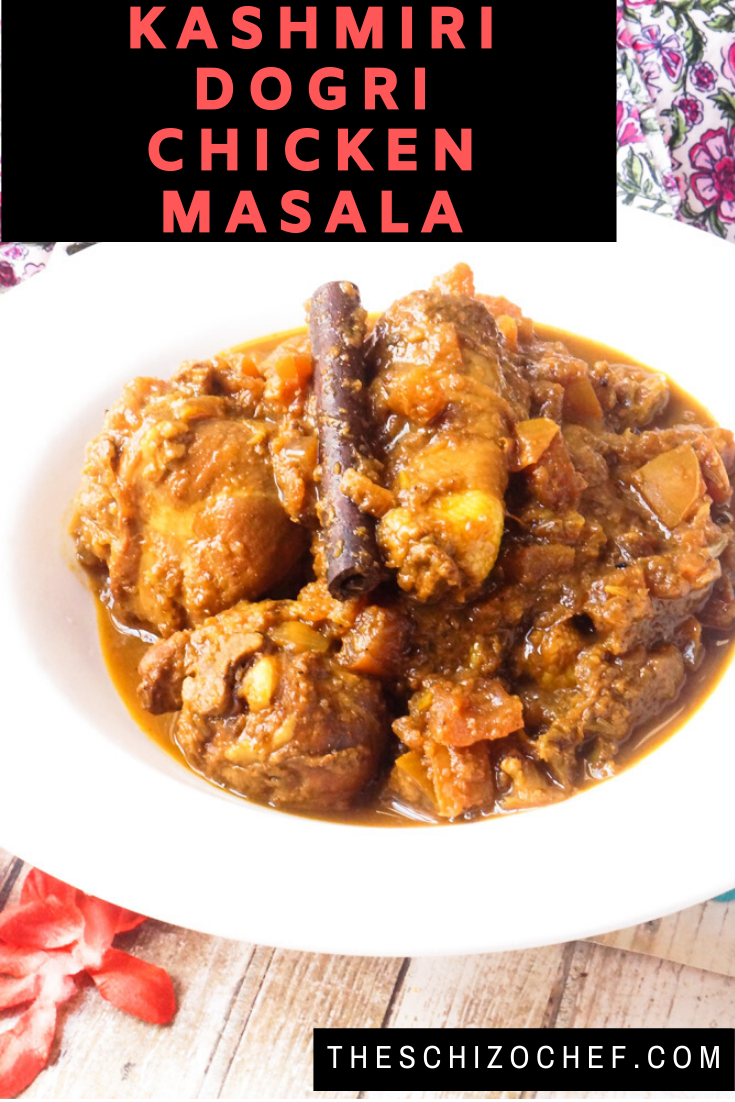 DO YOU YUM? SAVE IT BELOW!
Yum
This post may include affiliate links.