Last Updated on January 9, 2021 by Chef Mireille
Akkaravadisal – is a thick and creamy South Indian style rice pudding, often made to celebrate the harvest festival of Pongal.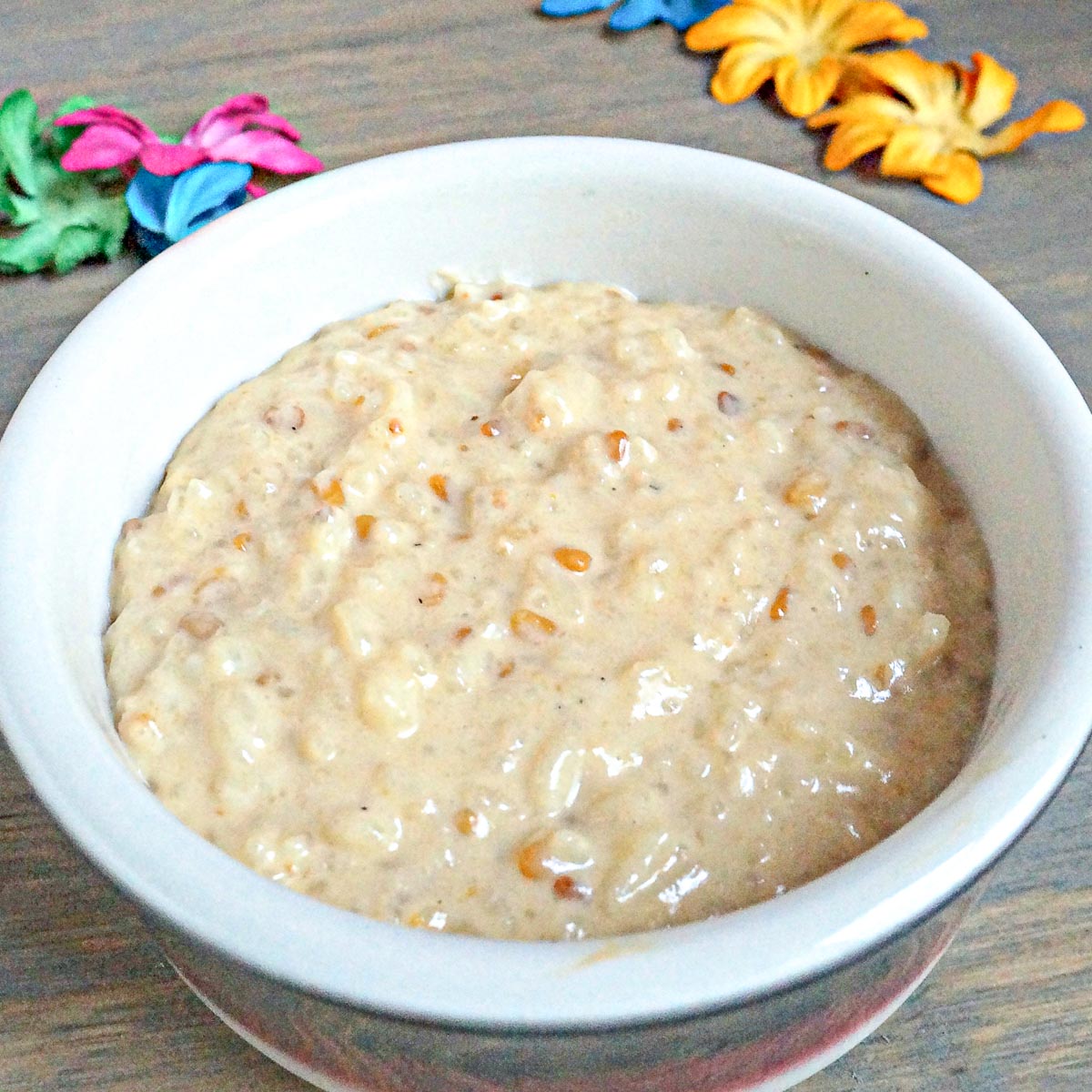 This post may include affiliate links.
Are you a rice pudding fanatic?
I am. I have tried rice puddings from around the world – thick, thin, with fruit, with chocolate. The variations are endless and I haven't yet found one I didn't like.
Most of you when I say Indian rice pudding probably automatically think of kheer. It is the most popular dessert available at Indian restaurants in the west. Kheer is a very thin rice pudding with more milk than rice and is always eaten chilled.
However, there are many variations of rice pudding thoughout India.
This South Indian rice pudding known as Akkaravadisal is often prepared during the South Indian festival of Pongal.
Pongal Festival
Pongal is a festival celebrated in the South Indian state of Tamil Nadu and Pondicherry as well as Singapore, Sri Lanka and other countries that have large Tamil Nadu descended populations.
It is a four day harvest festival held during the month of Thai in the Gregorian calendar, which occurs sometime in January-February. Part of the harvest will include rice and other cereal grains, turmeric and sugar cane. Therefore, these ingredients are used liberally in the traditional Pongal foods.
There are several both savory and sweet versions of rice pudding that are traditional to eat during Pongal. In fact, the rice pudding itself is also known as Pongal as in Ven Pongal and Kolkandu Pongal, the two versions I previously made.
On the second day of Pongal, it is traditional to boil rice in milk outdoors in earthenware pots with a turmeric plant tied around the pot. This cooked rice along with banana, coconut and sugarcane is offered to the sun god, Surya (also known as Aditya, Bhanu or Ravi Vivasvana) to thank Surya for a fruitful harvest. This is why so many different versions of Pongal (rice pudding) are made during the holiday.
This version uses just a few simple ingredients to dedicate to Surya. Whether you choose to celebrate Pongal or not, this delicious South Indian Rice Pudding is a delicious treat for any time.
What kind of rice should you use?
Although I have made it with Basmati Rice in the past, it is preferable to use short grain rice.
Short Grain rice has more starch will lend itself to achieving the creamy consistency you want.
Ingredients
Have you tried instacart yet? It's how I get all of my fresh grocery items delivered within 2 hours!
Now you have all the ingredients – It's time to make Akkaravadisal for Pongal.
How to make South Indian Akkaravadisal Rice Pudding
First there is a little bit of prep involved.
Soak the rice in water for 30-45 minutes.
Grind the seeds from the cardamom pods with the edible gum.
Fry the cashews in a little bit of the ghee until golden. Add raisins and fry for another 10 seconds. Immediately remove from the pan.
With the rest of the ghee, we toast the moong beans (moong dal_ and then the rice.
We then add the milk and bring to a boil.
Simmer for about 25-30 minutes until rice is tender.
Add jaggery and cashews/raisins.
Simmer another 5 minutes, until thick and creamy.
The pudding thickens as it chills. If it becomes too thick, add a little milk or water to keep it thick and creamy.
Akkaravadisal – South Indian Pongal Rice Pudding
Instructions
Soak rice for 30-45 minutes. Drain.

Using a coffee/spice grinder, grind cardamom seeds and edible gum to a powder.

In a small skillet, heat 1 tablespoon of ghee. Add cashews and fry until golden brown. Add raisins and fry for another few seconds. Remove from pan and set aside.

In a saucepan, heat 1 tablespoon of ghee. Add moong dal and stir fry until golden brown.

Add rice and stir fry for 1 minute.

Add milk to the saucepan and bring to a boil over medium heat. Simmer for 25 minutes until thick and creamy.

Add jaggery, cardamom/edible gum and cashews/raisins and stir to combine.

Cook for 5 more minutes until thick and creamy.
Notes
Use short grain rice for best results.
Can we served warm or chilled.
If it gets too thick as it chills, add a a little milk or water.
Nutrition
Calories:
353
kcal
|
Carbohydrates:
55
g
|
Protein:
8
g
|
Fat:
11
g
|
Saturated Fat:
6
g
|
Cholesterol:
29
mg
|
Sodium:
73
mg
|
Potassium:
287
mg
|
Fiber:
1
g
|
Sugar:
37
g
|
Vitamin A:
273
IU
|
Vitamin C:
1
mg
|
Calcium:
201
mg
|
Iron:
1
mg
Did you try this recipe? Leave a comment below.
Please follow me on Instagram @chefmireille or tag me #chefmireille with your pics! I'd love to share them!
You might also like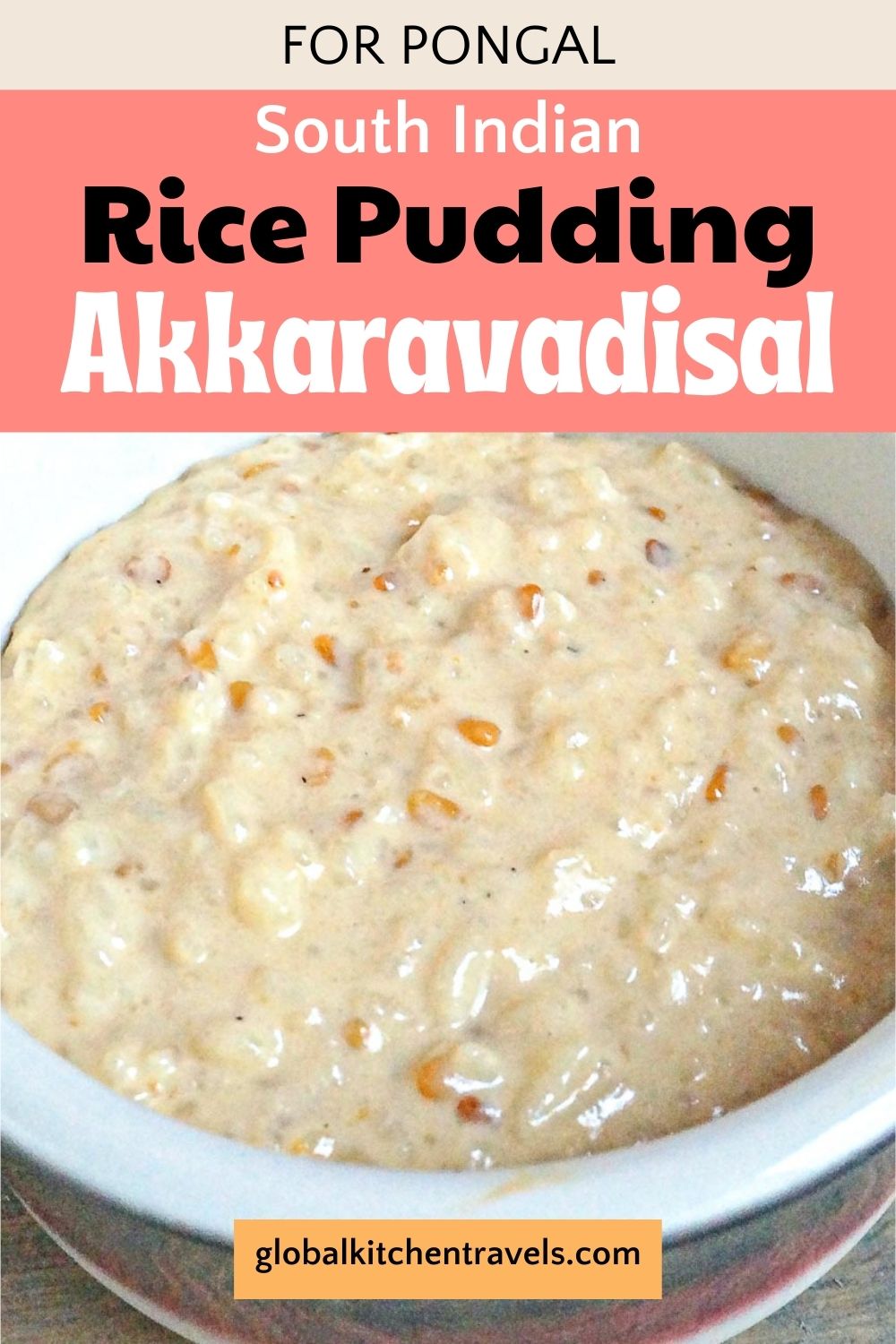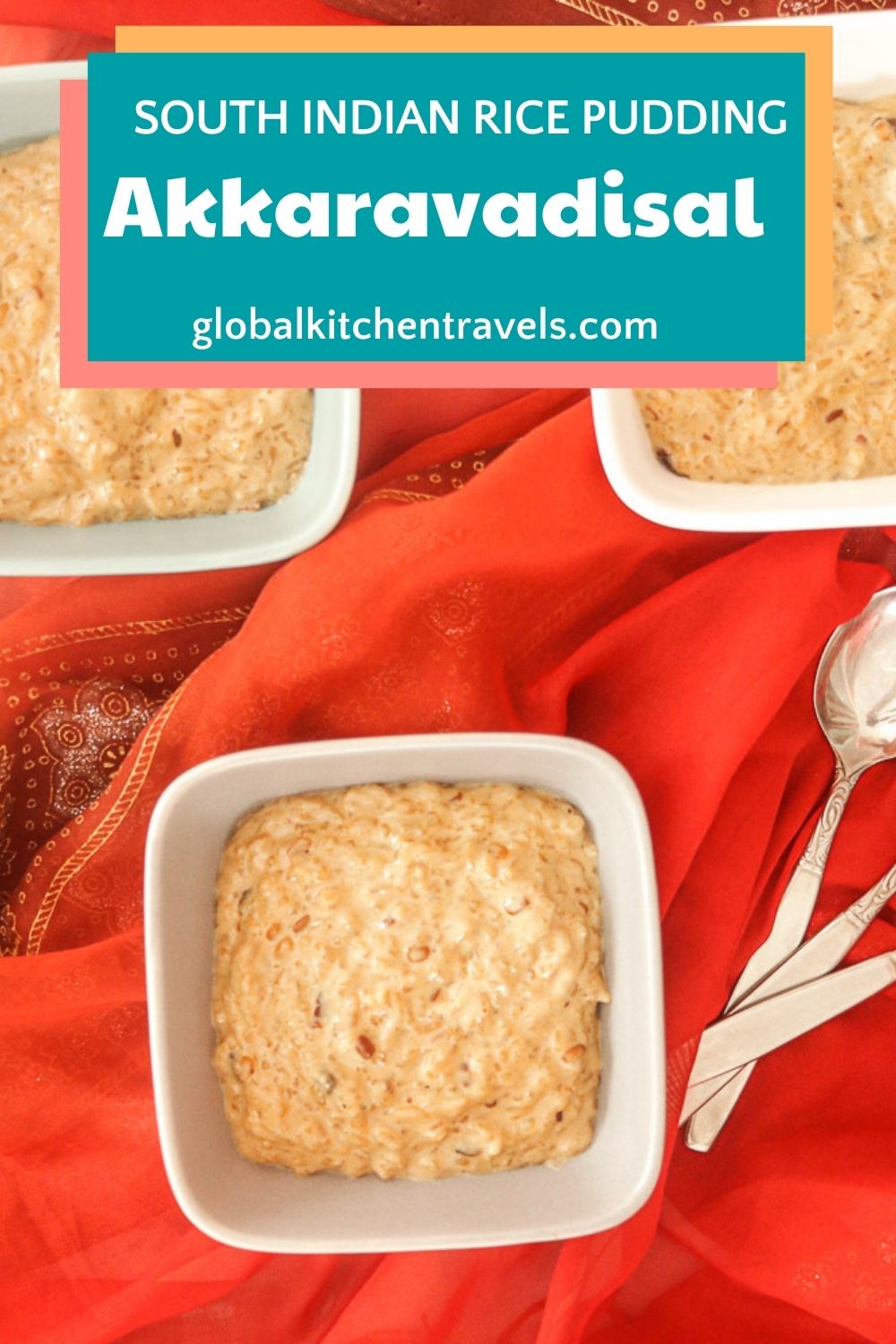 Don't forget to visit the RECIPE INDEX with over 1000 recipes from around the world including lots of Vegetarian Recipes and Gluten Free Recipes!