This post may include affiliate links.
Salsa Macha is one of the most basic salsa recipes found throughout Mexico. Originating from Veracruz, it is a unique salsa recipe made of dried chile peppers, nuts and seeds. It is very hot and spicy and is generally added to soups and stews like Green Pozole for added spice and flavor.
I once read an American publication refer to it as chili infused peanut butter…uh…no. While the recipe does include peanuts, it is far from a peanut butter consistency. It is more an infused oil, as it is sometimes called Salsa de Aceite (sauce of oil), with some peanuts included in the recipe. Not everything has an American translation and this is one of them!
This Mexican Salsa Macha can be added to so many Mexican Recipes. For more ideas, check out this collection of over 20 Mexican Recipes.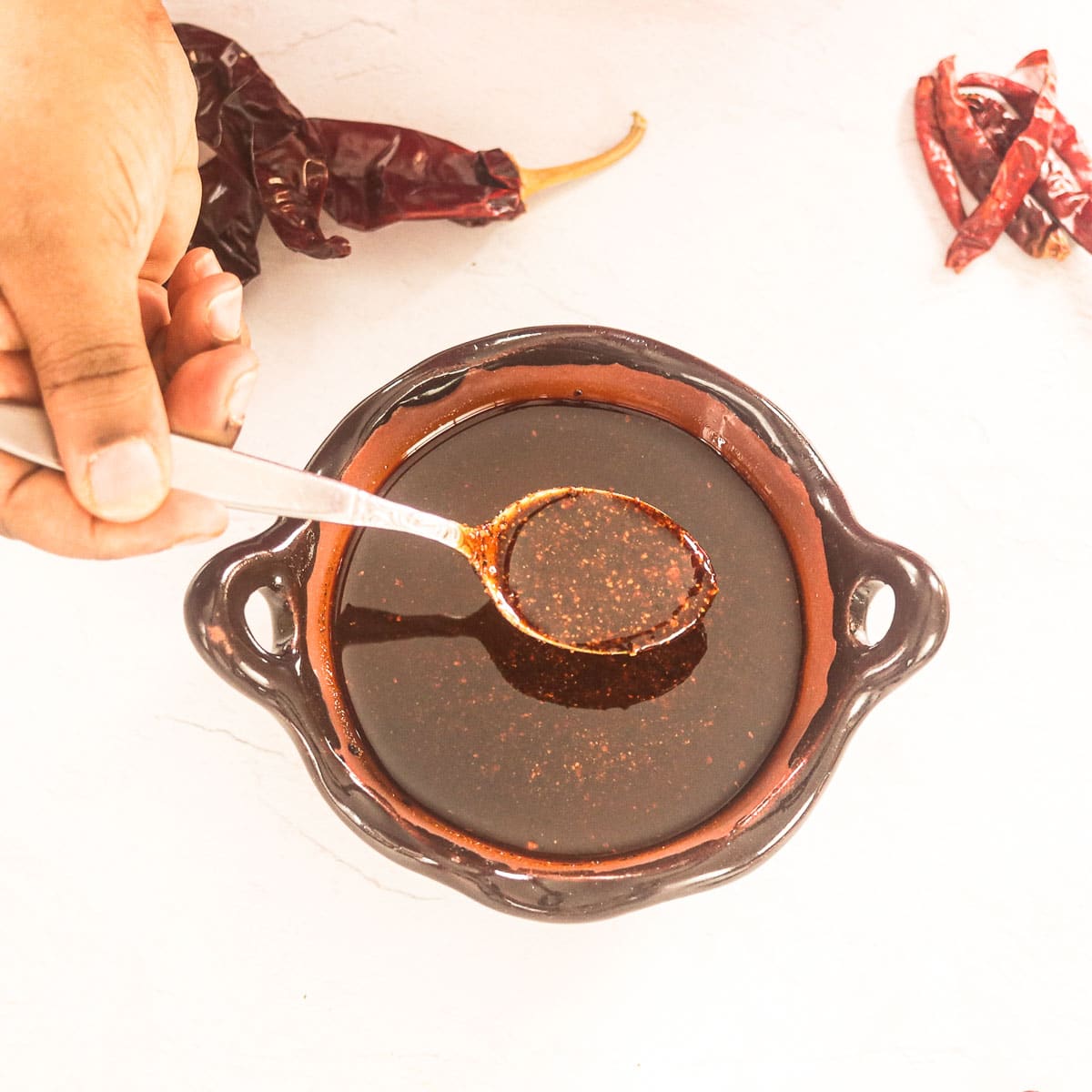 If Taco Tuesday is a regular occurrence at your house, Salsa Macha is a requirement if you love lots of spice and heat!
Frequently Asked Questions
What is salsa macha made of?
Salsa Macha is essentially a chili oil from Veracruz. It is more of an infused oil than your traditional salsa consistency.
What is salsa macha used for?
Salsa Macha is often added to soups and stews. However it is also drizzled in burritos, tacos, quesadillas and so much more.
What are the best dried red chillies for Salsa Macha?
Chiles de Arbol is required, however any type of additional red chillies can be added for more complex flavor profiles. Pasilla, Guajillo, Ancho, Costeno, Negro and Morita Chiles are a few other dried red chillies that can also be used.
How spicy is Salsa Macha?
This Mexican chile oil is very spicy, however, you can temper the chiles some by removing the seeds from them prior to placing them in the oil. You can also add the fried tortilla variation detailed below.
Variations
Salsa Macha Verde – Fresh green chillies like jalapenos and serrano chili peppers are used instead of dried red chillies. Sometimes avocado is also added.
Nuts and Seeds – Other nuts and seeds can be added like sesame seeds, sunflower seeds or almonds.
Fried Tortilla – For a milder version, a fried corn tortilla can be added to the blender when making macha sauce.
Salsa Macha Uses
The variety of ways you can use salsa macha are wide and varied. Since it is so hot and spicy, it is great when balanced with milder flavors.
Some of the ways you can utilize Salsa Macha include:
on sandwiches
drizzled in tacos, burritos quesadillas
added to soups and stews
Nachos Bar Ideas (or Taco Bar Ideas)
Avocado Toast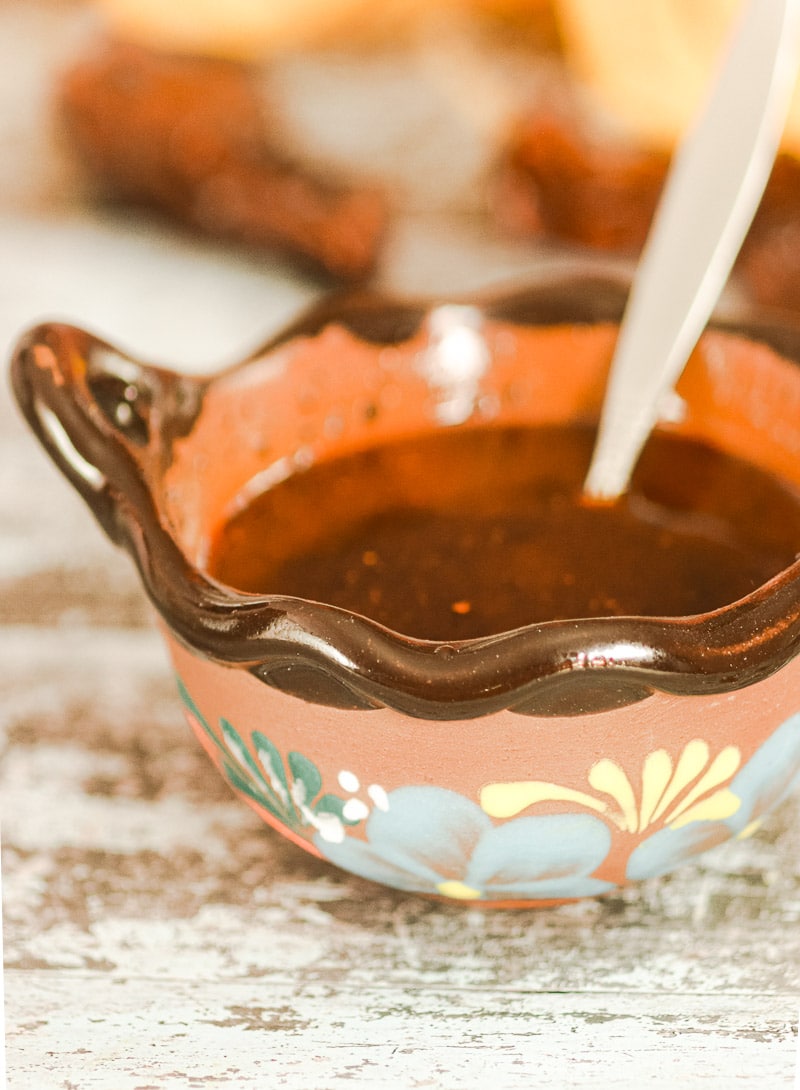 Chiles for Salsa Macha Recipe
Some people make it simple and use only chile de arbol. However, I find using different chilies gives it a more complex flavor as different chillies have different flavors.
The Scoville meter is the standard used to measure chili pepper heat, so you can judge which peppers you might want to use more of, depending on your chile pepper tolerance.
Chile De Arbol – One of the hottest chile peppers – about 15000-30000 on the Scoville meter. These are sweet and spicy!
Chile Costeno – These chile peppers have a sweet fruity taste with a medium heat level, registering around 5000-15000 on the Scoville meter.
Ancho Chile – Smoky with a mild heat level. These dried and smoked poblano peppers add the smokiness without too much spice, registering only about 1500 on the Scoville meter. Due to the smokiness in these peppers, there is no reason to add any additional spices.
Now, let's go over the ingredients you are going to need to make Authentic Salsa Macha Recipe.
Salsa Macha Ingredients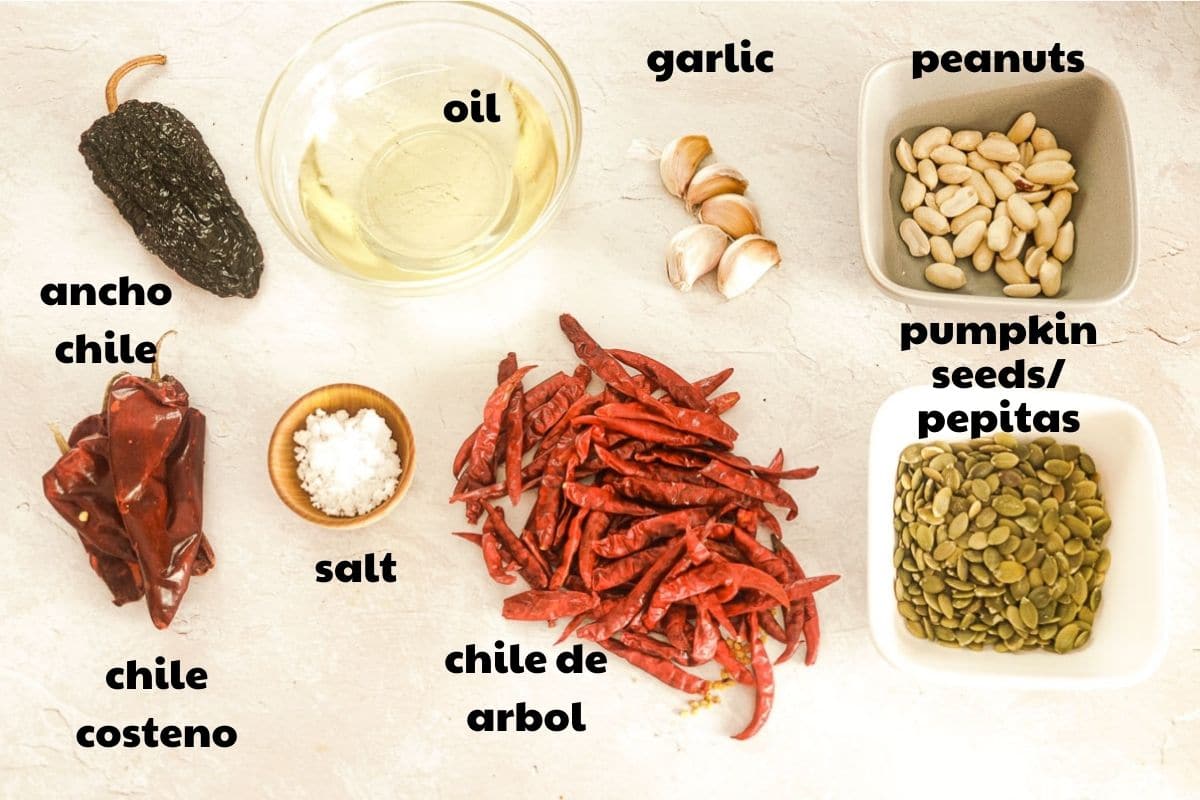 vegetable oil (or any other neutral flavored oil)
garlic
peanuts
pumpkin seeds
chilies de arbol
chili costeno
ancho chile
Mexican salt – Mexico has the largest salt factory in the world. Their sea salt is rich in minerals. Use any sea salt, if Mexican salt is not available.
How to Make Salsa Macha Recipe
In a large saucepan (or a large skillet), fry the garlic, peanuts and pumpkin seeds separately in the oil until golden brown.
Now add peppers in the same oil until they soften a bit.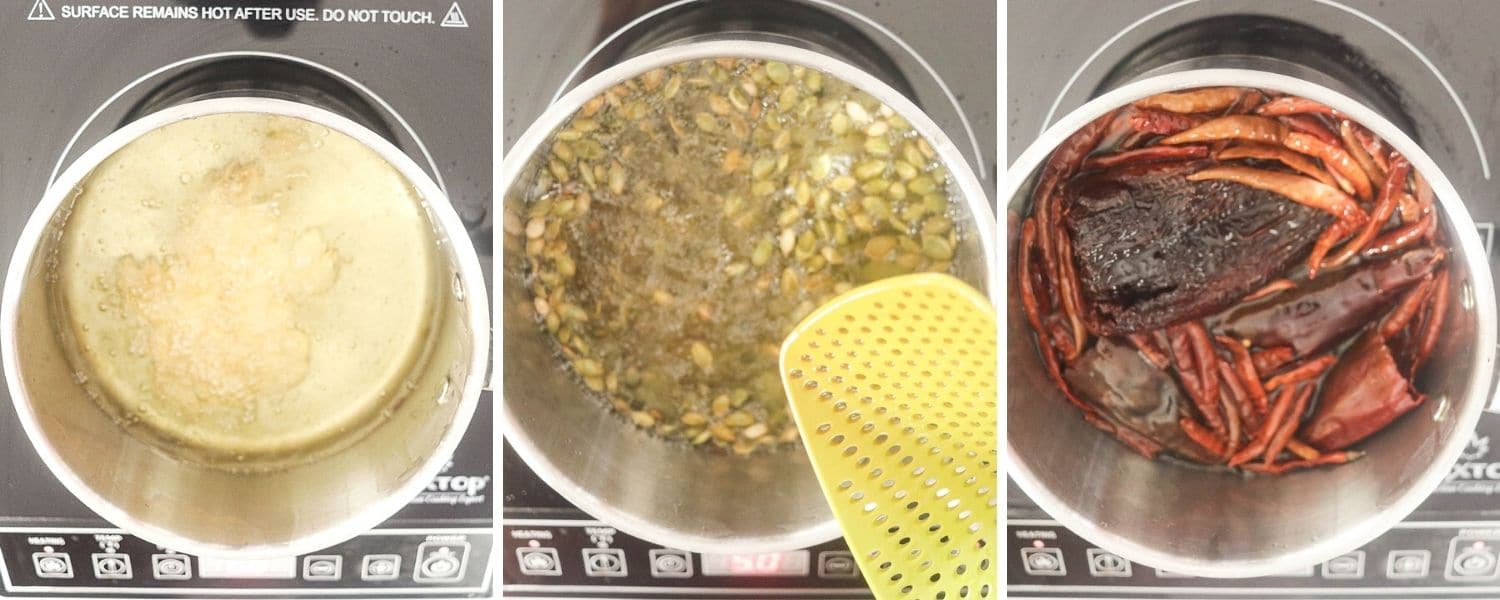 Leave everything to cool.
Grind the garlic, peanuts and pepitas in the food processor.
Process everything in the blender or food processor with the oil and the salt.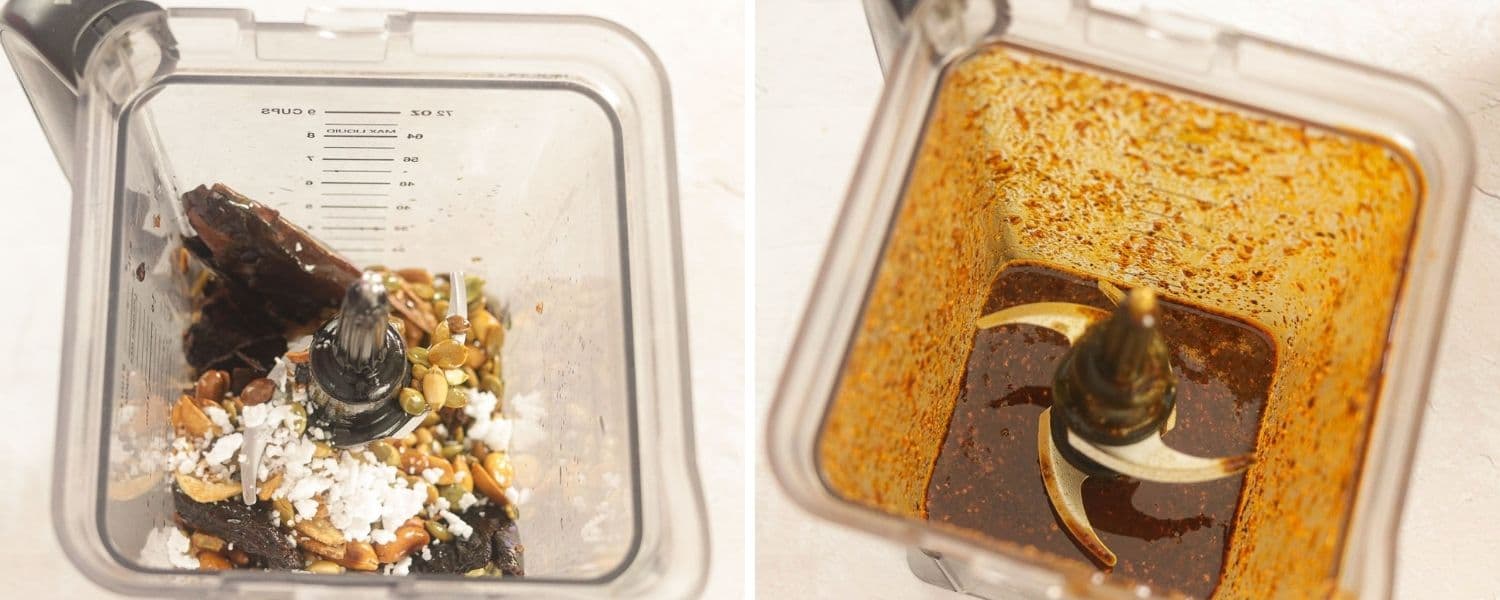 Store in an airtight jar for up to a month.
This hot oil will immediately add flavor to anything you add it to. Boring food just became delicious and droolworthy once you add some Salsa Macha to it!
What can Salsa Macha be Served with
This flavorful salsa can be added to so many delicious recipes like:
However, a Nacho Bar at your next party is incomplete without Salsa Macha.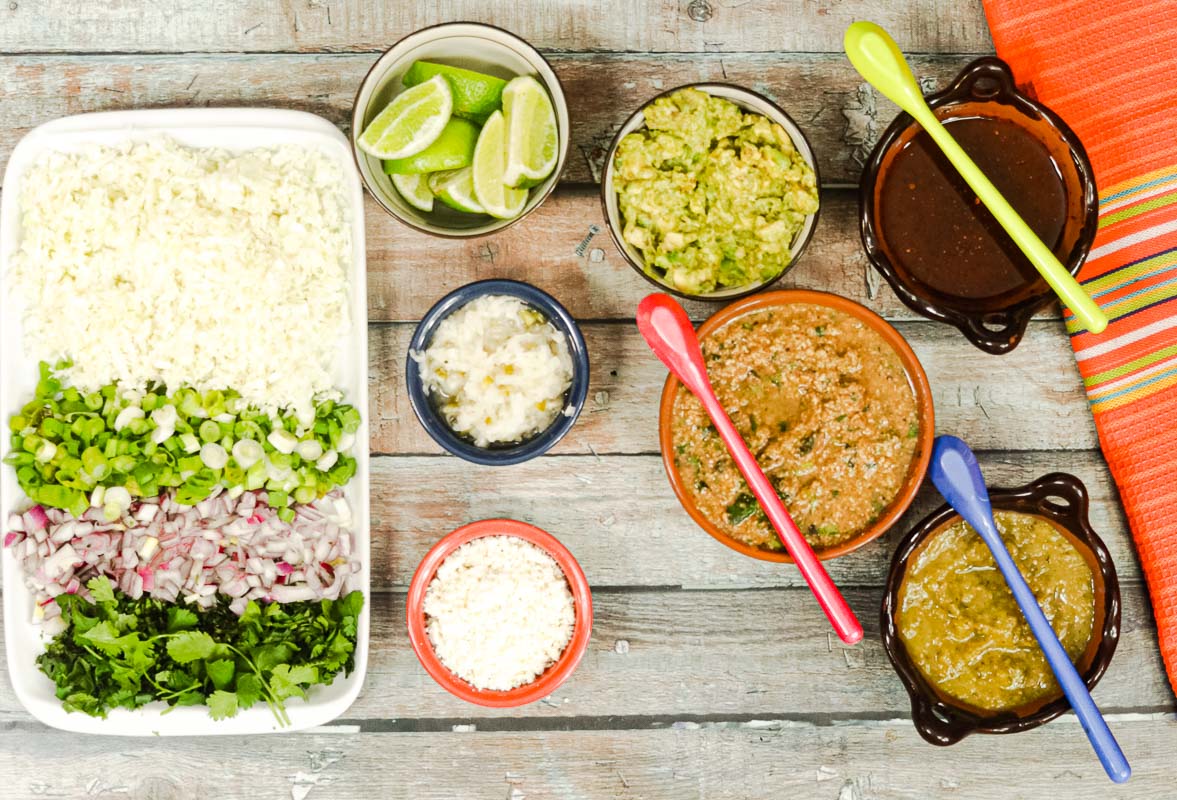 Salsa Macha with tortilla chips might be too spicy on its own. However, once you load up your Nachos with Salsa Verde, Mayan Pepitas Salsa (recipe coming soon), guacamole, pickled jicama, shredded cabbage, onions, cilantro and cheese, Salsa Macha is the best compliment to loaded Nachos!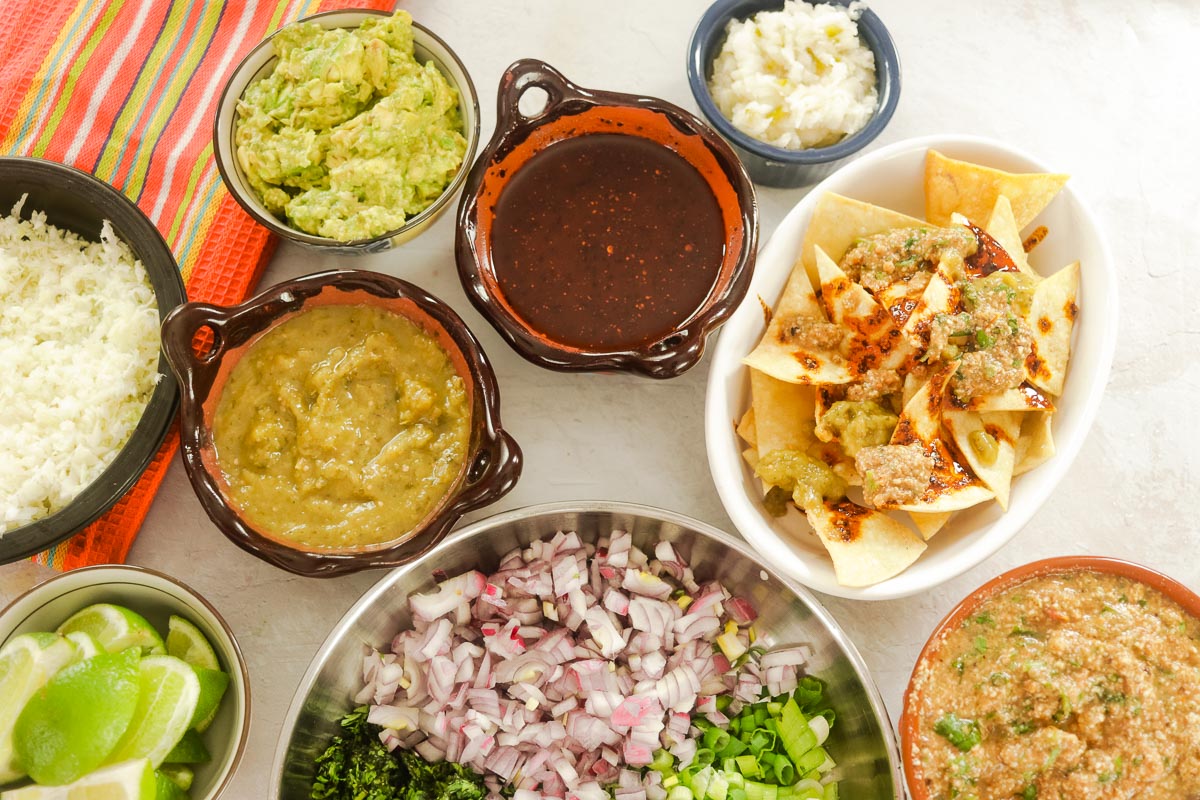 These nachos are absolutely delicious with all the flavors going on!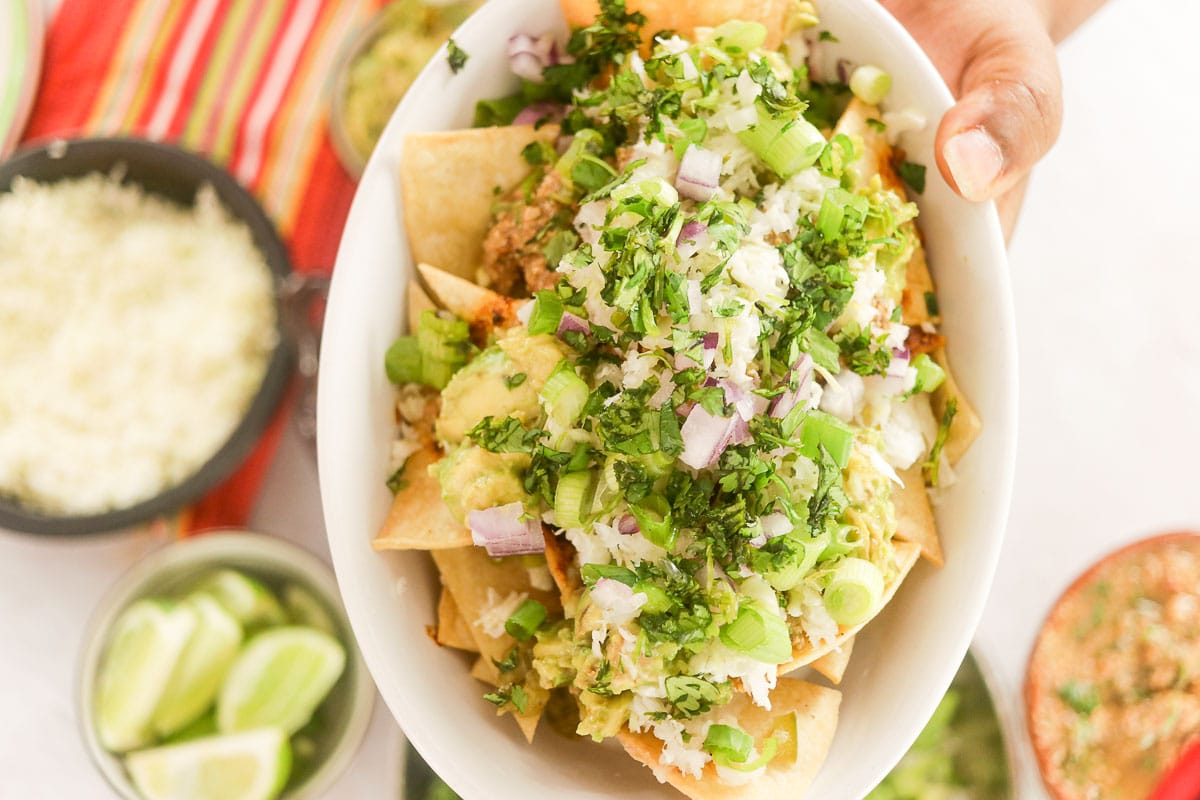 Salsa Macha Recipe
Salsa Macha Recipe is an infused Mexican hot chile oil with garlic, chillies, peanuts and pumpkin seeds (pepitas).
Ingredients
1

oz.

chile de arbol

30 grams

1/2

oz.

Costeno chile

5 grams

1

ancho chile

5 grams

2

cups

vegetable oil

10

garlic cloves

¼

cup

peanuts

1/3

cup

pumpkin seeds

1

teaspoon

Mexican salt
Instructions
In a saucepan, combine garlic and oil over medium low heat.

As soon as the garlic turns golden brown, remove the garlic from the oil with a slotted spoon or a kitchen spider.

Add the peanuts to the oil and cook until golden brown.

Remove from the oil with a slotted spoon or a kitchen spider.

Reduce the heat to low and add the pumpkin seeds.

As soon as the seeds start to change color, remove from the oil.

Remove the stems and seeds from the chile peppers.

Now add the chiles and fry them in the oil on medium high heat for about 5-10 minutes, until they start to soften.

Let the oil, garlic, peanuts and pumpkin seeds cool for 10-15 minutes.

Add garlic, peanuts and seeds to a food processor and pulse until the ingredients are well grinded.

Add the oil and puree until everything is well combined and smooth.
Notes
Keep a close eye when frying the garlic, peanuts and pepitas. They can burn quickly if you are not careful.
Remove the seeds from the dried chilies for a milder Macha Sauce.
Nutrition
Calories:
72
kcal
|
Carbohydrates:
8
g
|
Protein:
3
g
|
Fat:
4
g
|
Saturated Fat:
1
g
|
Polyunsaturated Fat:
2
g
|
Monounsaturated Fat:
1
g
|
Trans Fat:
1
g
|
Sodium:
300
mg
|
Potassium:
219
mg
|
Fiber:
3
g
|
Sugar:
3
g
|
Vitamin A:
2098
IU
|
Vitamin C:
4
mg
|
Calcium:
17
mg
|
Iron:
1
mg
Did you try this recipe? Leave a comment below.
Please follow me on Instagram @chefmireille or tag me #chefmireille with your pics! I'd love to share them!
Don't forget to visit the RECIPE INDEX with over 1000 recipes from around the world including lots of Vegetarian Recipes and Gluten Free Recipes!