Last Updated on August 12, 2020 by Chef Mireille
Pogacha
Balkan Yogurt Bread is a basic bread with a soft and tender interior, but dense enough to hold up for things like French Toast. Enjoy it with soups, salads or as a sandwich bread.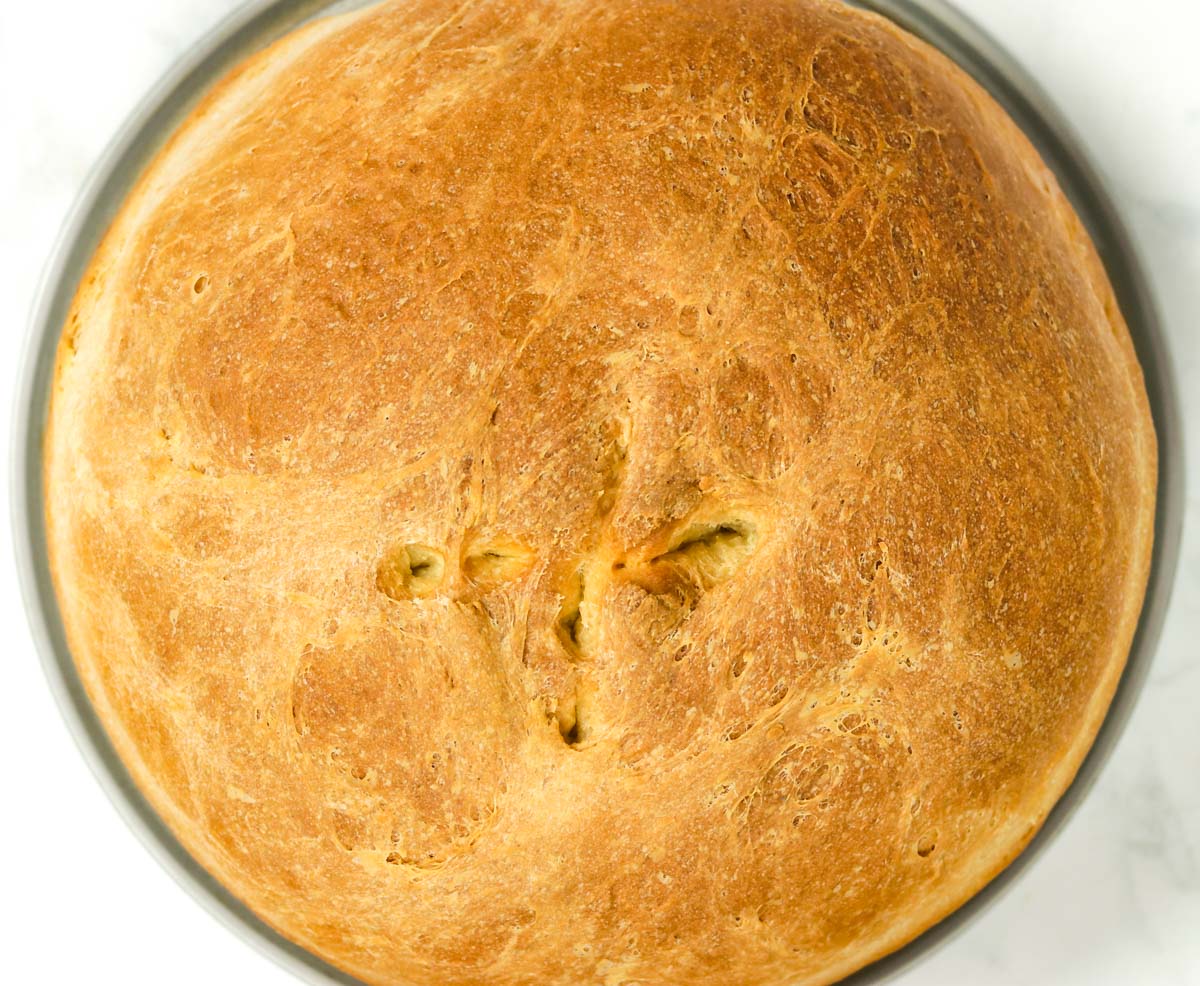 Yogurt for many Americans is a sweet pudding like snack for a treat. However, in many Mediterranean and South Asian countries, yogurt is a staple for use in everything from condiments to soup.
In recent years with the promotion of all of the health benefits of yogurt, eating plain yogurt has become more popular. Now you may have it for breakfast with some fresh fruit and honey, for a healthier option than the sugar laden ones.
The Balkan countries take their yogurt very seriously. Fresh homemade yogurt at a Serbian restaurant served with some grilled sausages many years ago turned me on to plain yogurt instead of the sweetened ones.
Trimona Bulgarian Yogurt is thick and creamy, although not quite as thick as Greek yogurt. Finally, I was able to find a yogurt that I enjoyed as much as the Serbian one! I love having some with grilled sausages now – the Balkan way!
It has far less tang than most plain yogurts so that I was able to enjoy it completely on its own. In the Eastern European countries of Bulgaria, Serbia, Macedonia and Croatia, yogurt is eaten with just about everything and they have been making it for thousands of years and have mastered the technique well.
Organic and made right here in New York up in the Catskill Mountains, the yogurt is fresh at your local supermarkets!
As I said, yogurt is life in the Balkan states and they use it in everything. This Pogacha Yogurt Bread is basic bread in the Balkans enjoyed with everything like soups and salad or used for sandwiches.
Have Pogacha – Bulgairan Yogurt Bread with sausage, salad and more fresh yogurt or with Tarator – Bulgarian Cucumber Soup for a Balkan meal or have it more American style for breakfast with cheese and jam.
Here are some jam recipes you might want to try out to enjoy with your Pogacha – Balkan Yogurt Bread
Jam Recipes
So are you ready to try Balkan Bread?
Pogacha – Balkan Yogurt Bread
Pogacha – Balkan Yogurt Bread is a basic bread that can be enjoyed with salads, soup or used as sandwich bread.
Ingredients
Instructions
Heat milk and butter until the butter melts in the microwave or in a saucepan on medium low heat.

Remove from heat and cool to lukewarm, 115 – 120 F.

Add sugar and stir to mix. Sprinkle yeast on top and leave for 5 minutes, until it turns foamy.

In a small bowl, whisk together the egg, yogurt and oil.

In an electric mixer, combine the flour and salt.

With the dough hook attachment, add the yeast mixture.

Mix for 2-3 minutes until the dough turns shaggy.

Add half of the yogurt mixture and knead for about 5 minutes with an electric mixer, until the dough is smooth and elastic. Add the remaining yogurt mix if necessary, as needed if the dough becomes too dry.

Place dough in a lightly greased bowl and cover with plastic wrap sprayed with non stick spray. Cover with a clean kitchen towel.

Leave to rise for 1 hour, until doubled in size.

Knead dough a few times and transfer to a round springform cake pan. Alternately, you can place on a cookie sheet lined with parchment paper.

Using a sharp knife, cut an X on the top of the bread.

Leave dough to rise 30 minutes, until double in size.

Transfer to oven and bake for 1 hour, until dough sounds hollow when tapped.

Leave bread to cool completely before removing from pan and slicing.
Notes
The amount of yogurt mix needed will differ depending on humidity, elevation and other environmental factors.
Nutrition
Calories:
149
kcal
|
Carbohydrates:
21
g
|
Protein:
4
g
|
Fat:
5
g
|
Saturated Fat:
2
g
|
Cholesterol:
14
mg
|
Sodium:
222
mg
|
Potassium:
54
mg
|
Fiber:
1
g
|
Sugar:
2
g
|
Vitamin A:
93
IU
|
Vitamin C:
1
mg
|
Calcium:
26
mg
|
Iron:
1
mg
Did you try this recipe? Leave a comment below.
Please follow me on Instagram @chefmireille or tag me #chefmireille with your pics! I'd love to share them!
This bread has an amazingly soft yet slightly dense interior and with a really crusty exterior. I love using this bread for French Toast, as it can stand up to soaking
This is a sponsored post. However, all comments and opinions are the honest reactions of Chef Mireille.
DO YOU YUM? SAVE IT BELOW!
Yum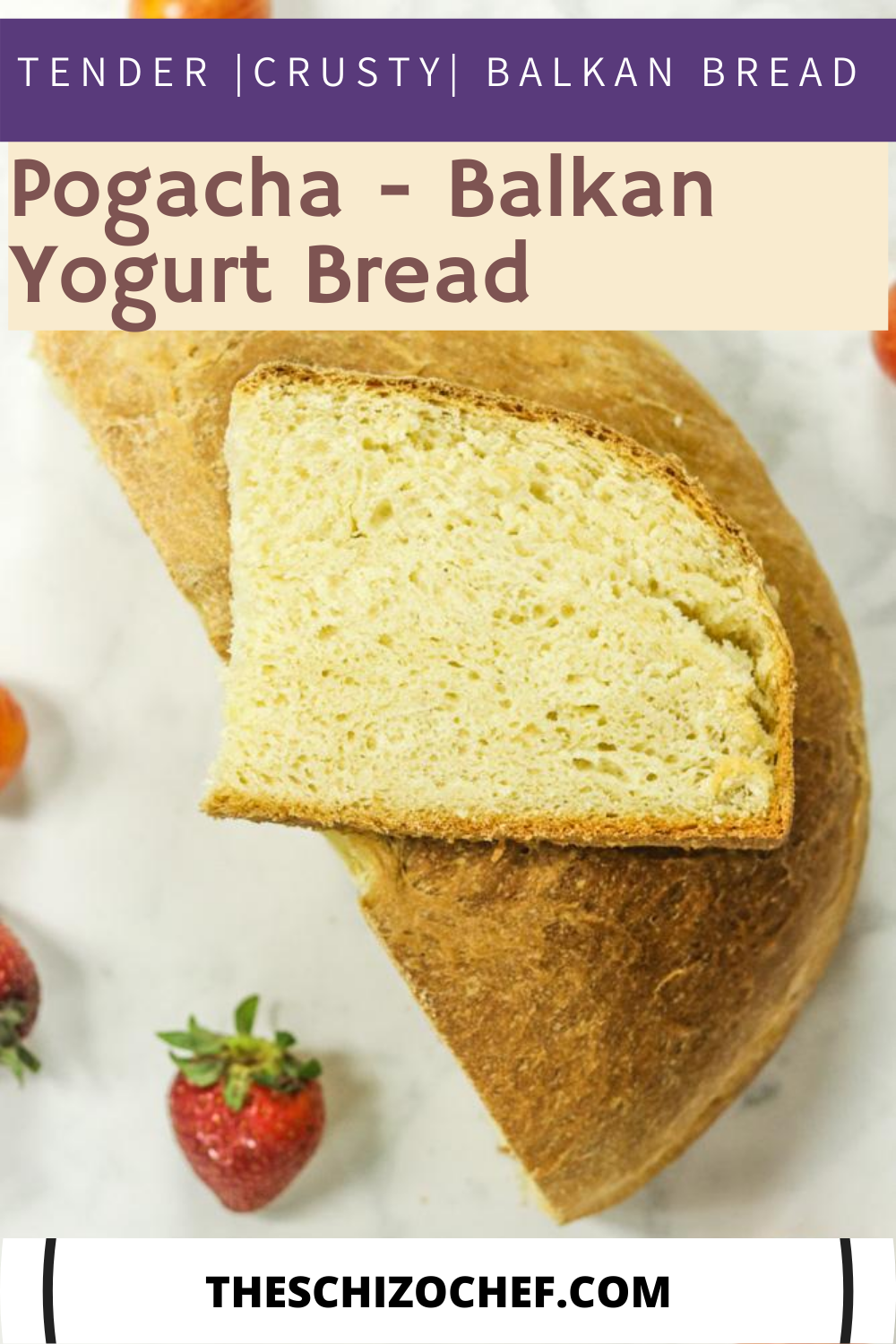 This post may include affiliate links.
Don't forget to visit the RECIPE INDEX with over 1000 recipes from around the world including lots of Vegetarian Recipes and Gluten Free Recipes!