Last Updated on July 9, 2022 by Chef Mireille
Blueberry Chia Jam
Blueberry Lavender Chia Jam is a quick and easy pectin free jam recipe – just 15 minutes to make!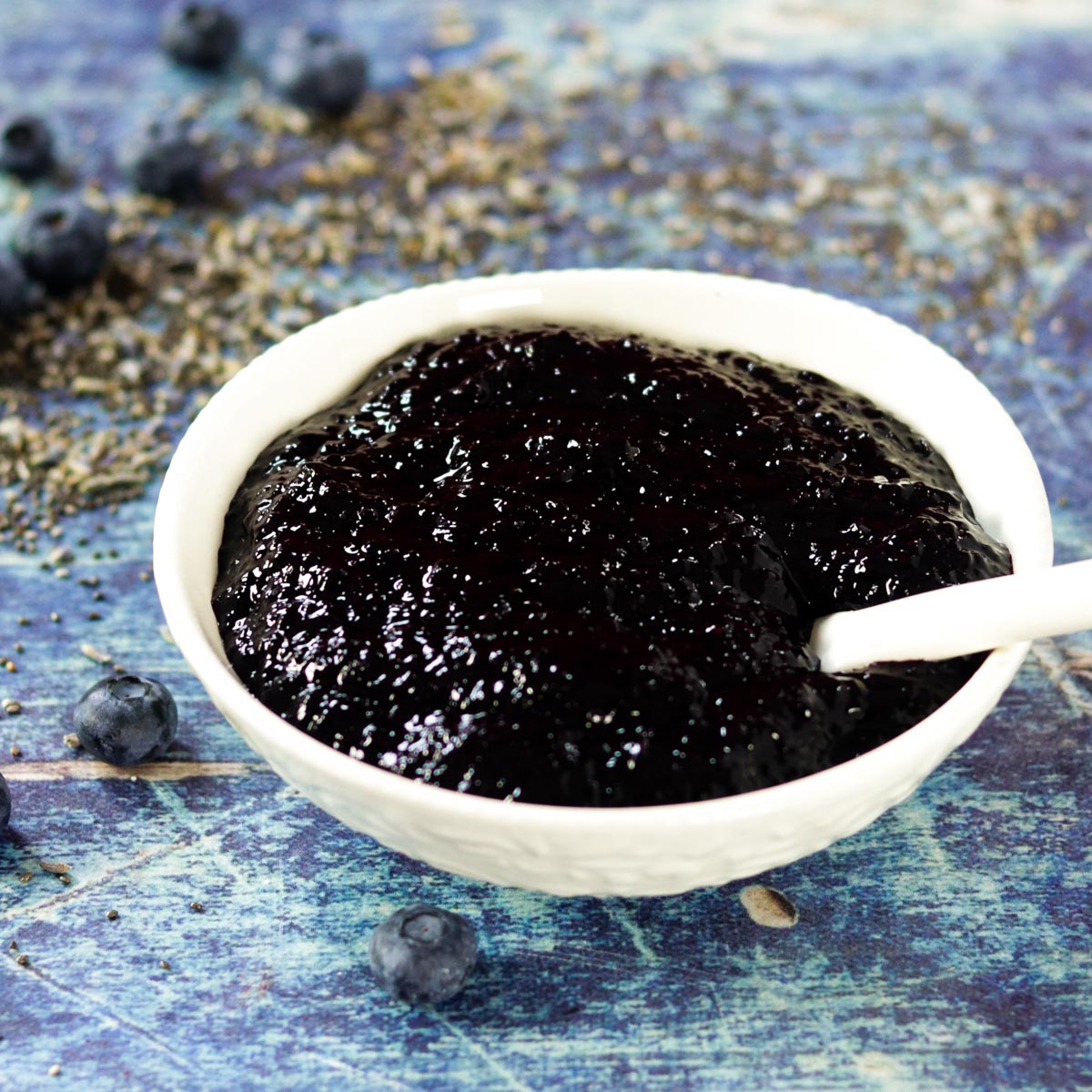 This post may include affiliate links.
Summer means it's berry season. Especially if you live in an urban setting, when you get the chance to go to a farm and pick fresh berries, you might go a little crazy.
Now you need to use up all those berries. You don't want all that time you spent berry picking to go to waste right.
Zero Waste Recipes
One thing I have become passionate about is practicing Zero Waste Cooking and Procedures in my kitchen. There is way too much waste in the world, leading to toxins and other bad things in our environment.
Whenever I come home with a large batch of anything now, I make sure to immediately prep some for further use by making some preservation recipes like jam, pickles, ice cream or if nothing else, I freeze some to be decided later how I will utilize it.
Would you like to practice more Zero Waste in your kitchen, not only contributing to a cleaner environment for the next generation, but also saving you some money in the process?
Make sure to check out my IG Zero Waste Cooking Series for inspiration!
Recipe Notes
Can you make jam without sugar?
This is a healthy jam recipe using only honey and no processed sugars. Even the honey quantity can be adjusted per your own preference.
Don't be alarmed if the jam seems quite thin when you transfer it from the blender. Once it chills overnight in the refrigerator, it will thicken.
However, without the sugar volume, it is not quite as thick as your average jam recipe. However, this slight variation is worth the swap for this low sugar Healthy Blueberry Jam.
Not to mention all the extra fiber and protein your are getting from the chia seed.
Ingredient Substitutions
If you do not have mango juice, it can be substituted with any juice like lemon juice, apple juice or orange juice.
I added some lavender because I like floral accents in desserts and jams. It enhances the fruit flavor, as you can see in some of my other jam recipes like Mango Strawberry Lavender Jam and Strawberry Rose Chile Jam. If you don't have dried lavender readily available, try rose, hyacinth or jasmine.
Of course, not having any of these florals is no reason not make this Easy Jam Recipe. Just omit it! The jam will still be delicious full of fresh blueberry flavor!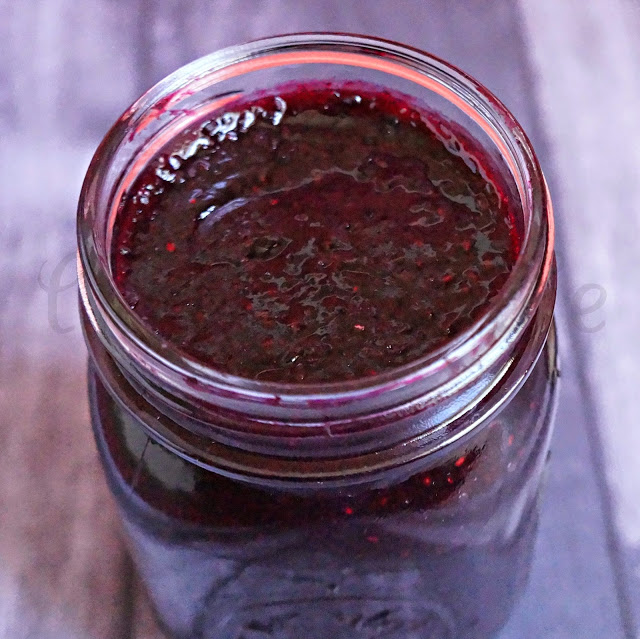 I know you just can't wait to try it. You can also use a little to garnish pancakes or waffles. It's delicious with them!
It's great for breakfast on a piece of toast and also goes great with Parsi Chapat.
Blueberry Chia Jam
Blueberry Chia Jam is a quick and easy jam recipe that comes together super fast. This lavender infused jam gets done in just 15 minutes!
Ingredients
4

cups

blueberries

1/4

cup

mango juice

1/4

cup

chia seeds

2

tablespoons

lavender

1/2

cup

honey
Instructions
In a heavy bottomed pot, combine berries, juice, chia and lavender. Cook on high heat, until the berries burst and start to break down, about 8-10 minutes.

Transfer it to a blender. Leave it to cool for a few minutes.

Transfer to a glass jar and leave to cool.
Notes
Yield: approximately 2 cups
Don't be alarmed if the jam seems a little thin. As it cools, it will thicken a lot.
Nutrition
Calories:
73.88
kcal
|
Carbohydrates:
16.36
g
|
Protein:
0.92
g
|
Fat:
1.28
g
|
Saturated Fat:
0.16
g
|
Sodium:
1.76
mg
|
Fiber:
2.32
g
|
Sugar:
12.87
g
Did you try this recipe? Leave a comment below.
Please follow me on Instagram @chefmireille or tag me #chefmireille with your pics! I'd love to share them!
Ready to make this recipe? Tag me on Instagram@chefmireille #chefmireille with your pics!
DO YOU YUM? SAVE IT BELOW!
Yum
This post may include affiliate links.
Don't forget to visit the RECIPE INDEX with over 1000 recipes from around the world including lots of Vegetarian Recipes and Gluten Free Recipes!