Last Updated on September 2, 2016 by Chef Mireille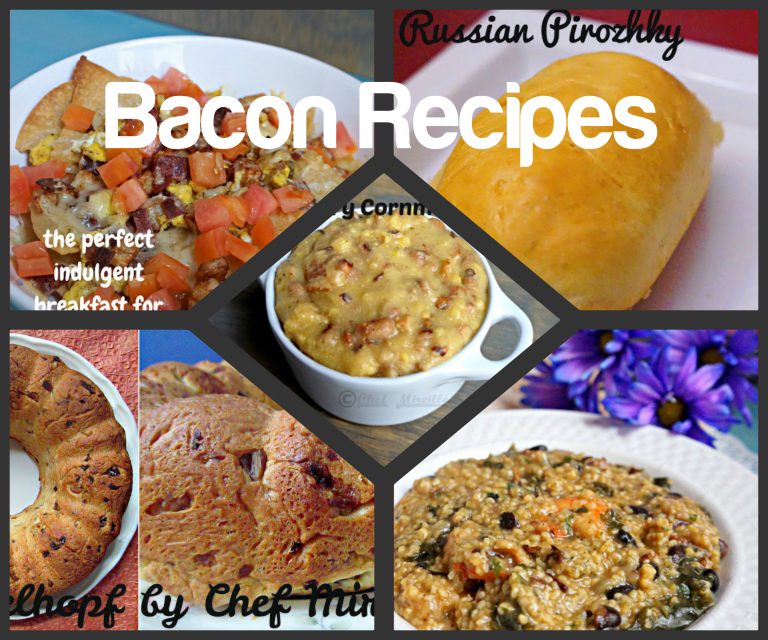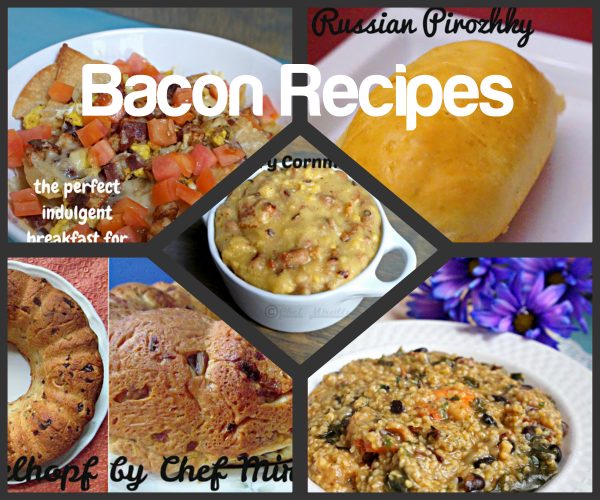 Bacon…the #1 reason why I could never become a Vegetarian. I could pretty much give up all other forms of meat, but bacon is one guilty pleasure I would definitely succumb to major withdrawal symptoms. Crankiness, irritability, insatiable hunger pangs that nothing else would cure…yep…it would all be due to lack of bacon in my diet. I don't need a lot, but just a little bit of bacon just adds that something special to any dish.
That salty, smoky crispy goodness that is bacon. Cold weekend winter mornings without the aroma of coffee and fried bacon…that would be giving up one of life's finest pleasures and I don't think I'm alone in this thinking. Bacon love is something we Americans have in large quantities. That's why we have crazy foods like bacon chocolate, bacon doughnuts and bacon infused cocktails. Americans eat about 18 pounds of bacon a year!
Tomorrow is #InternationalBaconDay. Here are a few of my recipes to celebrate the day. I don't think it will take much coercion to get most of you to try a new recipe with bacon. Do leave a comment and let me know how you liked any of these recipes you try!
Kugelhopf – This yeast bread filled with bacon, onions and walnuts is a specialty from the Alsace, along the French/German border.
Pirozhky – These soft and pillowy stuffed breads from Eastern Europe are filled with apple, cheese, onion and bacon.
Tutu – This comfort food from my Mom's birthplace of Aruba is basically a Caribbean version of polenta, enriched with bacon, black eyed peas and coconut milk. Although we traditionally eat it with fish, it can serve as a one pot meal on its own.
Breakfast Nachos – Topped with bacon, eggs and potatoes, this is a the perfect Sunday indulgence breakfast.
Xerem con Camarao – This is Brazilian polenta. Similar to tutu, it is also a one pot meal, however this Brazilian version is made with bacon, beans, kale and shrimp.