Last Updated on June 3, 2015 by Chef Mireille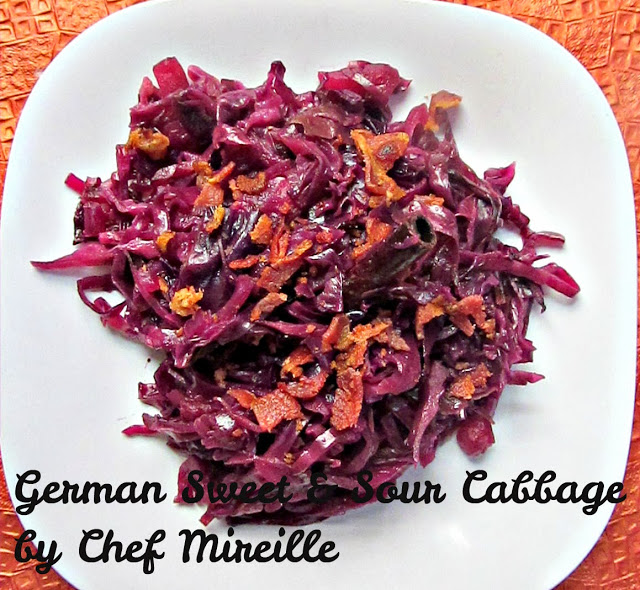 After making kugelhopf, I needed something to have with it. I then remembered this German Cabbage I had not made in a long time. It was a perfect complement to the savory kugelhopf.
German Sweet & Sour Cabbage
Serves 4
Ingredients:
2 tablespoons oil
4 cups red cabbage, sliced
1 onion, chopped
1 green apple, peeled and chopped
1 cinnamon stick
3 cloves
1/4 cup apple cider vinegar
2 tablespoons sugar
2 tablespoons water
1 teaspoon salt
1/4 teaspoon black pepper
2 slices bacon, fried crisp and chopped (optional)
In a large skillet, heat oil. Add onion and apple with the cinnamon and cloves and saute for a few minutes, until onions are translucent.
In a small bowl, whisk together the vinegar, water, sugar, salt and pepper
Add cabbage and vinegar solution to skillet. Toss a few times to evenly incorporate ingredients. Cover and reduce heat to low and cook for 30-40 minutes, until all the liquid has been absorbed by the cabbage.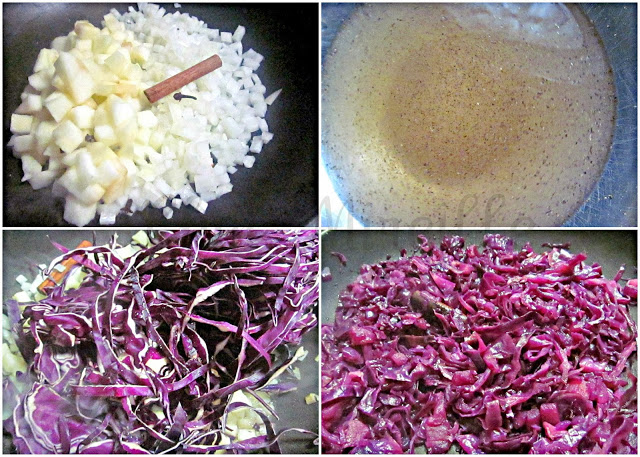 To serve, garnish with chopped bacon.
…linking to Srivalli's Side Dish Mela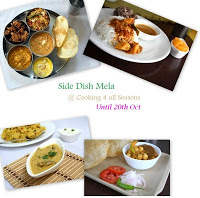 LIKE THIS RECIPE? LEAVE A COMMENT..I LIVE FOR THEM!
Chef Mireille