Last Updated on June 3, 2015 by Chef Mireille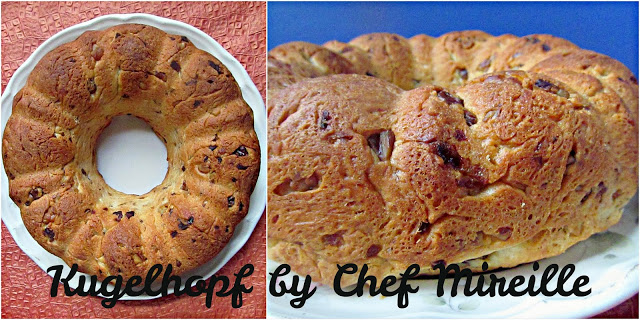 I have been playing catch up with the We Knead to Bake group, posting pretzels last week and Khaliat Nahal yesterday. Now I am posting Kugelhopf, the group's June choice for We Knead to Bake.
A Kugelhopf (aka gugelhupf) is a rich yeasted bread popular in the Alsatian region of France, however it originated in Germany. Many countries throughout Europe have a version of this although it is known by different names like the famous babka of eastern European origin available at mainstream and Russian bakeries here in New York.
Kugelhopf are traditionally baked in a specially molded kugelhopf pan. The closest thing is a bundt pan.
Although in modern days, there are many different savory and sweet versions, I decided to do the classic combination for kugelhopf of onion, bacon and walnuts.
Kugelhopf (adapted from Food & Wine)
Yield: 1 loaf
Ingredients:
4 slices bacon
1 onion, finely chopped
3 cups bread flour
1 teaspoon salt
1 teaspoon dry active yeast
1/4 cup sugar
3/4 cup lukewarm milk
6 ounces butter, softened (1 1/2 sticks)
1 egg, beaten
2/3 cup walnuts, coarsely chopped
1 tablespoon butter, melted
In a skillet, fry bacon until crispy. Remove the bacon to a paper towel lined plate to absorb oil.
In the same skillet, add onion and saute until softened. Let cool. Chop bacon.
In the bowl of an electric mixer, mix milk with the sugar. Sprinkle yeast on top and leave for 10 minutes, until foamy.
Using the paddle attachment, add egg and salt and blend. Add flour a little at a time until dough is smooth and elastic.
Using dough hook, add butter and continue to mix for about 8 minutes until dough pulls cleanly away from the sides of the bowl
Add bacon, onions and walnuts and knead together another few minutes, until evenly incorporated.
Place in a lightly greased bowl. Cover with plastic wrap and a kitchen towel. Let rise until doubled in size, about 2-3 hours.
Place in a greased bundt pan.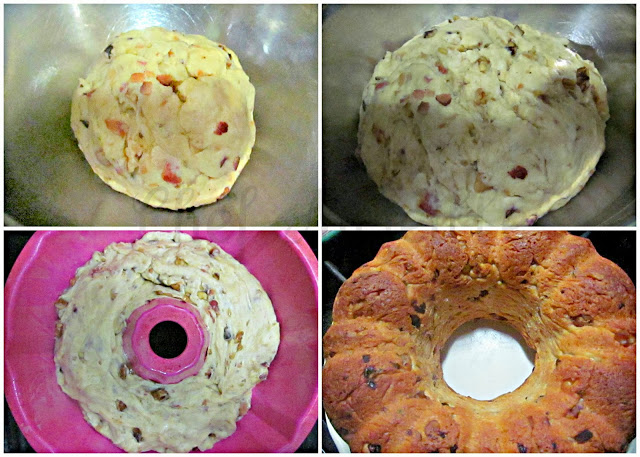 Cover and let rise again about 1 hour, until doubled in size.
Preheat oven to 375 F.
Bake for 30-40 minutes.
Let cool for 10 minutes. Unmold from pan and brush with melted butter.
To keep with the German theme, I had it with German Sweet & Sour Red Cabbage (recipe coming soon)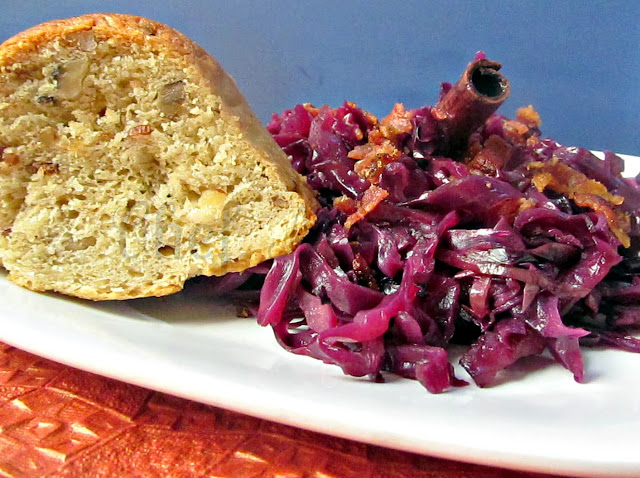 It can keep at room temperature for 1 day. If it is not to be eaten immediately, don't brush the melted butter at the end. Instead, store in the refrigerator. When ready to eat, reheat wrapped in a paper towel for 40 seconds in the microwave and then brush with the melted butter.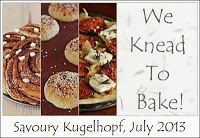 LIKE THIS RECIPE? LEAVE A COMMENT..I LIVE FOR THEM!
Chef Mireille