Last Updated on June 3, 2015 by Chef Mireille


I hope you have enjoyed this A-Z marathon as much as I have had making all of these wonderful treats. Besides Bengal, Andhra Pradesh, the Malabar Coast, Rajasthan & Punjab, I have virtually taken you around the world from the streets of Managua (Nicaragua) & Oslo (Norway) to Greece, Senegal & Wales and I am ending the tour with a visit today to Lebanon.

Don't forget to check out the rundown of the A-Z challenge at the end of this post!
Za'atar Bread, also known as Manakish in Lebanon, is popular throughout the Middle East. This pita like bread topped with olive oil and za'atar, the ubiquitous Middle Eastern spice blend of thyme, oregano, sumac and sesame seeds is sold as Za'atar Pitza in many Middle Eastern restaurants in the US. It's also a popular street food item throughout the Middle East.
Serves 8
Ingredients:
1 cup water (110-115 F)
1/2 teaspoon sugar
2 1/4 teaspoons dry active yeast
3 cups all purpose flour (or bread flour)
1 teaspoon salt
3 tablespoons olive oil
Topping Ingredients:
3/4 cup extra virgin olive oil
3/4 cup Za'atar spice blend
feta or mannouri cheese (optional)
Combine water and sugar in bowl. Sprinkle yeast on top. Let stand for about 10 minutes until foamy.
In a large bowl, combine flour, and salt. Add olive oil and mix in with your fingers.
Add yeast and mix to form a soft dough.
The dough will seem dry at first, but don't be tempted to add more water. After about 5 minutes of kneading, the dough will come together.
Knead for another 5 minutes, until dough is soft and pliable.
Place in a lightly oiled bowl. Cover with plastic wrap and a kitchen towel. Let rise for 45 minutes to an hour, until doubled in size.
Knead dough a little and divide into 8 balls. Place on a lightly oiled cookie sheet and cover with plastic wrap. Let rise for 15 minutes.
Preheat oven to 400 F.
On a lightly floured board, roll out each ball to a 7 inch circle, about 1/8″ thick.
Leave a border around the perimeter, like a pizza.
Spread 1 tablespoon of the Za'atar olive oil mixture on top. Place on a baking sheet or pizza stone.
Bake for 10-12 minutes, until browned.
Enjoy warm as is or to top it with a little crumbled cheese.
Although usually eaten on its own, I like sprinkling semi-dry cheese like feta or mannouri on top.
A – Almond Zucchini Muffins
B – Bubble & Squeak
C – Caakiri
D – Damper Bread
E – Empire, Fuji, Gala…all about Apples
F – Fiorentini
G – Garifuna Cassava Bread
H – Horchata
I – Imli Aloo (Bangaladumpa Pulusu)
J – Jaisalmer Chana
K – Kourambiedes (Greek Almond Cookies
L – Lefse (Norwegian Potato Flatbread)
M – Malabar Stuffed Plantains (Pazham Nirachathu)
N – Nigella Seed (Kalonji) Dal
O – Oatmeal Bread
P- Parsley Pinwheel Paratha
Q – Quince Paste (Membrillo)
R – Rambutan & Other Asian Fruits
S – Spiced Savory Sables
T – Til Gajak (Sesame Seed Brittle)
U – Ube Doughnuts
V – Vyborg Pretzels
W – Welsh Bara Brith
X – Xanthan Gum Gluten Free Pizza
Y – Yuca Donuts

Logo courtesy : Preeti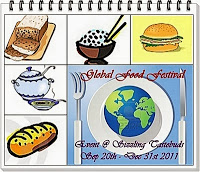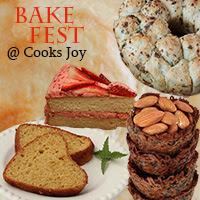 Check out the Blogging Marathon page for the other Blogging Marathoners doing BM# 32
…linking to Kalyani's Global Food Festival & Bake Fest hosted by Palachinka
LIKE THIS RECIPE? LEAVE A COMMENT..I LIVE FOR THEM!
Chef Mireille

document.write('