Last Updated on September 11, 2021 by Chef Mireille
These Indian Black Eyed Pea Fritters are a vegan snack perfect for parties. They're great as crispy appetizers too! I made sure to stick to the authentic Indian-style fritters so I could bring you to an Indian excursion right from your kitchen.
As many of you know, Indian cuisine is very regional and the diversity of traditional recipes throughout the country is a treasure trove for foodies and especially if you are Vegetarian.
These Lobia Vada or Indian Black Eyed Pea Patties are vegan and gluten free, so there is no reason not to try this delicious snack!
It makes a great appetizer for any party or holiday menu!
Don't forget to check out my Alternate Holiday Menu Ideas to bring some global flavors to your table this year!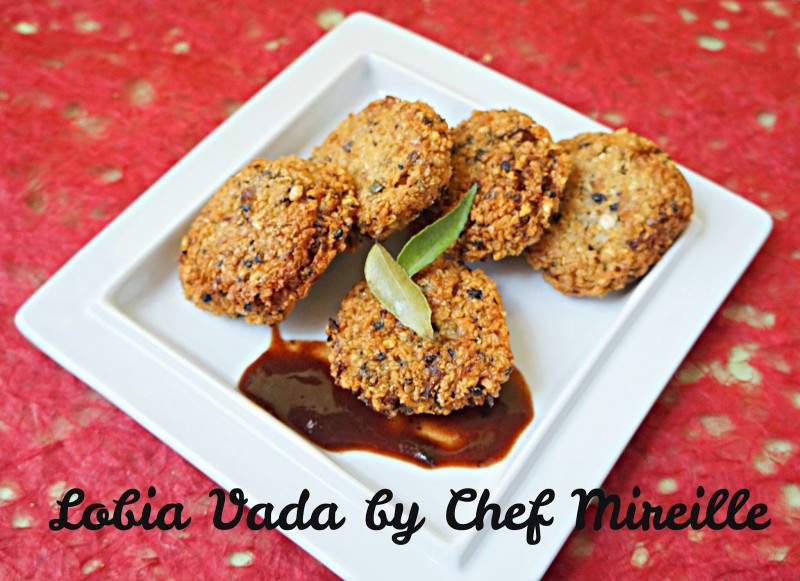 This post may incliude affiliate links.
Are you gluten free?
Indian cuisine has many traditionally gluten free recipes.
Pretty much all of their fried patties, fritters, etc. are always made with chickpea flour like in these Gobi Pakora or Chicken Pakora.
Therefore all of their scrumptious crispy fried snacks are always gluten free!
Black Eyed Peas, also known in some countries as cowpeas, are one of my favorite legume's. They have a sweet flavor and tender consistency. They cook very quickly and even less so if you soak them beforehand. However, because they are so tender, you can cook them without soaking them and they will still take less than an hour to cook – and that's without an Instant Pot!
Since it is so delicious and easy to cook, here are a few more recipes you'd love! Of course, you can make any of these recipes even easier and faster by using canned black eyed peas.
Black Eyed Pea Recipes
Exploration into Andhra Pradesh
This is a traditional recipe of Andhra Pradesh.
I've done other recipes in the past from this state, like Daalcha Gosht and Khubani Ka Meetha (see video recipe below). However, these are Hyderabadi recipes. Hyderabad, the capital city of Andhra Pradesh has its own cuisine, largely influenced by the Moghul rulers, of Persian ancestry.
I adapted this recipe from one of my blogger friends, Srivalli. As she is a native of Andhra Pradesh, this is a very traditional recipe – just like they would make at home.
This is a different type of cuisine – away from Hyderabad.
Although this is the Indian version, black eyed pea fritters are not something new to me. In many cultures, fried black eyed pea patties are made. Coming from Africa, Black Eyed Pea Patties are very popular in Brazil and many Caribbean islands – especially those colonized by the French like Martinique, Guadeloupe and Dominica.
In northern African countries where they are popular and these French Caribbean islands, they are called accras.
I have always loved the African/Brazilian/Caribbean version of accras, so I was so excited to try the Indian version.
Other than the spices, there is another major difference in the way Indian Black Eyed Pea Fritters are made.
In the African/Brazilian version, the skin of the peas is removed prior to making the batter. In the Indian version, the skin is not removed. I was a little hesitant, but I wanted to keep the recipe to the authentic Indian version, so I followed the recipe exactly.
You know I'm a purist when trying international global recipes!
There was no need for worry as these were absolutely delicious!
Guilt Free Fritters
Like all members of the legume family, cowpeas or black eyed peas are high in fiber and protein and rich in vitamins and minerals. The black eyed pea nutrition profile is one that is a great addition to a healthy diet.
Therefore, they can help you feel full for longer and aid in weight loss.
Even though these are fried and you may feel a little guilty because of the oil, with all these health benefits of the main ingredients, I think we can forgive the oil! Don't you???
Although I haven't tried it yet, I think these can easily be adapted to the Air Fryer if you'd like to avoid frying them in oil.
This recipe only requires a few basic ingredients. Although not the same, if you cannot source the curry leaves, I won't tell if you just use a little cilantro instead.
Ingredients for Indian Black Eyed Pea Fritters
black eyed peas
chickpea flour/ besan
onion
green chiles
curry leaves
salt
oil
How to Make Gluten Free Black Eyed Peas Patties – Indian Style
Prepare the pea batter.
Add remaining ingredients and mix.
Shallow fry until golden brown.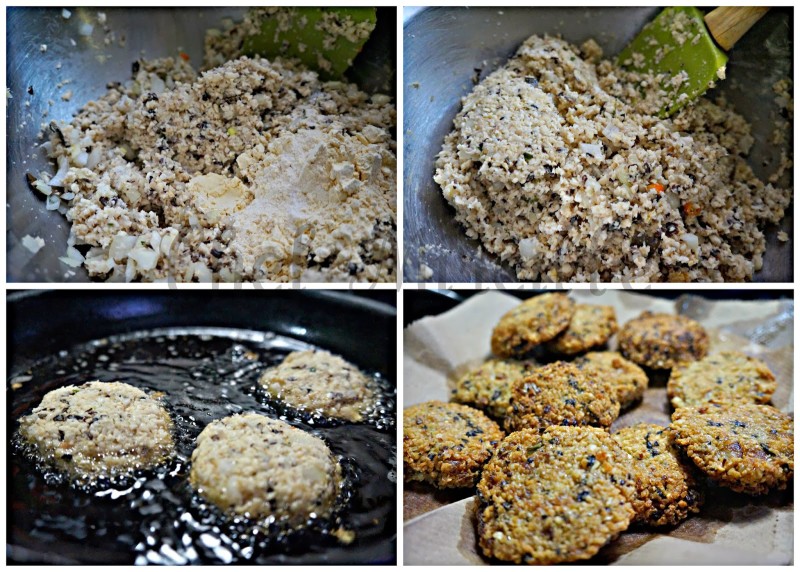 Serve with your favorite chutney.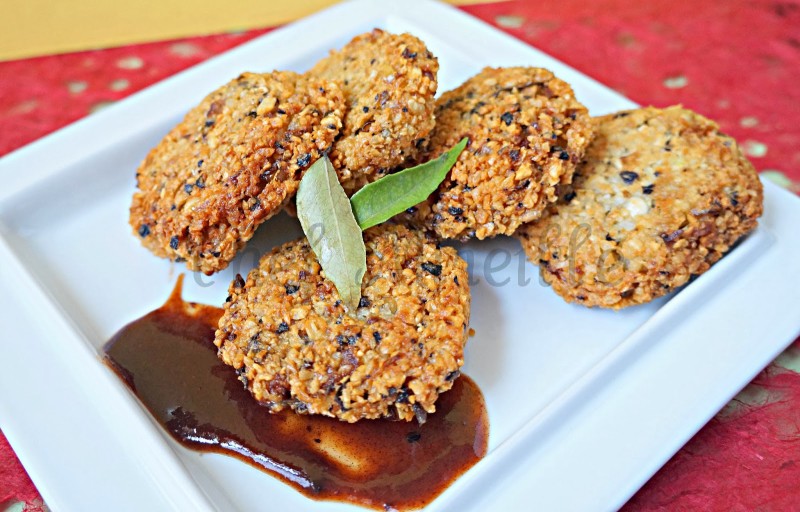 These were so crispy on the outside. They made a great snack indeed and are a great option for party finger food.
Storing Black Eyed Peas Patties
You can keep your leftover Lobia Vada for about 4-5 days in the refrgerator. However, you can keep your fritters for longer in the freezer and simply reheat them when ready to serve.
How to Freeze Black Eyed Pea Fritters
To freeze, let the fritters cool completely first.
Lay them flat on a single layer on a baking sheet.
Freeze until solid.
Once frozen, transfer them to an airtight freezer bag. It's best to layer them in between pieces of parchment paper.
If you've properly sealed your fritters, they'll keep for at least 3 months.
How to Reheat Frozen Fritters
Defrost the fritters. You can thaw them overnight in the fridge.
Place them in a skillet or the oven to reheat.
For oven use: spread the fritters on a baking sheet and reheat them in an oven preheated at 400°F for about 10 minutes.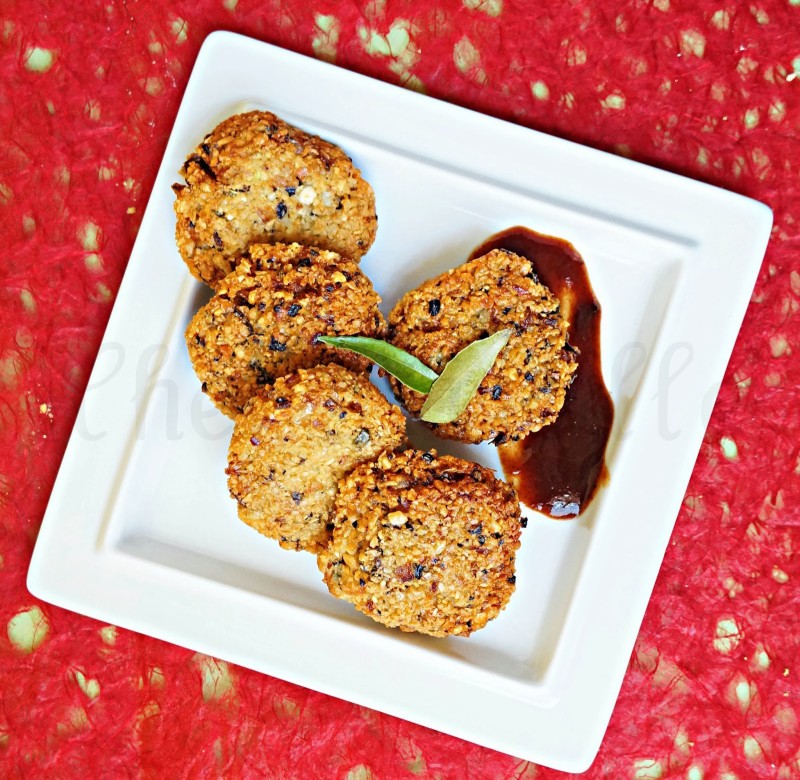 Vegetarian Indian Recipes
If you are Vegetarian, you will have no dearth of recipes to go exploring with in Indian Cuisine. The variety of traditional Vegetarian recipes are endless. Here are just a few you can check out!
Indian Black-Eyed Pea Fritters – Lobia Vada
These vegan black-eyed pea fritters are authentic Indian-style! They turn out so crispy on the outside, and they make amazing appetizers, party finger food, or a fun afternoon snack.
Ingredients
1

cup

black eyed peas

soaked overnight

1/4

cup

chickpea flour/ besan

1

onion

finely chopped

3

green chiles

finely chopped

6-8

curry leaves

torn

1/2

teaspoon

salt

oil

for frying
Instructions
Drain the peas and grind with 1 of the chiles and 1 tablespoon of water to a coarse batter.

Transfer to a bowl and add remaining chiles, onion, and curry leaves. Add salt and chickpea flour. Mix to combine.

Heat enough oil for shallow frying. Make round discs and fry them in the oil until golden brown on both sides.

Drain on paper towels.
Nutrition
Calories:
33
kcal
|
Carbohydrates:
6
g
|
Protein:
2
g
|
Fat:
1
g
|
Saturated Fat:
1
g
|
Polyunsaturated Fat:
1
g
|
Monounsaturated Fat:
1
g
|
Sodium:
137
mg
|
Potassium:
74
mg
|
Fiber:
2
g
|
Sugar:
2
g
|
Vitamin A:
22
IU
|
Vitamin C:
12
mg
|
Calcium:
9
mg
|
Iron:
1
mg
Did you try this recipe? Leave a comment below.
Please follow me on Instagram @chefmireille or tag me #chefmireille with your pics! I'd love to share them!
Don't forget to visit the RECIPE INDEX with over 1000 recipes from around the world including lots of Vegetarian Recipes and Gluten Free Recipes!