Last Updated on May 31, 2015 by
This vegan African Black Eyed Pea Soup hits the spot perfectly, especially on rainy days! You'll just love having them with some corn bread with grilled veggies or garlic chips right on the side. Try this healthy and creamy soup and give your chilly days a little more warmth.
My beach plans with friends got canceled today because of a rainy Independence Day. I am certainly not complaining though when I see what the people are battling down in the Carolinas with Hurricane Arthur. I can deal with a little rain. My Independence Day at home is allowing me the opportunity to cook some delicious foods for the blog and catch up with some paperwork.
After the last few days walking around Manhattan for hours in the hot sun completing errands, I am more than happy to have a relaxing day at home.
Today, I am presenting this simple soup I made a few weeks ago. Even in summer, when it is rainy outside as it is today, a bowl of soup can hit the spot – even on Independence Day – so what if it's not colored red, white, and blue? 🙂
This is from a cookbook I have used many times and the recipe was for Black Eye Pea Stew & Spicy Pumpkin – it was two separate dishes to eat together. However, the recipe wasn't specific on how much water to cook the beans in, so when I was finished I had soup instead of stew.
This post may include affiliate links.
I didn't want to remove any of the water because then I would be removing the flavor that was already imparted into it, so I simply had soup instead of stew. I didn't mind as this soup was thoroughly enjoyed.
This recipe isn't particular to any country in Africa, but more a general recipe using ingredients common in African cuisine. Black eyed peas are one of the most common legumes used throughout the continent and this soup is a perfect way to utilize it.
Why Is This Pea Soup Recipe Super Healthy?
Black eyed peas are super rich in protein and fiber, so they give you lots of energy and make you feel fuller for longer. When you pair them with ingredients like carrots, garlic, onion, and thyme, you'll get a bowl full of vitamins, minerals, and antioxidants.
No wonder why vegans and vegetarians love having black eyed beans in their meal plans.
You might want to try this black eyed peas soup recipe any time soon, especially when the fall or winter breeze starts to give you chills.
Is A Black Eyed Pea A Pea Or A Bean?
It's actually a bean! It's just called a pea because it is a variety of cowpea. Actually, both beans and peas are legumes. You can also eat their pods and seeds.
Black Eyed Peas Soup Ingredients
black eyed peas
garlic cloves
onion
green bell pepper
sprig of thyme
bouillon cube
paprika
ground cinnamon
ground cloves
nutmeg
carrots
hot sauce
palm oil (aka dende oil)
How to Make Black Eyed Pea Soup
Boil all the ingredients, except for the carrots, hot sauce, salt, and palm oil in a pot.
Simmer.
Add the rest of the ingredients and let the carrots cook.

Serve hot.
You can enjoy it solo or make a warm soup dinner for two.
Variations
You can turn this into an Instant Pot Black Eyed Pea Soup if that's more convenient for you.
Black eyed peas can cook really well in the slow cooker, so you may slow cook them in the morning and get them ready by early evening.
You can use canned black eyed beans so you can make this soup faster even on the stove top.
Why Do You Soak Black Eyed Peas Before Cooking?
Black eyed peas are one of those legumes that you don't have to soak overnight before cooking.
But, it helps to shorten the cooking time if you soak black eyed peas in hot water. It doesn't have to take too long, just a quick soak will do. With some other beans, it'll be more preferable to soak them in cold water overnight.
How to Thicken Black Eyed Pea Soup
One of the simplest ways to have thicker soups is to lessen the amount of water right off the bat.
But, if you happened to add lots of water already, here's a common trick:
Mix 2 tablespoons of cornstarch with a cup of cold water, or better, some of the bean liquid.
You can add the mix into the soup and continue cooking.
If you're using some bean liquid, make sure to set it aside first and allow it cool for a bit.
What Goes With Black Eyed Pea Soup?
I love having black eyed pea soup with some garlic bread, cornbread, collard greens, or roasted veggies on the side.
You may try that, or enjoy your healthy soup with some roasted chickpeas, a mix of nuts and seeds, or some fried garlic chips.
Can You Freeze Black Eyed Pea Soup?
Yes, freezing is one way you could keep your black eyed peas soup for longer. Here are the steps to make sure your soup stays okay in the freezer.
First, allow the soup to cool.
Place it in an airtight container.
Freeze for up to about 3 months.
When ready to serve, thaw it first.
Reheat in the microwave or oven.
More Recipes for Chilly Days
Wouldn't it be nice to have some potato curry when it's super cold outside? You can try this Aloo Rasedar – Uttar Pradesh Potato Curry and pair it with Amritsari Aloo Kulcha – Indian Potato Flatbread.
The curry is vegan, while the flatbread is vegetarian, but you can always veganized it too by replacing the milk with plant milk.
Another nice and warm pea soup recipe is this Spinach Chickpea Soup. It features Middle Eastern spices with smoky deep flavors that will surely satisfy.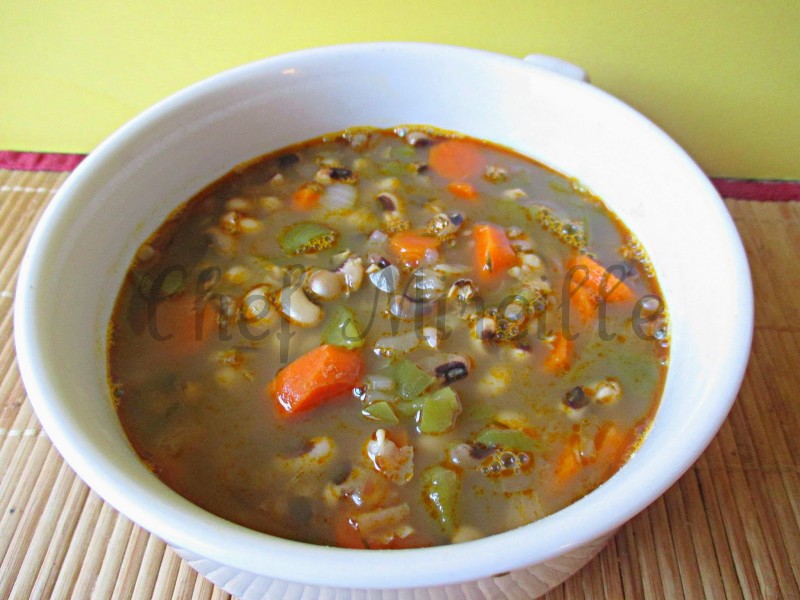 African Black Eyed Pea Soup
This African Black Eyed Pea Soup is a hearty, warm dish that hits the spot especially when it's cold outside. It's vegan and super healthy too!
Ingredients
1 1/4

cups

black eye peas

2

garlic cloves

finely chopped

1

onion

chopped

1

green bell pepper

chopped

1

sprig of thyme

1

bouillon cube

1

teaspoon

paprika

1/2

teaspoon

ground cinnamon

1/4

teaspoon

ground cloves

1/4

teaspoon

nutmeg

3

carrots

peeled and sliced

a few drops of hot sauce
Instructions
In a pot, combine peas, garlic, onion, bell pepper, thyme, bouillon cube and spices.

Add enough water to cover (I added approximately 6 cups).

Bring to a boil.

Reduce to a simmer and cook until peas are tender.

Add carrots, hot sauce, salt and dende oil.

Cook until carrots are cooked, about 10 minutes.
Nutrition
Calories:
105
kcal
|
Carbohydrates:
21
g
|
Protein:
6
g
|
Fat:
1
g
|
Saturated Fat:
1
g
|
Polyunsaturated Fat:
1
g
|
Monounsaturated Fat:
1
g
|
Cholesterol:
1
mg
|
Sodium:
277
mg
|
Potassium:
414
mg
|
Fiber:
6
g
|
Sugar:
6
g
|
Vitamin A:
8021
IU
|
Vitamin C:
30
mg
|
Calcium:
46
mg
|
Iron:
2
mg
Did you try this recipe? Leave a comment below.
Please follow me on Instagram @chefmireille or tag me #chefmireille with your pics! I'd love to share them!
Need more culinary inspiration? Check out the Recipe Index with over 1500 Recipes from Around the World with lots of Vegetarian 🥕🍆🍅and Gluten Free Recipes!