Last Updated on May 31, 2015 by Chef Mireille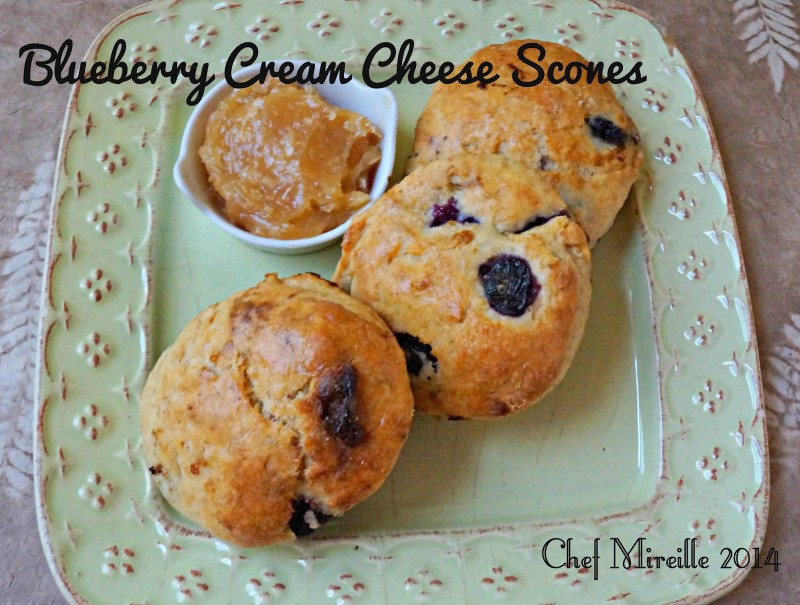 Sometimes accidents allow you the opportunity to create delicious recipes you would never have planned and that is how these scones happened.
I had some unexpected company who ended up spending the night. Now the next morning I had to think of something to make for my friend, her mom and her two super picky kids – especially her daughter. However rare it is, it just so happened that my pantry and fridge were lacking breakfast ingredients. Only 2 eggs – not enough for 5 people and there was also no bread or cereal in the house. So then I decided on scones. I had just enough eggs and they bake up in a jiffy.
While putting together the ingredients, I temporarily got confused with the numbers and realized I put way too much sugar. I then had to increase all the other ingredients to compensate for the extra sugar. The problem was I only had 1 stick of butter and no shortening. I thought cream cheese would be a good substitute and it was!!
I have several scone recipes posted on this blog and this was by far, the best I've ever made. The perfect texture – soft inside with a crusty exterior.. The perfect amount of sugar so that it still lends itself to being spread with sweet jam or curd, without being too sweet a mouthful.
Her super picky daughter LOVED these. Her son wasn't as big a fan, but since he was enamored with the leftover Blueberry Corn muffins I had. there wasn't a problem. Everyone enjoyed their breakfast with some fresh fruit, which my fridge did have.
Blueberry Cream Cheese Scones
Yield: 28 scones
Ingredients:
1 1/2 cups whole wheat flour
3 1/4 cups of all purpose flour
3/4 cup sugar + 1 teaspoon
2 tablespoons baking powder
1/2 teaspoon baking soda
1 teaspoon salt
1/2 cup unsalted butter, chopped
4 oz. cream cheese, chopped
2 eggs, beaten
1 1/2 cups buttermilk
1 1/2 cups blueberries
3 oz. white chocolate, rough chopped
1 tablespoon light cream
Preheat oven to 425 F. Line a cookie sheet with parchment paper and spray with a little non stick spray.
In a large bowl, combine whole wheat flour, 3 cups of the all purpose flour, 3/4 cup sugar, baking powder and baking soda. Mix well.
Using a pastry blender, cut in the butter and cream cheese until it resembles small peas.
Add eggs and buttermilk, a little at a time until the dough comes together.
Knead in the blueberries, chocolate and remaining flour.until the ingredients have been incorporated into the dough.
On a well floured work board, transfer 1/3 of the dough. Sprinkle the top liberally with a little more flour. With the palm of your hand, press the dough down to about 3/4″.
Using a floured biscuit cutter, cut out round scones and place on prepared cookie sheet.
Brush the tops with cream and sprinkle a pinch of remaining sugar on each scone.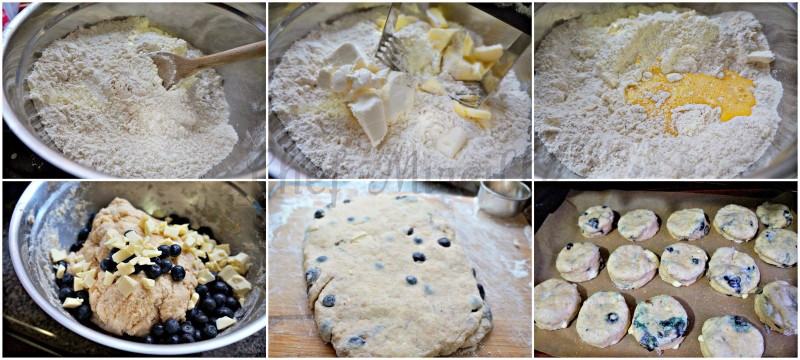 Repeat until all the dough has been cut into scones.
Bake for 15-20 minutes, until golden brown and it should sound hollow when you tap them.
Enjoy with your favorite jam, clotted cream and/or lemon or lime curd. I had mine for breakfast with lime curd.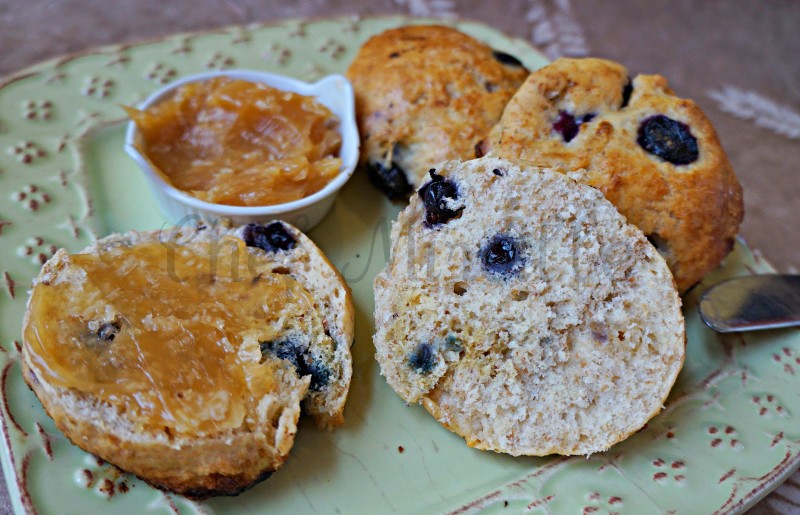 I packed them up with scones to go, since I had so many and they were more than happy to go home with the parting gift.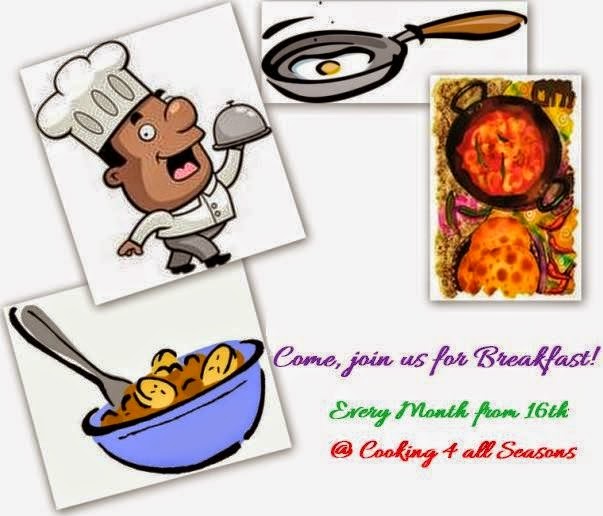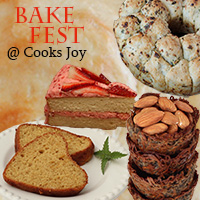 …linking to Bake Fest hosted by Sumee & Come Join Us for Breakfast
LIKE THIS RECIPE? LEAVE A COMMENT..I LIVE FOR THEM!
Chef Mireille