Last Updated on June 18, 2023 by Chef Mireille
This Black Eyed Peas Curry with Cilantro Masala is one of my favorite curry recipes. Vegan or not, you will love this amazing Chavlichi Usal filled with creamy and earthy goodness that gets you craving the next bite.
This is a very traditional Maharashtrian recipe shared with me by my blogger friend, Varada.
If you love cilantro or what the rest of the world calls coriander, you are going to love this flavorful curry – big on cilantro flavors.
Big on flavor, this delicious and healthy curry is perfect for your Meatless Monday.
If you meal plan, this is a great make ahead recipe. It can easily be frozen in advance and reheated later.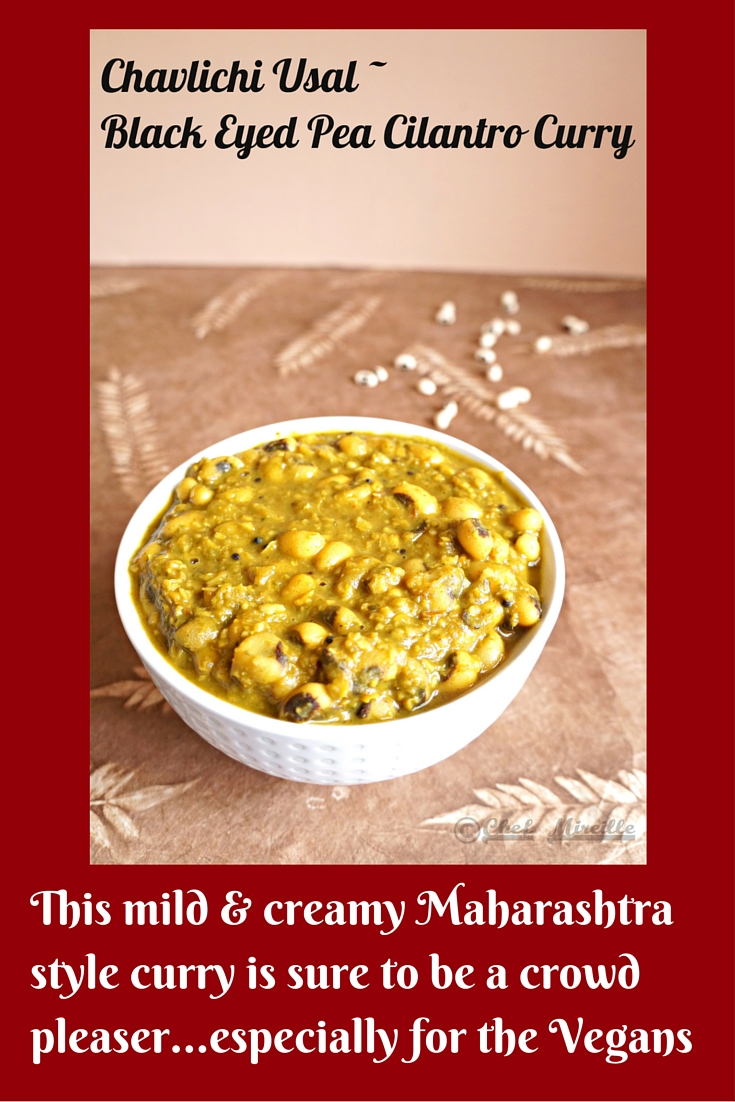 This post may include affiliate links.
Cilantro is one of those ingredients you either love or hate. A lot of people who hate cilantro says it tastes like perfume or soap, For the rest of is, we just don't get it. However, there is a scientific reason for it.
There is a genetic anamoly that causes many people to hate cilantro. This happens in approximately 10% of the population. Not surprisingly, people of some regions of the world are less likely to have this gene than others.
South Asians and South Americans rarely possess this gene. That's not exactly rocket science since cilantro/ coriander is such a predominant herb in the cuisine.
East Asians on the other hand have an extremely high occurrence of this gene, as about 20% of them hate cilantro.
Hopefully, your whole family is from the cilantro loving camp and you don't have to enjoy this in solitude while the cilantro haters give you weird looks.
Why is Black Eyed Pea Curry so healthy?
As we all know, including beans in your daily diet is a great plant based protein source, especially if you are Vegetarian or Vegan.
Beans are a rich source of protein, fiber and vitamins. Low in fat and calories, eating beans daily not only provides you with protein for energy, but is also helpful in striving for any weight loss goals.
However beans is not the only reason why this is such a healthy curry.
We all know how beneficial superfood turmeric is. You can't go anywhere without seeing turmeric anymore – from Golden Milk to turmeric in donuts and cake like this Lebanese Sfoof.
Most of us primarily use cilantro as a finishing herb, however including cilantro more into your diet in an excellent source of potassium as well as Vitamins A, C & K.
So what do you need to make this delicious curry? Oh but wait…
Just a quick note before I get to the shopping list, the only ingredient that may be unfamiliar to you is asoefetida. Asoefetida is a spice made from the sassafras plant and it's flavor is meant to mimic the flavor of onion and garlic. Many Indian people who follow a satvic diet don't consume members of the lily family like onion and garlic, as it is believed to have aphrodisiac properties.
However, if you cannot source the asoefetida, simply add a little onion and garlic to the curry.
Ingredients for Black Eyed Pea Curry
dried black eyed peas
cilantro leaves
grated coconut
cumin seed
green chillies
oil
brown mustard seeds
ground turmeric
asoefetida
red chile powder (cayenne pepper)
garam masala
sugar
salt
Have you tried instacart yet? It's how I get all of my fresh grocery items delivered within 2 hours!
How to Make Black Eyed Peas Curry
Boil the peas.
Make the masala.
Prepare the curry sauce.
Mix all together and simmer till thick.
Serve with rice or paratha.
This creamy dal is perfect with paratha or naan bread.
Variations
Instead of using frozen and then defrosted grated coconut, you can just opt for freshly grated coconut.
You can make this recipe spicier or milder by adjusting the amount of cayenne pepper or chillies.
Although I cooked this curry in the stove top method, a pressure cooker is most commonly used in India. In modern times, many people are using an Instant Pot to cook these beans fast and easy!
This is a great make ahead recipe as it can easily be frozen to be enjoyed later.
Storing Your Black Eyed Pea Curry Leftovers
You can keep the curry in an air tight container in the refrigerator.
Another option is to freeze the curry to keep it for longer.
How to Freeze Black Eyed Peas Curry
Cool the black-eyed pea curry completely.
Place it in a freezer-safe, airtight container.
Freeze for up to 3 months.
When you are ready to reheat it, first bring the curry to room temperature.
You can simply use the microwave to reheat the curry from frozen or reheat the old fashioned way on the stove.
Other Curry Recipes
If you love Vegetarian Indian curries as much as I do, I have a few other recipes I think you will love to try.
One of them is this Bengali Bottle Gourd Curry recipe that uses whole spices and sundried lentils.
The other Vegetarian curry dish that I'd love for you to try is this Gongura Paneer Curry. It's perfect for Meatless Mondays or any day of the week! It is super-rich in nutrients and will take you only 30 minutes to make.
Now before you make these two, be sure to print out the recipe and try this Black Eyed Pea Curry first!
Chavlichi Usal – Black Eyed Pea Cilantro Curry
This Black-Eyed Pea Cilantro Curry is a vegan Indian dish that bursts with creaminess in every bite. It pairs perfectly with rice for a warm and filling lunch.
Ingredients
Masala Ingredients
1/2

cup

cilantro leaves

1/2

cup

frozen grated coconut

defrosted

1/2

teaspoon

cumin seeds

2

small green chiles
Curry Ingredients
1

cup

black eyed peas

soaked overnight

1

tablespoon

oil

1

teaspoon

brown mustard seeds

1

teaspoon

ground turmeric

1/4

teaspoon

asafoetida

1/4

teaspoon

red chile powder

cayenne pepper

1

teaspoon

garam masala

1

teaspoon

sugar
salt

to taste
Instructions
Place peas in a large pot of water. Boil until tender, approximately 45 minutes. Drain, but reserve the water the peas are cooked in.

In a food processor, grind cilantro, coconut, cumin seed, chiles and 1 cup water until smooth.

In a wok or deep skillet, heat oil.

Add mustard seeds. When they start popping, reduce heat to low.

Add asoefetida and turmeric.

Add masala paste and heat thoroughly for 5 minutes.

Add cooked peas and 1 cup of the cooking water. Simmer for 10 minutes, until thickened.

Add chile powder, garam masala, sugar and salt. Stir to combine.

Serve with rice or paratha.
Notes
You can also cook the peas in a pressure cooker or Instant Pot.
Nutrition
Calories:
132
kcal
|
Carbohydrates:
14
g
|
Protein:
4
g
|
Fat:
7
g
|
Saturated Fat:
3
g
|
Polyunsaturated Fat:
1
g
|
Monounsaturated Fat:
2
g
|
Trans Fat:
1
g
|
Sodium:
80
mg
|
Potassium:
186
mg
|
Fiber:
5
g
|
Sugar:
4
g
|
Vitamin A:
197
IU
|
Vitamin C:
4
mg
|
Calcium:
17
mg
|
Iron:
2
mg
Did you try this recipe? Leave a comment below.
Please follow me on Instagram @chefmireille or tag me #chefmireille with your pics! I'd love to share them!
Don't forget to visit the RECIPE INDEX with over 1000 recipes from around the world including lots of Vegetarian Recipes and Gluten Free Recipes!