Last Updated on December 14, 2020 by Chef Mireille
Bengali Bottle Gourd Curry – Lauki Curry with Wadi is a vegetarian curry with whole spices and sun dried lentils.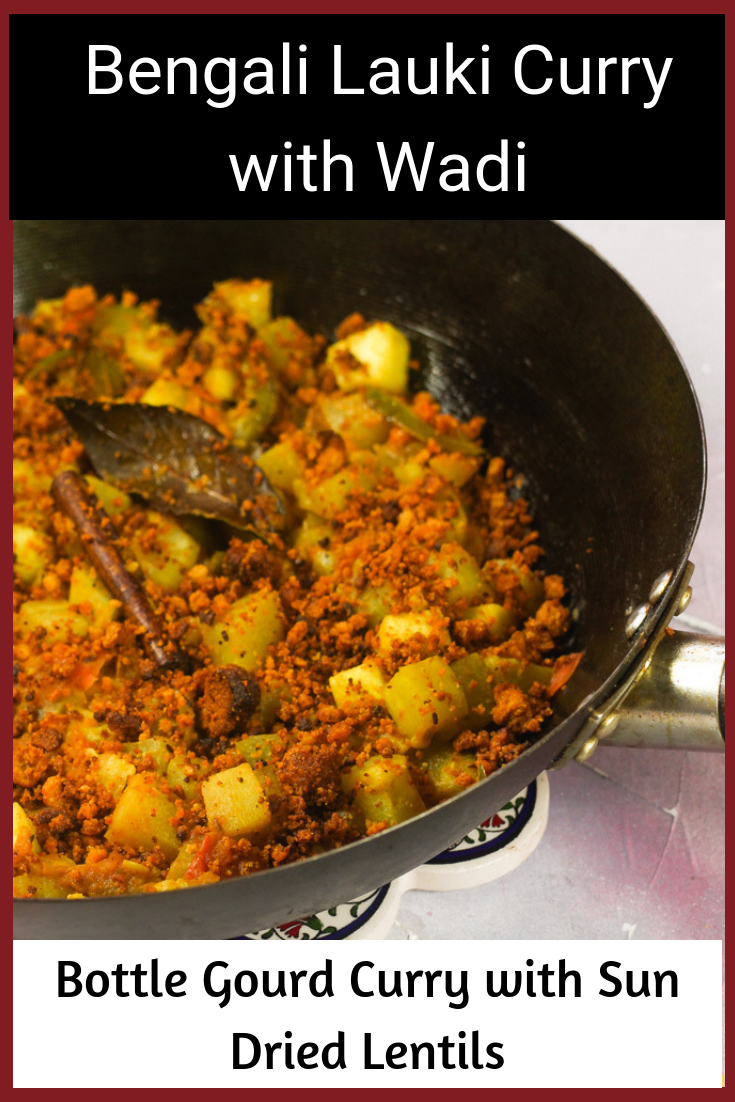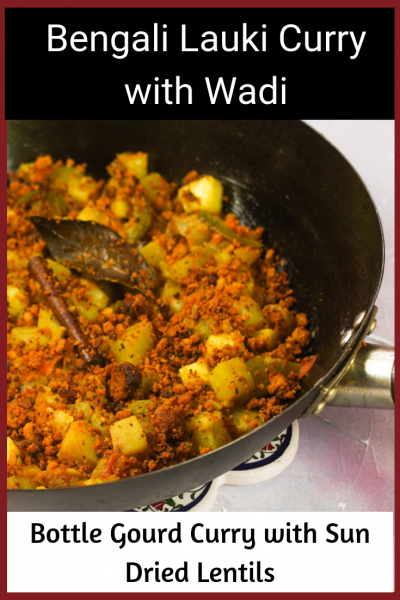 I was partnered with Pavani – Cook's Hideout for this month's BM and needed to decide which of all her delicious dishes to try out in my own kitchen.
It was very challenging for me to decide which recipe from Cook's Hideout to sample today. First of all, I felt a certain familiarity with her and her recipes since I've met her. Secondly, since she lives near me, the availability of ingredients is a non-issue as I know whatever she uses, I will be able to find here. After perusing her large Recipe Index, I was truly impressed with the variety of recipes she has from a myriad of cuisines. I had never looked at the Index before and every other recipe I looked at, I wanted to try.

In Search of Wadi
I was all prepared to follow her recipe for Jelly Donuts, but then I went to Patel Brothers to pick up some curry leaves for Suma's recipe, which you'll be seeing tomorrow. I also picked up a lauki/dudhi. I tried this vegetable for the first time several months ago and really enjoyed the recipe I tried. It is similar in taste to chayote, which is one of my favorite veggies. Armed with my lauki/dudhi (also known as bottle gourd), I immediately went on a search for another recipe utilizing this veggie. The only ingredient I was missing to try this recipe I found on Pavani's site was the Moong Dal Wadi (sun dried moong dal). Since I was working only 2 train stops away from the Indian supermarket, it was convenient for me to stop there so the next day I went back to Patel Brothers to pick up the vadi, so I could try this and add it to my Bengali recipe collection, of which I've already done Sorso Bhaate Maach (Bengali Fish in Mustard Gravy).

Sometimes it is just as satisfying finding the mystery ingredient as preparing the recipe itself. Well, my search for the Moong Dal Vadi wasn't as easy as I thought. Even armed with the knowledge that they are also known as mangodi, my visit to Patel Brothers proved unsuccessful. I went in the middle of the afternoon in the middle of the week, so I did not have to deal with the usual crowds. I slowly went aisle by aisle, but no luck. I finally asked one of the staff members who stared at me with a blank expression as he pointed to the regular moong dal. Language may have been an issue and I could have searched for the manager who speaks perfect English, however I didn't see him as I went through the market a second time.
As I began to get depressed that I would not be able to find the ingredient to make this authentic dish, I was about to send an emal/text to Pavani to ask her where she purchased it hoping she had not brought it from India, but my phone battery had died. I then decided to try Sabzi Mandi. Patel Brothers is the largest market in Jackson Heights (NYC Indian enclave) and is on the busiest street, not to mention it has a good reputation as it is a national chain so gets the most business. However I sometimes stop at Sabzi Mandi one block over to avoid the crowds at Patel and many times, their prices for vegetables are better.
One block over, I was so excited to find both Moong Dal Vadi and Channa Vadi hidden among the dals in this market half the size of Patel's after my second aisle by aisle stroll of the market. Now I've done all the work for you. If you live in the NY area and want to try your hand at this authentic Bengali recipe, skip Patel Brothers and go straight to Subzi Mandi on the corner of 73rd Street & 37th Avenue to find vadi.
Like I always say – Anything can be found in New York, you just need to know where to look!
11/26/18 Update: Sabzi Mandi is now Apna Bazaar and all the types of wadi can be found at both Apna Bazaar and Patel Brothers.
Now that I've sent you on an expedition to find the wadi, let's find out more about what they are and how you can go about making this delicious dry curry.
What is wadi?
Wadi are basically sun dried lentils. You will generally find 3 types in Indian supermarkets in America:
Moong Dal wadi – made from mung beans
Chana wadi – made from chickpeas
Punjabi wadi – a heavily spiced version made with a variety of lentils
How to use wadi?
No matter which wadi you use, cooking is the same. Stir fry them in a little oil. Then coarsely ground them using a coffee/spice grinder. It adds both flavor and texture. I know you are going to end up loving wadi as much as I do, so here are some more recipes that utilize wadi you might like to try.
Wadi Recipes
IN THE MAKING – HOW TO MAKE BENGALI LAUKI CURRY WITH WADI
I promise you. It is worth the effort to hunt down the ingredients at your local Indian supermarket.
This curry is so full of favor!
Bengali Bottle Gourd Curry
Bengali Lauki Curry with Wadi - Bottle Gourd Curry with Sun Dried Lentils - a Vegetarian curry with whole spices and sun dried lentils.
Ingredients
4

tablespoons

mustard oil

1/2

cup

moong dal vadi

2

bay leaves

1 2

cinnamon stick

1/2

teaspoon

cumin seeds

2

thinly sliced chiles

1

teaspoon

ginger paste

2

chopped tomatoes

1

bottle gourd

peeled and chopped (about 18 oz.)

1/4

teaspoon

turmeric

1/2

teaspoon

ground cumin

1/2

teaspoon

red chile powder

salt

to taste
Instructions
In a small skillet, heat 2 tablespoons of the mustard oil. Add wadi and fry until golden brown. Remove to a coffee/spice grinder. Coarsely ground.

In a large skillet or wok, heat remaining  oil. Add bay leaves, cinnamon and cumin seed. When the cumin seeds start to change color, add chiles, ginger and tomatoes. Cook on high heat until they turn mushy, about 3-4 minutes..

Add bottle gourd, turmeric , ground cumin, red chile powder and salt.and saute for 1 minute.  Stir to combine. Cook, covered for about 15 minutes, stirring occasionally.

Add ground wadi.

Serve with rice or paratha.
Did you try this recipe? Leave a comment below.
Please follow me on Instagram @chefmireille or tag me #chefmireille with your pics! I'd love to share them!
Check out the Blogging Marathon page for the other Blogging Marathoners doing BM#28
Do you know anyone else who likes learning about international food, culture, history and travel? Bring them over here to join the party! Don't forget to use those share buttons!
Start Here to find out how the Schizo Chef can help you with your cooking, travel and other needs!
If you like this recipe, PLEASE LEAVE A COMMENT & SUBSCRIBE!