Last Updated on December 14, 2020 by Chef Mireille




Blogging Marathon #28
Theme: BM Blogs – PJ – Seduce Your Tastebuds
For this week, I've been paired with different BM participating bloggers to try recipes from their space. For today's recipe, I have selected Jackfruit Payasam from PJ's blog. Her blog is full of lots of delicious Vegetarian & Vegan recipes; many of them kid focused. This recipe dates back to 2008, so I hope she enjoys this re-visit to the early days of her blog.
Payasam is a popular sweet dish throughout India, with many variations as it can be made with any grain, fruit or vegetable. Semiya payasam is the most popular, made with toasted vermicelli. I've already done a Pumpkin Payasam, so here's another one to add to my payasam recipe collection.
Jackfruit is not commonly available here in NY. In fact, last summer was the first time I noticed it in Chinatown and in Jackson Heights, the NY Indian enclave. However, I did have some canned jackfruit in the pantry, so I utilized this more readily available product in my adaptation of her recipe.
Jackfruit Payasam
Serves 4
Ingredients:
1 cup canned jackfruit in syrup, chopped small
1 tablespoon ghee
1/3 cup jaggery, grated
1/4 cup frozen grated coconut, defrosted
1 cup coconut milk
1/4 teaspoon ground cardamom
1 tablespoon dessicated coconut, toasted
In a food processor, grind the jaggery, coconut and cardamom together.
Heat ghee. Add jackfruit and cook until softened.
Add jaggery-coconut mix and coconut milk and simmer for 15-20 minutes.

Although it's more traditional to finish with cashews, I altered this due to my preference. To serve, garnish with the toasted coconut and a few slices of the canned jackfruit.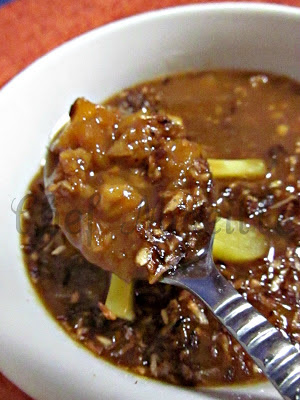 This can be served either warm or chilled.
Check out the Blogging Marathon page for the other Blogging Marathoners doing BM#28
…linking to Kids Delight hosted by Sowmya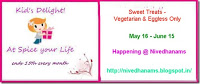 LIKE THIS RECIPE? LEAVE A COMMENT..I LIVE FOR THEM!
Chef Mireille