Last Updated on May 19, 2020 by Chef Mireille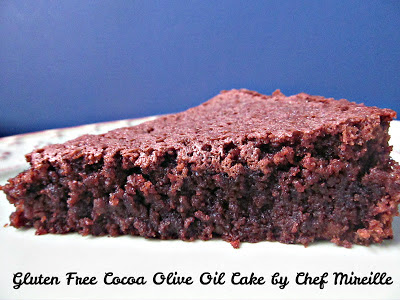 It's potluck week for the I Heart Cooking Club. This week we can cook any dish from our current celebrity chef, Yotam Otollenghi or any previous chef explored by the club. I am really glad the hosts started doing this so I can experiment with the recipes of the chefs explored prior to my joining the club. What better day to present this luscious cake than on my birthday. I'm heading out to dinner to celebrate my day with my family and a friend, but I wanted to present you this delicious cake before I head out.

Although I have been a fan of Nigella Lawson for many years, I've never before tried any of her recipes. Then one night I was craving cake, but not a stick of butter was to be found in the house. This gluten free treat was perfect to satisfy my sugar craving, without needing any butter.
Here is my slightly adapted version of her cake!
Gluten Free Cocoa Olive Oil Cake
Serves 8
Ingredients:
1/2 cup + 1 tablespoon + 2 teaspoons olive oil
5 tablespoons unsweetened cocoa powder
1 teaspoon instant espresso powder
1/2 cup boiling water
1 teaspoon vanilla extract
2 1/4 cups almond flour/ almond meal
1/2 teaspoon baking soda
a pinch of salt
3/4 cup + 1 tablespoon sugar
3 eggs
Preheat oven to 325 F. Grease a 9-inch springform pan with non stick spray. ( I used a 10-inch because that is the only size I own.) Line the bottom with parchment paper.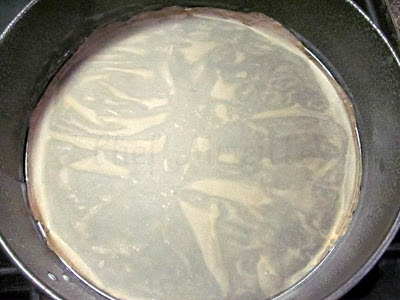 Mix the cocoa powder and the espresso powder in a small bowl. Add boiling water. Whisk until you have a smooth paste. Add vanilla extract and mix. Let cool.
In a bowl, mix the almond flour, baking soda and salt.
Using an electric mixer, beat the olive oil, eggs and sugar together until aerated and creamy, about 10 minutes on high speed.
Add cocoa and mix another 3 minutes on high spped.
Using a rubber spatula, fold in the almond flour until thoroughly incorporated.
Transfer to cake pan and bake for 45 minutes until set.
Let cool for 10 minutes. Remove from pan and let completely cool.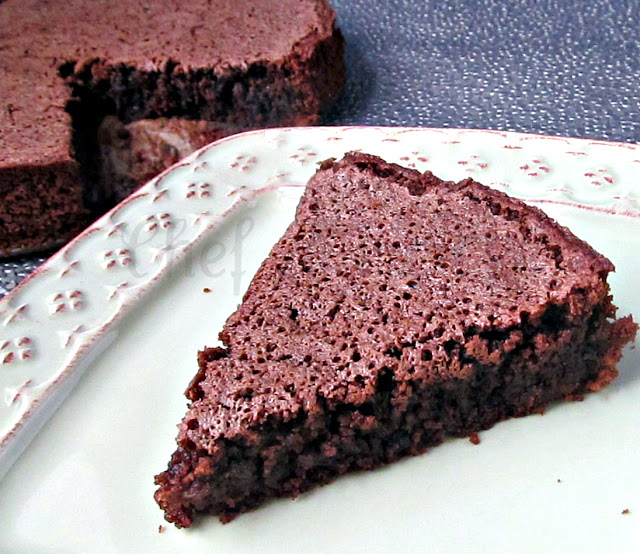 Light, moist and spongy. The volume in this cake comes from the air whipped into the eggs, so it is fragile. Any kind of pressure on top will deflate it, so it's not a cake to be frosted.
It's perfect with a cup of coffee or a glass of milk.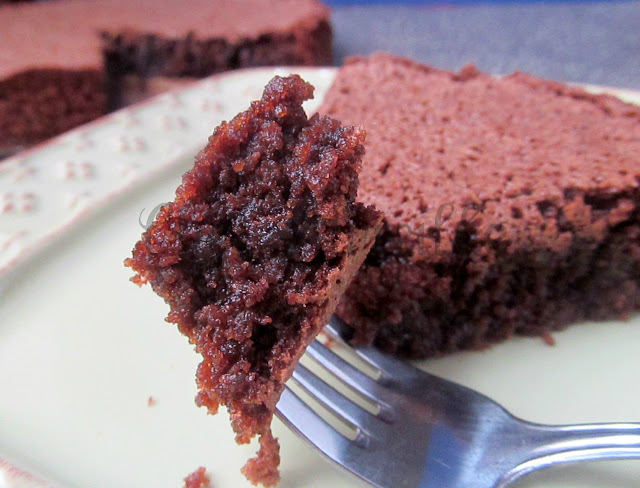 …linking to Bake Fest hosted by Tangy Minds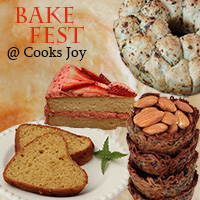 LIKE THIS RECIPE? LEAVE A COMMENT..I LIVE FOR THEM!
Chef Mireille