Last Updated on October 23, 2020 by Britt Ervin
Puerto Rican Corneal Pancakes – These Gluten Free Cornmeal Pancakes are perfect for a Caribbean-style breakfast. Tender and moist enough on their own, they don't even really need syrup, and are just as delicious plain with a side of fruit and coffee or tea. They also make a great afternoon treat for snack time!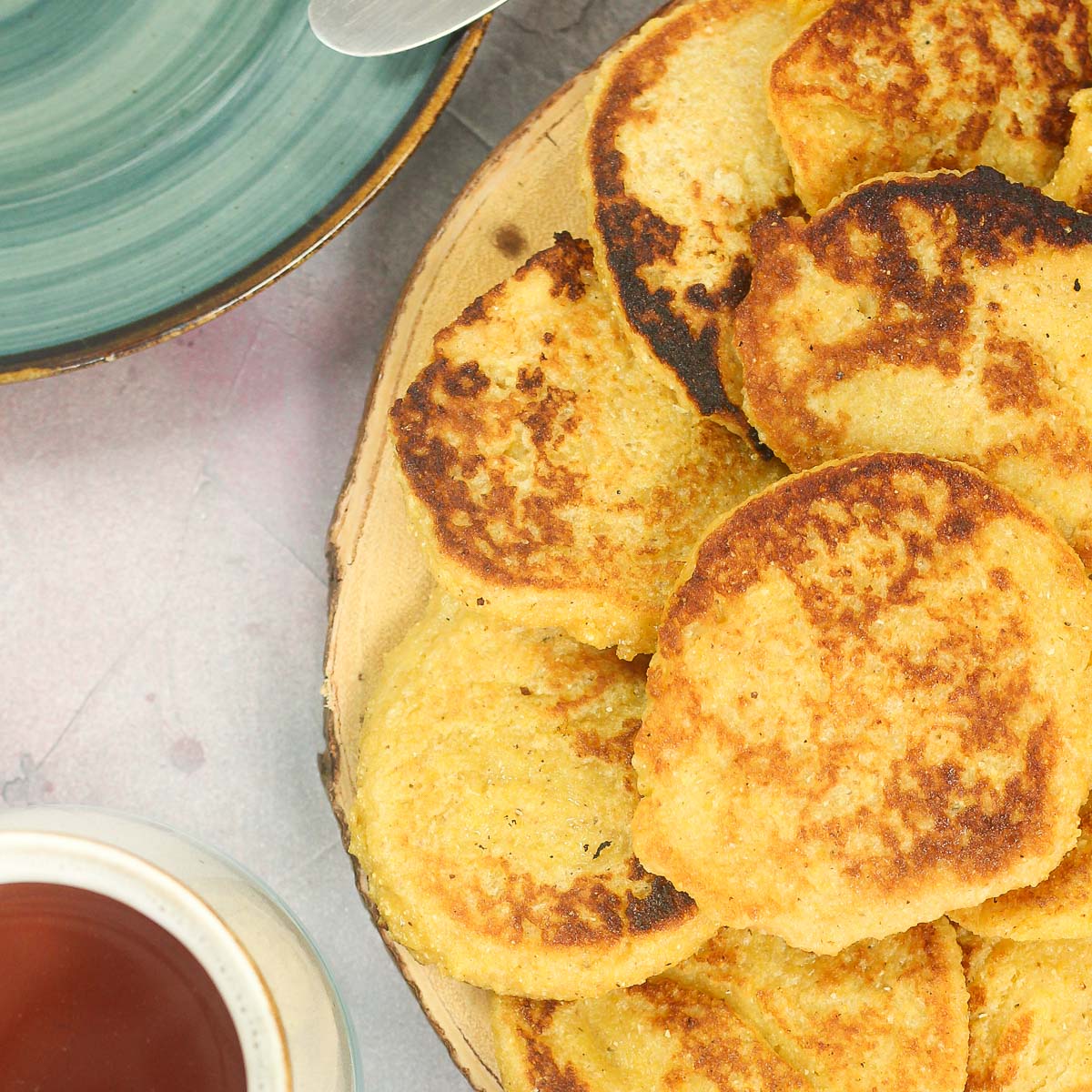 This post may include affiliate links.
Cornmeal is often treated as the abused stepsister as in the Cinderella fairy tale, when it comes to the gluten free conversation.
Cornmeal – the Gluten Free Super Grain
Quinoa, oats and more recently buckwheat and millet have started to enter the conversation, but cornmeal is often overlooked.
It is such a versatile grain and there are so many reasons to utilize cornmeal in a gluten free diet. It is like the loyal dog that has always been there, but you take him for granted and ignore him when you get a new puppy.
Cornmeal is cheaper than most other gluten free grains and so versatile – drinks, desserts, breakfast, side dishes, one pot meals. There are many different types of cornmeal.
Whether you are gluten free or not, incorporating this cost efficient grain into your diet will make your taste buds and your wallet happy.
If you would like to know more about the many varieties of gluten free cornmeal that there are and how to utilize them all in your kitchen, check out this post here to learn all about Cornmeal, Polenta, Grits & more.
Of course if you are not gluten free, you might want to check out my Multi Grain Pancake Mix – a great time saver on busy mornings
Tortitas de Maiz – Puerto Rican Cornmeal Pancakes
Tortitas de Maiz is Spanish for Corn Pancakes. They are a beloved food in Puerto Rico, enjoyed with fruit for breakfast or with coffee or tea as an afternoon snack.
These Caribbean cornmeal pancakes are made a bit different than you are most likely used to when making pancakes. Instead of all-purpose flour traditionally used in pancakes, this recipe includes gluten free cornmeal for a slightly sweeter pancake. Rather than a fluffy cake-like consistency, they have a tender moist, and almost chewy texture that makes them really unique and extra tasty.
The cooking methods, however, are similar. You just need to cook the porridge first before preparing a pancake batter, and then make the cornmeal pancakes on a hot griddle.
Ingredients You Need
What Equipment is Needed to Make Gluten Free Cornmeal Pancakes
For this recipe you'll need an electric or cast iron griddle, medium sauce pot, and a silicone spatula.
How to Make Gluten Free Puerto Rican Cornmeal Pancakes
Perfectly sweet Tortitas de Maiz are easy to make in just 3 simple steps:
First, cook the gluten free cornmeal into a thick porridge.
Then add eggs and vanilla extract, and stir to combine thoroughly.
Pour the porridge by the scoopful onto a greased and heated skillet, creating round pancakes. Use a spatula to gently flip and flatten the cornmeal pancakes.
Enjoy slightly chewy, perfectly sweet Puerto Rican pancakes for breakfast with coffee or tea.
Gluten free cornmeal pancakes will keep well in the fridge for up to 5 days if stored in an airtight container.
You can even make a large batch at once and keep leftovers in the freezer for up to 3 months! Just be sure to wrap each pancake separately in plastic wrap, and then seal the pancakes in a freezer bag.
What Goes Well with Cornmeal Pancakes?
Although Caribbean-style cornmeal pancakes are sweet enough on their own (sweeter than traditional flour-based pancakes), they can be enjoyed with maple syrup or other flavored syrups.
For a delicious breakfast serve them with a side of fresh fruit, like sliced bananas and mango. Or try Puerto Rican pancakes with this Fried Plantains recipe!
Give them a light dusting of powdered sugar for en extra special morning treat.
Tortitas de Maiz – Puerto Rican Cornmeal Pancakes
These Gluten Free Pancakes are perfect for a Caribbean style breakfast. Moist and sweet enough on their own, they don't even really need syrup, but are just as delicious with just fruit and coffee or tea. They also make a great afternoon snack for tea time.
Instructions
Bring the milk, sugar and salt to a boil with 1 cup water.

Reduce heat to medium. Using a whisk, slowly add the cornmeal a little at a time, while whisking constantly to avoid lumps. (Due to the nature of cornmeal, it will not be smooth. You want it to be lump free.) Remove from heat and leave 10 minutes to cool.

Add vanilla and eggs and whisk well until thoroughly combined.

Heat a skillet and spray with non stick spray. Spray a 1/3 measuring cup with non stick spray. Using measuring cup, place a scoop of batter in the pan for each pancake. It will be in a big lump.

Using the back of a spatula, carefully flatten into a pancake. You may have to put a little water on the back of the spatula, so it does not stick to the batter.

Cook on medium heat until golden brown on both sides, about 2-3 minutes on each side.

Enjoy for breakfast with coffee.
Notes
Remember to put a little water on the back of the spatula, so it does not stick to the batter.
Leftovers can be kept in the fridge in an airtight container for up to 5 days. Freeze cooled pancakes by wrapping individually in plastic wrap, and then storing the batch in a sealed freezer bag for up to 3 months.
Nutrition
Calories:
181
kcal
|
Carbohydrates:
32
g
|
Protein:
5
g
|
Fat:
3
g
|
Saturated Fat:
1
g
|
Cholesterol:
56
mg
|
Sodium:
98
mg
|
Potassium:
145
mg
|
Fiber:
2
g
|
Sugar:
13
g
|
Vitamin A:
131
IU
|
Calcium:
43
mg
|
Iron:
1
mg
Did you try this recipe? Leave a comment below.
Please follow me on Instagram @chefmireille or tag me #chefmireille with your pics! I'd love to share them!
Other Cornmeal Recipes
DO YOU YUM? SAVE IT BELOW!
Yum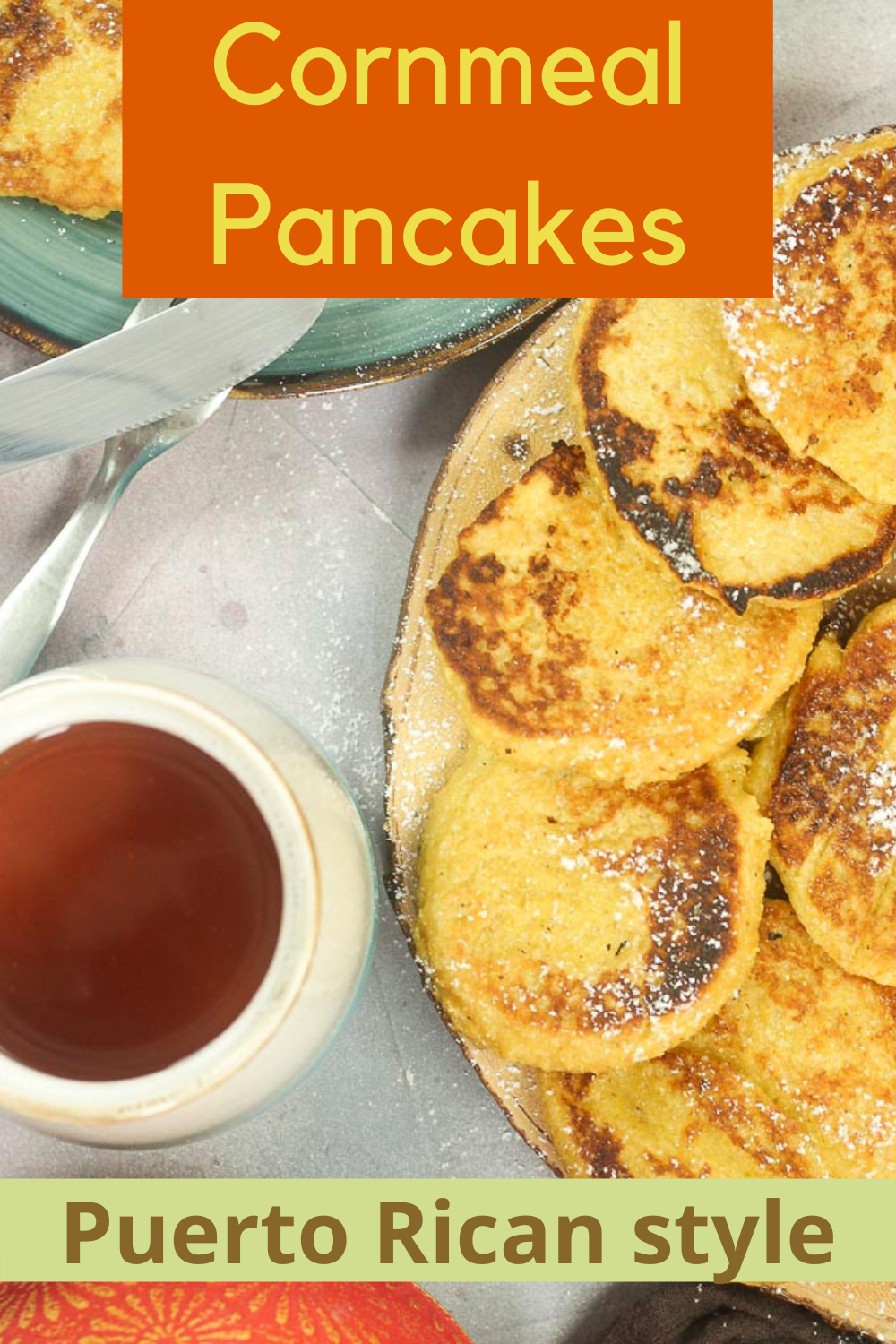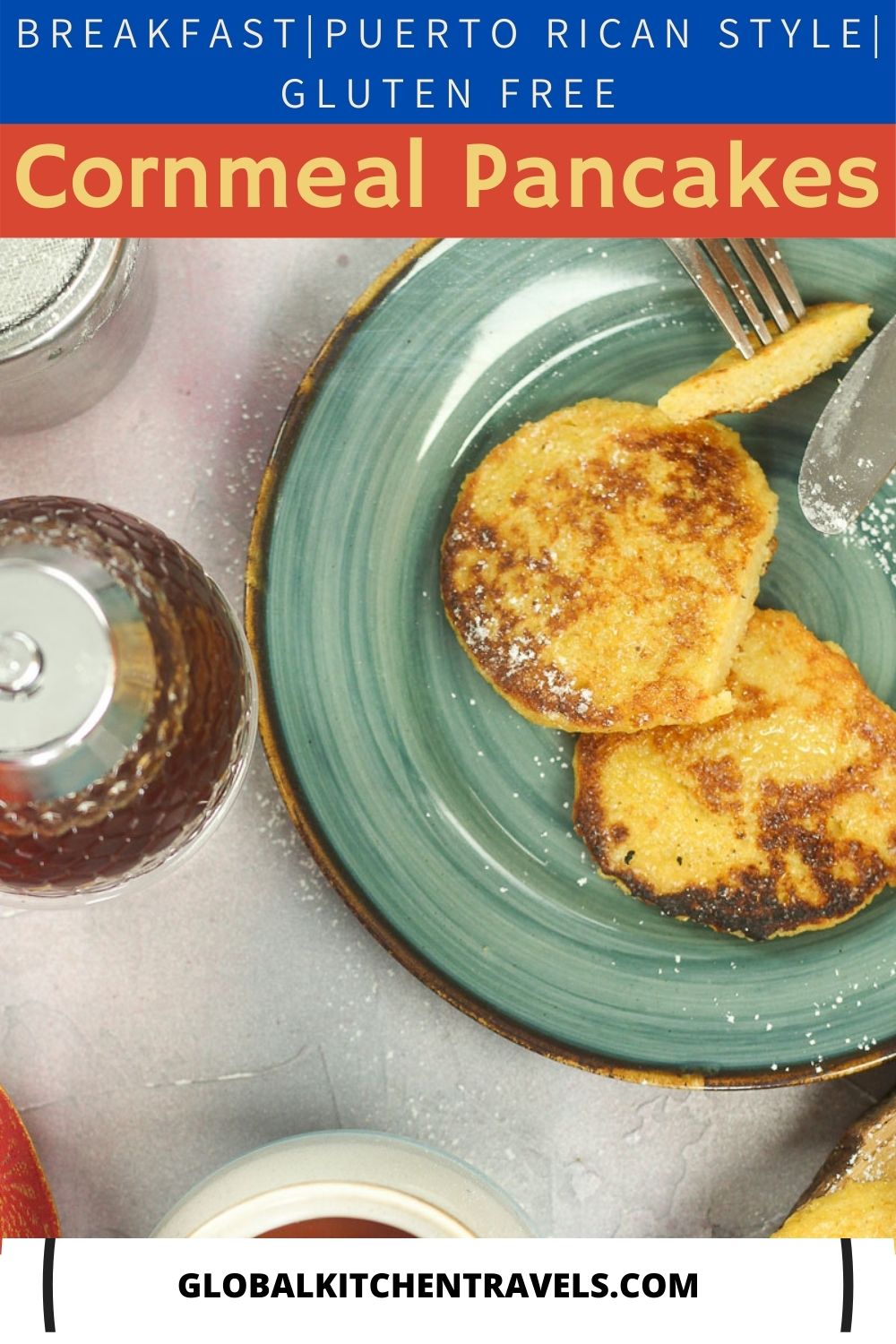 Don't forget to visit the RECIPE INDEX with over 1000 recipes from around the world including lots of Vegetarian Recipes and Gluten Free Recipes!