Last Updated on July 2, 2020 by Chef Mireille
Darjeeling Tea Dry Rub for Barbecue
This is the Best BBQ rub for everything from ribs and chicken to potatoes!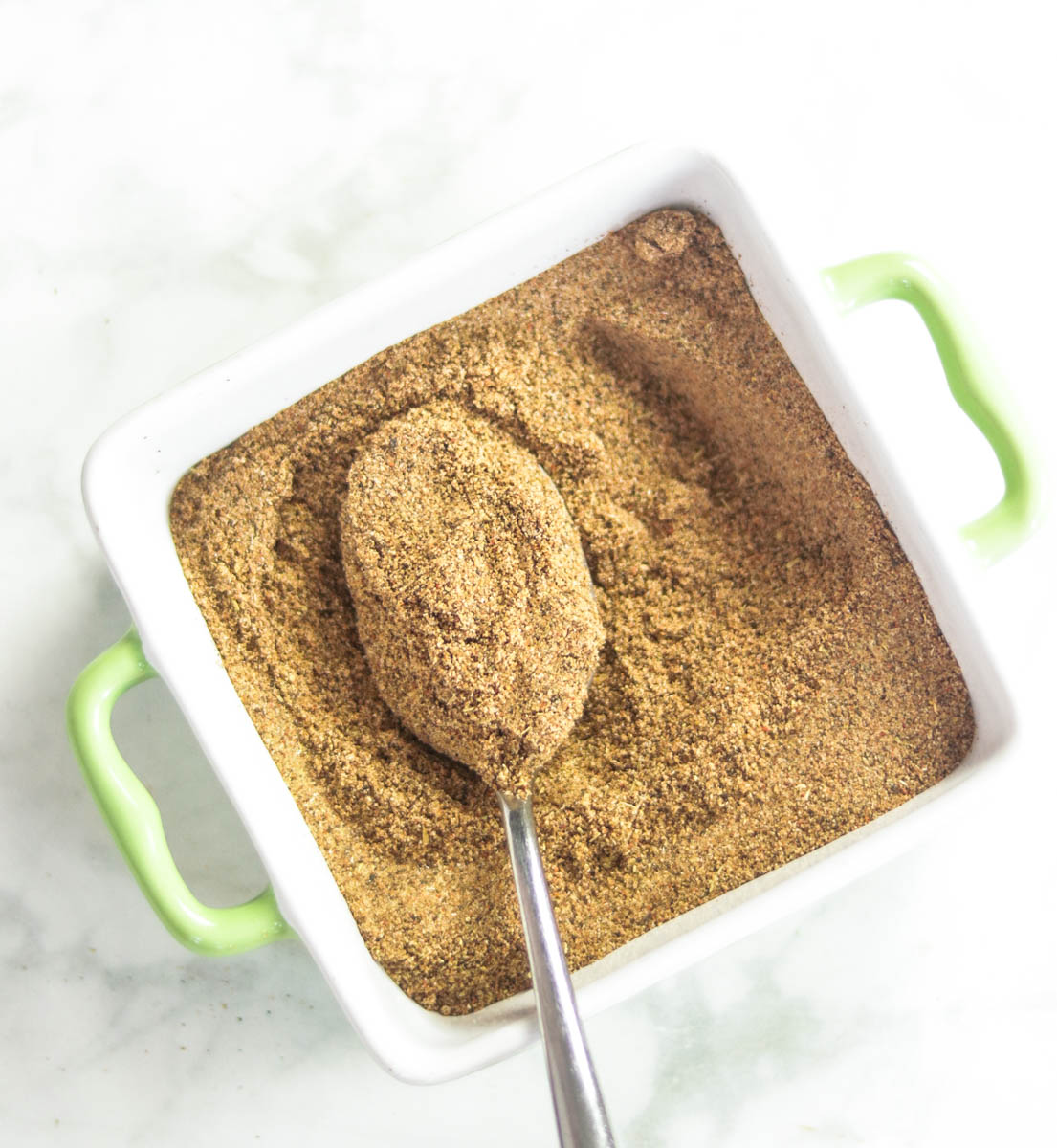 Are you looking for the Best BBQ RUB to make this year's grilling season off the hook? Whether you grill your meat, smoke it or even cook it in the oven, this dry rub with its smoky tones is going to explode on your palate!
Smoky and herbaceous at the same time, it's delicious on just about anything from ribs to chicken to potatoes!
What tea should I use?
Use a fragrant, whole loose leaf black tea. Darjeeling or Ceylon are the best types of tea to use in this dry rub.
How do I use dry rub?
A lot of people wonder "Should I dry rub ribs overnight?" or how long is best to dry rub your meat.
For ribs and chicken, I definitely suggest a really generous sprinkling of the dry rub over the meat and then leaving in the refrigerator overnight. It will make the meat more flavorful as the meat will have time to absorb all the flavor from the marinade.
I have kept the salt light in this recipe, so you can go crazy with the rub. Since it is low in salt, it is best to sprinkle the meat first with a little salt before you do the dry rub.
Also, pierce the meat first with a fork all over. This will also ensure the meat is able to absorb the dry rub.
So you dry rub your meat overnight, then grill, smoke or bake it. Now all you need is a killer barbecue sauce. Don't worry I won't leave you in the lurch.
Check out Orange Habanero BBQ Sauce so you can make these awesome ribs!
Or you can try out this Cantaloupe Barbecue Sauce.
How to store dry rub?
This all purpose Dry Rub seasoning will last for several months if you store it in a cool, dry place.
Make sure to store it in an air tight glass jar with a tight fitting lid.
If you do a lot of grilling or smoking in the summer months, double or triple the recipe. Then you only have to make it once a season!
Why should I make my own dry rub?
There are lots of dry rub spice blends on the supermarket shelves, so you might wonder why should I bother? Well, there are a few reasons!
Firs of all, if you look at the ingredients in most spice blends the first ingredient listed is usually salt. This means there is more salt in the product than any other ingredient. Store bought spice blends are usually full of sodium than none of us needs, whether we have high blood pressure or not!
Secondly, you can customize it. You love garlic – go crazy and triple the garlic quantity – no problem!
Finally, despite the long list of ingredients, it is still more cost effective to make your own dry rub. Even if there are a few ingredients you don't already have in your pantry, purchasing single herbs is way cheaper than most spice blends.
If you are looking to make more of your own blends, here are a few others you might want to try to add some more flavor to your meals.
Spice Blends
Are you ready to try the best smoky dry rub?
Tea Dry Rub for Barbecue
Tea Dry Rub for Barbecue is smoky and herbaceous made with Darjeeling tea.
Instructions
Using a coffee/spice grinder, grind the tea leaves to a powder,

If using whole leaf oregano and thyme, grind with the tea.

Add all of the other powdered spices.

Add sugar and salt. Stir to combine.

Transfer back to spice grinder and grind again.
Nutrition
Calories:
141
kcal
|
Carbohydrates:
31
g
|
Protein:
4
g
|
Fat:
3
g
|
Saturated Fat:
1
g
|
Sodium:
13977
mg
|
Potassium:
362
mg
|
Fiber:
7
g
|
Sugar:
13
g
|
Vitamin A:
3543
IU
|
Vitamin C:
4
mg
|
Calcium:
173
mg
|
Iron:
6
mg
Did you try this recipe? Leave a comment below.
Please follow me on Instagram @chefmireille or tag me #chefmireille with your pics! I'd love to share them!