Last Updated on July 9, 2022 by Chef Mireille
Learn how to make your own vanilla sugar to not only use to enhance desserts, but it is also a delicious flavor addition to your morning cup of java.
The various uses of this versatile item are endless. Once you start, you won't be able to live without this item always in your pantry.
Although homemade Vanilla Extract is great, homemade vanilla infused sugar adds even more flavor to whatever it is added to.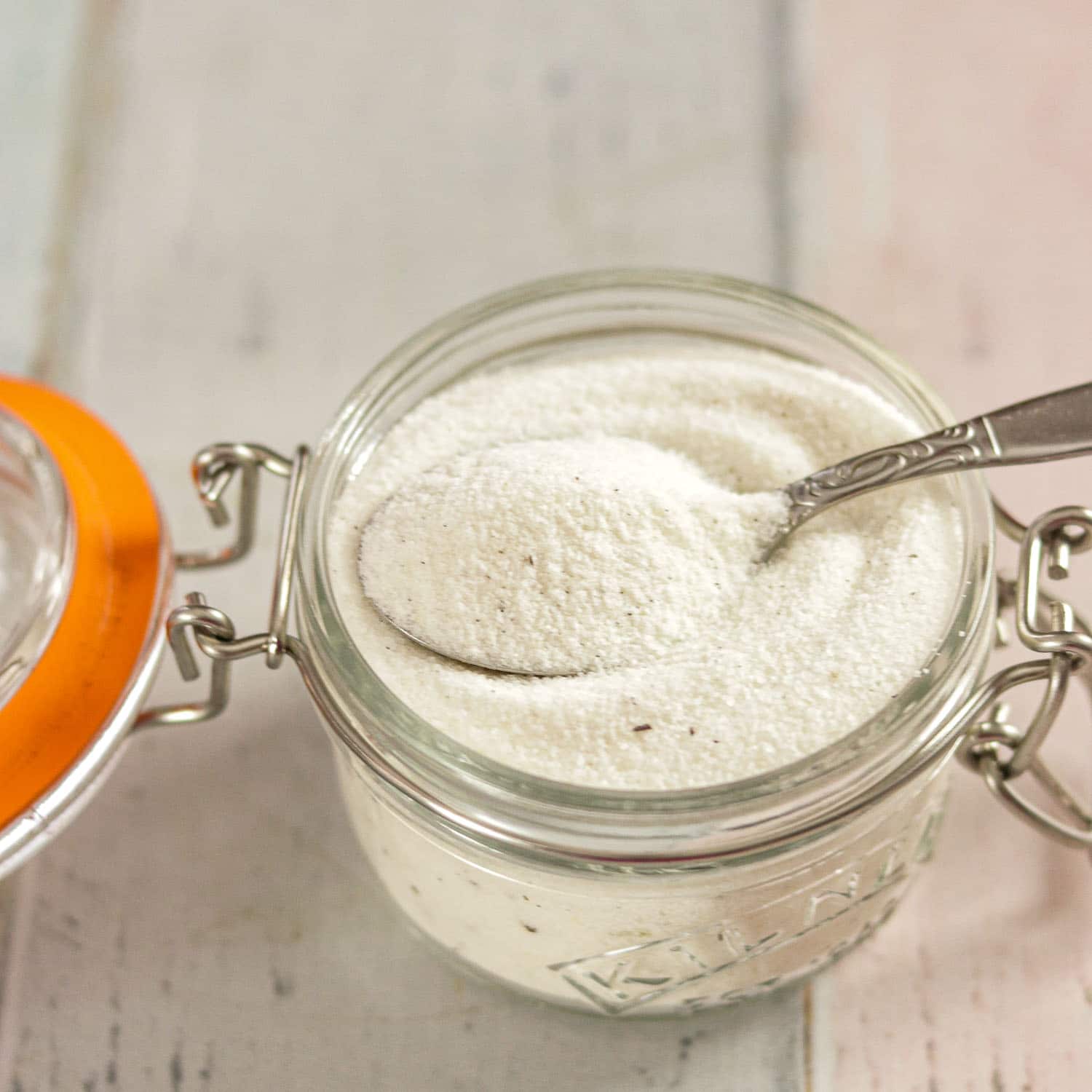 This post may include affiliate links.
Vanilla Bean Sugar is a standard item in most European countries. If you like baking up European treats, knowing how to make your own homemade version is a useful recipe to have in your repertoire.
It is so easy to make and requires just the two ingredients in the title – vanilla beans and sugar.
In Europe, it's not something you have to look for at a specialty store. When I was in Iceland, I even saw it at a 7-11 there, where 7-11 are more like mini mart's than the fast food chain version you find here in America.
However you might be wondering – Can you buy vanilla sugar? – here in America?
In the last several years, specialty shops that sell dozens upon dozens of flavored sugars and salts are becoming a dime a dozen – especially in large cities like NYC where I live!
Of course, there are online sources where you can also purchase it.
However, making the vanilla infused sugar yourself has some advantages:
Customization – If you prefer the vanilla taste to be stronger, you can adjust it by adding more or less vanilla, per your preference
All Natural – Some of the store bought versions of vanilla flavored sugar use artificial vanilla flavoring, instead of real vanilla bean power and flavor.
How to use your homemade Vanilla Sugar
use it for baking – replace it spoon for spoon instead of regular sugar
use it in coffee or tea
sprinkle on top of cookies or scones
delicious in your favorite ice cream recipes
replace 1 teaspoon of this flavored sugar for 1 teaspoon of vanilla extract in any recipe
rim cocktails with this vanilla beans sugar – especially holiday cocktails like Kremas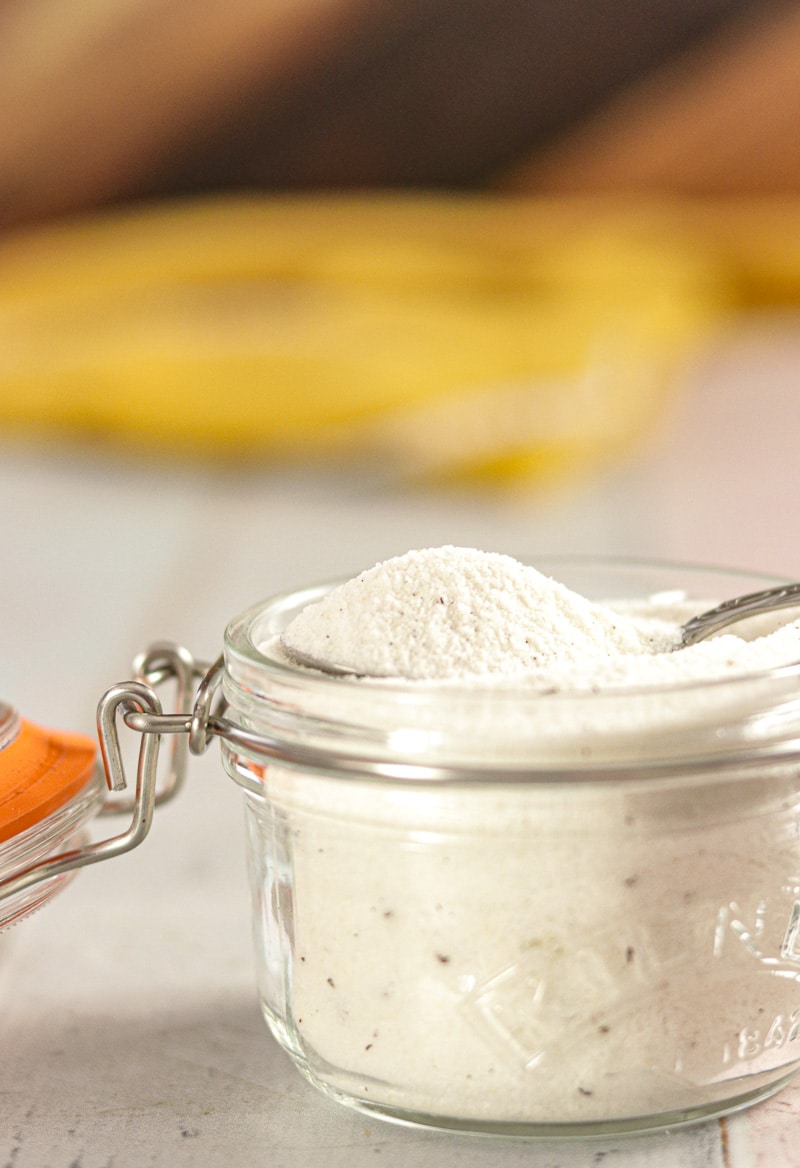 Before we get to the recipe, here are a few recipes that you can turn into Recipes with Vanilla Sugar.
Frequently Asked Questions
Can I make Vanilla Bean Sugar with brown sugar?
You can if you are using granulated brown sugar or Demerara sugar. However, I would suggest storing it in the refrigerator.
How should it be stored?
It can be stored in your pantry in a cool dry place. However, if you live in a very hot climate, I would suggest storing it in the refrigerator.
If using this, do I still need to use vanilla extract in recipes?
Is too much vanilla flavor ever a bad thing? Although it is not necessary, you can use both vanilla sugar and vanilla extract for extra flavor.
How to make Vanilla Sugar
Split and chop vanilla beans.
Buzz in the food processor for several minutes, until the vanilla beans are processed down very well.
Store in an air tight jar.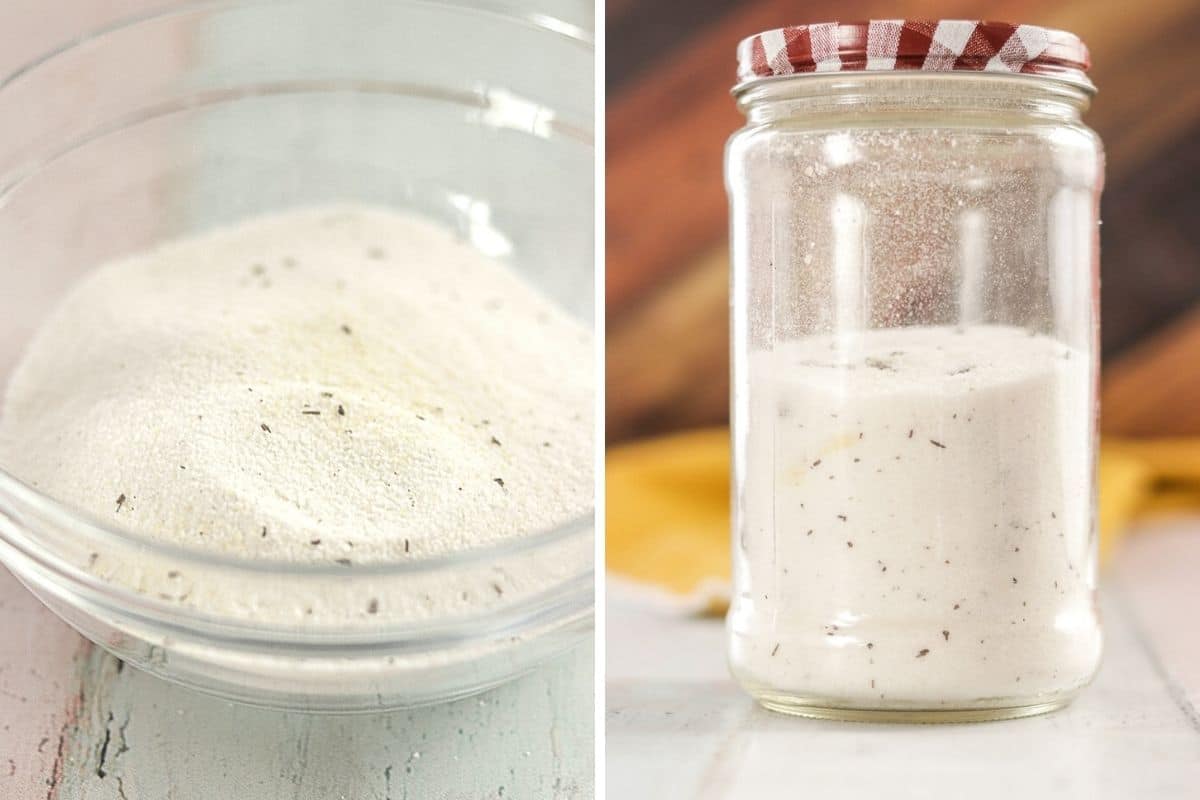 Store in a jar with the vanilla pieces for at least 2 weeks. The longer you leave it, the more flavor it will have.
You can sift the sugar to take out the vanilla pieces, if you prefer.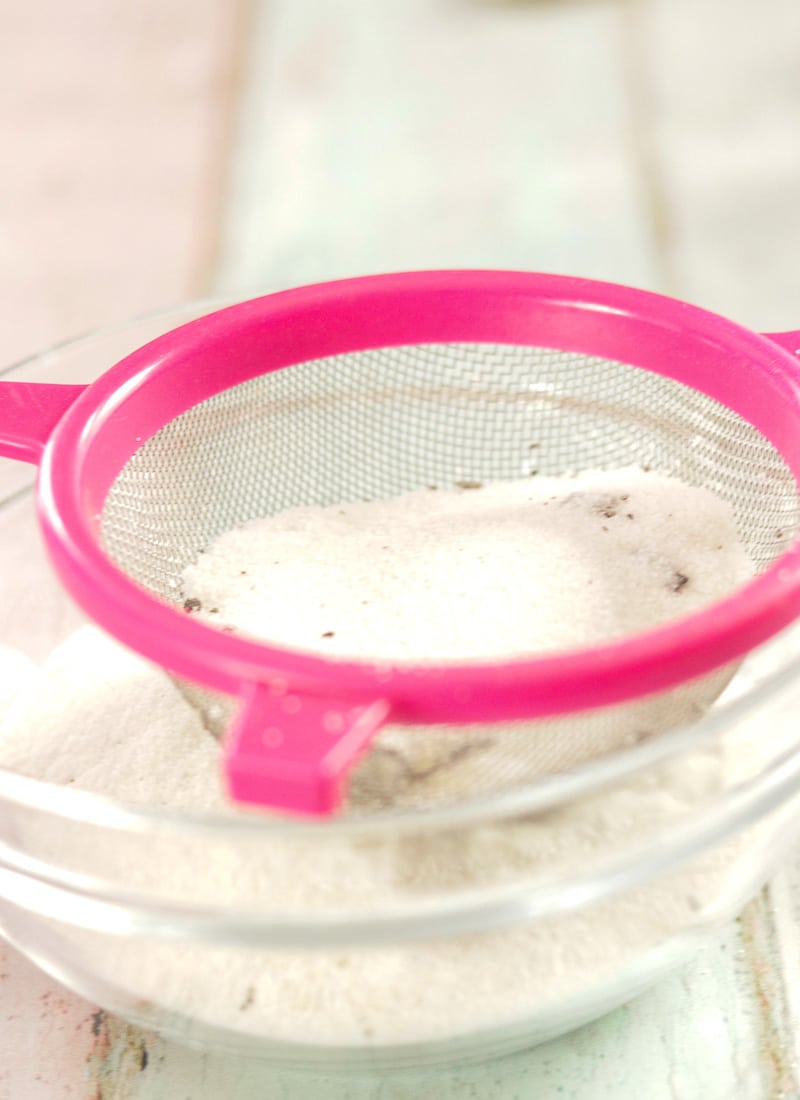 You can just sift the amount you use, as needed, to keep the vanilla beans constantly infusing the sugar with more vanilla flavor.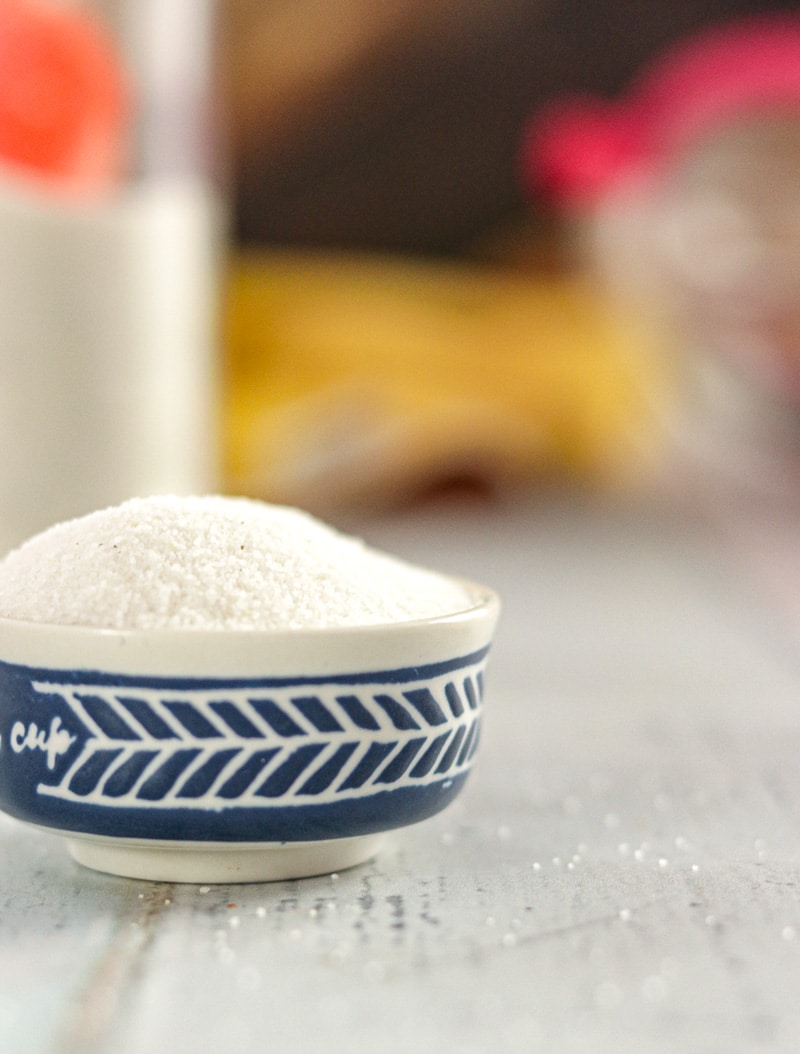 Vanilla Sugar
Vanilla Bean Sugar will add so much flavor to all of your baked goods and whatever else you add it to.
Ingredients
2

vanilla beans

4

cups

sugar
Instructions
Split vanilla beans and coarsely chop.

Combine sugar and vanilla beans in a food processor and process well until vanilla beans are well processed.

Store in a glass jar for at least 2 weeks.

You can leave the vanilla in the sugar as the longer you leave them in the sugar, the more flavorful and stronger vanilla flavor you will get from the sugar.

However, you can also sift the sugar to avoid any vanilla pieces when utilizing the sugar.
Notes
Yield: approximately 4 cups
Store in an air tight jar in a cool dry place.
If you live in a warm climate, store the vanilla sugar in the refrigerator, as there are no anti clumping ingredients in this all natural homemade flavored sugar.
Nutrition
Calories:
195
kcal
|
Carbohydrates:
50
g
|
Fat:
1
g
|
Sodium:
1
mg
|
Potassium:
1
mg
|
Sugar:
50
g
|
Calcium:
1
mg
|
Iron:
1
mg
Did you try this recipe? Leave a comment below.
Please follow me on Instagram @chefmireille or tag me #chefmireille with your pics! I'd love to share them!
Don't forget to visit the RECIPE INDEX with over 1000 recipes from around the world including lots of Vegetarian Recipes and Gluten Free Recipes!