Last Updated on April 30, 2022 by Chef Mireille
This Healthy Acai Smoothie Bowl is so rich in what you need to get your day started right. Chia Seeds, Peanut Butter, Matcha and lots of nuts for garnish make this a delicious and filling protein smoothie bowl! This delicious acai bowl makes such a healthy breakfast.
With this nutrient dense smoothie bowl, you won't be getting hungry 2 hour later. Loaded with more fruits and nuts for toppings, it makes for a delicious and filling breakfast.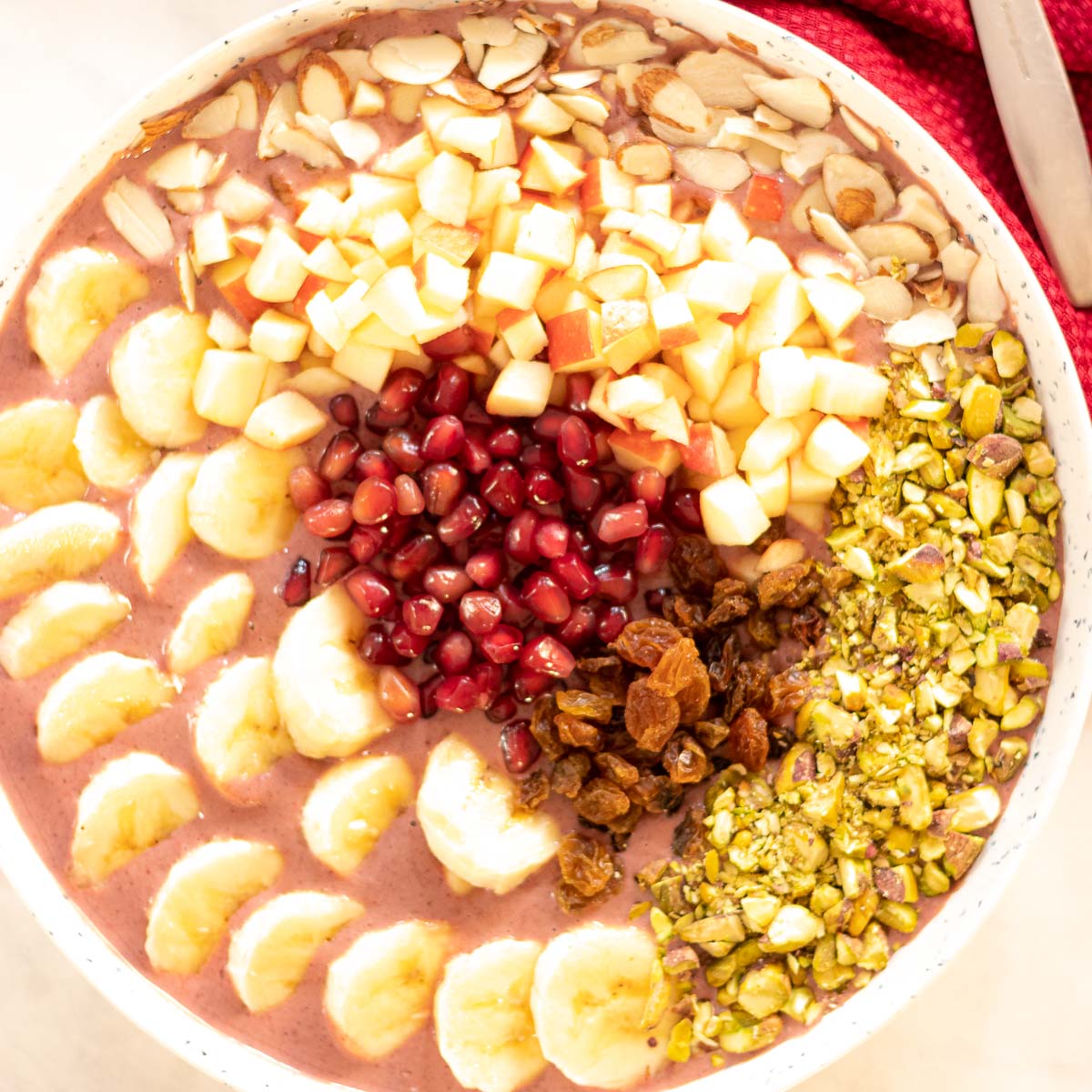 Have you ever heard the expression – "the darker the berry, the sweeter the juice". While this expression has more than one connotation, the darker the berry is not only sweeter but packed with nutritional value.
A general rule with fruits and vegetables is the darker the color, the higher it is in antioxidant power. So it's no wonder that acai is a powerhouse of healthy benefits.
What is Acai?
Acai is one of the great super foods that have taken over in the last several years. You will easily find acai smoothies, acai juice and tea made with acai – even ice cream.
Acai bowls are one of the most popular smoothie bowls you will find at any place offering smoothies and similar foods.
I have been using it for several years as this post is actually an updated one from 2018.
There are now many snack bars and candies like chocolate covered acai that you can find in gourmet supermarkets or health food stores. Why not get a double dose of antioxidant power as dark chocolate also has some great antioxidant power!
We know it's good for us, but what exactly is acai?
Acai is a tart berry that comes from the acai palm tree which is found in the Amazon rainforest. It is especially popular and abundant in Brazil. There is a whole lot of nutrient poser in these acai berries, which is why it is everywhere now.
Here in the United States, the fresh acai berries are not available. We generally get acai as acai berry powder, acai juice or frozen acai packets of the berry puree.
The frozen fruit pulp is the most natural form of the berry we can get here in the US without having the actual berry. It is now easily available at the grocery store, most of the time. Make your breakfast colorful and inviting with these easy fruit packs!
Health Benefits of Acai
Acai is loaded with anti oxidants and rich in vitamins and minerals, especially Vitamin C, Vitamin A and calcium. Vitamin A supports eye heath, cell function, reproduction and immunity.
While there are studies that suggest acai may help in controlling cholesterol and heart health, supporting brain function and reduce cancer growth, the studies were limited.
However, whether or not acai helps with these medical conditions, the power it has in anti oxidants definitely provides a boost to your immune system.This is one of the healthiest smoothie bowl recipes ever jam packed with super food power by also incorporating some matcha and chia seed into this delicious bowl of goodness plus an extra dose of protein with the peanut powder.
Brazilian Acai Bowl
Acai is especially popular in Brazil. In Northern Brazil, it is used in savory recipes. In southern Brazil, acai is most often used in smoothie bowls, where it is known as Acai na Tigela.
The Acai Bowls in Brazil are usually much simpler than this acai bowl recipe with just acai and a little water and sweetened with guarana syrup. These simple Brazilian Acai Bowls are then topped with fresh fruit like bananas and mango.
Brazilian Acai Bowls can easily be found on the beaches of Rio de Janeiro.
Variations
Instead of the peanut powder, you can use nut butter like peanut butter, cashew butter or almond butter or use protein powder.
Instead of Greek yogurt, you can frozen banana and then use dairy free milk like almond milk or oat milk. If you don't freeze the banana, the smoothie will be too thin.
For a more traditional Acai Smoothie Bowl, double up on the acai and eliminate the yogurt.
Any kind of frozen fruit like mixed berries, frozen blueberries, frozen mango or pineapple can be used.
Many other toppings can be added or substituted like pumpkin seeds, chocolate chips, shredded coconut, sunflower seed, dried fruit and fresh strawberries or other fresh fruit.
Ingredients for Acai Bowl
banana
frozen strawberries
frozen acai packet – full of anti oxidants and vitamins
Greek yogurt
peanut butter powder (or vanilla protein powder)
chia seed – full of protein and fiber
matcha – full of anti oxidant power
honey (or sweetener of choice)
Topping Ingredients
To be quite honest, you can load up your smoothie base with desired toppings of your own choosing. This is just what was used in this version and I have given you more options in the Variations listed above.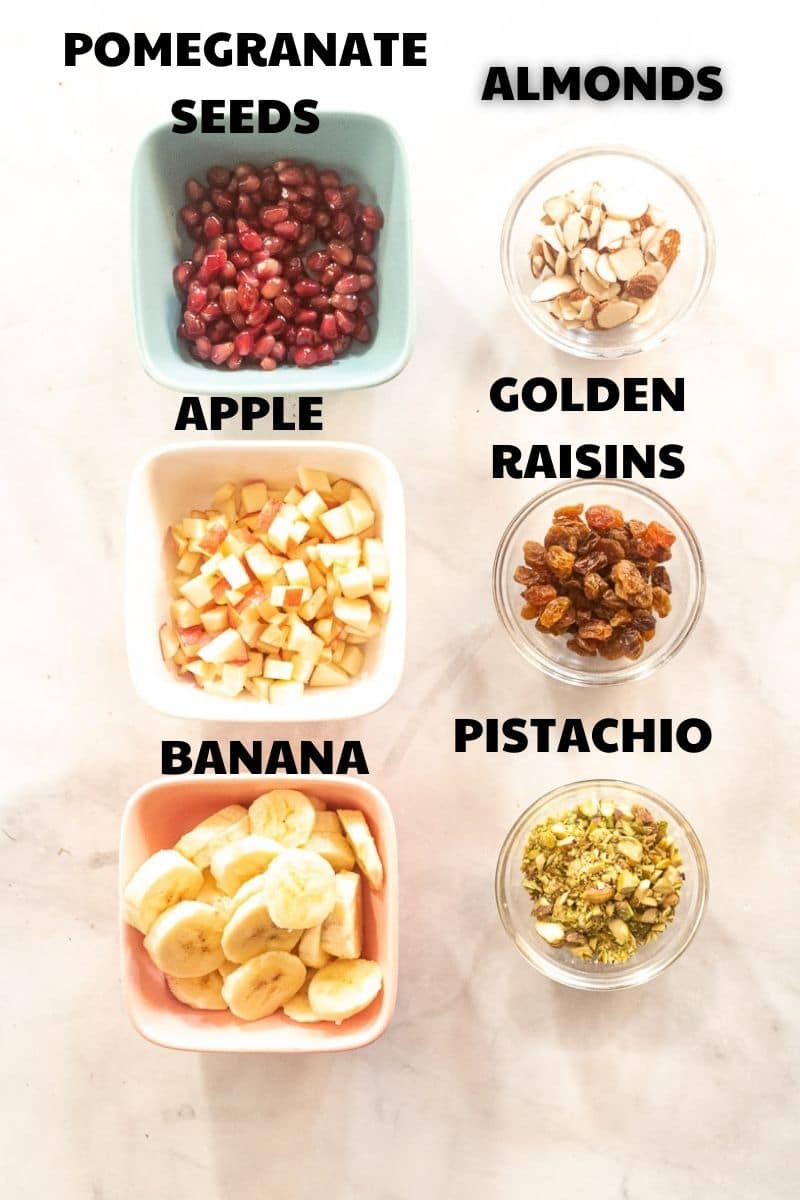 slices of banana
sliced almonds
chopped pistacchios
pomegranate seeds
golden raisins
chopped apple (tossed with a little lemon juice)
cinnamon or pumpkin pie spice mix (optional)
How to Make Acai Smoothie Bowl
In a blender or food processor, combine frozen berries, banana and acai puree.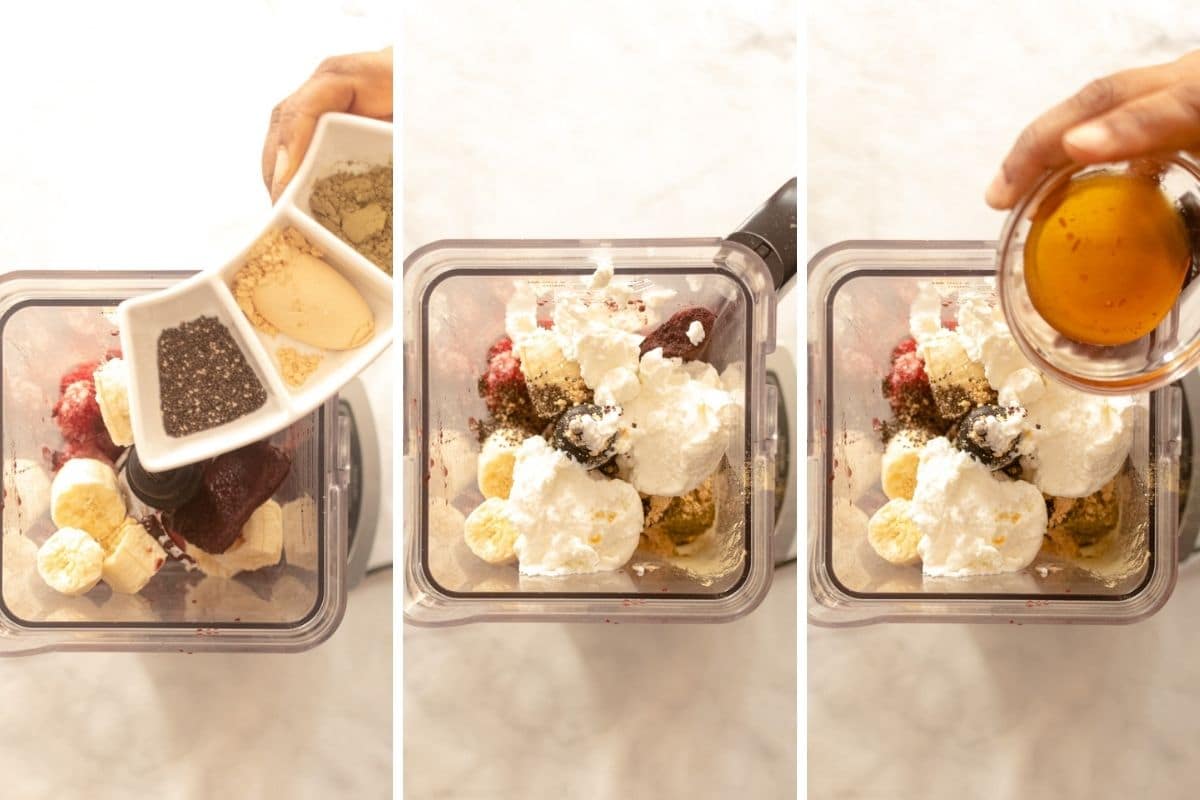 Add everything else except the toppings.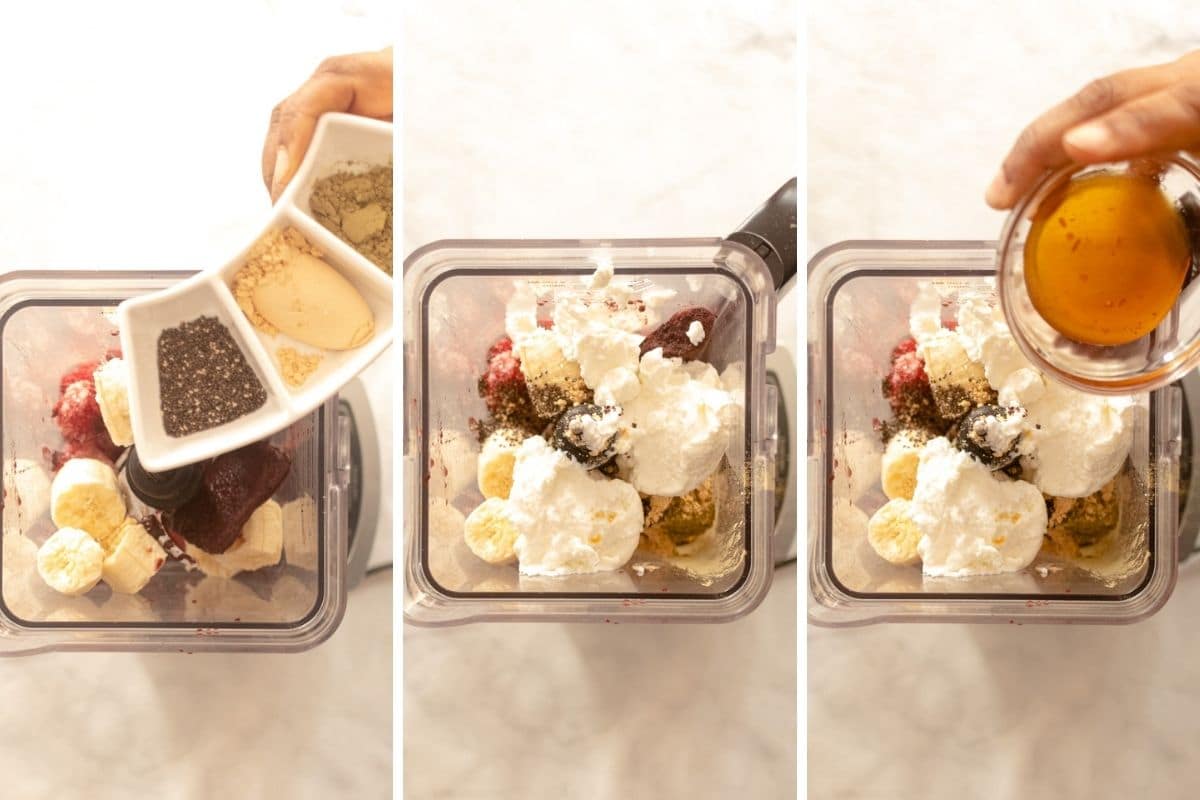 Blend well.
Pour into a bowl.
Add your favorite toppings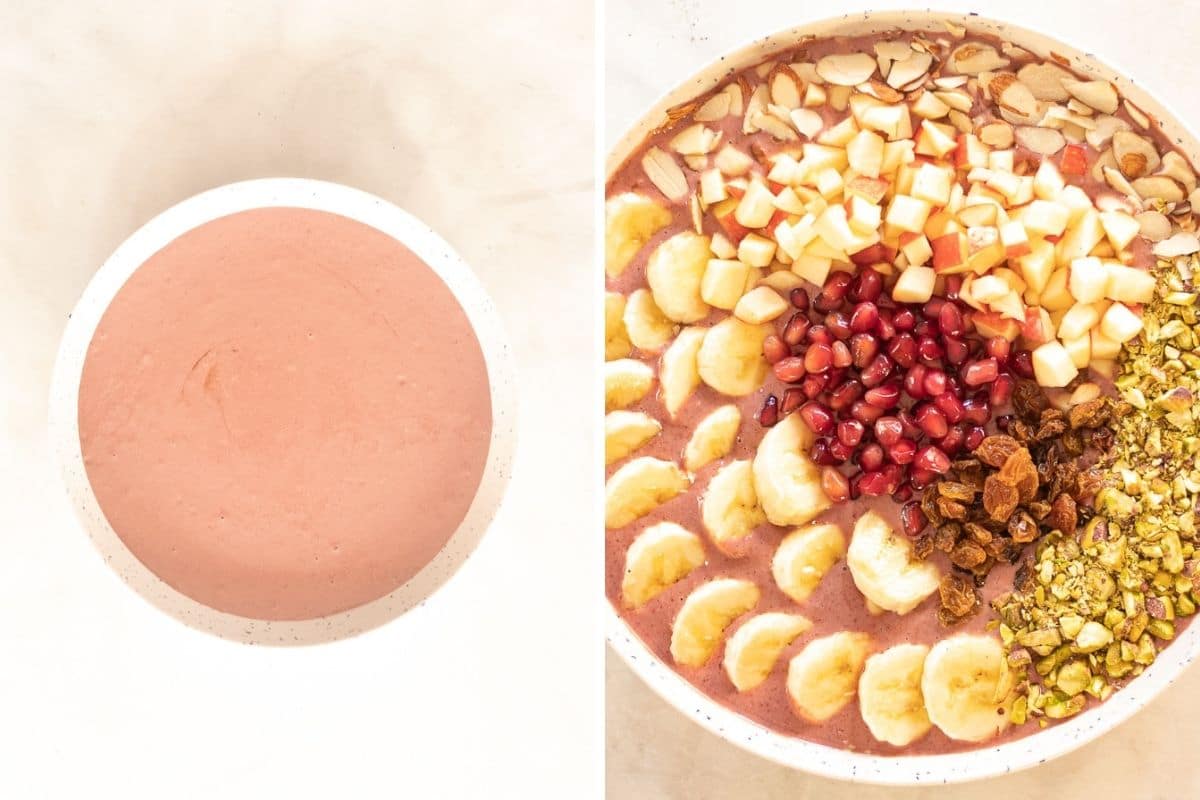 Packed with healthy fats and anti oxidant power, this acai smoothie bowl makes the perfect breakfast. It's a great idea to start the day with.
This homemade acai bowl recipe is better than any you can order because it is a DIY Acai Bowl so you are free to customize it with your own desired toppings and are not limited by what the shop offers. This automatically pushes it a step up and will make it the best acai bowl for your own palate and preferences.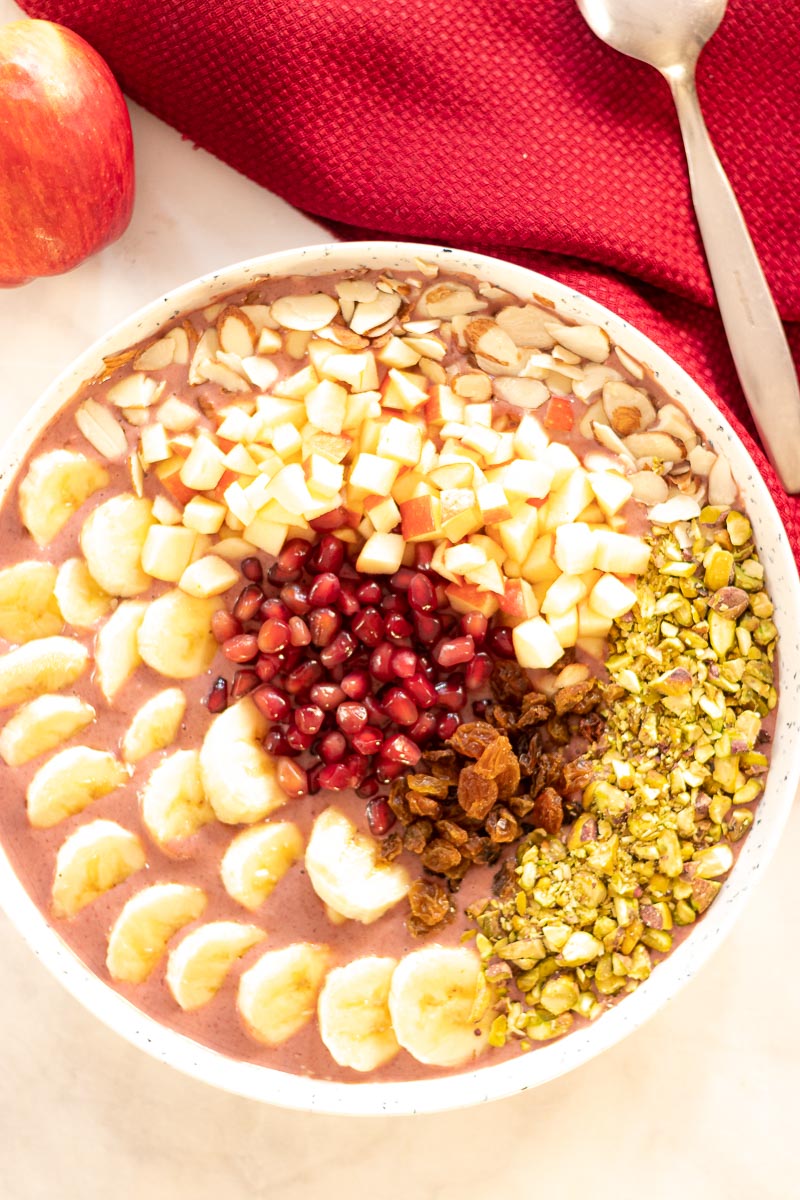 Isn't that a wonderful bowl of goodness?
…and if you are looking for more smoothie ideas, here are a few more.
Smoothie Recipes
Protein Smoothie Bowl
This healthy yogurt bowl full of superfoods will give you the energy you need to start the day right!
Ingredients
1

banana

1

cup

frozen strawberries

100

gram

pack frozen acai berry puree

1

teaspoon

matcha

1

teaspoon

chia seed

1

tablespoon

peanut butter powder

or protein powder

1

cup

Greek yogurt

1

tablespoon

honey
Topping Ingredients:
1

banana

sliced

1

apple

chopped and tossed in lemon juice

2

tablespoons

sliced almonds

2

tablespoons

chopped pistacchios

1/3

cup

pomegranate seeds

1

tablespoon

golden raisins
pumpkin pie spice mix

optional
Instructions
In a high speed blender, combine banana, frozen strawberries and frozen acai puree.

Add

matcha

, chia seed and peanut powder.

Add yogurt and honey (if using) and blend well until thoroughly combined.

Pour into a serving bowl and add the toppings as desired.

Garnish with cinnamon or pumpkin pie spice, if desired.
Notes
For a thicker smoothie bowl, use frozen banana.
Nutrition
Calories:
417
kcal
|
Carbohydrates:
64
g
|
Protein:
19
g
|
Fat:
11
g
|
Saturated Fat:
1
g
|
Polyunsaturated Fat:
3
g
|
Monounsaturated Fat:
5
g
|
Trans Fat:
1
g
|
Cholesterol:
5
mg
|
Sodium:
43
mg
|
Potassium:
903
mg
|
Fiber:
10
g
|
Sugar:
44
g
|
Vitamin A:
408
IU
|
Vitamin C:
80
mg
|
Calcium:
196
mg
|
Iron:
3
mg
Did you try this recipe? Leave a comment below.
Please follow me on Instagram @chefmireille or tag me #chefmireille with your pics! I'd love to share them!
Don't forget to visit the RECIPE INDEX with over 1000 recipes from around the world including lots of Vegetarian Recipes and Gluten Free Recipes!