Last Updated on May 19, 2020 by Chef Mireille
Kai Pola – Kerala Gluten Free Sweet Plantain Cake – is a delicious cake from Kerala and so simple made with just flavorings, plantain and eggs!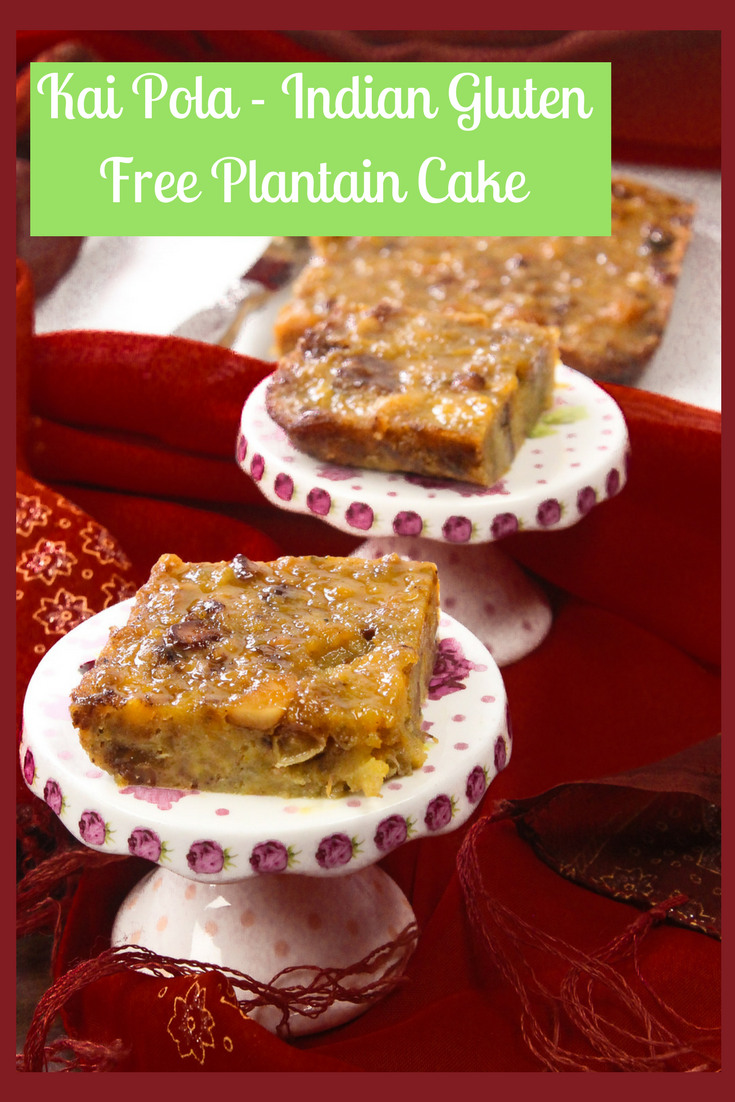 Back in September, there was the bi-annual mega marathon, where I blog for 26 days in the month with just Sunday's off on selected themes with a group of blogger friends. For the week on Indian cuisine, I had planned on doing a sweet & savory dish from a few different Indian states. I was well on my way and had prepared about half of the recipes, then the food blogger's worst nightmare happened. An accident with a liquid beverage and all my photos not yet transferred to my external drive were lost. I had to quickly cook again as many recipes as I could before the posting deadlines. Only a savory dish got posted for Kerala and this sweet dish was eliminated.
Today starts Bake-a-thon. This is my second year doing this December blogging festival, presenting baked dishes three times a week for the whole month! For today's sweet dish I am taking you to the "Land of Coconuts". The South Indian coastal state of Kerala is heralded as one of the most beautiful states of India, with many lakes and rivers. Although it is as narrow as 11 miles across in some places, it is 370 miles long from north to south. It's tropical climate is very hot, due to its proximity to the equator. Due to its length, it has a diverse ecosystem. As diverse as this, is its people. Kerala is one of the most diverse states with sizable communities of the major religions of Hinduism, Islam, Christianity and Judaism all centered in Kerala. Yes, Kerala is one of the few places in India that is home to a Jewish population. It was quite large prior to the formation of Israel, but there is still a small community that remains.
Kerala was also the center for many years of the spice trade.This has led to the use of many spices in their cuisine, resulting in flavorful food. I have already experimented with some Kerala cuisine in the past as in this Okra Curry & Kootu. The world famous Tellicherry peppercorns are from Kerala. Check out my delicious recipe for Tellicherry Pepper Chicken here, the recipe that did get posted for the September marathon.
As most of my readers know, I am a plantain fanatic and Kerala uses plantains in many different ways so its no surprise that it is one of my favorite of all Indian cuisines. This recipe from the Malabar coast demonstrates their love of both plantains and eggs. As demonstrated when I made this Pazham Nirachathu (stuffed plantains), the Malabari's use eggs in many sweet preparations and not in combination with flour and other things so the egg is almost discernible. Instead, they use it as scrambled or other forms where the eggs remains true to itself in sweet preparations. Who knew sweet eggs would taste good…but it does! Here is a unique use of plantains and eggs in cake form.
The variety of recipes I found for Kai Pola were vast. For some, it is more like an omelette with some plantain with as much as 5 eggs per 1 plantain. Others make it more like a dosa. I wanted a more balanced ratio of eggs to plantain and decided on the more cake like version. I hope you like it as much as I did. In this version, the eggs act as more of a binder and you barely taste the eggs with the overbearing sweetness of the plantain. Plantain plays second fiddle to nothing!
IN THE MAKING
Notes:
Although baking is often used in modern versions, traditionally it is often steamed or cooked like a pancake (dosa like) in the more egg rich versions.
This cake is often used as an Iftar (meal to break fast) snack during Ramadan.
The perfect cake if you love plantains.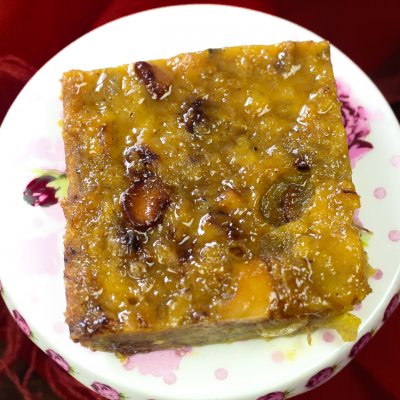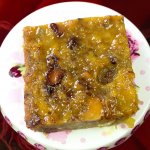 Print Recipe
Kai Pola – Gluten Free Plantain Cake
this #glutenfree Indian cake from Kerala is so delicious - an instant winner recipe!
Ingredients
3

ripe plantains

4

eggs

4

tablespoons

sugar

1

teaspoon

ground cardamom

1

tablespoon

ghee

2

tablespoons

cashews

2

tablespoons

golden raisins

1/2

cup

oil

for frying
Instructions
Preheat oven to 350 F. Grease a square baking dish.

Peel plantain and cut into small pieces. Heat oil in a skillet. Add plantain pieces. Fry plantain pieces until golden brown. Drain on paper towels. Leave to cool for a few minutes.

In a small skillet, heat ghee. Fry cashews and raisins until nuts are golden brown. Remove.

In a large bowl, beat eggs, sugar and cardamom. Add plantains, nuts and raisins and mix well. Make sure all the plantain is well coated with the egg mixture.Transfer to prepared baking dish.

Bake for 25 minutes until set.
Notes
plantains should be very ripe with the skin at least 75% black
Nutrition
Calories:
258.84
kcal
|
Carbohydrates:
27.1
g
|
Protein:
3.63
g
|
Fat:
16.44
g
|
Saturated Fat:
2.61
g
|
Sodium:
30.12
mg
|
Fiber:
1.58
g
|
Sugar:
15.92
g
If you like this recipe, PLEASE LEAVE A COMMENT & SUBSCRIBE!
Loading InLinkz ...
Sign up for our updates!
Subscribe to get our latest content by email and get your FREE Pantry Cheat Sheet - Learn the basics to cook any International cuisine!