Last Updated on January 6, 2021 by Chef Mireille
Kai Pola – Gluten Free Plantain Cake is sweet, delicious, and so easy to make with only a few ingredients!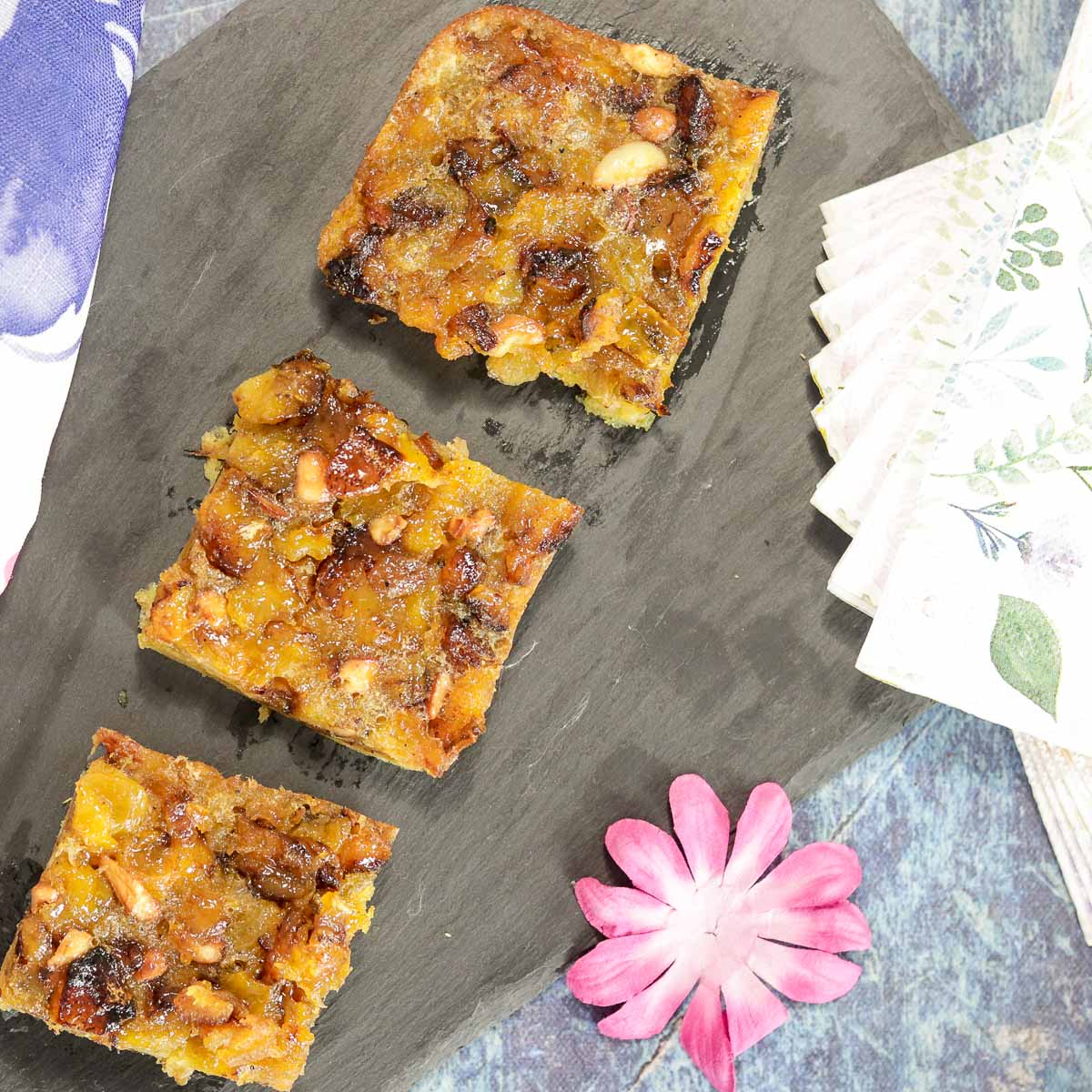 DISCLAIMER: This website includes affiliate links. You don't pay a penny more, but I earn a small commission to keep this site going with delicious content!
For a delicious gluten free and completely grain free cake that is quick and easy and does not require you to go on an expedition to find alternative grains, this is the cake for you! As long as you have plantains, you're set!
Gluten free cake recipes and gluten-free sweet treats often include grains that may be a little harder to find since not every supermarket provides tapioca starch or other gluten free alternatives.
A Bit of History on Kerala
The South Indian coastal state of Kerala is heralded as one of the most beautiful states of India, with many lakes and rivers. Although it is as narrow as 11 miles across in some places, it is 370 miles long from north to south. Kerala is often referred to as the "Land of Coconuts".
Its tropical climate is very hot, due to its proximity to the equator. Due to its length, it has a diverse ecosystem.
Kerala is one of the most diverse states with sizable communities of the major religions of Hinduism, Islam, Christianity and Judaism all centered in Kerala. Yes, Kerala is one of the few places in India that is home to a Jewish population. It was quite large prior to the formation of Israel, but there is still a small community that remains.
Kerala was also the center for many years of the spice trade. This led to the use of many spices in their cuisine, resulting in deliciously flavorful food. I have already experimented with some Kerala cuisine in the past as in this Okra Curry & Kootu. The world famous Tellicherry peppercorns are from Kerala. Check out my delicious recipe for Tellicherry Pepper Chicken here.
Plantain Lovers
As most of my readers know, I am a plantain fanatic! Kerala uses plantains in many different ways, therefore it's no surprise that it is one of my favorite Indian cuisines. This kaipola recipe from the Malabar coast and with such simple ingredients, it demonstrates their love of both plantains and eggs.
As demonstrated when I made this Pazham Nirachathu (stuffed plantains), the Malabari's use of eggs in many sweet preparations makes the egg almost discernible. Instead, they use it as scrambled or other forms where the eggs remains true to itself in sweet preparations. Who knew sweet eggs would taste good…but they do!
The variety of recipes for Kai Pola are diverse; some are more like an omelet with plantains… I'm talking as much as 5 eggs per 1 plantain. I prefer a more balanced ratio of eggs to plantain, which is why I decided on the more cake-like version for this recipe. I hope you like it as much as I do.
In this plantain cake recipe, the eggs act as more of a binder and you barely taste the eggs with the ever present natural sweetness of the ripe plantains. Plantain plays second fiddle to nothing!
Although this cake was traditionally a Steamed Plantain Cake, this easy baked version is just as delicious.
Here's what you need to make this delicious Kai Pola:
The Ingredients
3 ripe plantains
4 eggs
4 Tbsp sugar
1 tsp ground cardamom
1 Tbsp ghee
2 Tbsp cashews
2 Tbsp golden raisins
1/2 cup oil for frying
Have you tried instacart yet? It's how I get all of my fresh grocery items delivered within 2 hours!
How to make Kai Pola
First peel and chop the ripe plantains.
Then fry them in a little oil until golden.
Then you combine fried plantains with eggs and flavorings.
Bake in oven for 25 minutes.
Depending on the ripeness of the plantains, the texture will vary a bit each time you make it.
When made with completely black skin plantains, you will get an almost pudding texture.
when the skin is halfway black…
If you prefer a more dense cake, make sure your plantains aren't super ripe.
Kai Pola: Gluten-Free Plantain Cake
Indian cake from Kerala is so delicious; this #kaipolarecipe will be an instant favorite recipe!
Instructions
Preheat oven to 350 F. Grease a 9×9" square baking dish.

Peel plantain and cut into small pieces.

Heat oil in a skillet. Add plantain pieces. Fry plantain pieces until golden brown. Drain on paper towels. Leave to cool for a few minutes.

In a small skillet, heat ghee. Fry cashews and raisins until nuts are golden brown. Remove.

In a large bowl, beat eggs, sugar and cardamom.

Add plantains, nuts and raisins and mix well. Make sure all the plantain is well coated with the egg mixture.

Transfer to prepared baking dish.

Bake for 25 minutes until set.
Notes
Plantains should be very ripe with the skin at least 50% black, unless you prefer a more dense cake then feel free to use plantains that are a bit less ripe.
Although baking is often used in modern versions, traditionally it is often steamed or cooked like a pancake (dosa-like) in the more egg rich versions.
This cake is often enjoyed as an Iftar (meal to breakfast) snack during Ramadan. 
Nutrition
Calories:
269
kcal
|
Carbohydrates:
28
g
|
Protein:
4
g
|
Fat:
17
g
|
Saturated Fat:
3
g
|
Cholesterol:
77
mg
|
Sodium:
31
mg
|
Potassium:
364
mg
|
Fiber:
2
g
|
Sugar:
16
g
|
Vitamin A:
778
IU
|
Vitamin C:
11
mg
|
Calcium:
15
mg
|
Iron:
1
mg
Did you try this recipe? Leave a comment below.
Please follow me on Instagram @chefmireille or tag me #chefmireille with your pics! I'd love to share them!
More Plantain Recipes
If you like this recipe, PLEASE LEAVE A COMMENT & SUBSCRIBE!
DO YOU YUM? SAVE IT BELOW!
Yum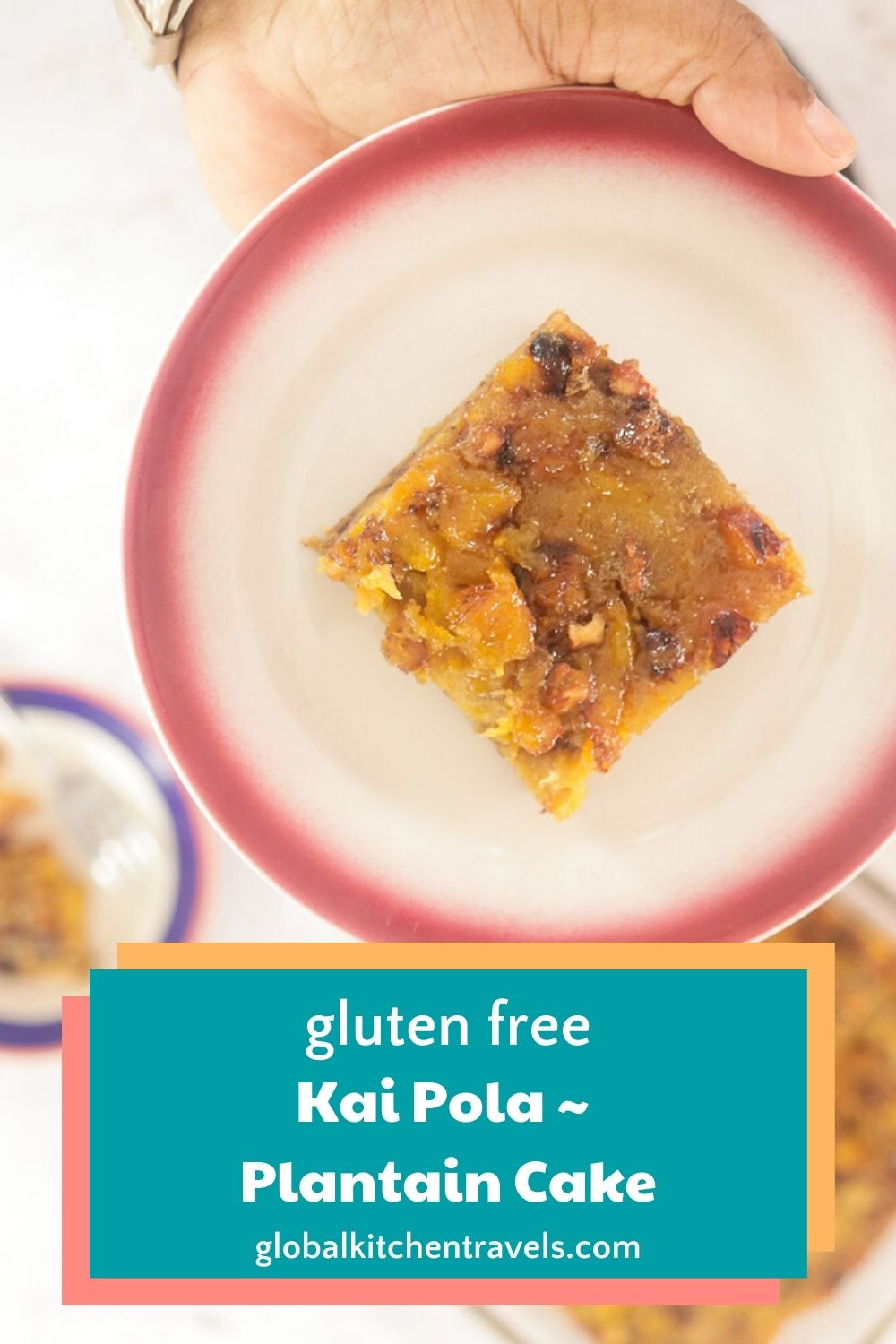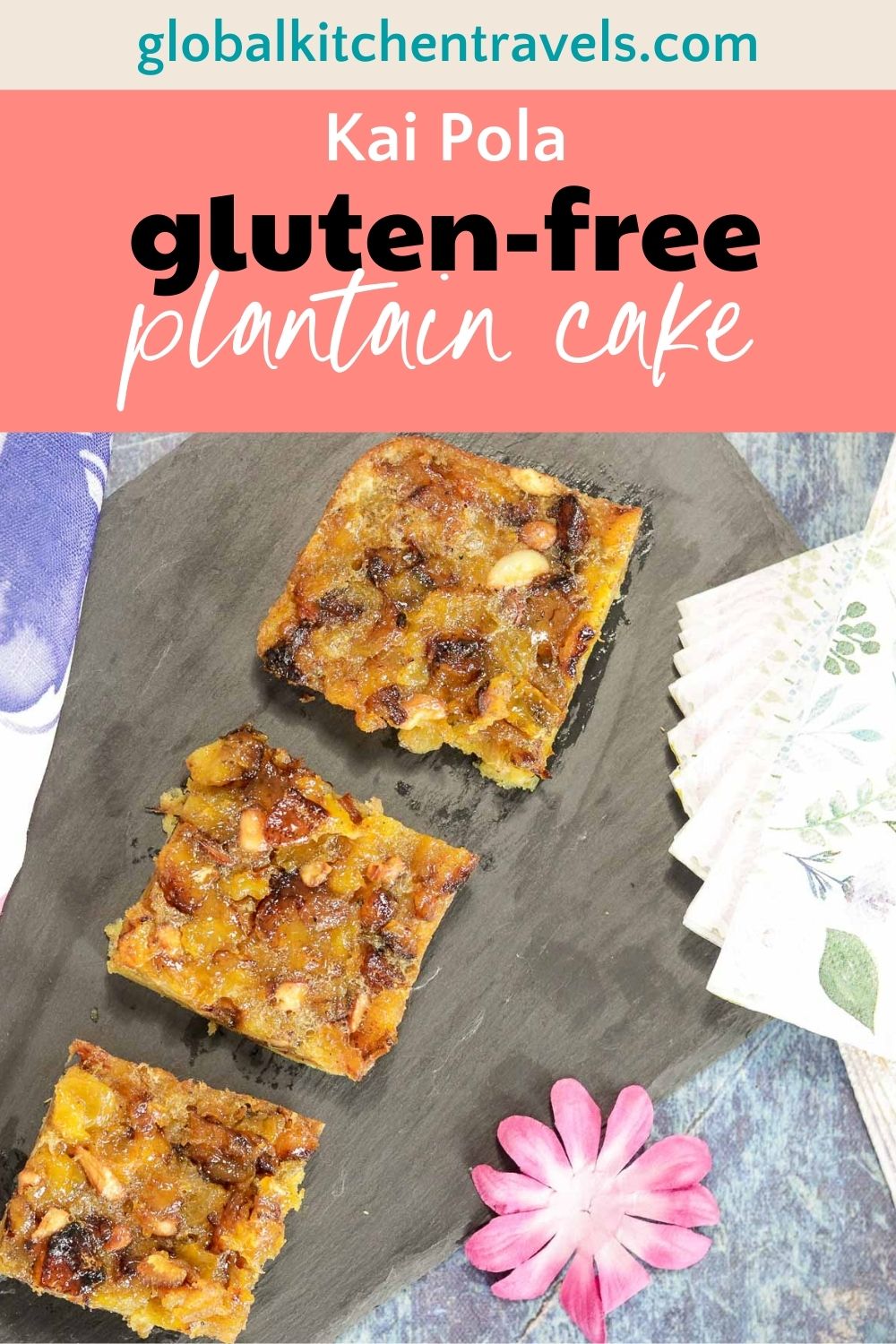 Don't forget to visit the RECIPE INDEX with over 1000 recipes from around the world including lots of Vegetarian Recipes and Gluten Free Recipes!