Last Updated on March 15, 2020 by Chef Mireille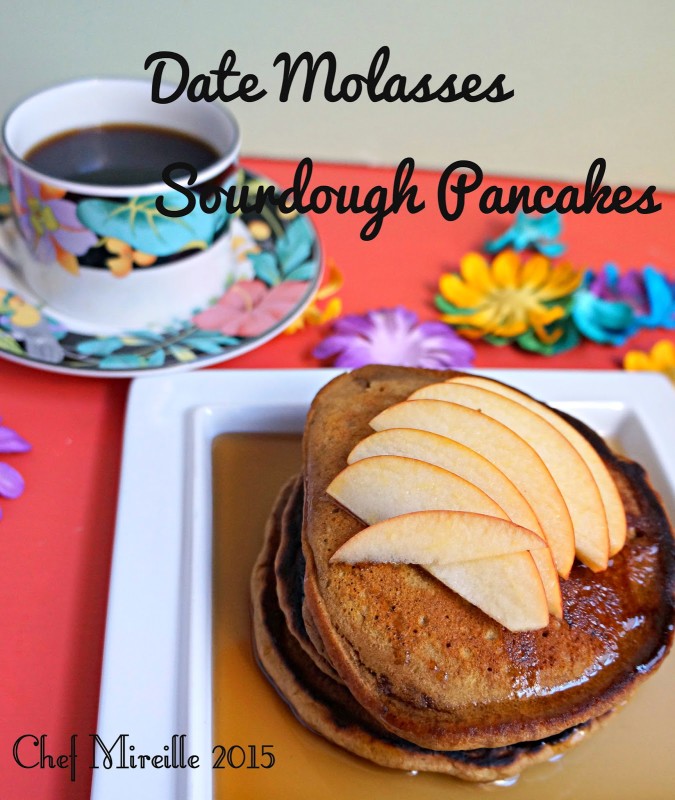 Today is National Pancake Day. These fake holidays are often created by companies wanting to elicit more customers for their product. IHOP is the one who advocated the creation of this "holiday" back in 2006. Their marketing campaign starts a few weeks before, trying to get everyone to come in to take advantage of the specials on Pancake Day and collecting for charity. To their credit, they have raised a lot of money for charity as a result of this holiday, however I prefer homemade pancakes. Instead of trekking on over to IHOP to get their mass produced pancakes, try this unique version at home yourself instead to celebrate the day.

Whenever I go to International markets, I have my stock ingredients that I always buy but then I often will buy one new ingredient I have never used before just to learn what it tastes like and how to utilize it.
So the last time I went to pick up some halloumi and freekeh, I picked up a jar of date molasses. I had vaguely remembered seeing this ingredient in some recipes I had looked at in the past. Of course now that I have the ingredient, I haven't been able to find any of those recipes I previously saw using it.
I have recently jumped onto the sourdough train. After having some starter in my refrigerator for 2 years that a friend had given me, I brought it back to life and have now started feeding it regularly. Stay tuned for my post on how I woke up my dormant starter. My starter is a multi grain version with a combination of all purpose flour, rye flour and whole wheat flour. After making these multi grain sourdough pancakes, you will never want to go back to IHOP.
Date Molasses Sourdough Pancakes
Yield: 12 pancakes
Ingredients:
1/2 cup sourdough starter
1 1/4 cups whole wheat pastry flour (or all purpose flour)
1/2 teaspoon salt
1 teaspoon baking soda
1 beaten egg
1 tablespoon oil
2 tablespoons date molasses
1 cup milk
Take unfed starter straight from the refrigerator and leave in a bowl for 15 minutes to bring to room temperature.
In a large bowl, combine all dry ingredients and mix to combine. Add egg, oil, molasses and milk. Stir until thoroughly combined.
Heat a skillet. Lightly brush with oil or butter or spray with non stick spray.
Add about 2-3 tablespoons of batter for each pancake. When air bubbles start to appear flip over and cook on the other side until golden brown.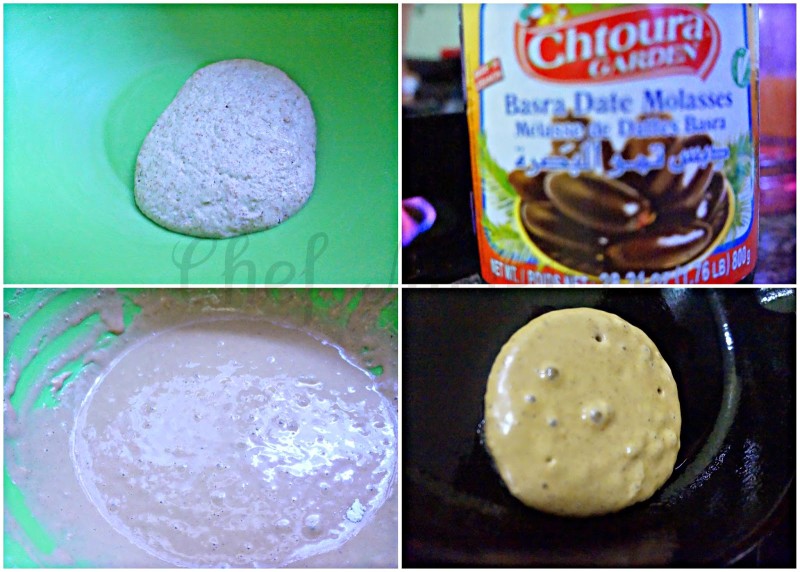 Do you see those large air bubbles…that's sourdough magic!!!
Repeat until all the batter has been used.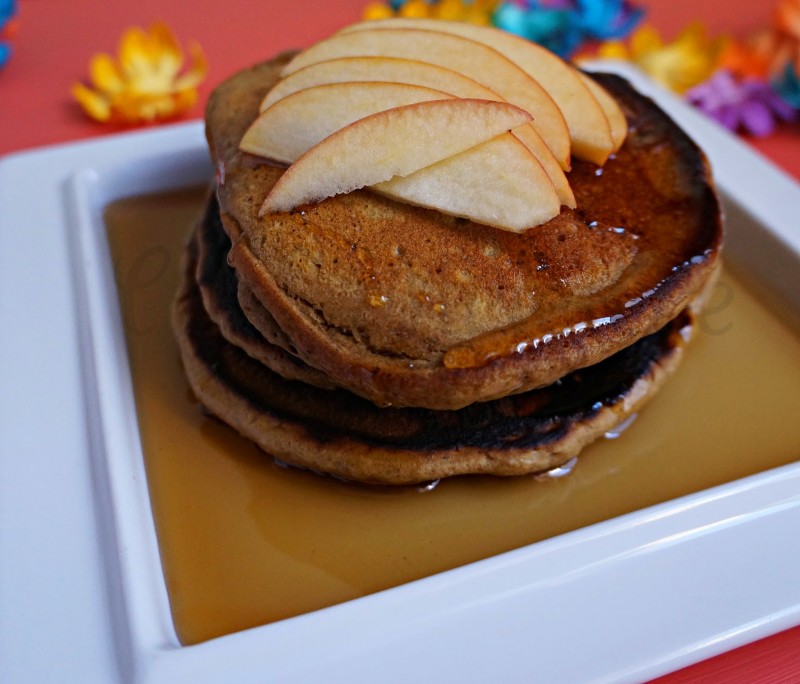 The molasses adds a great smoky flavor and the large air holes because of the sourdough yields soft and fluffy pancakes that are not dry inside. Don't you hate when you bite into restaurant style fluffy pancakes and eventhough saturated in syrup, they are still dry inside. This won't happen with these pancakes.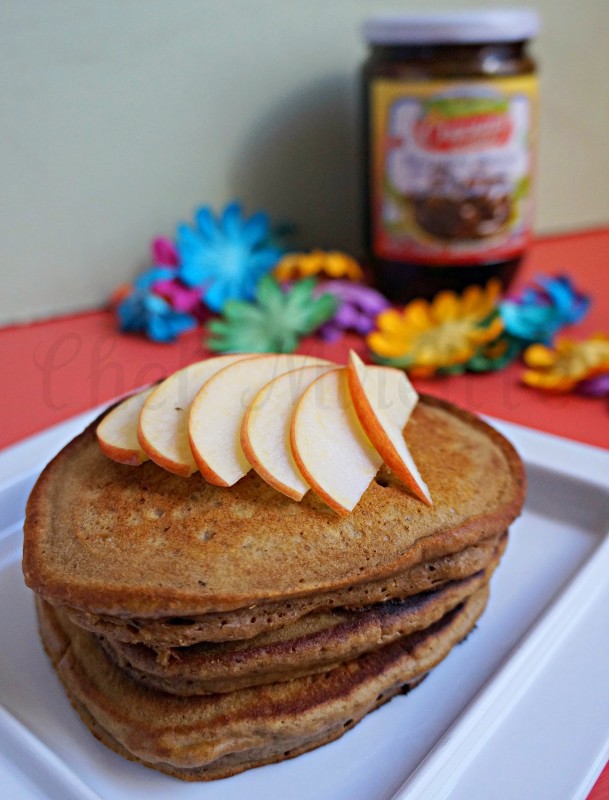 Now you found a use for that date molasses you picked up from the Middle Eastern market…
Serve with syrup and apples or other fresh fruit. With a cup of coffee, who can ask for a more satisfying breakfast?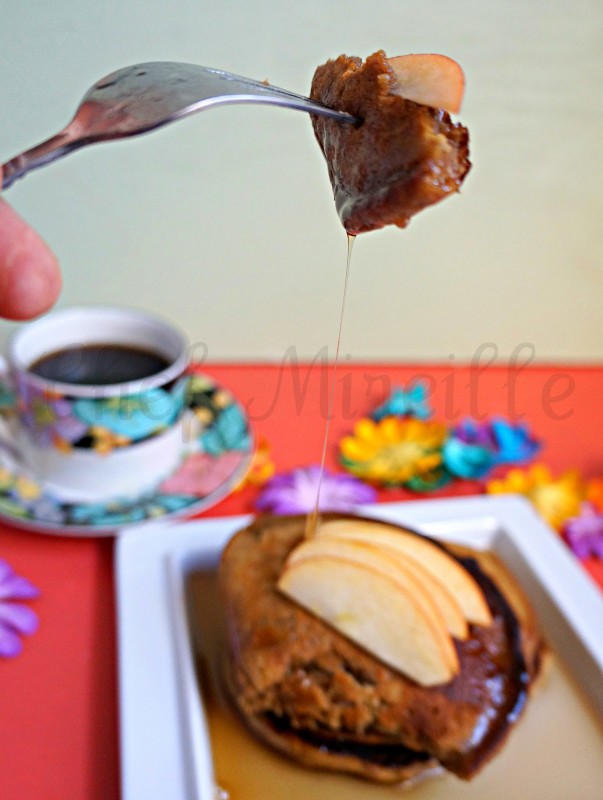 …and if you don't happen to have a jar of date molasses handy, here's a few other pancake recipes you can try instead:
Pumpkin Pancakes
Almond Butter Pancakes
Yemeni Semolina Pancakes
Gluten Free Banana Pancakes
Fiber+ Pancakes