Last Updated on February 26, 2018 by Chef Mireille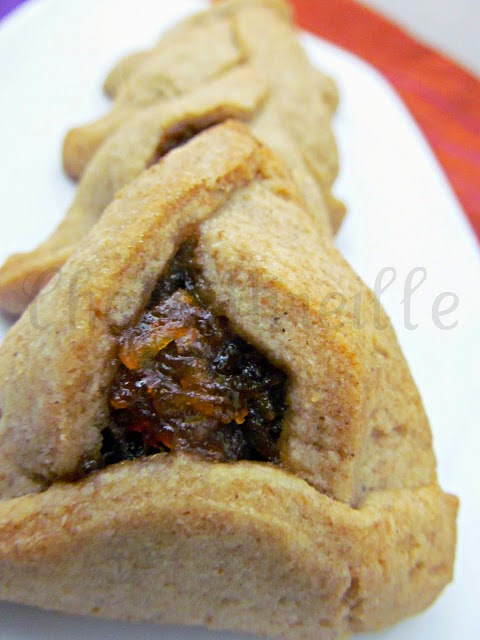 Pumpkin Whole Wheat Hamentaschen
Happy Purim to all my Jewish readers!!!
At sunset this evening starts the Jewish holiday of Purim, the first Jewish holiday of the calendar year, the equivalent of Halloween. It's a fun holiday for kids with people dressing in costumes and lots of sweets given. However, there is also religious significance to the holiday. It celebrates when the Jewish people were rescued by Esther & Mordecai in the Persian Empire from a plot to kill all the Jewish people in the empire, This day is celebrated with sweet treats and playful activities.
You might wonder why I celebrate most religions on this site. Well, I am lucky enough to have been born into the most diverse family I have ever met. Not only do we have every race represented in my family, but every religion as well…and not talking about some distant relation generations past. Two of my first cousins are Jewish because their mother is Jewish and in the Jewish faith, the children's religion is recognized via the religion of their mother. However, that's not the only Jewish in my family. When my Jewish cousin had a school project to put together a family tree, it was a heavy burden since her dad, like my Mom, is one of 25 children. Her Mom helped her and they discovered that my grandmother's grandfather was a French Jew who had landed on the Caribbean island of Dominica, my grandmother's birthplace. Therefore, I not only have Jewish family by marriage, but also by blood.

The most popular treat that is always served during Purim are Hamentaschen, jam filled cookies. Although poppy seed and apricot are the most common flavors, I have a pumpkin version here.
While we're talking about Jewish cuisine, why not try one of these Jewish recipes from all over the world today to celebrate the holiday.
Sweet Ghari – these are from the Jewish community of India. I bet some of you are surprised to find out that there are Jews in India too. I was when I first read about it!
Hope you enjoy this Jewish feast, despite the poor quality of some of my older photos – do hop on over and try one of these delicious recipes today!
LIKE THIS RECIPE? LEAVE A COMMENT..I LIVE FOR THEM!
Chef Mireille