Last Updated on April 4, 2021 by Chef Mireille
Come Y Bebe – the drinkable South American fruit salad, is especially popular in Colombia and Ecuador. Whether you call it Fruit Salad or Fruit Punch, this is a delicious and refreshing Tropical Fruit Salad.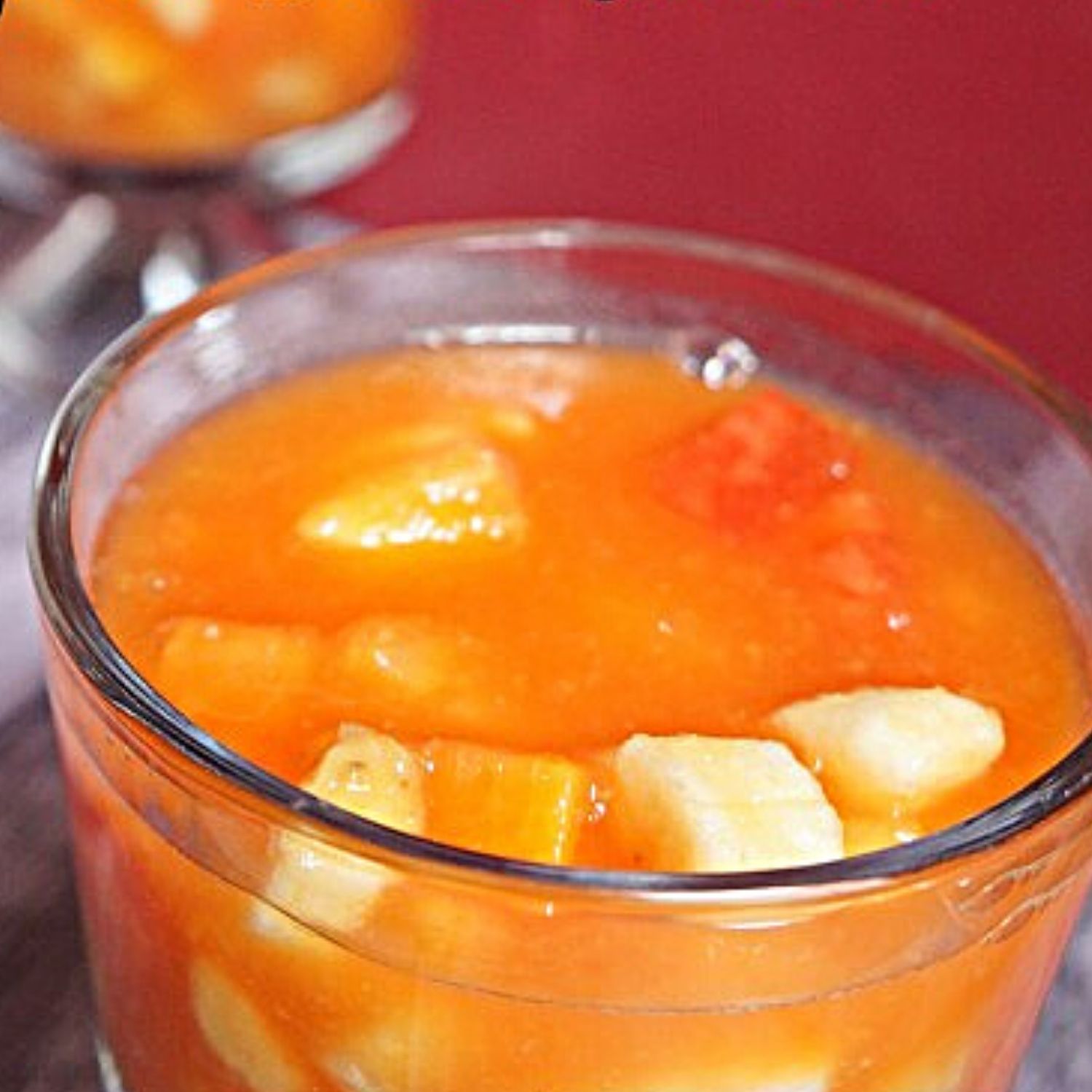 This post may include affiliate links.
In Latin America, popsicles are known as paletas. There are two types of paletas. One type is fruit based and the other is milk based. The milk based one starts with a combination of coconut milk and sweetened condensed milk. These are Paletas de Coco. Fruit can be added to make numerous varieties. Some common flavors include passionfruit, mango and papaya.
Then there are juice based paletas. These come from a popular fruit salad called Come y Bebe, which translates as Eat & Drink. The fruit is chopped very small and served in a lot of juice, so that the fruit salad is drinkable. This is especially popular in Ecuador & Colombia. Someone had the ingenious idea to freeze it and juice based paletas were born.
On Wednesdays, I work in Queens. I live in Brooklyn, so it's quite a commute. A few weeks ago, it was an especially warm day and with my suitcase of supplies in tow, I needed some sustenance to provide me with energy for my 90 minute commute home and I saw this delicious looking fruit salad and bought a cup.
Since I had my suitcase in tow, I take the elevator at the train station, which usually finds me with elderly elevator companions. An older Colombian woman got on the elevator with me and saw me drinking my Come y Bebe. Without request, she started a discourse on the fruit drink. She prefers it without banana because with banana, it is very filling. She just assumed I speak Spanish. Luckily, I do!  She found an interested audience in me, while the other elevator passengers (moms with baby carriages) were probably wondering when she was going to be quiet, as they were rolling their eyes.
Every week the Come y Bebe is different. I guess it depends what fruit is on hand. Sometimes it is in watermelon juice and other times it is in orange juice or mango juice.
This Wednesday was the last class and my students all presented me with hand written notes. Sometimes I get tired of lugging around all the supplies I need for class – hats, aprons, knives, food on the trains and buses as I go to my different job sites. I consider doing more corporate work which is more lucrative, but I could never get such heartfelt satisfaction as I do from these endearing kids. These notes make it all worth it. Inspired by my students who I will miss over the summer, I made this punch that I know they would love.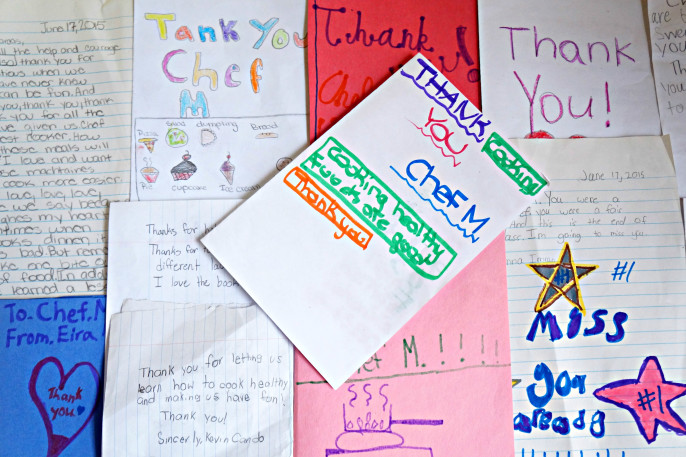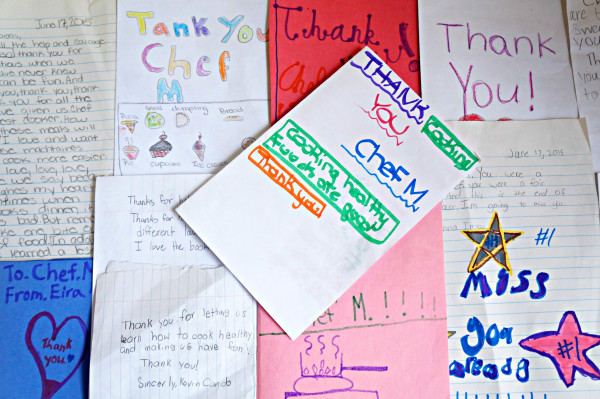 Although I had originally planned to make the paletas, time got away from me so I just did the Come Y Bebe, but all you have to do is freeze this combination and you will then have the paletas.
Come Y Bebe – Tropical Fruit Punch
the drinkable fruit salad from South America is the perfect summertime treat!
Ingredients
1

cup

chopped watermelon

1/2

chopped pineapple

about 2 cups

1/3

chopped papaya

about 1 1/2 cups

2

chopped bananas

orange juice

from 7 very juicy oranges

3 1/2

cups

mixed fruit puree

strained (pineapple, papaya & watermelon)
Instructions
Notes
Make sure you cut the fruit very small. You should be able to just slurp up the fruit as you drink. A spoon is not necessary.
If the fruit is ripe and sweet, no additional sweetener is needed. However, if necessary, you can add some honey or sugar.
You can use any combination of fruit you prefer.
---
This should last about 3 days in the refrigerator, but watermelon turns sour rather quickly. If you would like it to last longer, sub another fruit for the watermelon like mango, peaches or nectarines. I would also omit the banana if you want to keep it longer.
With these changes, Come y Bebe will last in the refrigerator about 5 days.
Nutrition
Calories:
133
kcal
|
Carbohydrates:
34
g
|
Protein:
2
g
|
Fat:
1
g
|
Saturated Fat:
1
g
|
Sodium:
3
mg
|
Potassium:
399
mg
|
Fiber:
4
g
|
Sugar:
27
g
|
Vitamin A:
1487
IU
|
Vitamin C:
79
mg
|
Calcium:
25
mg
|
Iron:
1
mg
Did you try this recipe? Leave a comment below.
Please follow me on Instagram @chefmireille or tag me #chefmireille with your pics! I'd love to share them!
Need more culinary inspiration? Check out the Recipe Index with over 1500 Recipes from Around the World with lots of Vegetarian 🥕🍆🍅and Gluten Free Recipes!