Last Updated on July 9, 2022 by Chef Mireille
This post may include affiliate links.
What's better than a warm, delicious sugar cookie straight from the oven? Nothing, that's what! These Easy Homemade Sugar Cookies are one of the most versatile cookies. You can enjoy them as is or they serve as a great vehicle for making pretty decorative cookies for any occasion.
All you need is the right themed cookie cutters. Once you have the right cookie cutters, you can use this Simple Sugar Cookies Recipe to make holiday cookies for Valentine's Day, Easter, St. Patrick's Day, Halloween, Thanksgiving, Christmas and more…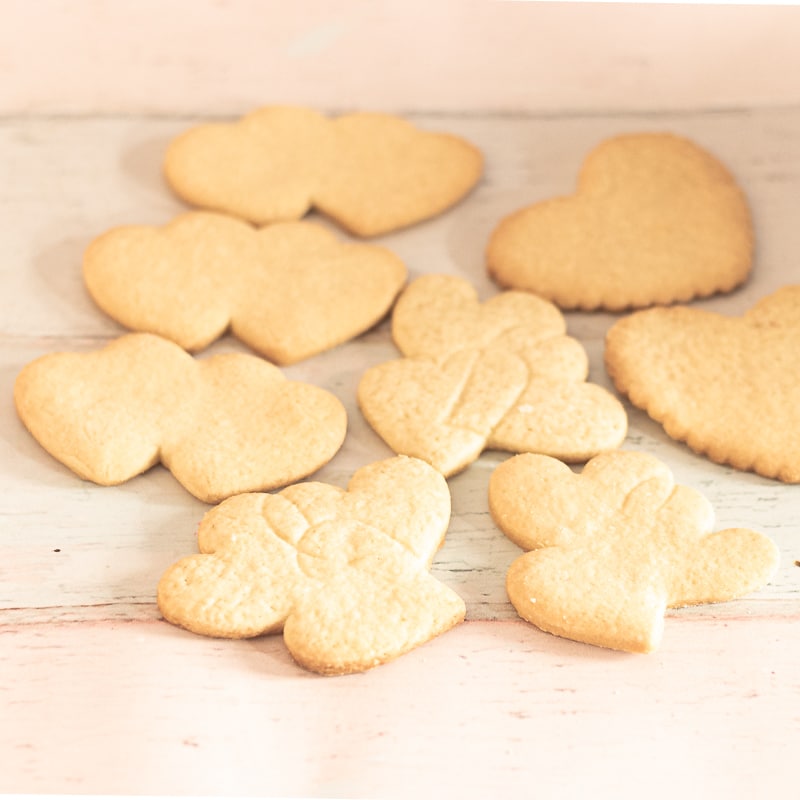 You can use food coloring or bake them as is and decorate them as you prefer. These are the best sugar cookies for decorating. Then you can let your creative juices flow in whatever traditional or crazy way you want.
This is a great idea for kids' parties. Just bake the cookies plain as is and then let them decorate them. For easy decorating ideas, check out my list of 3 Easy Cookie Decorating Ideas.
Frequently Asked Questions
How long do you bake sugar cookies?
It will vary depending how thick or thin you have rolled out your cookies. If you prefer thin very crispy cookies, roll them out thinner and they will be ready in about 8 minutes. Otherwise, for standard sugar cookies, they take about 15 minutes.
However, the longer the oven is on, the less time it will take. If you are making several trays, the subsequent trays after the first batch take less time, so start checking them at about 10 minutes.
What is the best type of food coloring to use?
Gel food coloring is the best to use. The dough will retain the color better than if you use liquid food coloring. You will also need a lot less of gel food coloring than liquid, so you get a lot more bang for your buck.
How do you decorate sugar cookies?
There are several ways to decorate sugar cookies. You can do it simply by brushing them with milk prior to going into the oven and then adding some sprinkles or sanding sugar on top.
You can also use royal icing as a base and then decorate them in a variety of ways. For some easy techniques, check out these Cookie Decorating Tips.
How long do sugar cookies last?
They can be stored in a cookie jar or airtight container for up to 7 days. Otherwise, store in the refrigerator.
However, they are just as delicious eaten plain right out of the cookie jar!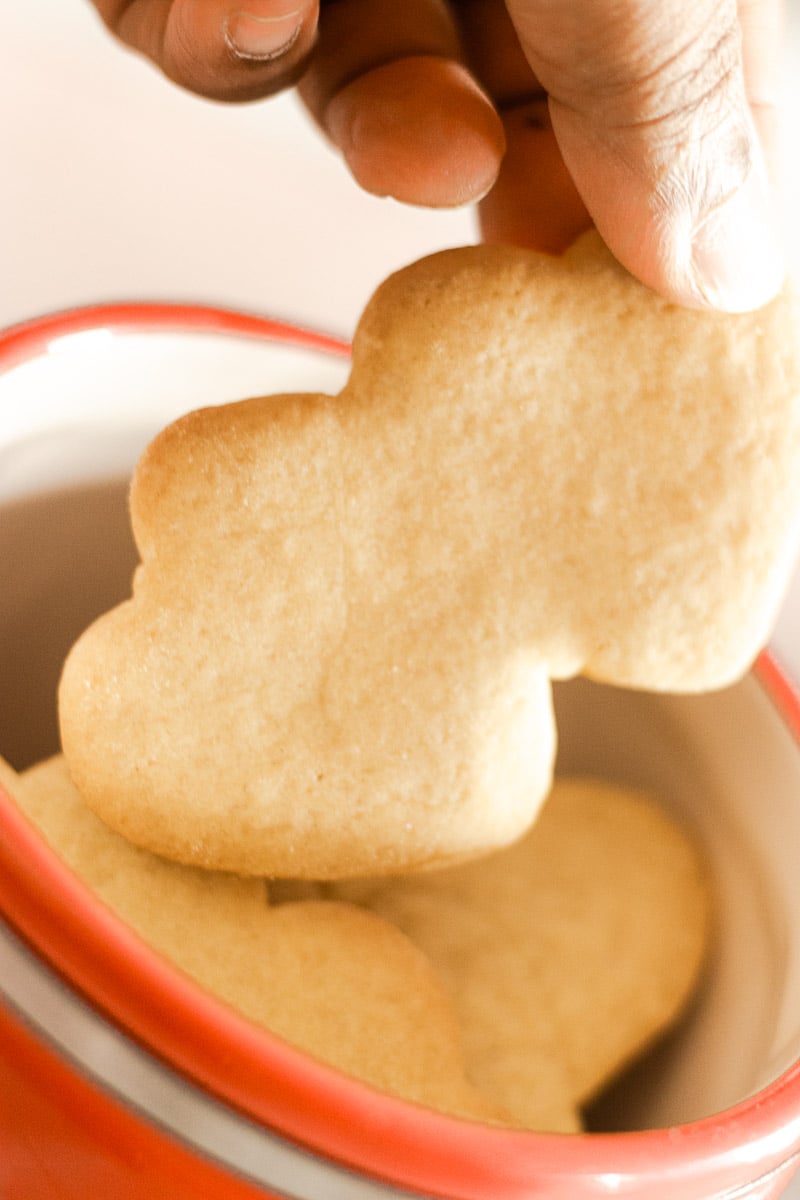 Supplies for making Cut Out Sugar Cookies
Electric Mixer
Flour Sifter
Rolling pin
Dough Scraper
Cookie Cutters
Baking Sheets/ Cookie Sheets
Parchment Paper
Spatula
Cooling Rack
Sugar Cookie Ingredients
all purpose flour
baking powder
salt
butter
sugar
egg
Vanilla extract (or almond extract)
milk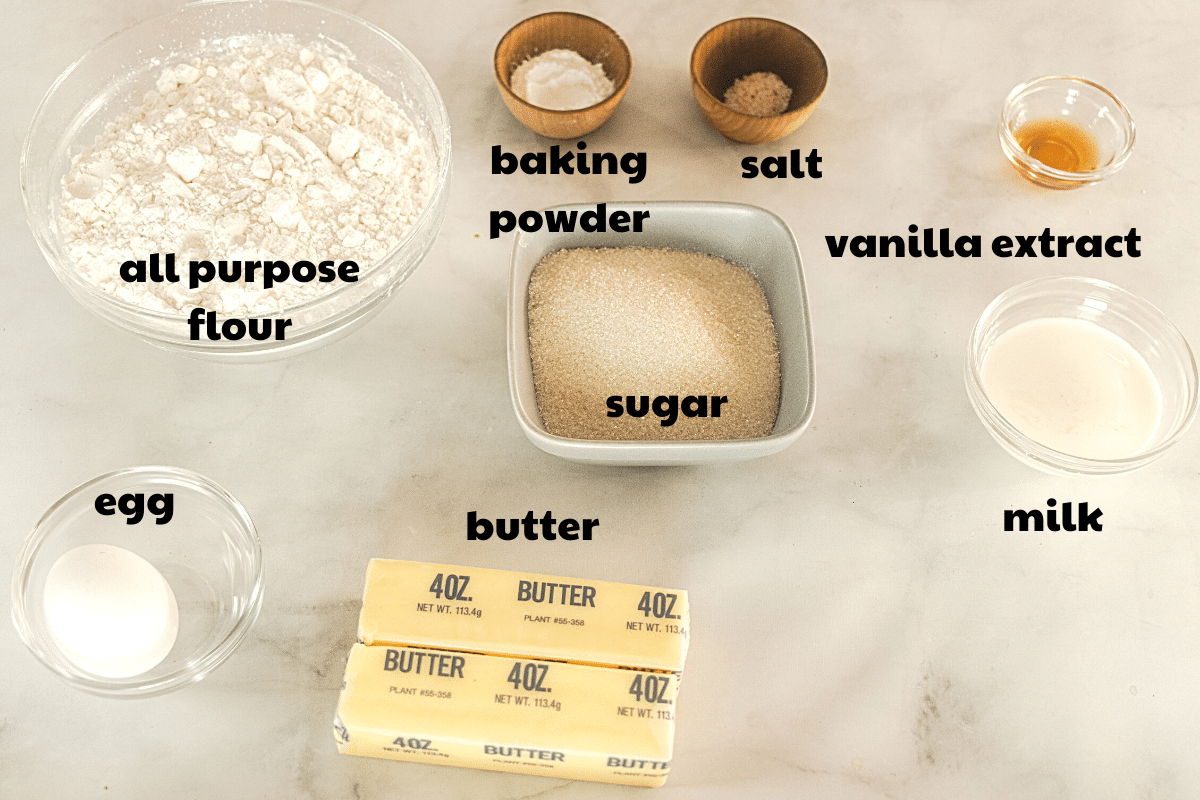 How to Make Cut Out Sugar Cookies
Sift flour.
Add salt and baking powder.
Cream the butter and sugar.
Add egg and vanilla.
Add flour, a little at a time.
Add milk and mix until well incorporated.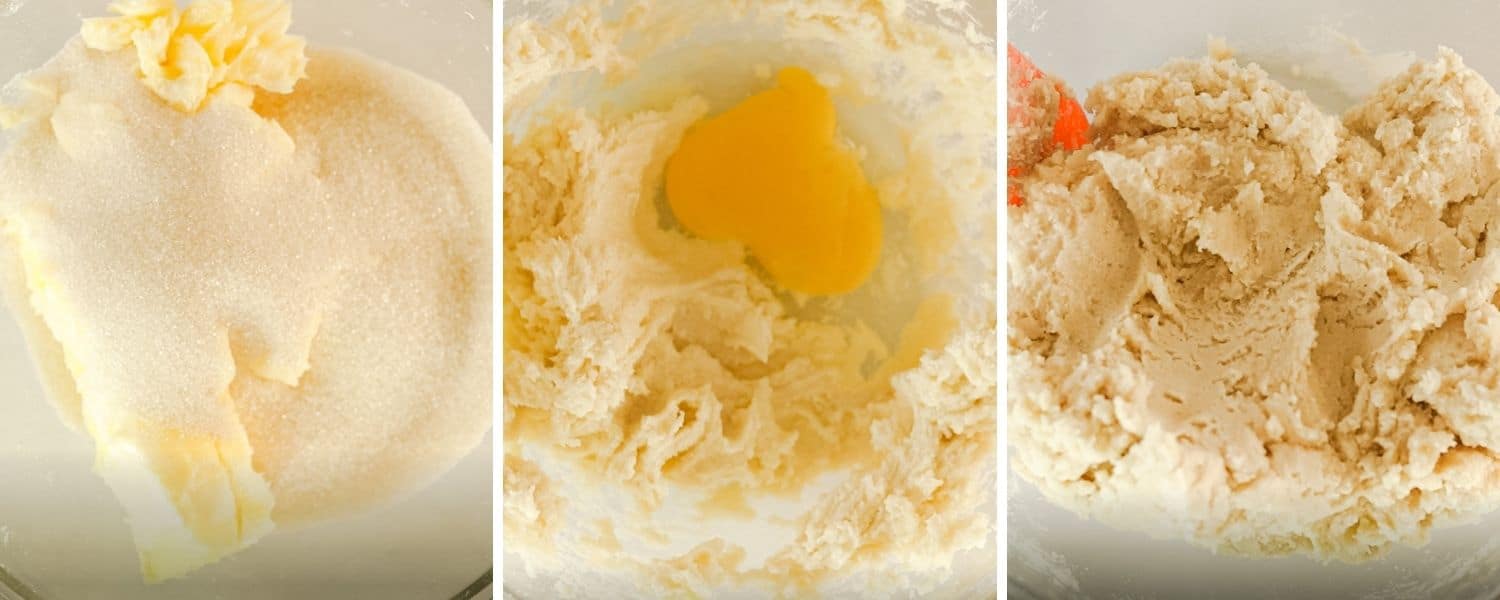 Refrigerate for 30 minutes.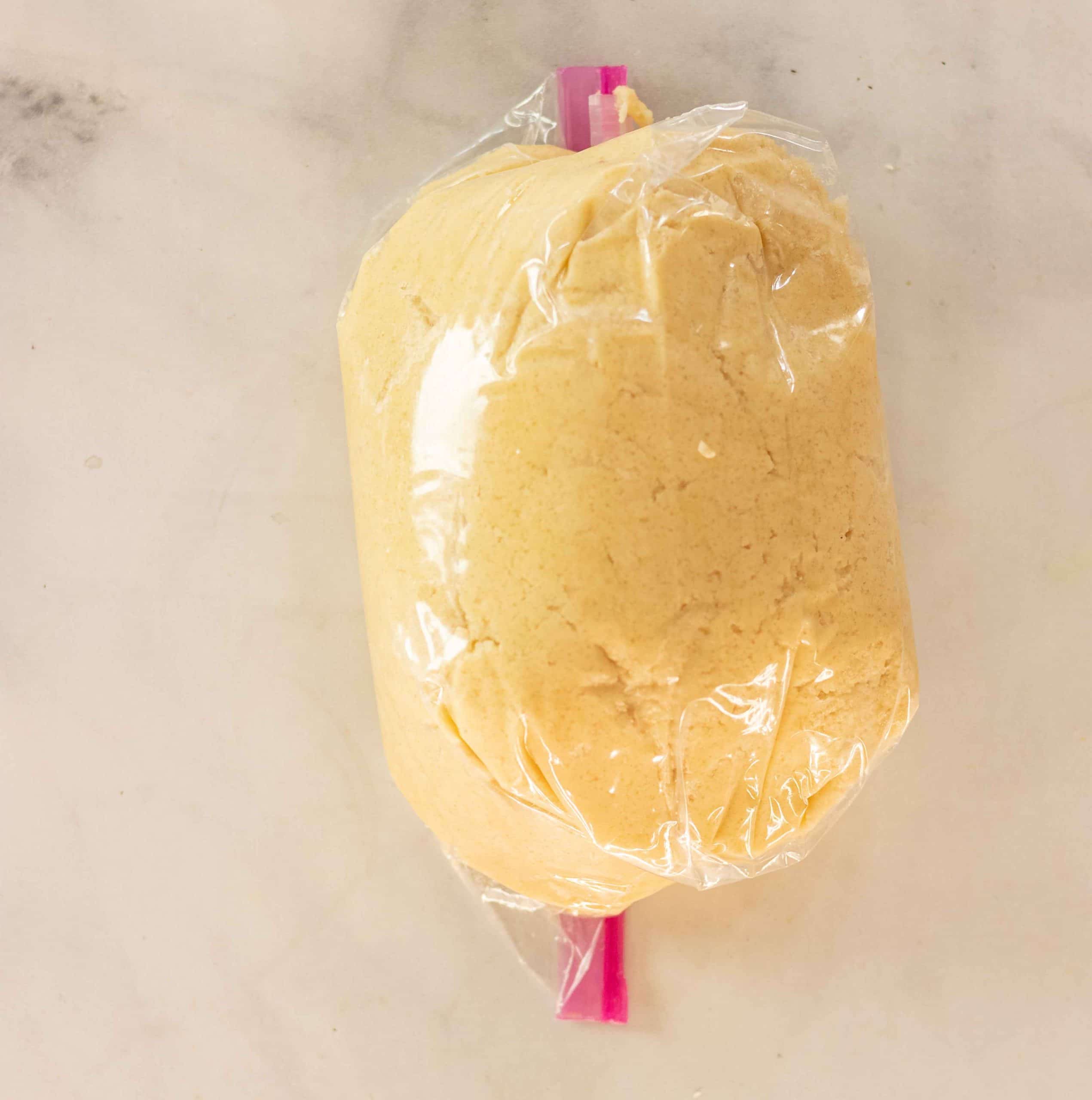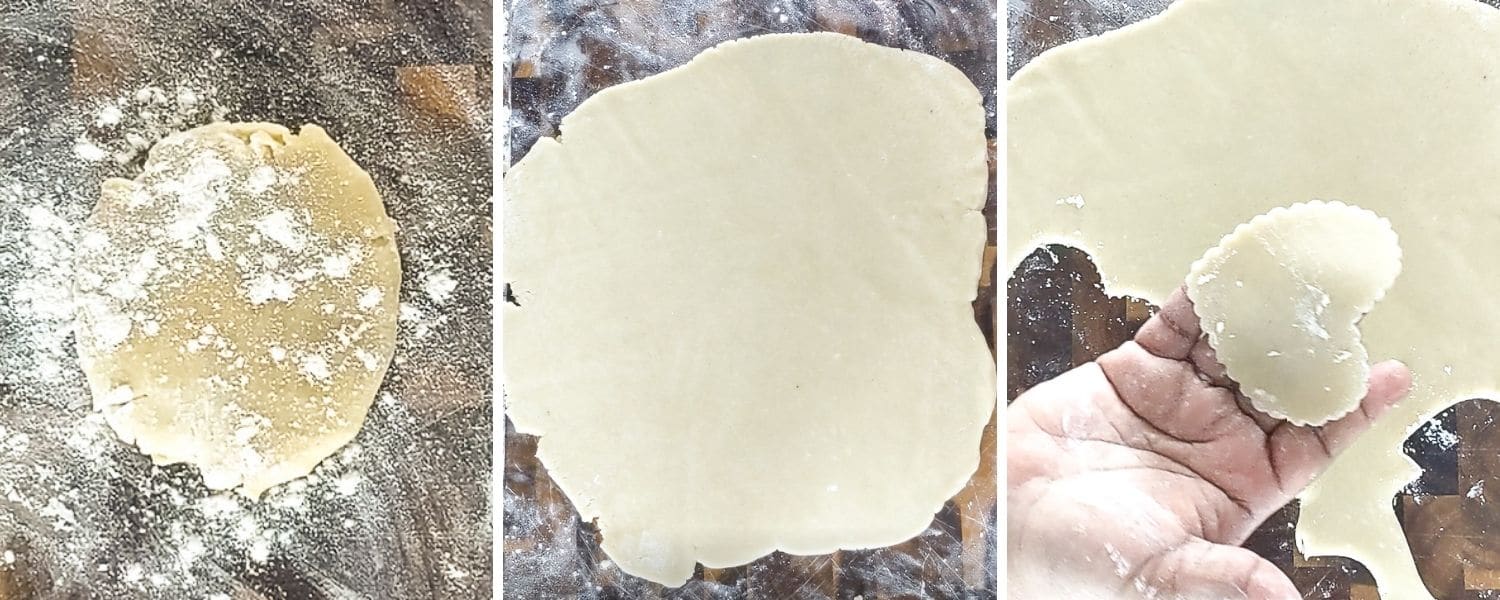 Cut out cookies.
Bake for 15 minutes.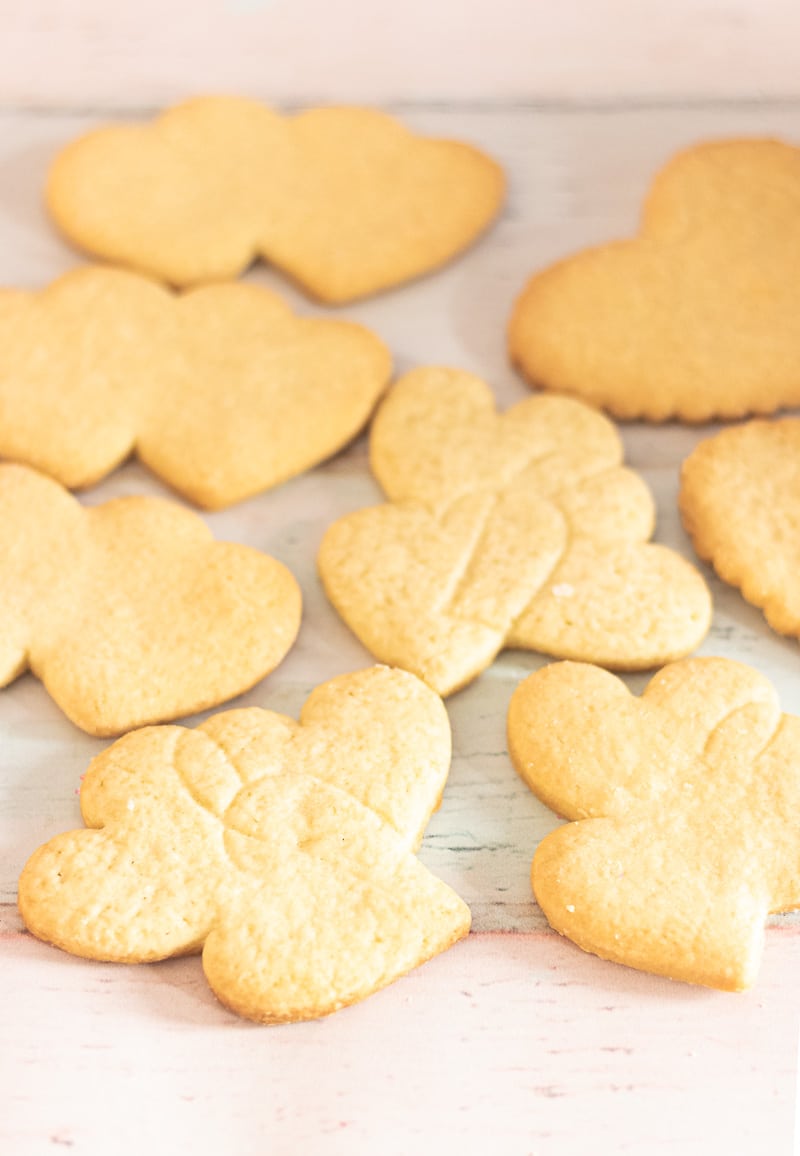 If you are going to decorate them, make sure you have let them cool completely.
How to Roll Out Sugar Cookie Dough
When you take the sugar cookie dough out of the refrigerator, toss with your hands a few times. The natural heat of your hands will soften the dough.
You may still have to wait a few minutes until the dough is soft enough to roll out. The dough should be firm but pliable.
Lightly flour a work surface.
Place the dough on the work surface and sprinkle a little more flour on the dough.
Dust the rolling pin with flour.
Now roll out the dough into a circle, rotating the dough.
Make Ahead Recipe
You have two options if you would like to make these in advance.
You can either make the dough and then freeze it until ready to use. This is a good option if you want to make a huge batch and then just divide them into smaller portions and freeze in a freezer bag (ziploc). Then you can defrost each smaller portion as needed whenever cookies need to be made.
You can also bake the cookies completely and then freeze sugar cookies in an airtight container.
What to Eat Sugar Cookies with?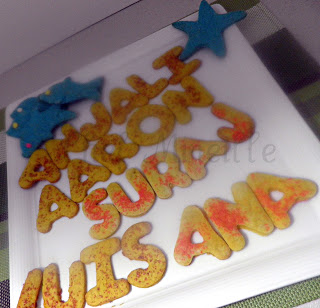 These delicious sugar cookies taste incredible whether you enjoy them plain or decorated.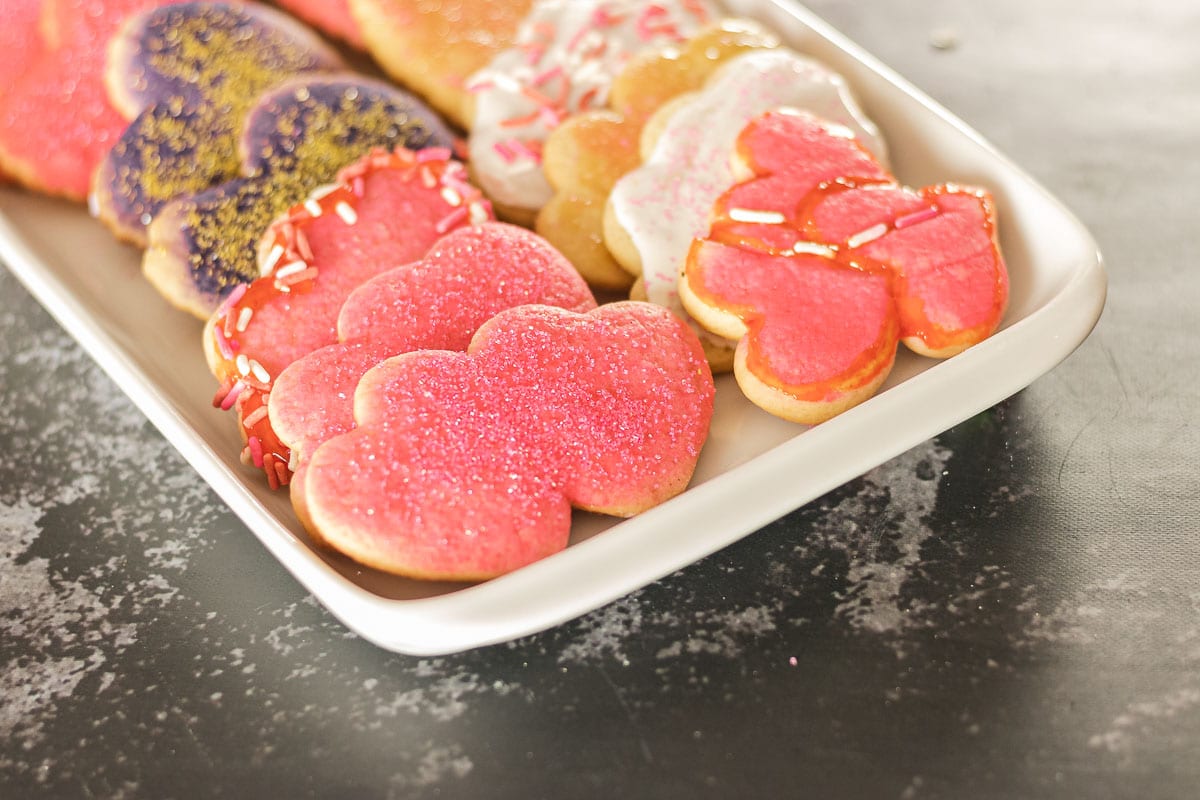 Best Ever Sugar Cookie Recipe
Easy Homemade Sugar Cake recipe to enjoy as is to use as a blank canvas for decorating
Instructions
In a medium bowl, sift the flour with the baking powder and salt.

Using an electric mixer, beat the butter and sugar until creamy.

Add egg and vanilla and beat until well blended.

Add flour in two batches, beating well after each addition.

Add milk and mix until just combined.

If using food coloring, divide the dough into multiple parts and add desired food coloring to each part.

Mix each colored part until food coloring is evenly incorporated. It will take a good 5 minutes of kneading by hand, but eventually the food coloring will be evenly distributed.

Wrap the dough in plastic wrap or a ziploc plastic bag and place in the refrigerator

Refrigerate the dough for at least 30 minutes. If you leave it in the refrigerator longer, you may have to wait a bit for it to be soft enough to roll out.

Preheat oven to 350 F. Line baking sheets with parchment paper. Spray lightly with cooking spray.

On a lightly floured surface, take about 1/3 of the dough. Refrigerate the rest, while you work with this portion.

Sprinkle a little flour on top of the dough.

Using a rolling pin, roll out the dough, rotating the dough after every few rolls so you get as close to a circle as possible.

Roll out until about 1/4″ thick. Dip cookie cutters in flour and cut out shapes of dough.

Place on prepared cookie sheet. Re-roll excess dough and repeat until all dough is used up.

Bake cookies for 10-15 minutes, until the cookies turn golden brown at the edges. The cookies will still feel soft.

Remove cookies from oven and leave the cookies to rest for another 5 minutes until the cookies are set and firm up.

Using a spatula, remove the cookies from the baking sheet.

Leave on a cooling rack to cool completely.

Decorate the baked cookies or enjoy as is.
Notes
When you add the food coloring, only mix halfway for a tie dye effect.
Refrigerating the dough makes it easier to roll out without the dough sticking to the rolling pin or the work surface.
For soft sugar cookies, roll them to 1/4″. If you prefer thin, crispy cookies, roll them to 1/8″.
You can made the dough ahead of time and refrigerate it for up to 3 days or freeze it until you are ready to roll out and cut out the cookies.
To decorate simply, before you put the cookies in the oven, brush with a little milk and add desired sprinkles or topping as shown.
Nutrition
Calories:
194
kcal
|
Carbohydrates:
25
g
|
Protein:
2
g
|
Fat:
10
g
|
Saturated Fat:
6
g
|
Polyunsaturated Fat:
1
g
|
Monounsaturated Fat:
3
g
|
Trans Fat:
1
g
|
Cholesterol:
33
mg
|
Sodium:
64
mg
|
Potassium:
60
mg
|
Fiber:
1
g
|
Sugar:
10
g
|
Vitamin A:
299
IU
|
Calcium:
22
mg
|
Iron:
1
mg
Did you try this recipe? Leave a comment below.
Please follow me on Instagram @chefmireille or tag me #chefmireille with your pics! I'd love to share them!
Don't forget to visit the RECIPE INDEX with over 1000 recipes from around the world including lots of Vegetarian Recipes and Gluten Free Recipes!