Last Updated on June 4, 2015 by Chef Mireille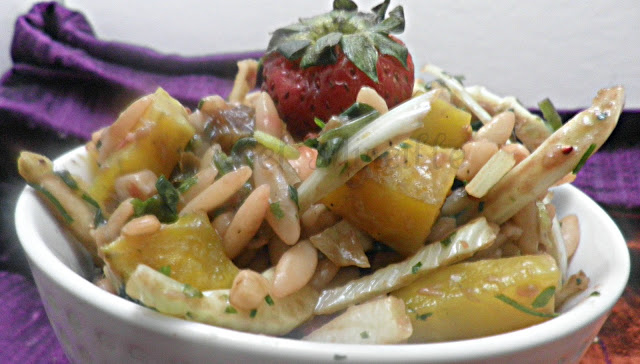 Before I get to today's recipe, this poem has nothing to do with cooking, but my Mom sent it to me a few days ago and is very insightful and just wanted to share: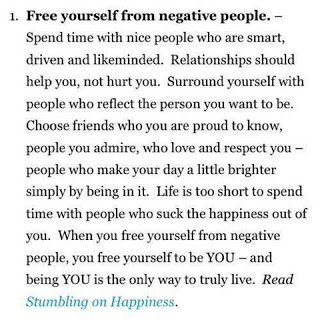 This recipe has a lot of components that marry into a healthy, complex flavored salad with variety.
Strawberry-Fennel Orzo Salad
(click here for printable recipe)
Ingredients:
1 fennel bulb, thinly sliced, preferably using a mandolin (reserve a little of the fennel fronds)
2 small golden beets, about 3/4 lb.
6 pitted dates, quartered
6 strawberries, hulled and chopped
6 strawberries, hulled and quartered
1 cup orzo, cooked al dente
2 cups baby spinach leaves
1 garlic clove, chopped finely
3 tablespoons balsamic vinegar
4 1/2 teaspoons + 2 teaspoon olive oil
salt and freshly ground black pepper, to taste
2 tablespoons cilantro, finely chopped
1 tablespoon fennel fronds, finely chopped
1/2 teaspoon crushed red pepper (optional)
In a skillet, heat 2 teaspoons olive oil. Add garlic and fry for 30 seconds. Add spinach leaves and saute until wilted. Add salt and pepper, to taste.
Peel beets. Boil until tender. Chop.
To make dressing, puree chopped strawberries and balsamic vinegar in a food processor. Drizzle in olive oil while processor is running.
In a large bowl, combine cooked orzo, spinach, quartered strawberries, dates, fennel and beets. Add salt, cilantro, fennel fronds and pepper to taste and mix well. Add dressing and toss well.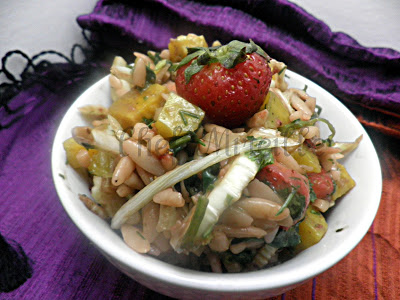 Serve with crackers or toasted bread brushed with olive oil.
…linking to Let's Make Salads & Divya's Fun in the Sun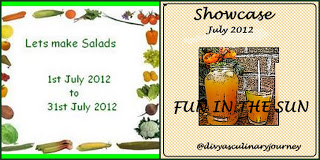 LIKE THIS RECIPE? LEAVE A COMMENT..I LIVE FOR THEM!
Chef Mireille
Like me on FACEBOOK!
Follow me on TWITTER!