Last Updated on January 13, 2020 by Chef Mireille
Peach Upside Down Polenta Cake – is a delicious cornbread cake with a floral infused summer fruit topping.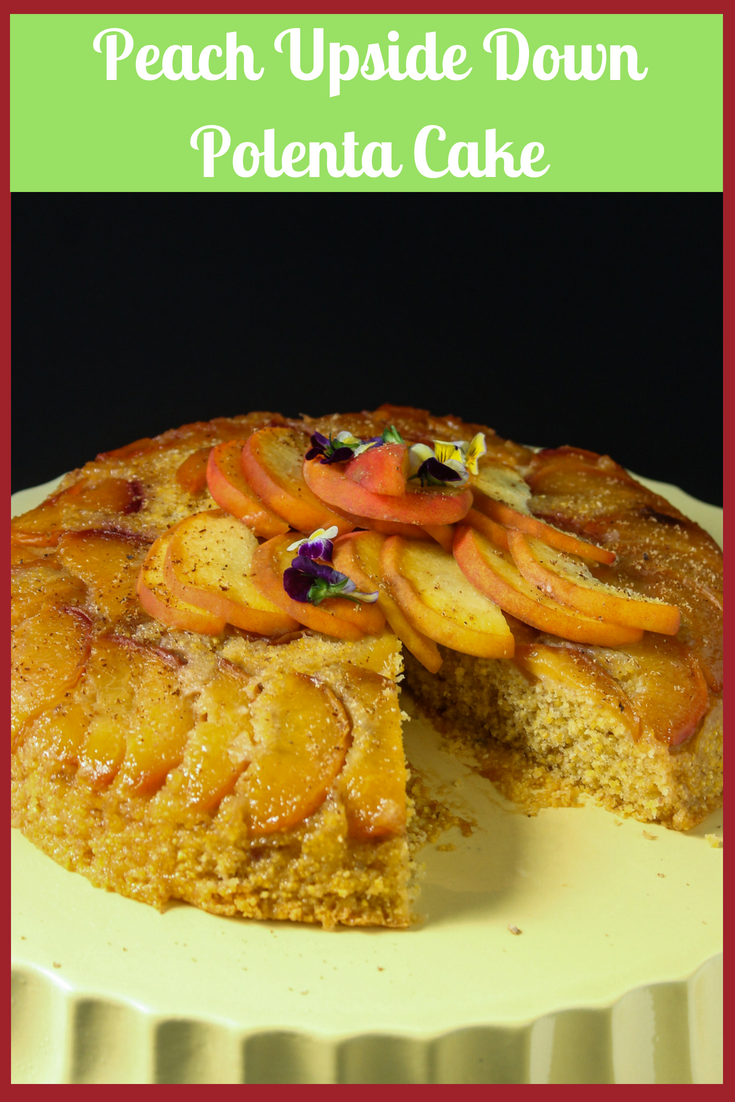 In the summer and fall, I try to go to a local farm at least once to pick fresh produce. First of all, it is a fun activity, especially for the kids, and you come home with the tastiest produce that you can ever get at any market. With my friend and her kids, we went out to New Jersey this weekend and peaches were in abundance, along with the tail season of blueberries and blackberries. Usually I go earlier in the summer and only get berries. This was the first time I went in the middle of peach season. These were truly the juiciest and tastiest peaches I have ever had.
Alstede Farms
This year I tried a new farm and this has been my best visit yet. I think my search has ended for the perfect U-Pick farm that is reasonably convenient to public transportation. It has lots of activities for kids including hay rides, pony rides, corn seed box (they play in this – think sandbox but it has corn seed instead – this had my friend's kids entertained for a solid hour), a bouncy tent and more. The extra activities are reasonably priced – all at $3. I have visited other local farms that charge as much as $10 for pony rides.
This farm has the most variety of produce. I have since been back many times and picked everything from peaches, apples and berries to potatoes, peppers, tomatoes and okra.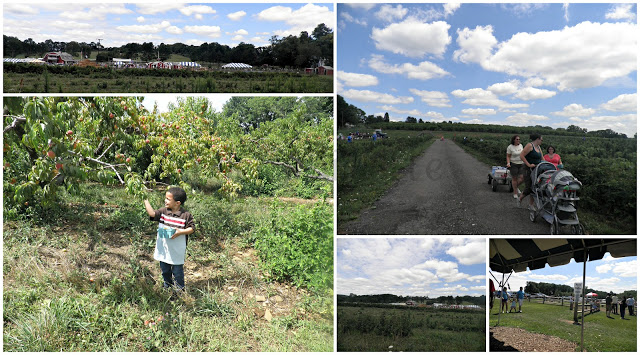 Alstede Farms
Now is the tail end of berry season, peach season is in full swing and the beginning of apple season. They have a market that you can visit after your picking for farm fresh produce like zucchini, lettuce, cabbage, beets, onions and tomatoes. Super creamy ice cream in seasonal flavors like peach and blueberry were also available. I had the blueberry. It was so rich, creamy and delicious.
My friend tends to go a little crazy and we came home with bags and bags of peaches and since I am the chef and blogger, I am expected to put all of them to good use by the time her and her kids leave my house at the end of the weekend. When I started getting tired, she says "Well don't you need it for the blog? NO…my readers are going to get sick of peach recipes I tell her and she responds – Who can get sick of peaches?" Needless to say, the peach recipes are going to be in full swing on this blog for the next several weeks. Just a few days ago, I had stumbled along this recipe and planned to try it soon, so when I realized it was peach season at Alstede, this was the first recipe that came into my mind to try.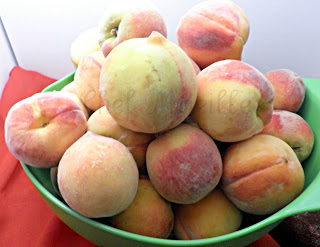 Based on a Martha Stewart recipe found here at the Cake Duchess, with a few minor alterations, try this cake and you won't be disappointed.
IN THE MAKING – HOW TO MAKE PEACH UPSIDE DOWN POLENTA CAKE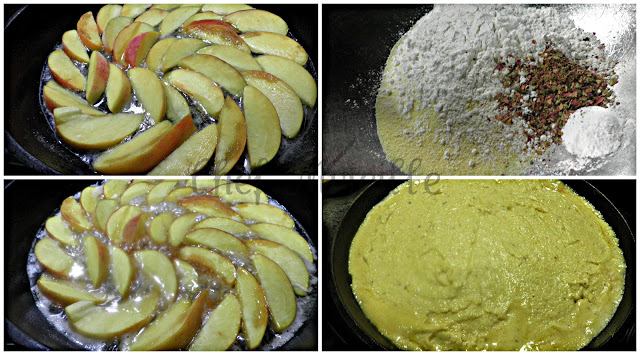 Just like American skillet cornbread, this is basically an upside down cornbread, however with slight floral undertones and the use of the vanilla sugar brings it to another level. I really like this cake a lot and now make it usually once every summer season because it is not overly sweet and my friend's kids loved it – and they are some picky kids!
This is a beautiful cake to bring to the summer potluck party!
Peach Upside Down Polenta Cake
Cornbread with a summer fruit topping is a great dessert to bring to the summer potluck!
Ingredients
3

peaches

cut into large wedges

1

cup

instant polenta

3/4

cup

all purpose flour

1

teaspoon

baking powder

1

teaspoon

salt

1 1/2

teaspoon

dried rose

crushed in a coffee/spice grinder

1

stick unsalted butter

softened + 3 tablespoons

1

cup

sugar

1/4

cup

vanilla sugar

This is one of my stock pantry items.  In a food processor, combine 4 cups sugar with 2 vanilla beans that have been split and scraped and process well until all the vanilla pieces and scrapings are quite fine.

3

eggs

1

teaspoon

vanilla extract

1/2

cup

minus 2 tablespoons evaporated milk

edible flowers

optional garnish

fresh peach slices

garnish
Instructions
Preheat oven to 350 F.

In a bowl, combine polenta, flour, baking powder, salt and rose. Mix to combine.

In a mixer, cream butter and 1 cup of the sugar together.  Add eggs one a time, mixing well after each egg.  Add vanilla and milk.

Add polenta mix in two additions.

In a 10-inch cast iron skillet, melt 3 tablespoons of the butter.  Using a pastry brush, brush the butter up the sides of the pan and around to coat well.

Sprinkle 1/4 cup sugar evenly on top and when the sugar starts to bubble, arrange peach slices on top starting on the outside into a cylindrical pattern.

Lower flame to medium low and cook for 10 minutes, until peaches soften.

Place batter on top and spread evenly.

Bake 20-25 minutes, until a toothpick inserted comes out clean.  Let cool for 10 minutes.

Invert onto a plate, tapping the bottom of the skillet before removing it.

Garnish with edible flowers, if desired and fresh peach slices.
Did you try this recipe? Leave a comment below.
Please follow me on Instagram @chefmireille or tag me #chefmireille with your pics! I'd love to share them!
Do you know anyone else who likes learning about international food, culture, history and travel? Bring them over here to join the party! Don't forget to use those share buttons!
Start Here to find out how the Schizo Chef can help you with your cooking, travel and other needs!
If you like this recipe, PLEASE LEAVE A COMMENT & SUBSCRIBE!
Check out the Blogging Marathon page for the other Blogging Marathoners doing this BM#90