Last Updated on June 5, 2015 by Chef Mireille
Last month, I signed up for both the Daring Cooks & the Daring Bakers challange. Although I now have completed two months of the Daring Cooks with Pumpkin Canneloni & Thai Salmon en Pappillote, last month's baking challenge was quite labor intensive and I just didn't have the time to tackle baking a Battenberg . It is in my drafts and I do plan to complete it someday just to say I've completed the challenge, but this month's Baking Challenge is much easier.
Our July 2012 Daring Bakers' Host was Dana McFarland and she challenged us to make homemade crackers! Dana showed us some techniques for making crackers and encouraged to use our creativity to make each cracker our own by using ingredients we love.
Crackers is something I have been wanting to do for a long time. As I've come across many different crackers recipes when viewing other blogs and realized how easy it is, I had decided many months ago to come up with a cracker recipe.
My favorite brand of crackers are Carr's water crackers and it was on my shopping list when I viewed this month's Baker's Challenge and then it went off the shopping list as I made these delicious crackers that serve as a perfect complement to soup or salad or even a fruit & cheese plate.
I have been trying to add flaxseed in my diet whenever possible. It has many health benefits, so I added some to the cracker recipe.
(click here for printable recipe)
Ingredients:
2 cups all purpose flour
2 tablespoons flaxseed
1/2 teaspoon salt
1 teaspoon baking powder
2/3 cup warm water
1/3 cup olive oil
1 egg white
1 teaspoon Kosher salt
1/2 teaspoon ground black pepper
Preheat oven to 400 F. Grease a cookie sheet.
Using a coffee/spice grinder, grind the flax seeds well. Transfer to a large bowl. Add flour, baking soda and 1/2 teaspoon salt.
Add olive oil and water and mix together until you have a soft dough.
Transfer dough to the prepared cookie sheet. Using your finger tips, press down and push dough out, until the dough has spread enough to cover entire cookie sheet.
Using a round biscuit cutter, press down to create circle shaped biscuits, essentially scoring the dough.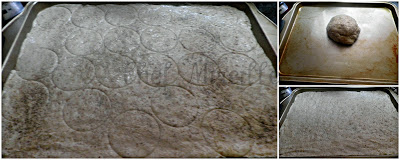 Using a fork, prick the dough so prevent air bubbles (I forgot to do this.)
Mix egg white with 1 tablespoon water and brush on top. Sprinkle with remaining salt and pepper.
Bake for 10 minutes. Rotate cookie sheet and bake for another 10 minutes. Let cool.
Carefully break cracker pieces around the round shaped crackers.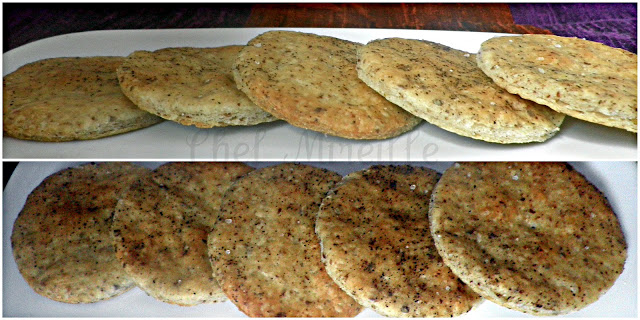 You will have some excess pieces, while not aesthetically attractive, they are still yummy to gobble up, although I would not use it for presentation to guests.
Per the challenge guidelines, we had to use a different method for the second cracker. I don't have a pasta machine roller, so I tried the refrigerator method with a gluten free recipe. I also omitted the baking powder as saw some recipes did not include this ingredients. This was a bust. They were not able to be sliced thin enough and the dough kept breaking apart.
Since the icebox method did not work for me, this time I did the cutout method. I had attempted the cutout method with the dough above but that dough was too soft. This time with a firmer dough, I was able to do cutouts before baking which eliminated the excess pieces I had in recipe above.
Peruvian Blue Corn Crackers
(click here for printable recipe)
Ingredients:
1 cup blue/purple corn flour
1 cup white corn flour
2 tablespoon aji amarillo pepper paste (or your favorite Peruvian pepper paste like Rocoto can also be substituted)
1/4 cup + 2 tablespoons olive oil
2/3 cup warm water
2 teaspoons salt
1 teaspoon baking powder
1 teaspoon dried oregano
1 egg white
In a large bowl, combine flours, salt, baking powder and oregano. Mix well.
Add pepper paste, olive oil and water and mix well until dough comes together.
Wrap in plastic wrap and refrigerate for 4 hours.
Preheat oven to 400 F. Grease a cookie sheet.
On a floured surface, roll out dough as thin as you can without the dough breaking.
Using cookie cutters or biscuit cutters, cut out shapes of cracker dough and place on cookie sheet.
Using a fork, prick crackers to prevent air bubbles.
Mix egg white with 1 tablespoon of water and brush crackers.

Bake for 5 minutes. Rotate cookie sheet and bake for another 5 minutes.
These spicy crackers go well with this fresh Peach & Tomato Salad.

….linking to Bake Fest hosted by Pradnya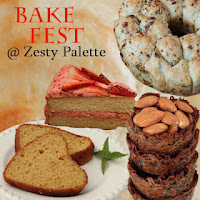 LIKE THIS RECIPE? LEAVE A COMMENT..I LIVE FOR THEM!
Chef Mireille
Like me on FACEBOOK!
Follow me on TWITTER!