Last Updated on June 4, 2015 by Chef Mireille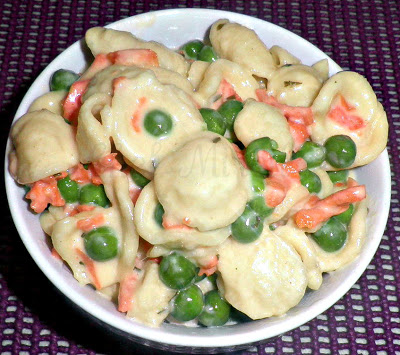 Blogging Marathon #18
Theme: Kids Delight Warming Foods


Cheesy & Creamy, this is another comfort food that is a delight for every kid, especially on a rainy or cold winter day.
In case you missed the other Kid's Delight Warming recipes I did this BM:
Broccoli & Cheddar Baked Potatoes
Pasta Fagioli
…and Don't forget to check out all the other BM participants who are busy creating so many amazing recipes this month!
Although Alfredo pasta is most often served with fettucini, I chose to use what I had – orecchiette.
Alfredo Pasta with Peas & Carrots
Ingredients:
1/4 cup butter
1 cup heavy cream
1 1/2 cups Parmesan cheese
1/8 teaspoon nutmeg
1 teaspoon dried parsley or 2 tablespoons fresh, finely chopped
salt and pepper, to taste
2 cups pasta
1 cup frozen green peas, defrosted (you can also use spinach, even for spinach hating kids – this is one way most of them will eat it)
1/2 cup carrots, grated
Cook pasta according to package directions, until al dente.
Put green peas and carrots in microwave for 1 minute.
In a saucepan, melt butter. Add cream, cheese, nutmeg, salt, pepper and dried parsley. On medium heat, simmer for 5 minutes.
Add peas and carrots and cook for 2 minutes Add parsley now if using fresh parsley and cooked pasta. Toss to combine.

Don't worry if sauce looks a little thin. It will thicken as it cools, within a few minutes.

Creamy Alfredo Pasta
In this recipe, I used veggies that most kids like. Here is a list of most loved and most hated veggies I discovered from my Nursery Chef days. Unless your kid is one of those that does not eat any veggies at all, you should be able to get them to eat off of this list. Of course, method of preparation does play a role, but these were the biggest hits at the nursery:
Most Loved Veggies
Carrots
Green Peas
Corn (although technically is a starch)
Spinach
Broccoli
Cucumber (they loved pickled cucumber salad in vinegar-sugar solution)
Most Hated Veggies
Eggplant (can't say I blame them 🙂
Cauliflower
Asparagus
squash (summer or winter squash, they were not big fans of any from zucchini to butternut)
beets
*another helpful tip – they love anything in soy sauce*
Hope this info is helpful as you try to get your kids to eat more vegetables.
Check out the Blogging Marathon page for the other Blogging Marathoners doing BM#18
this yummy bowl of pasta is being served at Srivalli's Kids Delight hosted by Pradnya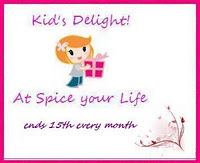 LIKE THIS RECIPE? LEAVE A COMMENT..I LIVE FOR THEM!
Chef Mireille
Like me on FACEBOOK!
Follow me on TWITTER!