Last Updated on June 6, 2015 by Chef Mireille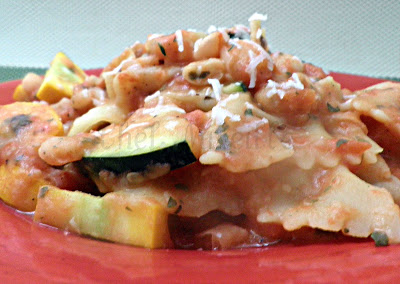 Blogging Marathon #18
Theme: Kid's Delight – Warming Foods
This can be made as a soup or not. When making it as a soup, simply add more water. Eventhough my theme is warming foods, since right now in NY, we are deep in the middle of summer with temperatures at 90 F, I could not fathom eating a bowl of hot soup. Therefore, I made the non-soup version of this dish.
Pasta Fagioli (pronounced pasta fa-zool) is one of the world famous, classic Italian vegetarian dishes, especially made famous by the Dean Martin song – That's Amore
"when the stars make you drool just like a pasta fazool, that's amore"
Pasta Fagioli
Ingredients:
1 cup white canneloni beans (aka white kidney beans), soaked overnight
1 bay leaf
2 cloves garlic
1 1/2 teaspoon dried oregano
1/2 teaspoon dried thyme
1 28 oz.can whole tomatoes, crushed by hand
2 zucchini, sliced into half moons
2 yellow summer squash, sliced into half moons
3 cups farfalle (aka bowtie) pasta
1/3 cup Pecorino Romano cheese
1/4 cup fresh parsley, chopped (or 1 tablespoon dried parsley)
2 teaspoons sugar
salt and pepper, to taste
Cook beans with bay leaf and garlic, until tender. Drain, discard garlic and bay leaf and reserve cooking liquid.
In a large pot, place tomatoes and crush by hand. (you can also use about a dozen fresh plum tomatoes) Add oregano, sugar, salt, pepper and thyme and 3 cups of the cooking liquid (adding plain water if you don't have enough cooking liquid). Bring to a boil and simmer for 10 minutes. Add pasta and cook al dente, about 10 minutes.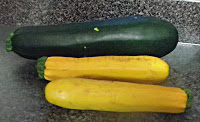 Green & Yellow Zucchini
Add 1/2 cup water, vegetables and cooked beans. I used 1 monster sized zucchini and 2 yellow zucchini, but you can really use whatever vegetables you like – green beans, asparagus, broccoli, cauliflower are good options). Lower flame to medium-low, cover pot and cook for 5 minutes.
Add cheese and parsley. Stir to combine. Taste and adjust salt and pepper, if necessary.

Garnish with additional cheese or fresh parsley, if desired.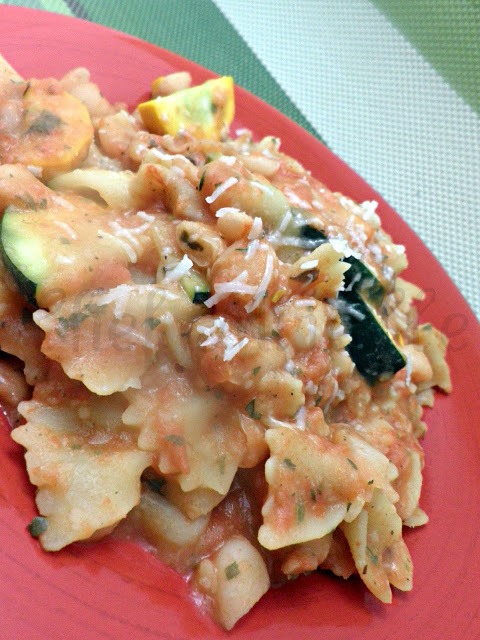 Check out the Blogging Marathon page for the other Blogging Marathoners doing BM#18

This warming entree is off to
Srivalli's Kid's Delight – Warming Foods, hosted by Pradnya , Show Me Your Hits hosted by Nalini and Priya's Veggie/Fruit a Month – Zucchini hosted by Vardhini.
LIKE THIS RECIPE? LEAVE A COMMENT..I LIVE FOR THEM!
Chef Mireille
Like me on FACEBOOK!
Follow me on TWITTER!