Last Updated on November 29, 2020 by Chef Mireille
Spicy Cardamom Hot Cocoa is perfectly balanced with chili and cardamom to elevate a simple cup of hot cocoa into something spectacular.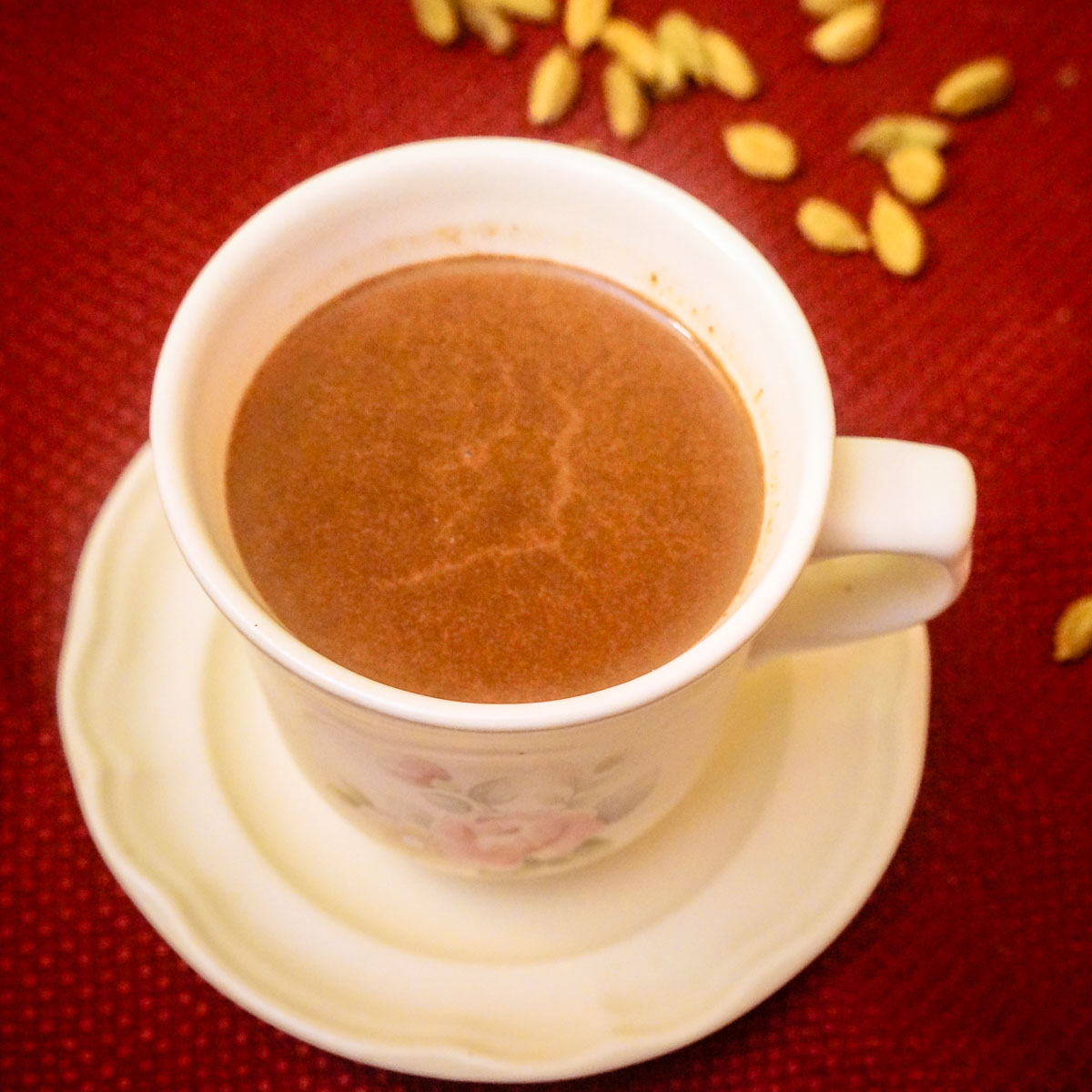 This post may include affiliate links.
Do you have a favorite spice? What is it?
For me, cardamom is definitely on my list of top 3. With its heady aroma and intoxicating flavor, no wonder it is the preferred spice for sweet things in many regions of the world like Scandinavia, the Middle East and South Asia.
No wonder it is so treasured. It is one of the most expensive spices in the world, after saffron.
Have you ever had cardamom coffee? I often have it when I visit Middle Eastern restaurants. Since I am already a fan of this, I thought about incorporating this beloved spice into a cozy winter drink.
I had no doubt the hot cocoa would be just as delicious, but of course I always have to add my own little twist to things. Instead of plain old chocolate, I had a bar of spicy chili chocolate. So this hot chocolate is kind of a Middle Eastern/Mexican fusion, since Mexicans as well as many other South American countries are known for adding a little chili in their hot chocolate. It elevates the flavor of the chocolate in the same way we add a pinch of salt in baked goods to bring out the best flavor.
Fair Trade Chocolate
Several brands now offer chili flavored chocolate, but it is very important which chocolate company you choose to patronize. The chocolate industry has one of the worst records of child/slave labor.
If you are not sure if the company is ethically sourced, look for fair trade labeled chocolate. If it says it is fair trade, you can be reasonably sure that the cacao used to make their chocolates is ethically sourced. Here's a list of a few brands you want to avoid, as an ethical consumer!
Sadly, this list includes many of the major chocolate brands on our supermarket shelves.
I've researched the brands below to ensure they are all ethically sourced chocolate companies.
Ethical Chocolate
Before we get to the Spicy Hot Chocolate Recipe, you need a treat to enjoy with your Hot Cocoa right!
Here are a few Tea Time Treats you might want to try to enjoy with this delicious cup of hot chocolate!
Snack Cake Recipes
TO REMEMBER
You can use regular chocolate and just add a pinch of cayenne pepper!
So let's check the pantry and make sure we have all of the ingredients to make this delectable Spicy Cardamom Hot Chocolate.
Ingredients
Variations & Substitutions
Can I use a different spice?
Sure. Many spices compliment hot chocolate like cinnamon, nutmeg, clove, ginger and allspice.
You can even use a combination of a few or all of these spices.
What if I can't find any chili chocolate?
Just use regular chocolate and add a pinch of cayenne pepper.
I'm a little concerned it might be too spicy for my kids.
It is just a hint of spice in the background, but you can easily just use regular chocolate without the chili.
It will still be super flavorful infused with the cardamom.
Now whose in the mood for hot cocoa? Feel free to double or more…to increase quantity and make delicious Spicy Cardamom Hot Chocolate for a crowd!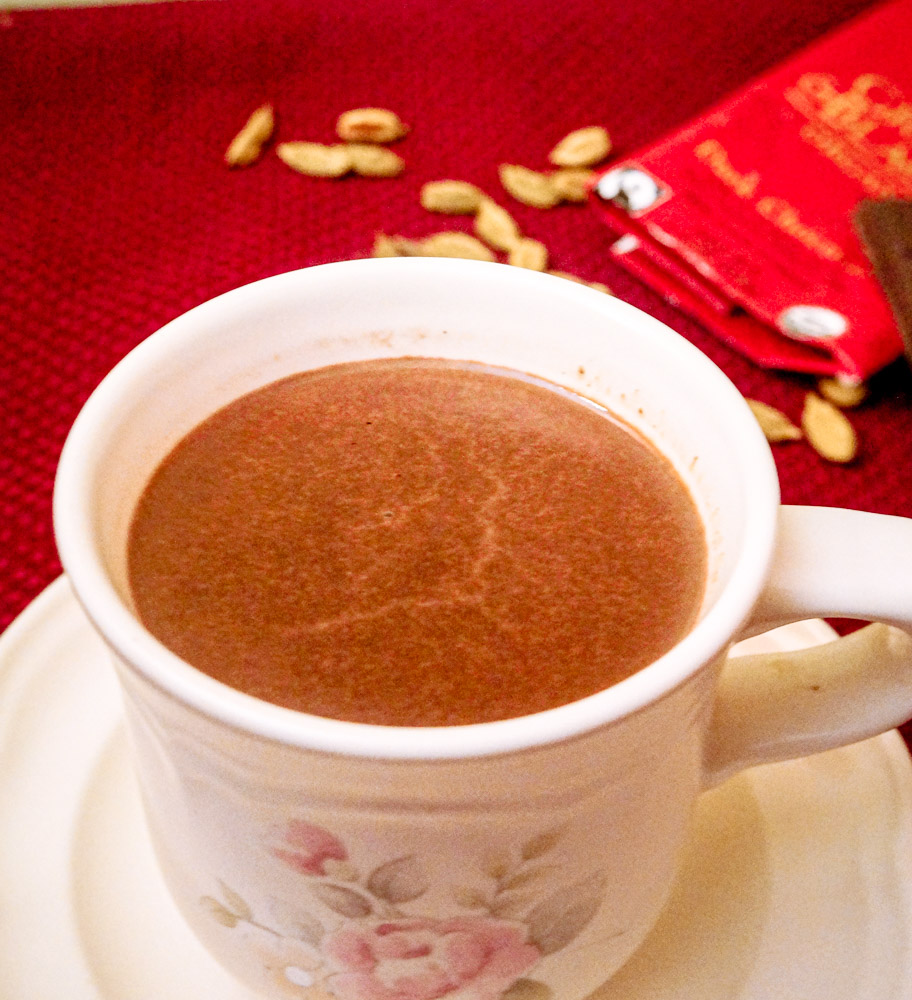 Spicy Cardamom Hot Chocolate
Spicy Cardamom Hot Chocolate is a spicy and fragrant hot chocolate.
Instructions
Crush cardamom with the back of a knife. Transfer all seeds and pod to a saucepan and add milk.

Cook on medium heat for 10 minutes. Watch heat and if the milk is boiling too hard, lower heat as you don't want the milk to scorch.

While the milk is simmering, melt the chocolate. Using the double boiler method, melt the chocolate and the butter until completely melted and smooth.

Add melted chocolate, vanilla and sugar. Stir to combine and simmer 1 more minute.

Strain to remove the cardamom pieces and serve immediately.
Notes
You can use regular chocolate without chili if you prefer.
If you cannot find chili chocolate, just add a pinch of cayenne pepper or your favorite variety of chili pepper.
Nutrition
Calories:
584
kcal
|
Carbohydrates:
58
g
|
Protein:
12
g
|
Fat:
34
g
|
Saturated Fat:
20
g
|
Cholesterol:
39
mg
|
Sodium:
148
mg
|
Potassium:
711
mg
|
Fiber:
6
g
|
Sugar:
45
g
|
Vitamin A:
520
IU
|
Vitamin C:
1
mg
|
Calcium:
334
mg
|
Iron:
4
mg
Did you try this recipe? Leave a comment below.
Please follow me on Instagram @chefmireille or tag me #chefmireille with your pics! I'd love to share them!
You might also like
DO YOU YUM? SAVE IT BELOW!
Yum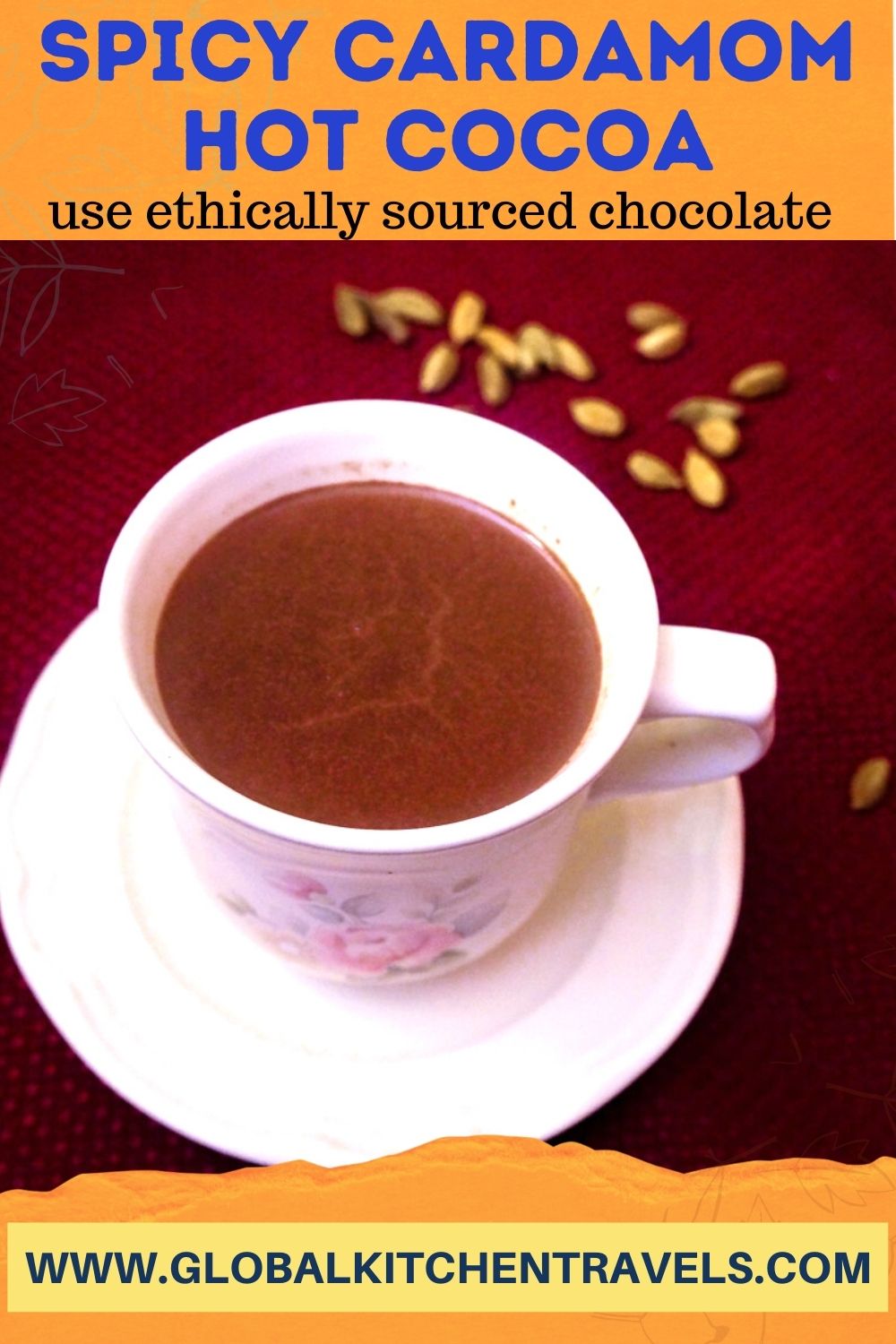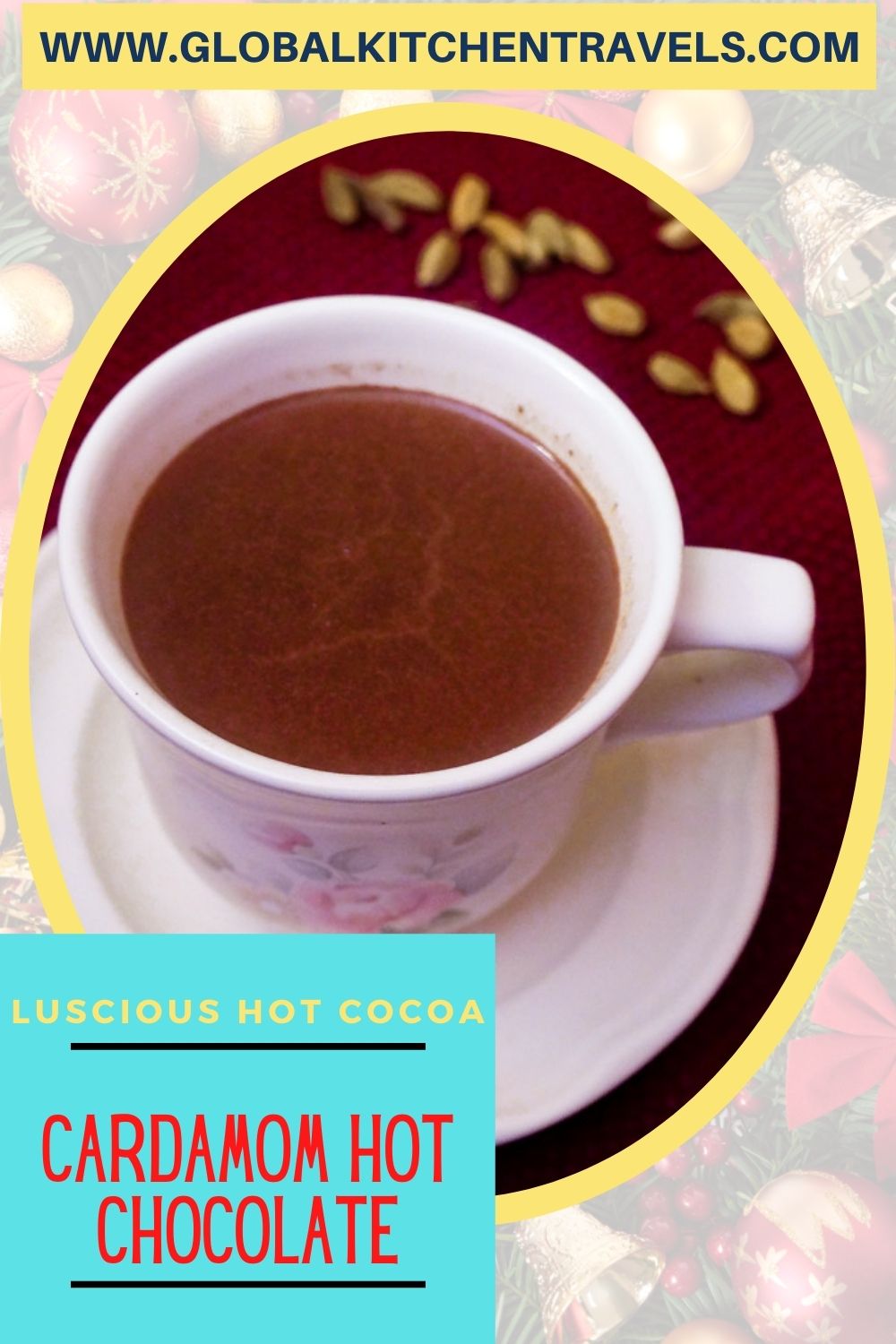 Don't forget to visit the RECIPE INDEX with over 1000 recipes from around the world including lots of Vegetarian Recipes and Gluten Free Recipes!