Spicy Cardamom Hot Chocolate – This hot chocolate is perfectly balanced with chile and cardamom to elevate a simple cup of hot cocoa into something spectacular.
For the last recreation from a Food 52 contest recipe, I had planned a scrumptious looking sweet breakfast bread, but then at the last minute life became very hectic. Life is like that when you work freelance. You are cruising along thinking you have a light week, then all of a sudden job after job comes in and things you had planned to accomplish during the week have to be squeezed in an alright tight weekend since you now have no free time in the week. So I needed something quick and easy to make. I had come home with a spaghetti squash from the Union Square Farmer's Market on Saturday, but the only Food 52 recipe winner was a simple roasted spaghetti squash with butter and Parmesan. I felt the recipe was too simple to present here.
I then found this Cardamom Hot Cocoa recipe. I am a big lover of cardamom. I think I should have been born in the Middle East as the flavors of cardamom, saffron and paprika, the staples of their cuisine, are among my faves. No wonder saffron and cardamom are the two most expensive spices in the world. Their flavors are so intoxicating that nothing can compare. I already knew I loved cardamom coffee, which I have enjoyed at many Middle Eastern restaurants. I had no doubt the hot cocoa would be just as pleasing, but of course I always have to add my own little twist to things. Instead of plain old chocolate, I had a bar of spicy chili chocolate. So this hot chocolate is kind of a Middle Eastern/Mexican fusion, since Mexicans as well as many other South American countries are known for adding a little chili in their hot chocolate.
Almost every brand of chocolate now offers a chili flavored chocolate. However, you should try to purchase a Fair Trade chocolate brand. The chocolate industry is one of the worst culprits of utilizing child/slave labor. Here's a list of a few brands you might want to avoid, as an ethical consumer!
Here are a few Tea Time Treats you might want to try to enjoy with this delicious cup of hot chocolate!
Tea Time Treats

This intensely fragrant and spicy chocolate is definitely for the chocolate aficionado's and bares little resemblance to those chocolate powdered envelopes they try to pass off in the supermarkets as chocolate. This is the way chocolate must have been relished during the Aztec Empire.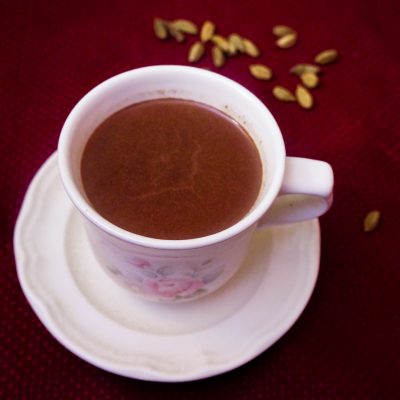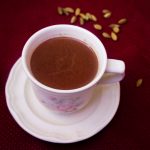 Print Recipe
Spicy Cardamom Hot Chocolate
Spicy Cardamom Hot Chocolate is a spicy and fragrant hot chocolate.
Instructions
Crush cardamom with the back of a knife. Transfer all seeds and pod to a saucepan and add milk.

Cook on medium heat for 10 minutes. Watch heat and if the milk is boiling too hard, lower heat as you don't want the milk to scorch.

While the milk is simmering, melt the chocolate. Using the double boiler method, melt the chocolate and the butter until completely melted and smooth.

Add melted chocolate, vanilla and sugar. Stir to combine and simmer 1 more minute.

Strain to remove the cardamom pieces and serve immediately.
Sign up for our updates!
Subscribe to get our latest content by email and get your FREE Pantry Cheat Sheet - Learn the basics to cook any International cuisine!