Last Updated on June 16, 2020 by Chef Mireille
Crawfish Mac and Cheese
This Crawfish Mac and Cheese with three cheeses is the perfect decadent dish for any special occasion. Celebrate Juneteenth with this NOLA soul food!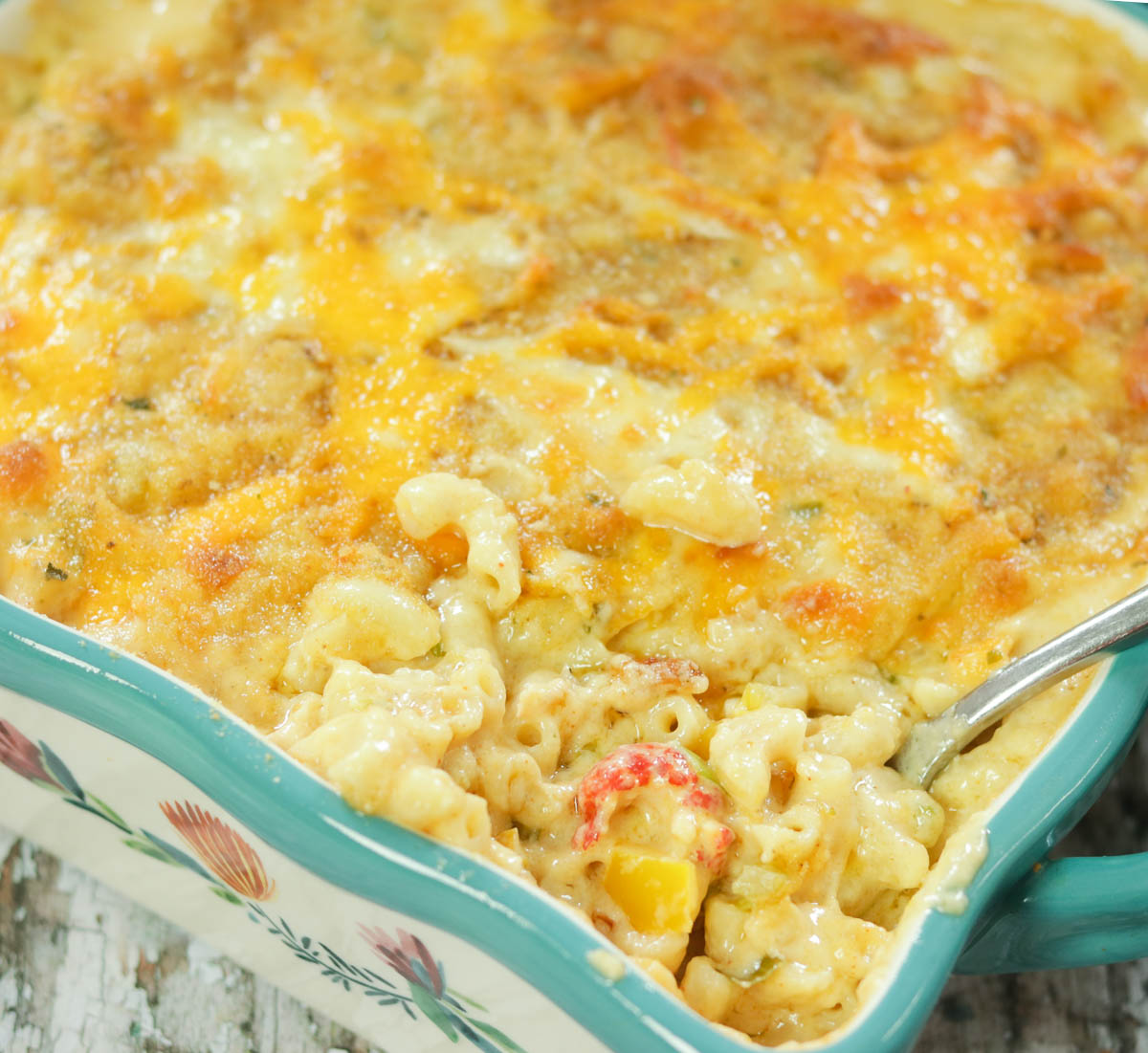 I am honoring Juneteenth for the first time this year by presenting this soul food recipe.
What is Juneteenth?
Although Abraham Lincoln had signed the Emancipation Proclamation 2 1/2 years prior, there were still enslaved people in America. Down in Texas, the slaves did not know they were free.
It took Union soldiers to go to Texas to enforce the Proclamation and grant freedom to the slaves there. It was on June 19th, 1865 when all enslaved people in America were FINALLY granted their freedom.
The Definition of Soul Food
I had a really interesting conversation with some other black food bloggers last week on this topic.
Since I am a first generation American with parents from the Caribbean and not growing up in the South, I actually have very little reference to soul food. Therefore, I went to some people who have multi generational roots in America.
It was really interesting as they had different definitions of soul food. Some say it is the slave descended cuisine of the rural South, characterized by cheap ingredients and a mostly Vegetarian diet. These were the ingredients that they were given to make use out of for their own meals.
Some say it is any food of the African diaspora including African, Caribbean and some South American foods.
Some say it is Southern food, although with Caribbean influences as free Haitians started immigrating to New Orleans, a French colony at the time, since the 1800's.
Then one blogger who has multi generational roots in the northeastern United States calls the foods of his ancestors soul food, although the foods are very different from the southern soul food.
Some books were recommended to me like Soul Food and The Gift of Southern Cooking, but with this large variety of interpretations, I think the definition is subjective.
To me, it's about honoring the African descended people who came to America and highlighting their contributions to American cuisine.
What is your definition of soul food? Let me know in the comments below!
Now let's talk a little about crawfish…
What is crawfish?
So how does this Caribbean girl who grew up in NYC know about crawfish? Well, when I went to college at the University of New Mexico, one of my roommates was from New Orleans.
Every time she came back from a visit home, we would have crawfish chips and beignet mix and all of the foods and snacks that characterize NOLA cuisine!
In our student apartments, we had a kitchen. We were both foodies and she taught me how to make a lot of the foods that New Orleans is known for like Gumbo and Jambalaya.
Louisiana, like the low country cooking of South Carolina and Georgia, is known for their love of water animals. It's swampland, so seafood, alligators, turtles, frogs are all featured in the cuisine of this region.
Check out this Restaurant Review of Narobia's from my trip to Savannah to learn more on Low Country cooking! CLICK ON BUTTON BELOW!
Crawfish are crustaceans and basically look like mini lobsters, about the size of your pinky finger.
They are hard to come by here in NYC, so when I saw a package at the supermarket a few weeks ago, I was so excited I purchased it and then just put it in my freezer until I decided what I was going to make with them.
My package was of whole crawfish, which does not generate a lot of meat, since the only meat is in the tails. However, I used the flavor from the heads to make a crawfish broth that the macaroni was then boiled in.
If you can get a package of crawfish tails, you will get a lot more meat to add into this Three Cheese Crawfish Mac and Cheese!
Even without a lot of crawfish meat, the flavor that was put into this Mac & Cheese is amazing! You definitely get the crustacean flavor in every bite!
So creamy and luscious with three cheeses!
Three Cheese Crawfish Mac & Cheese
Three Cheese Crawfish Mac & Cheese – This Crawfish Mac and Cheese with three cheeses is the perfect decadent dish for any special occasion. Celebrate Juneteenth with this NOLA soul food!
Ingredients
1

lb.

crawfish

1

teaspoon

salt

8

oz.

macaroni

1

tablespoon

olive oil

3

tablespoons

butter

1

small onion

chopped

½

bell pepper

chopped

2

cloves

garlic

finely chopped

1

stalk celery

chopped

2

tablespoons

all purpose flour

1 1/3

cup

milk

½

cup

heavy cream

1

cups

cheddar cheese

grated

1

cup

pepper jack cheese

grated

1

cup

provolone cheese

grated

2

teaspoons

blackened seasoning

2

tablespoons

chopped chives

1 ½

tablespoons

breadcrumbs

2

tablespoons

grated cheese

any combination of cheeses from above
Instructions
Shell the crawfish, removing the meat. Save the shells and heads.

Combine crawfish shells and heads with 8 cups of water in a pot.

Bring to a boil and cook for 30 minutes. See notes.

Preheat oven to 375 F.

Strain crawfish heads, etc. and reserve crawfish stock.

You should end up with about 4 cups of crawfish stock. Add additional water, if necessary to make 4 cups.

Bring the 4 cups of stock to a boil with the salt.

Add macaroni and cook until al dente.

Strain, reserving cooking liquid.

Toss macaroni with olive oil.

In a pot, melt 2 tablespoons of the butter.

Add onion, bell pepper, garlic and celery.

Saute until softened.

Add flour and cook on medium high heat for about 5 minutes, to cook out the raw taste of the flour.

Add milk and heavy cream. Simmer on medium heat for 3-4 minutes, until thickened.

Turn off heat and add cheese, crawfish, blackened seasoning and chives. Stir to combine.

Add ½ cup of reserved cooking liquid. Stir to combine.

Transfer to square baking dish sprayed with non stick spray.

Sprinkle breadcrumbs on top.

Sprinkle a few tablespoons of cheese on top.

Transfer to oven and bake for 25 minutes.
Notes
For a more flavorful stock, leave the heads and shells in the stock overnight in the refrigerator. 
Drain the next day and continue with the rest of the recipe.
Nutrition
Calories:
425
kcal
|
Carbohydrates:
25
g
|
Protein:
24
g
|
Fat:
25
g
|
Saturated Fat:
14
g
|
Cholesterol:
137
mg
|
Sodium:
780
mg
|
Potassium:
290
mg
|
Fiber:
1
g
|
Sugar:
3
g
|
Vitamin A:
972
IU
|
Vitamin C:
9
mg
|
Calcium:
395
mg
|
Iron:
1
mg
Did you try this recipe? Leave a comment below.
Please follow me on Instagram @chefmireille or tag me #chefmireille with your pics! I'd love to share them!
DO YOU YUM? SAVE IT BELOW!
Yum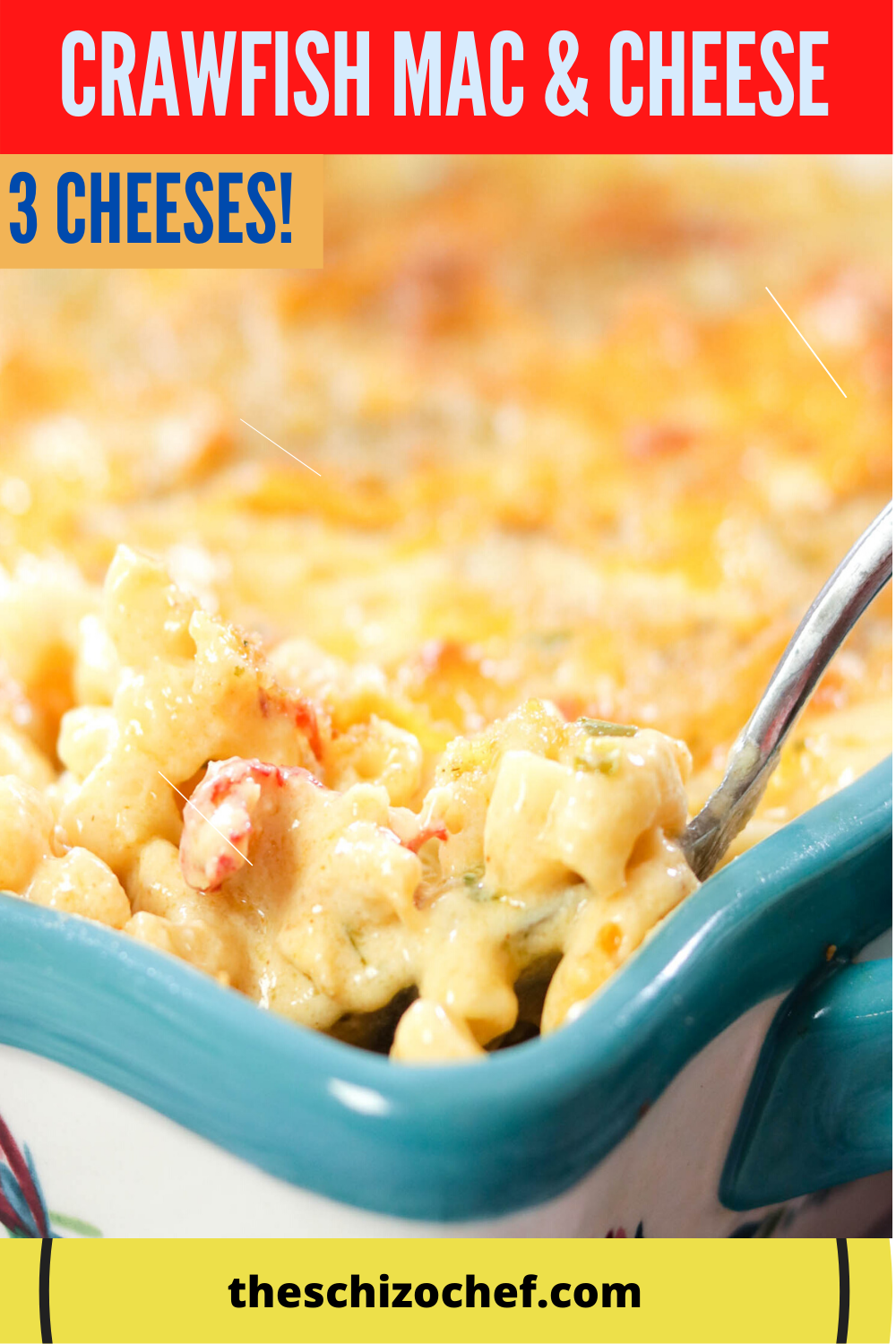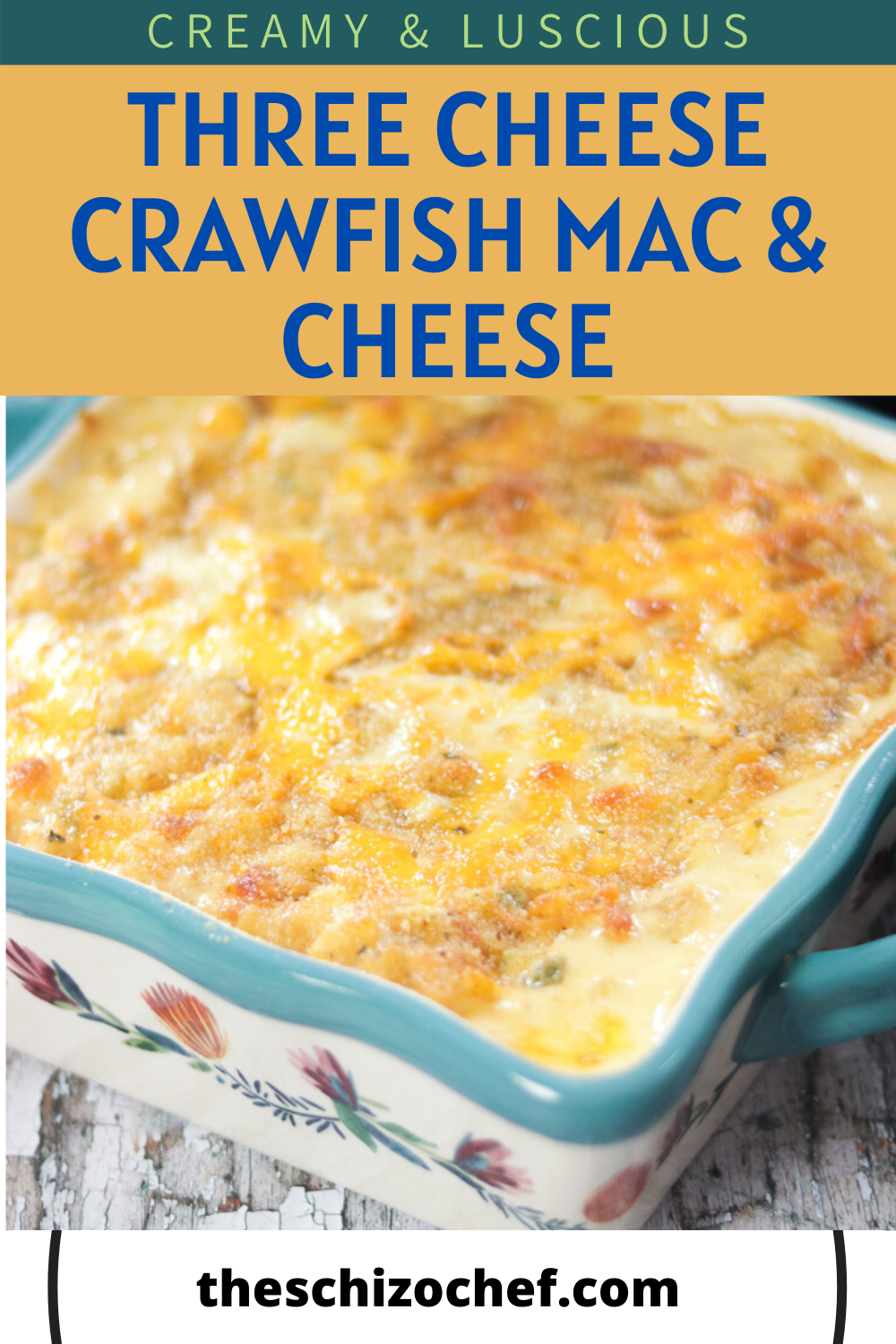 Don't forget to visit the RECIPE INDEX with over 1000 recipes from around the world including lots of Vegetarian Recipes and Gluten Free Recipes!
This post may include affiliate links.