Last Updated on December 16, 2020 by Madison Wetherill
Malaysian Fish Curry
Fish Curry Dinner with Tomato Coconut Sambal and Steamed Rice – Malaysian style – is a delicious and easy fish dinner for any night of the week.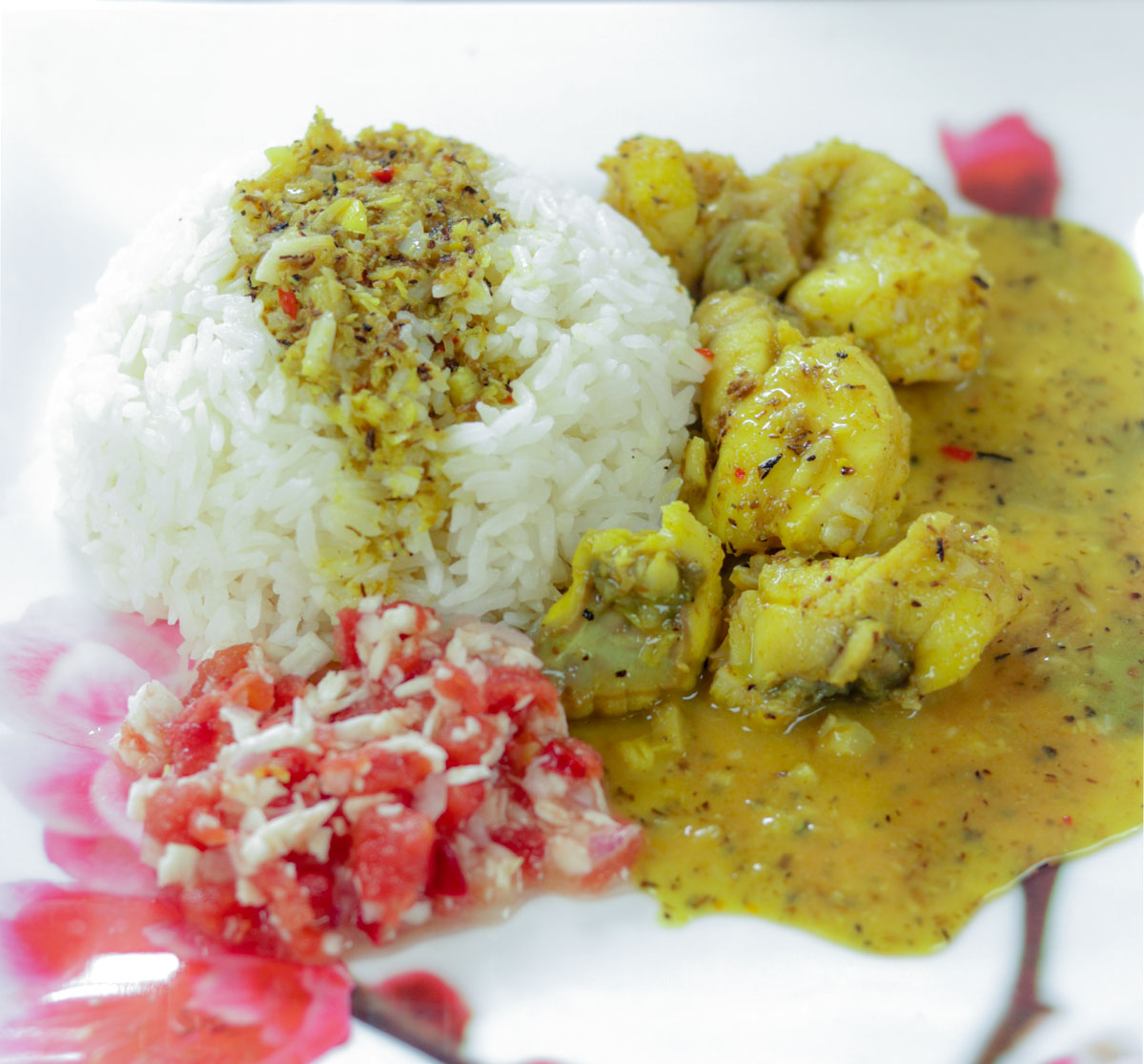 Although I enjoy most Southeast Asian cuisines ( I should have been born in that part of the world), Malaysian and Indonesian which have many similarities, are my favorite.
Malaysian Cuisine
Malaysia's marriage of Indian, Chinese & Nyonya (native population) cuisine create uniquely blended Malaysian dishes, however each dish can easily be traced to origins of one or a combination of these three communities.
Seafood & fermented products dominate their cuisine. Even in vegetarian dishes, you will usually encounter fish sauce and/or shrimp paste.
I was first introduced to Malaysian cuisine when I happened across Nyonya Restaurant in Chinatown many years ago. I immediately fell in love with this fusion cuisine. Lots of spice and smoky flavors.
Whether it's their version of Chinese, Indian or Nyonya cuisine, I have enjoyed every thing I have ever ordered from this restaurant in the 19 years I have been eating there!
,,,then I took a trip to Penang. Tasting all the delicacies sold street side in this Malaysian island like Malaysian Style Chicken Satay made me become an even bigger fan of their fusion cuisine.
In addition, I also took a fabulous hands on cooking class where I learned how to make some classic Malaysian foods like Chicken Kapitan and Beef Rendang.
Check out all my experiences taking Nazlina's Cooking Class in Penang.
Where should you stay when you visit Penang? I had such a great experience staying at a small boutique hotel – Noordin Mews. Their customer service and food is above the rest!
Malaysian Fish Curry Notes
Each country has it's own variety of spices that go into curries – this is demonstrated in how different a curry from India will taste, compared to a curry from Malaysia, Thailand or Jamaica.
Even within a country, there can be different variations of curry as seen in this other Malay Style Fish Curry.
I used monkfish in this recipe as it is a very firm fish with sweet, tender flesh. Monkfish is one of the ugliest fish out there with a big ugly head that is usually cut off at the fish market., but looks can be deceiving.
It is a very flavorful fish with a natural sweetness and because of it's distasteful looks many people do not buy it, making it very inexpensive. I would compare it to the taste of Chilean Sea Bass, but with a much lower price point.
This complete Malaysian Fish Curry dinner with Tomato Sambal is an easy meal that is as delicious as it looks!
Malaysian Fish Curry
Malaysian Fish Curry & Tomato Sambal with Steamed Rice is a flavorful and spicy fish dinner loaded with coconut flavor.
Ingredients
2

lbs.

monkfish

salt

to taste

4

tablespoons

dessicated coconut

2

tablespoons

vegetable oil

2

bird's eye chiles

finely chopped

2

cloves

garlic

finely chopped

2

teaspoons

lemongrass powder

1

tablespoon

finely chopped galangal

1

tablespoon

fish sauce

13.5

oz.

coconut milk

2 1/2

cups

stock or water

1/2

tsp

ground turmeric

1

teaspoon

ground coriander

1

tablespoon

sugar

juice of 1 lime

salt

to taste
Instructions
Skin the fish if you did not have it done at the fish market.

Cut the fish pieces into large pieces, about 2". Season with a little salt.

In a pot or a wok, dry roast the dessicated coconut until golden brown.

Add oil, chillies, garlic and galangal. Fry for 1 minute, until the garlic starts to change color.

Add coconut milk, stock (or water), fish sauce, turmeric, coriander, lemongrass powder, lime juice, sugar and salt.

Bring to a boil. Reduce to a simmer and cook for 15 minutes.

Add fish and simmer for 10 minutes, until fish is cooked through.

Now let's make the sambal.

First, let's make tomato concasse. Bring a large pot of water to a boil.

On the bottom of the tomatoes, make a small X. Drop in the boiling water and cook for about 3-4 minutes, until the skin starts to crack. Remove immediately and place in a large bowl of ice water, to immediately stop the cooking process.

Peel the tomatoes and remove the inner membranes with the seeds. Chop the tomatoes. Now if you ever see concasse in a recipe – you know what they mean!

Combine tomato concasse with onion, chili, lime juice, coconut, sugar and salt. Stir to combine.

Leave to rest for at least 10 minutes for flavors to develop.

Serve Fish Curry with steamed rice and Tomato Sambal.
Nutrition
Calories:
255
kcal
|
Carbohydrates:
7
g
|
Protein:
18
g
|
Fat:
18
g
|
Saturated Fat:
14
g
|
Cholesterol:
28
mg
|
Sodium:
352
mg
|
Potassium:
679
mg
|
Fiber:
1
g
|
Sugar:
3
g
|
Vitamin A:
310
IU
|
Vitamin C:
10
mg
|
Calcium:
27
mg
|
Iron:
2
mg
Did you try this recipe? Leave a comment below.
Please follow me on Instagram @chefmireille or tag me #chefmireille with your pics! I'd love to share them!
DO YOU YUM? SAVE IT BELOW!
Yum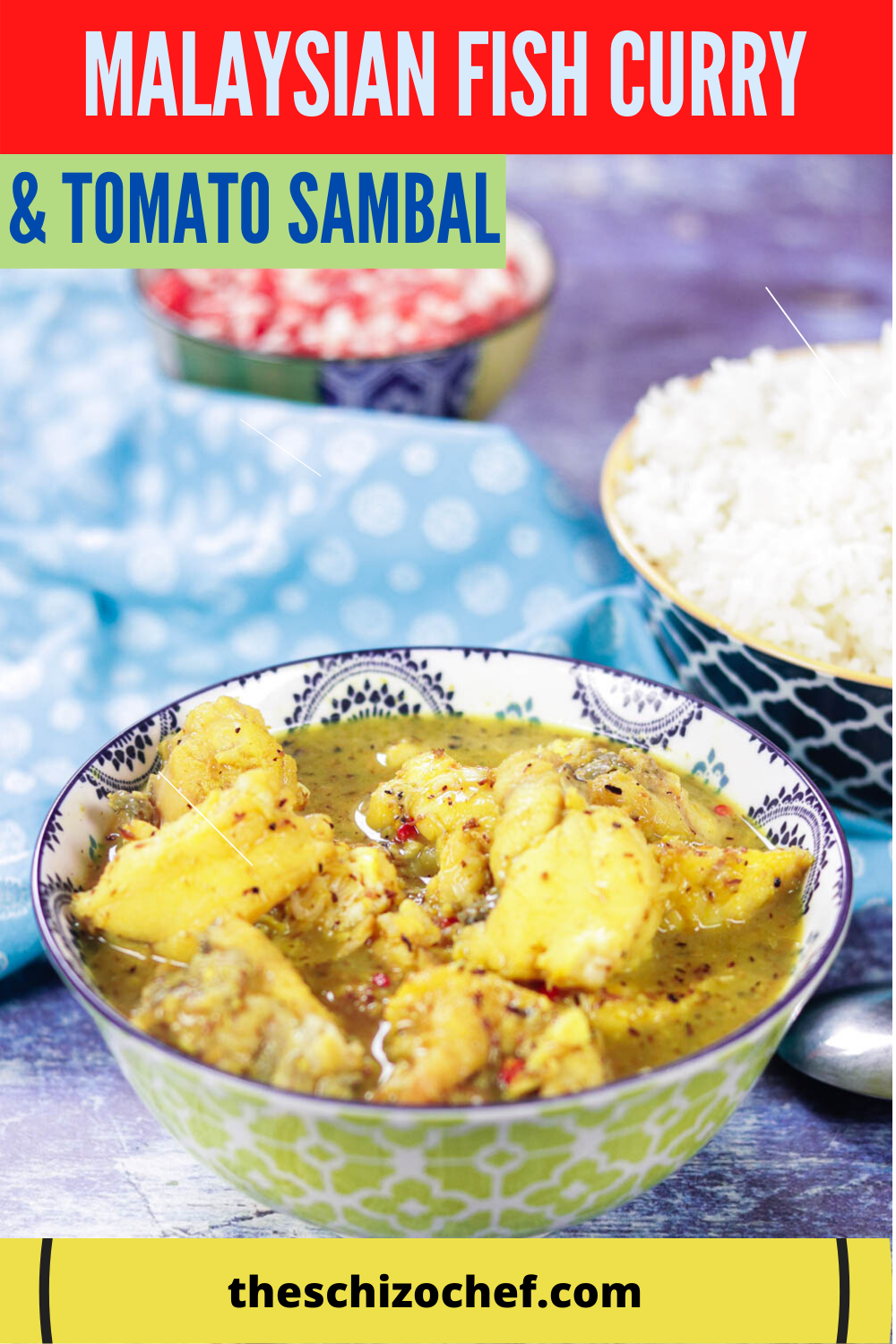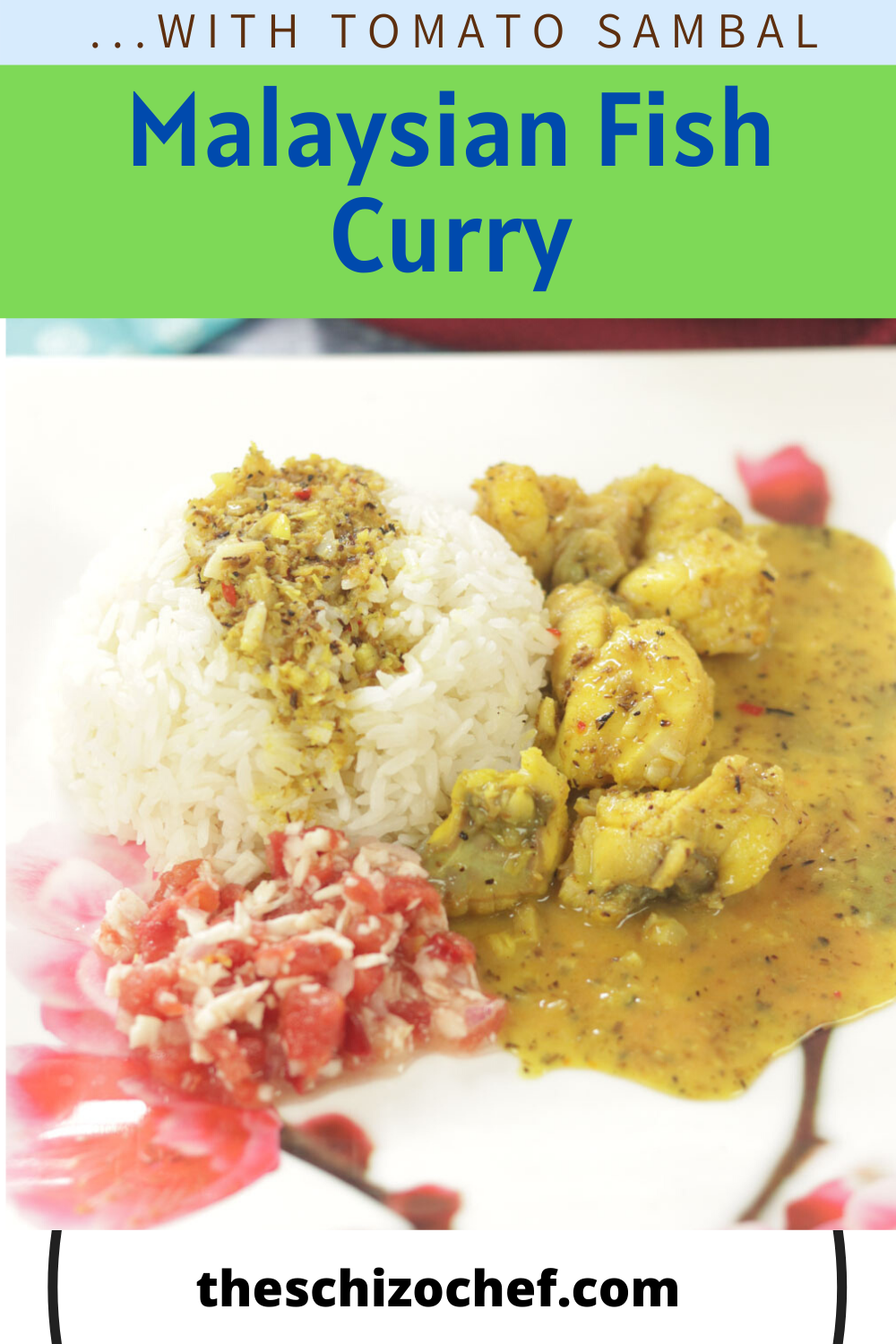 Don't forget to visit the RECIPE INDEX with over 1000 recipes from around the world including lots of Vegetarian Recipes and Gluten Free Recipes!
This post may include affiliate links.