Last Updated on May 11, 2023 by Chef Mireille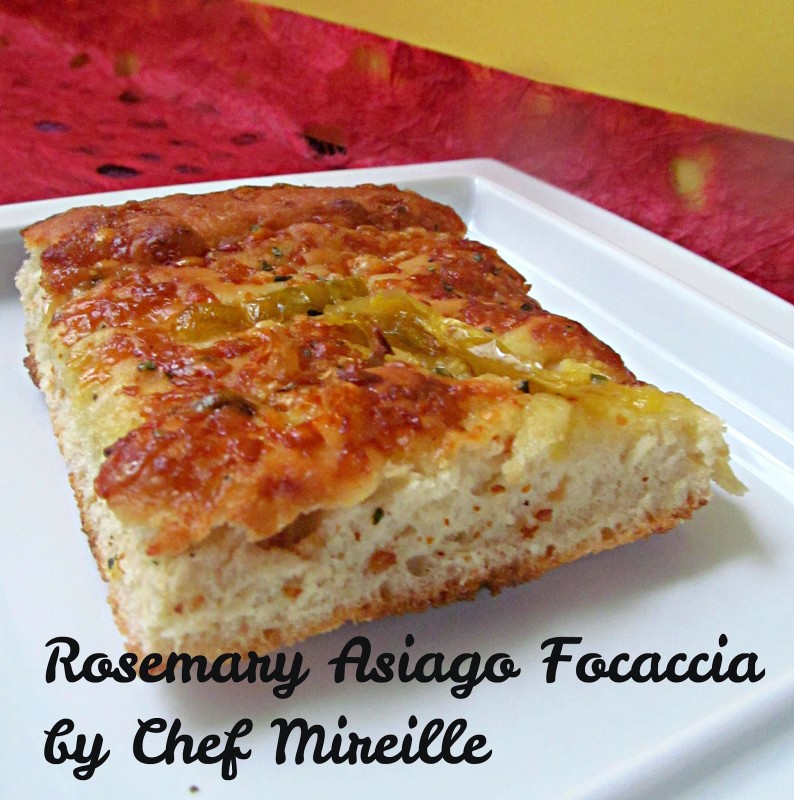 Blogging Marathon #36
Theme: Kid's Delight – Oven Baked Snacks
I love making fresh bread whether it's something simple that can be whipped up in a jiffy like pizza or quick batter breads like this Fruit Batter Bread I made or double rising loaves like No Knead Whole Wheat Bread. However, I love dry active yeast. I want to proof the yeast. Add flour and wet ingredients and instantly have dough. I don't have the patience and usually not the time either to make bread into a multi day process using a starter. For this reason, I've neglected baking the We Knead to Bake breads the last few months.
I was thrilled when it was decided this month's bread would be focaccia using Aparna's adaptation of this recipe. YAY – a yeast bread that can be whipped up in a jiffy. I already have a focaccia recipe posted here. I am a big focaccia fan so I was more than happy to make another variation.
I always keep a jar of herbed olive oil on my counter. I have sprigs of rosemary, thyme and sage in it. As I use the oil, I keep on replenishing it and it makes everything I make with it that much more wonderful. I used that for this recipe, which intensified the rosemary flavor even more.
I added some pickled banana peppers on top because that has become my new obsession. I always get them when I have Subway sandwiches and then a few months ago, I discovered them at my regular supermarket when I was replenishing my mayo supply and since then I have been putting them on everything from sandwiches to salads.
Rosemary Asiago Focaccia
Serves 12
Ingredients:
1 pkg. dry active yeast (2 1/4 teaspoons)
1 teaspoon sugar
2 teaspoons salt
2 cups water
4 1/2 cups bread flour (or all purpose flour)
herbed olive oil
2/3 cup Asiago cheese, freshly grated
1/3 cup pickled banana peppers
1 tablespoon fresh rosemary, finely chopped
Heat water to 110-120 F. Pour into a large bowl and mix with sugar. Sprinkle yeast on top and let stand for 10 minutes, until foamy.
Add 2 cups flour and mix with a wooden spoon. Add the rest of the flour and knead by hand for 5 minutes, until dough is smooth and elastic.
Grease a large bowl with olive oil. Place dough in bowl and turn over so that all sides of dough is coated with the olive oil.

Cover loosely with a kitchen towel and let rise for 1 hour, until doubled in size.
Lightly grease a cookie sheet with 1 tablespoon of the olive oil.
Punch out air bubbles from the risen dough and press into the cookie sheet.
Sprinkle cheese, peppers and rosemary on top of dough. Press into the dough.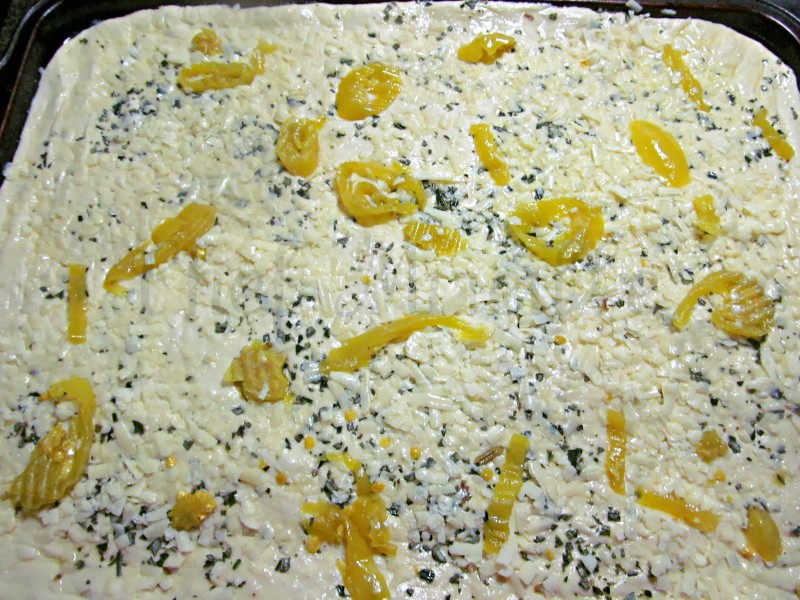 Dimple the dough at regular intervals. (I forgot this step)
Preheat oven to 475 F.
Bake for 20 minutes.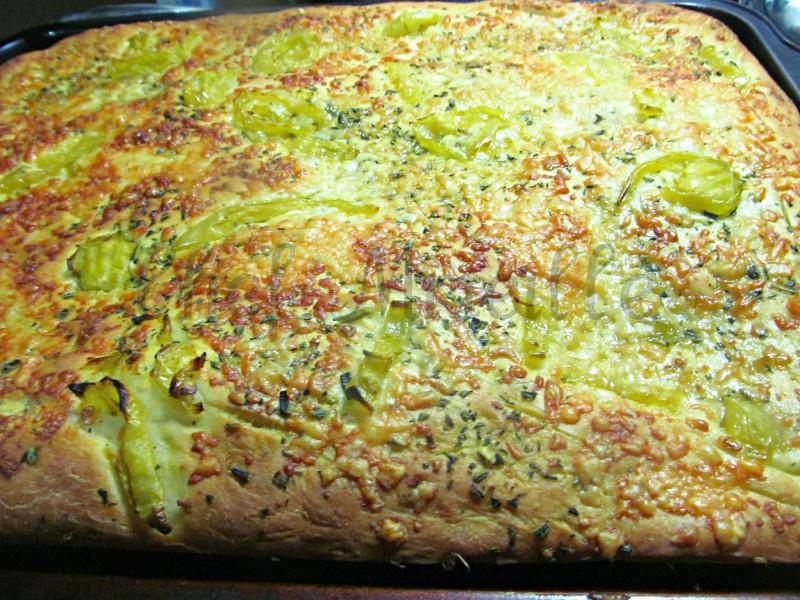 Crusty and perfect with a cup of soup like Minestrone.