Last Updated on June 3, 2015 by Chef Mireille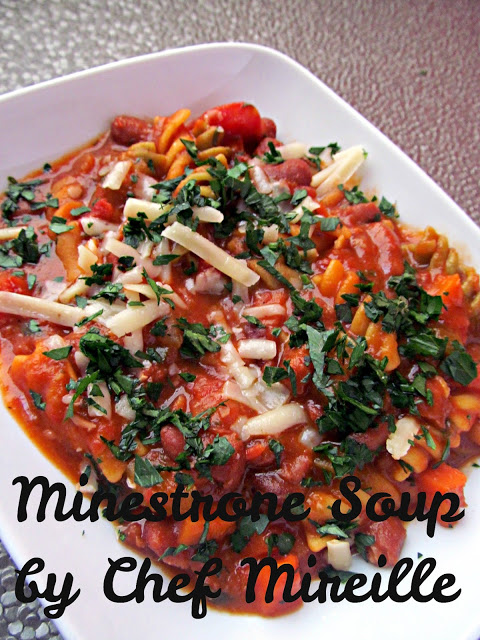 Blogging Marathon #26
Theme: One Ingredient Three Ways – Beans
This week's BM theme is to cook three different courses with one star ingredient. For me, I have chosen beans with the combination of Soup, Rice Based & Savory Snack. First of all, there is such a variety of beans in the world that you can never be bored, even if you eat beans every day. They can be utilized in everything from finger food to desserts to veggie burgers.
Beans are one of the main protein sources for Vegetarians. Just about every culture has some form of bean soup whether it is Cuban Black Bean Soup, Caribbean Red Bean Soup or Moroccan Red Lentil Soup. Growing up, canned soup was always in our pantry for those days when busy schedules prevented a home cooked meal being prepared or some Caribbean food was cooked which my American influenced aesthetics and taste buds refused to consume. There were only three flavors of canned soup in our house – Lentil, Split Pea and Minestrone. Today, I am presenting my version of the classic Italian soup. This is standard Sunday dinner food in Italy, especially during Lent, when meat is avoided.
This is a very hearty soup – more the consistency of a stew, however feel free to add more water if you prefer a more liquidy consistency.
Minestrone Soup
Serves 8
Ingredients:
2 cups red or white (canneloni) kidney beans, soaked overnight
6 cups water
3 cloves garlic
2 bay leaves
2 tablespoons olive oil
1 onion, chopped
2 cloves garlic, finely chopped
2 stalks celery, thinly sliced
2 carrots, chopped
3 cups pasta (macaroni or fusili)
1 28 oz. can crushed tomatoes
1 14 oz. can diced tomatoes
4 cups vegetable or chicken broth
2 tablespoons fresh oregano, finely chopped
3 tablespoons fresh parsley, finely chopped plux extra for garnish
1/3 cup Pecorino Romano or Parmesan cheese, freshly grated plus extra for garnish
Combine the beans, water, garlic cloves and bay leaves in a large pot. Bring to a boil. Reduce to a simmer and cook until beans are tender. Alternatively, you can cook the beans in a pressure cooker. Drain beans and discard garlic and bay leaves.
In a large pot, heat oil. Add onions, celery, carrots and chopped garlic. Saute for a few minutes until vegetables start to soften and onions become translucent.
Add the crushed tomatoes, diced tomatoes, 1 cup water and broth. Bring to a boil. Add cooked beans and bring to a boil again.
Add pasta and cook for 5 minutes. Reduce heat to a low boil and add herbs, salt and pepper (undersalt it a little since cheese will later be added). Cook for another 7-8 minutes, until pasta is done.
Turn off heat and add cheese. Stir well and adjust salt and pepper, if necessary.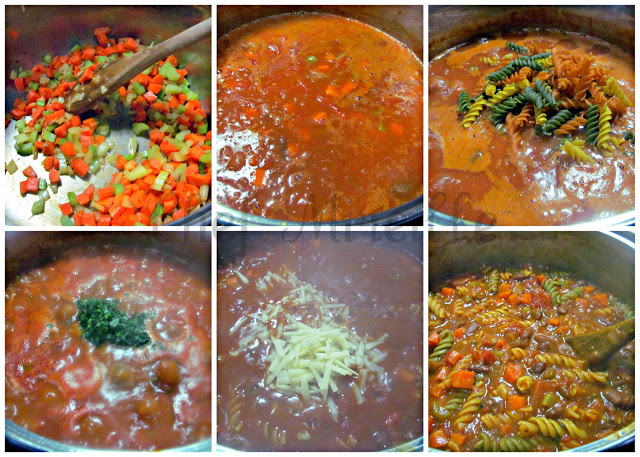 To serve, ladle into a bowl. Garnish with more grated cheese and parsley.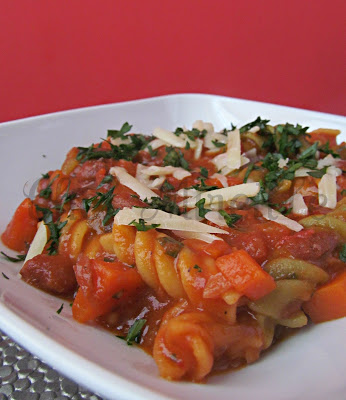 Check out the Blogging Marathon page for the other Blogging Marathoners doing BM#26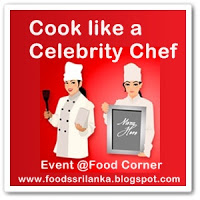 …sending to Cook Like a Celebrity Chef & Healthy Food for Healthy Kids – Italian hosted by Sowmya


LIKE THIS RECIPE? LEAVE A COMMENT..I LIVE FOR THEM!
Chef Mireille