Last Updated on May 20, 2015 by Chef Mireille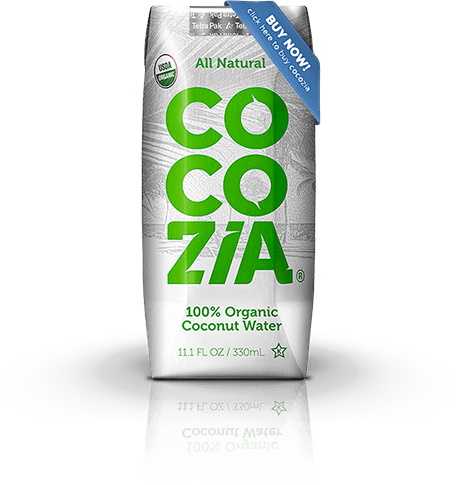 Every once in a while I do a post about some of my favorite products I like to purchase. Well, this is a new brand that was recently introduced to me.
When I was a child and would visit my family in the Caribbean, one of my favorite things to enjoy was fresh coconut. My uncles would grab a machete to cut down the coconut from the tree. After the top was cut off, I could enjoy the refreshing coconut water in the hot Caribbean sun. I would then take a piece of coconut to scrape out the jelly. As far as I was concerned, those were the two best parts of the coconut. In the summertime here in New York, one of my favorite things to get in Chinatown is the fresh young coconut, so I can drink the water and scrape out the jelly!
I was so happy when coconut water started becoming readily available in easy to use box containers in the supermarkets here. I usually buy them by the case from Costco.
COCOZIA Coconut Water was kind enough to send me a case so I can try their brand – not my usual brand, but I was willing to give it a try. They sent me a case of 11.1 oz. containers. These pocket size containers with a straw glued to the side (just like a juice box) is a handy size to stick in your bag when you are on the go. They do come in different flavors, but I only sampled the plain one.
It is an organic, all natural brand. Since I already had some coconut water in my refrigerator, I was able to do a comparative taste test. I must admit, I thought the COCOZIA had a stronger coconut flavor.
Coconut water is naturally loaded with electrolytes, therefore, it is a refreshing and energy boosting alternative to the sugar laden sport drinks. It will naturally and quickly rehydrate you. Try putting a box of this in the lunch box instead of the sugar-rich juice boxes. It might take a little while, but you might be able convert your kid away from the sugar!
*This is a sponsored post. All opinions are honest reactions from Chef Mireille.*
LIKE THIS RECIPE? LEAVE A COMMENT..I LIVE FOR THEM!
Chef Mireille