Masala Roast Chicken + VIDEO
A quick and easy roast chicken recipe full of smoky Indian spices.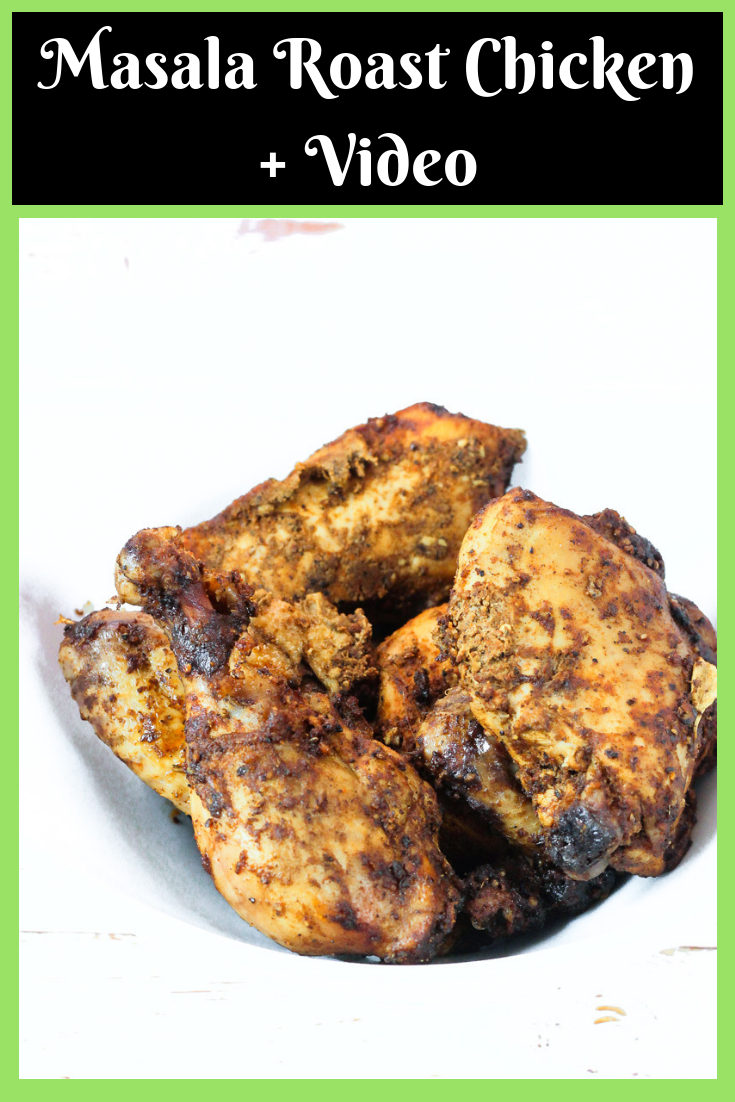 This recipe I adapted from one of Maddhur Jaffrey's books Quick & Easy Indian Cooking. Maddhur Jaffrey is the person who is credited with introducing Indian cuisine to western audiences. Her recipes are tailor made to the American kitchen, so if you have never before made Indian food at home yourself, her books are a great place to start.
Although the recipe in the book is a grilled chicken recipe, I changed the cooking method to roasting. I love making Roast Chicken. It is one of the easiest ways to get dinner on the table. You can switch it up by using different spice blends like my Persian Roast Chicken here or Harissa Roast Chicken. Other than that, there were only a few slight alterations to the original recipe.
…and don't forget to check out the video before for Masala Roast Chicken + VIDEO so you can see how quickly and easily this recipes comes together!
If you'd like to try out the same methodology of this roast chicken, but change the spices up for different version, check out these other Spice Blends.
Spice Blend Recipes
IN THE MAKING – HOW TO MAKE MASALA ROAST CHICKEN


Serve with Basmati rice and Green Lentil Dal.
This chicken came out so tender. Even the chicken breast pieces which can become quite dry when baked. The yogurt is a great tenderizer, leading to a flavorful tender chicken.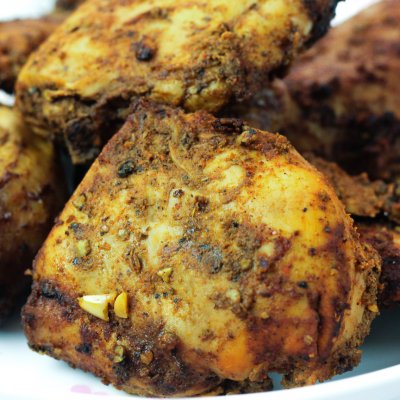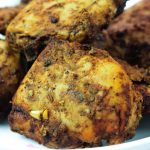 Print Recipe
Masala Roast Chicken
Masala Roast Chicken is an easy roast chicken recipe with Indian spices that is full of flavor.
Ingredients
1

tablespoon

black peppercorns

coarsely crushed

2

teaspoons

paprika

1

teaspoon

cayenne pepper

1

tablespoon

garam masala

2

teaspoons

ground cumin

1

teaspoon

ajwain seeds

1 1/4

teaspoons

salt

1

clove

garlic

peeled and crushed

3

tablespoons

oil

2

tablespoons

lemon juice

3

tablespoons

nonfat Greek yogurt

2  

lbs.

chicken pieces
Instructions
Combine all ingredients except the chicken in a large dish and mix well.  Add the chicken and mix to make sure chicken pieces are coated well with the spice paste. Put in refrigerator and marinate for at least two hours, but preferably overnight.

Bring the chicken back to room temperature.

Preheat oven to 400 F.

Spray a large baking dish with non stick spray.  Arrange chicken pieces in a single layer and cook for 30 minutes.  Turn pieces over and cook for another 20 minutes.
Video
ARE YOU EXCITED TO TRY THIS RECIPE? PLEASE HELP ME CONTINUE TO PROVIDE YOU WITH DELICIOUS RECIPES BY SHARING IT AND SHOPPING FOR YOUR FAVORITE PRODUCTS WITH INCLUDED LINKS!
DO YOU YUM? SAVE IT BELOW!
Yum
DISCLAIMER: As an Amazon Associate affiliate, I earn from qualifying purchases, at no extra cost to you. Other Affiliate links may also be included.
Sign up for our updates!
Subscribe to get our latest content by email and get your FREE Pantry Cheat Sheet - Learn the basics to cook any International cuisine!